Afropop Exclusive Mix: DJ Mundi's Champeta Mix
Oakland, CA-based DJ Mundi has a deep knowledge and appreciation for everything from
electro-chaabi
to
bhangra
and
ragga-cumbia
. For our exclusive mix series, he has put together a mix that delves into the fascinating history of 
champeta
, the Afro-Colombian genre that blasts from colorful
picos
(sound systems) and is filled with African influences. We've covered champeta before--you can check out our interview with Palenque Records' Lucas Silva on the genre here or listen to our
Hip Deep
program "The Money Show" for a discussion of champeta's economics. DJ Mundi wrote an introduction to champeta to go with the mix:
Champeta,
terapia
,
musica Africana
and champeta
urbana
 are all terms that have been used for this genre of music from Colombia's northern Caribbean coast. The entire story is too long to tell here, but I've written a brief description because people around the world know about salsa, samba, cumbia, soca, reggae, dancehall etc., yet outside of Colombia, champeta is still largely unknown. Champeta is a music and culture with a deep and complex history. The foundation begins with the preservation of African heritage by countless Afro-Colombian communities, some of whom escaped from Spanish plantations hundreds of years ago and lived in autonomous "free towns," the most famous of which is San Basilio de Palenque. Many of the great singers and musicians of the last decades still hail from there. Naturally music, ceremonies and dances were kept and, over time, evolved in ways that have parallels with other African diasporic musical movements and in other ways that are truly unique. Like dancehall or hip-hop, champeta is dance music, originally born out of street parties in the roughest neighborhoods during the 1970s. Similarly, Colombian sound systems and DJs played crucial roles in shaping the sound of the music. Sound systems are known as
picos
, which are often described as mobile radio stations, custom built by Colombian craftsmen, hand painted, with chrome trim, each one having its own name, logo, flavor and fans. An entire essay could be written about each aspect of champeta--check the links at the end for more info about the picos.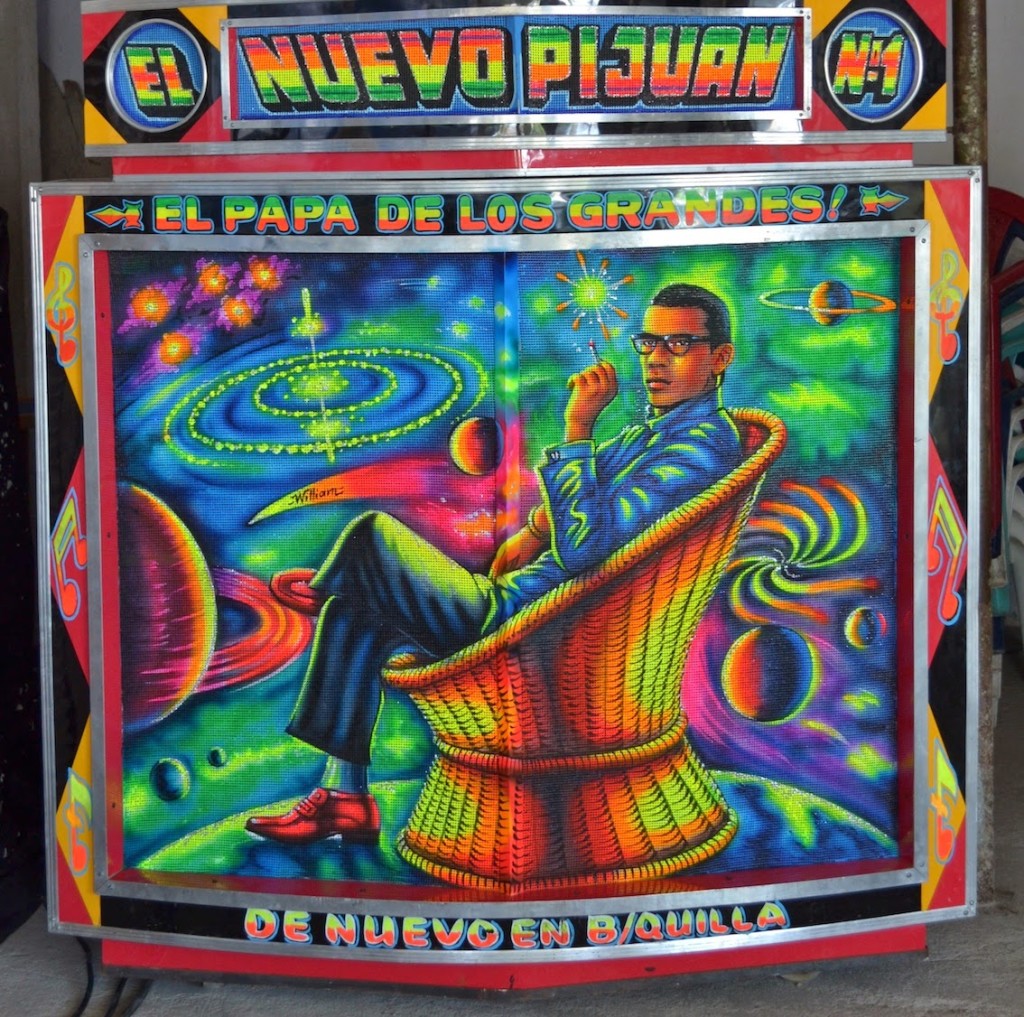 In the early '70s, salsa ruled the scene, but by the mid '70s, new sounds started to gain popularity among the
picoteros
 and dancers, having a profound influence on the development of champeta. Over a decade before "world music" became a familiar term in the north, Caribbean Colombians were absorbing salsa,
zouk
,
kompa
,
soukous
,
makossa
,
benga
,
mbaqanga
, highlife, Afrobeat and more into their own music and culture, synthesizing them into a whole new pan-African/Latin/Caribbean genre. So, let's get into the mix and use it as a guide into the world of champeta. It begins with "La Conchita e' Mango" by German Ramos y La Banda Internacional, a group of young musicians from Barranquilla, staying true to the classic champeta style, while continuing to fuse newer influences. Tribu Baharu and the Mystic Orchestra are both contemporary supergroups composed of veterans of champeta who kick it into high gear. During the '80s, inexpensive mini Casio keyboards and Yamaha's electronic drum console became the instruments of choice for champeta's high-octane DJ/performers, who used both of them as percussive instruments, playing on top of the music to amp up the energy as you can hear Monosoniko doing on "El Besito." Viviano Torres is one of the lions of the Mystic Orchestra along with Luis Towers, Justo Valdez and others. "Mini Ku Suto" is a re-recording of his classic tune. Throughout the '80s, an incredible range of African music took over the sound systems and fiestas of Cartagena, Barranquilla and Santa Marta. Hundreds of songs from east, west, central and southern Africa became hits regardless of the fact that most of the fans didn't know exactly who the artists were and couldn't understand the lyrics. It was during this period that terapia (which means therapy) became a common term for the music. By the '90s, champeta had made the leap from the streets to local airwaves where programs and eventually entire stations were devoted to champeta. The styles that had the greatest influence on Afro-Colombian musicians were unquestionably soukous and makossa. Versions of these rhythms, guitar and bass lines were adopted and became their own. Three artists chosen to represent this massive impact on champeta are Sam Fan Thomas from Cameroon, and Ngouma Lokito and Samba Mapangala from Congo.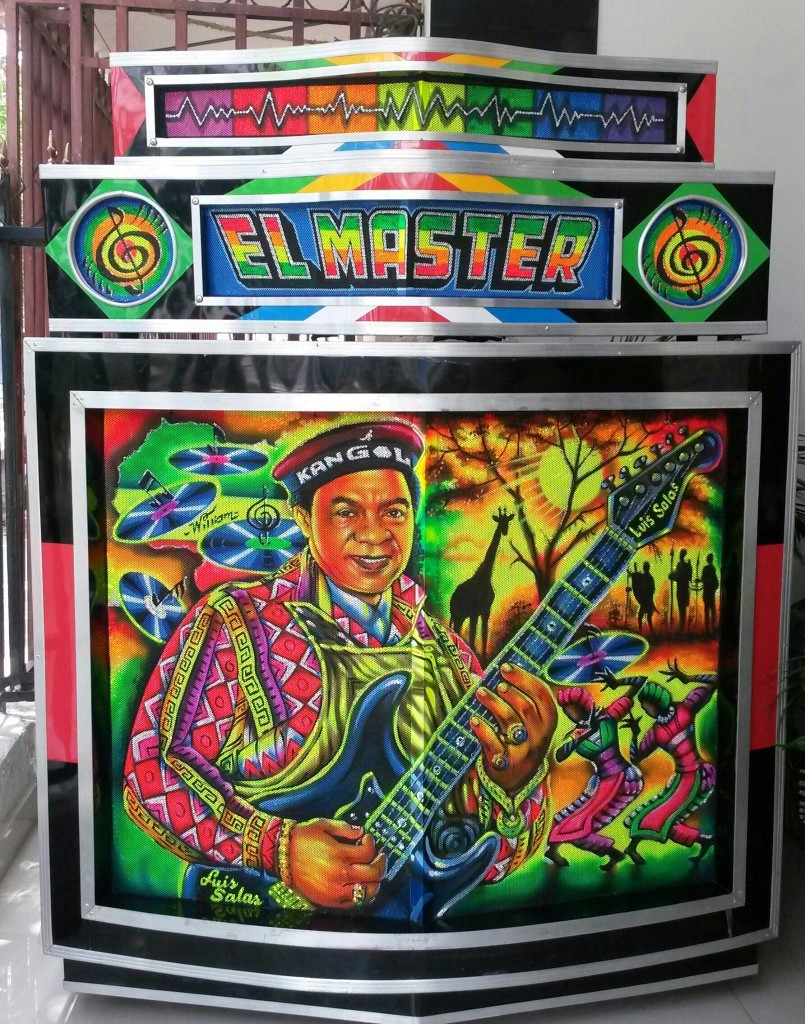 Returning to Colombia via Charles King, the combination of all these elements is clear in "El Martillo, La Pegajosa" by Mr. Boogaloo and "La Despelucada" by Oscar Williams, both top singers who began their careers decades ago. As we progress, we reach back even further with recent remixes of two of the original founders of champeta, Abelardo Carbono and Estrellas del Caribe, remixed by Pernett and Geko Jones. Today's DJs and producers are continuing to create new variations, pushing the music forward. Next, a couple of examples of how some unknown DJs juggle breaks like hip-hop turntablists, but instead of using funk and soul records, they're looping short sections of African songs to increase the intensity of the rhythm and dancing. This generation of
champetus
continue the tradition of incorporating other modern musical influences such as hip-hop,
reggaeton
and electronica. "El Chocolate" is a perfect example, also combining
gaita
cumbia to create a carnival season anthem. "Gozando en Cuero" by Kevin Flores is another recent carnival hit that features a folkloric call-and-response chant as its basis. Twister El Rey and Mr. Black are two other popular champeta urbana artists. "La Panocha" and "Me La Pille" (remix by Kinky Electric Noise) are standout tracks. A number of today's premier purveyors of champeta such as Monosoniko, DJ Champetaman and La Makina del Karibe are currently based in the capital city of Bogota, far from the Caribbean coast, bringing the music and heat to a wider Colombian audience and the rest of the world. We end the journey with "El Maki Man" by La Makina del Karibe who drive it home. So, champeta encompasses all of these facets of the music, from the imported pan-African sounds of the picos to the classic recordings of Colombian musicians during the late '70s and '80s up to today's current interpreters, all of whom continue to keep the rhythm of champeta going strong. For more info and music check the links  -->
https://vimeo.com/66570670
https://youtu.be/0RzwcBxoiKg?t=6m19s
https://soundcloud.com/dj-champeta-man/lucas-silva-champeta-mixdown
PALENQUE RECORDS - 
https://soundcloud.com/palenque-records
https://itunes.apple.com/album/champeta-criolla-vol-2-visionary/id864909986
http://palenquerecords.blogspot.com
AFRICOLOMBIA BLOG - 
https://acbia.wordpress.com
DJ MUNDI - 
https://soundcloud.com/djmundi
Photo Credit: Fabian Altahona Romero