Afropop Worldwide's Profoundly Unofficial APAP Guide
January tends to be a pretty rough month. The holidays are over, and in the cold, aggressively crisp light of the new year, we come face to face with ourselves, forced once again to grapple with our deepest flaws. Or like us, within a week, you've already given up on your resolutions, throwing inhibitions to the wind to delve into the musical maelstrom that is the annual meeting of APAP (Association of Performing Arts Presenters) in New York, running Jan. 8-11. While the behemoth of arts presentation that is globalFEST anchors our APAP around a Sunday night well spent at Webster Hall (Jan. 11), the whole weekend is full of fantastic music available to civilians. What follows are some of our top picks:
Thursday, Jan. 8
[caption id="attachment_21980" align="aligncenter" width="400"]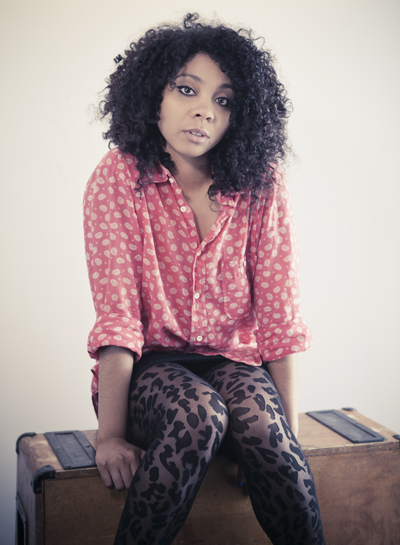 Hollie Cook[/caption]
Hollie Cook @ the Highline Ballroom
London-born Cook blends reggae and '60s girl groups into a lush groove that she's dubbed "tropical pop." We are BIG fans. Opening are Brooklyn-based DJ
Taylor McFerrin
(son of the great Bobby McFerrin) and
the Barr Brothers
, one of the few rock bands to feature a harp.
Danay Suarez @ Subrosa
Singer and rapper
Danay Suarez
came up in Havana's underground hip-hop scene, but she infuses her music with elements of jazz and traditional Cuban music.
Friday, Jan. 9
APAP Mundial Showcase @ Drom
This one's a real smorgasbord: First up is David Buchbinder's
Odessa/Havana
Jewish-Cuban fusion, followed by Montreal jazz singer
Elizabeth Shepard
. Then it's on to Mauritanian musician
Daby Touré;
Afro-roots star
Rocky Dawuni;
Aurelio
Martinez playing Garifuna roots-infused pop;
Boogat
, a Spanish MC from Montreal; Brazilian-American collective
Nation Beat'
s Carnival Caravan; and finally multilingual hip-hop supergroup 
Nomadic Massive
 will close out the night. Whew. [caption id="attachment_21984" align="aligncenter" width="512"]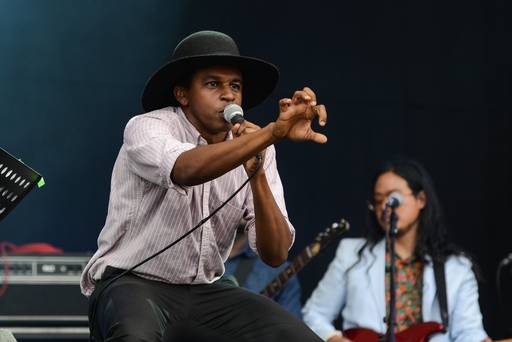 Sinkane[/caption]
Neneh Cherry and Sinkane @ the Highline Ballroom
One-time post-punk prodigy
Neneh Cherry
just released
Blank Project
, her first solo album in almost 20 years. It mixes elements of Beat poetry, avant-electronica and vocal melodies. Neneh is backed up by Sinkane, the Sudanese-American bandleader whose brilliant second album was released in 2014.
Maqam Fest @ Alwan Center for the Arts
Maqam
is a complex system of musical modes which has spread throughout much of the Islamic world, absorbing new influences and taking new twists as it goes. Maqam Fest showcases that diversity, with music from the Balkans to Northern India, all couched in stunning technique. [caption id="attachment_21985" align="aligncenter" width="550"]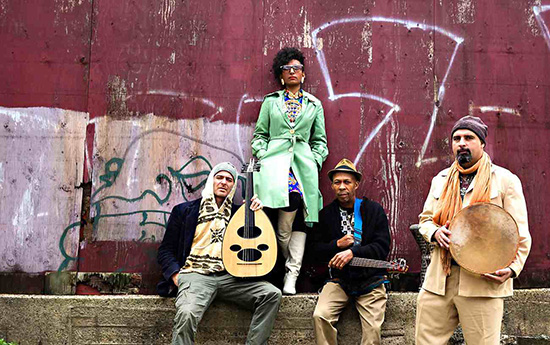 Alsarah and the Nubatones[/caption]
Dobet Gnahore and Kellylee Evans @ Joe's Pub
Dobet Gnahore
is a singer, dancer and percussionist from Ivory Coast, working in the Bété tradition, while
Kellylee Evans
is a jazz vocalist and songwriter from Montreal who has recently been reworking a series of hip-hop classics.
Okay East Africa @ Baby's All Right
Okay Africa and Multiflora are bringing together two acts from East Africa: Ethiopian keyboardist and composer Hailu Mergia, back in the spotlight since the recent reissue of his 1985 album
 Hailu Mergia and His Classical Instrument, 
playing with the band Low Mentality, and  Alsarah and her band, the Nubatones, playing Nubian retro-pop.
Saturday, Jan. 10
[caption id="attachment_21981" align="aligncenter" width="720"]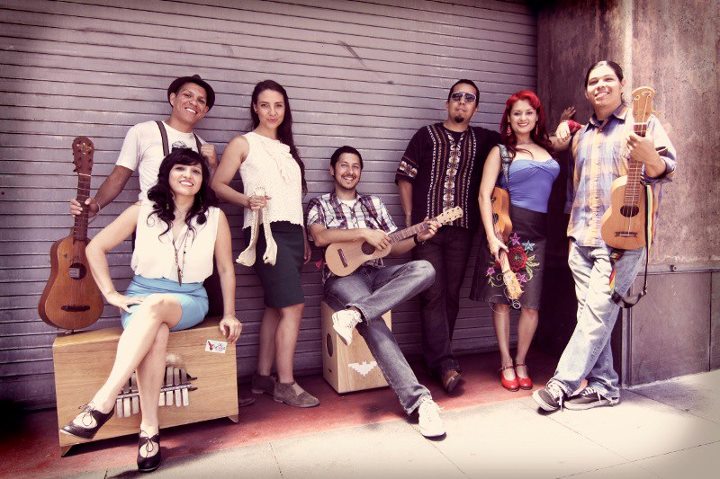 Las Cafeteras[/caption]
Barbès and Electric Cowbell Showcase @ Drom
Barbès, a Brooklyn club and label, has teamed up once again with the DC/Brooklyn label/agency Electric Cowbell for an eclectic mix that combines music from West Africa, Latin America and Ethiopia, with a Slavic folk band thrown in for good measure. Featuring heavy hitters like L.A.'s Las Cafeteras and Chicano Batman mixing it up with NY-based groups like Janka Nabay and Chop and Quench, this is not a lineup to miss.
Pedrito Martinez @ Subrosa
Afro-Cuban singer and percussionist Pedrito Martinez is curating a monthly residency at Subrosa, but he'll be the one playing on Saturday night. The group consistently smokes, packing the power of a 12 piece band into a far smaller combo. A more relaxed alternative to the wilder spread at Drom.
Sunday, Jan. 11
New Generation African Showcase @ Meridian 23 New African Productions, which works to promote African and world music in the U.S., puts up a selection of next-generation African musicians for this showcase in Chelsea. Focusing on Senegal, it features the talents of Aida Samb, Alioune Guisse, Birahim, and Ousman Guangue.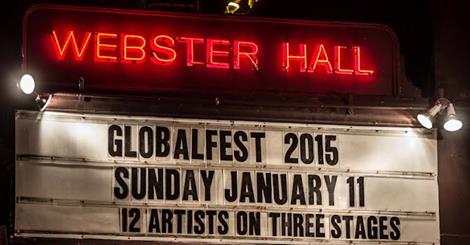 globalFEST @ Webster Hall
Consider globalFEST the fabulous dessert at the end of the musical feast of this weekend, featuring music from Hawaii to Israel with many many stops in between. It seems to be sold out but maybe you can figure something out. Where there's a will, there's a way.