Three new CD releases attest to the ongoing vitality and diversity of contemporary music connected with the Democratic Republic of Congo.  These releases—one by expatriates in Paris, one by a U.S.-based singer/bandleader skilled in fusing Congolese and Latin music, and one by an extraordinary collective of folkloric artists based in Kinshasa and produced by a Belgian—are very different. They range from classic rumba and soukous, to the more brash and techno-driven variant
ndombolo
, to Afro-Latin and Caribbean fusions and indigenous idioms from the Congo's vast interior. But each of these releases is as engaging as anything I've heard all year. Bottom line: The days when Congo music ruled the African airwaves may be decades in the past. But for lovers of African dance and trance, the Congo still rules!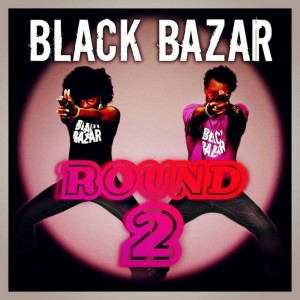 First up,
Black Bazar Round 2
(Lusafrica), the second offering from Black Bazar, a strong collective of Paris-based musicians—mostly, but not all, Congolese—who update classic and contemporary dance styles with polished flair. One key player here is guitarist Popolipo Beniko, a veteran of legendary Congo bands like Zaiko Langa-Langa, Langa-Langa Stars, Papa Wemba's Viva la Musica and other pillars of the genre. Popolipo's guitar work here is sterling throughout, a clean, stinging evocation of the sound that helped make Congo music the most successful dance genre in Africa for much of the late 20
th
century.  Whether rocking out on the ndombolo-tinged "Black Bazar Round 2" or easing into sensuous, old-school rumba on "Beau Gosse," Popolipo's playing is dependably sure-footed and soul satisfying. Black Bazaar also features a fine team of vocalists. Pims Lomena and Do Akongo join forces on "Bela Mambo," a tribute to perhaps the Congo's greatest bandleader—a virtual god of African music—Franco. We feel Franco's presence also on "La Jaloux Vont Maigrir (The Jealous Will Wither)," with its minor key, 6/8 opening section. But in fact, this song celebrates more recent bands, the stars of the '90s, including Soukous Stars and Diblo Dibala, and as the arrangement resolves into strong, guitar-driven soukous, we even get a shot of the fuzz guitar sound that Diblo so famously popularized during that era. We also hear from a variety of other veteran Congolese singers, including Ballou Canta, Modogo Abarambwa, who croons in a bass whisper on the slow rumba "Balabala," and Michel Lumana, who also plays bass throughout the album, and co-composes a number of the tracks. Some non-Congolese elements come into play as well. Wole Sentimenta sings in English on "Sweet Home," a kind of techno-rumba with just a little Autotuned vocals and the refrain, "No place like my motherland." Haitian singer Fanfan of the classic dance band Tabou Combo brings the cadence of
compas
to "Combo Congo." But mostly, Black Bazar delivers a broad-minded, perfectly honed tour of popular Congolese sounds, from gentle rumba, to swirling soukous, to edgy ndombolo, and even a little 6/8
mutuashi
on "Zakouba." From his base in Los Angeles, Ricardo Lemvo, with his band Makina Loca, looks back on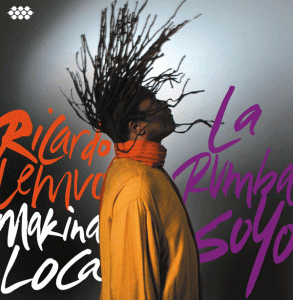 a broad swath of history and geography.  Born and raised in Kinshasa, Congo, with family origins in Angola, he developed a fascination with Latin music from Cuba and Puerto Rico—and all of that is reflected in the supremely tight and danceable music on this, his seventh, album,
La Rumba Soyo
(Cumbancha). Afropop's Ned Sublette points out that the album title is "a Cuban-Kongo pun." Writes Ned, "Soyo, known as Santo António de Zaire in Portuguese, is the Kongo city on the coast of northern Angola, below the mouth of the Congo River. In the 17th century, Mbanza-Soyo out-competed Mbanza-Kongo in the slave trade, hastening the end of that great capital's hegemony and with it the end of the Kongo empire." And you thought it was just dance music! (
Click here to hear Ned's amazing Hip Deep radio program on Mbanza-Kongo
.) As on his fine earlier albums, Lemvo makes a masterful fusion of spot-on
son montuno
and rumba with an unmistakable infusion of Congolese elements. You hear the Congo flavor especially in the sensuous Lingala vocals—there's a flow and cadence to this language that's like no other singing on earth—and the clean, fleet guitar work of veteran Congolese axe man Huit Kilos.  Huit Kilos arrived in the U.S. many years back performing with the late, great Tabu Ley Rochereau, so he comes from serious Kinshasa musical pedigree—and it shows. This CD's title track is a prime example of the way Lemvo is able to reconnect the threads of history that run through geographically distant music scenes. Cuban music was the model for early Congolese dance pop, going back to at least the 1940s. The Congo sound diverged significantly over subsequent decades, re-Africanizing New World rhythmic textures, and giving guitars the starring role. The Latin tinge—to quote John Storm Roberts' memorable phrase—never went away, but by the '60s, Congo dance music had become a genre unto itself, and a new progression of variants had begun. It hasn't been easy for contemporary Congolese bands to retrace the steps to Latin music convincingly, but Lemvo does it with ease. "San António do Zaire," which opens the album, is a fine example. The brass arranging is subtle and tasty, with crooning trombones and blaring trumpets conversing with suave brilliance. Were it not for the African language lyrics, one would assume this band hailed from Havana, San Juan...or maybe Harlem.  Lemvo's travels, and his life in America, have deeply familiarized him with a variety of Caribbean music genres, including merengue and zouk, which distinctly color tracks on the new CD. The song "Dikulusu" taps into Angola's own elegant
semba
sound, with accordion intertwining an old-world vibe with the uptown brass section work, and a blend of Kimbundu, Portuguese and Kikongo lyrics.  The song eventually lifts into a gentle mid-tempo soukous passage. On "Tudia Tunua," the soukous sound prevails, but peppered with punchy, Latin piano and bursts of salsa brass. Lemvo's music is an effortless and beguiling expression of his world-wandering life, and the deep history it traverses.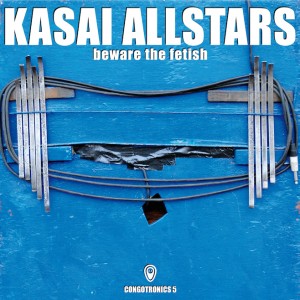 The latest work from Kasai Allstars takes us back to the Congolese urban village with a set of deeply hypnotic grooves of decidedly more ancient origin than the likes of soukous and ndombolo.  
Congotronics 5: Beware the Fetish
(Crammed Discs) is a double CD of "tradi-modern" hybrid music out of Kinshasa—an intoxicating swirl of xylophones, lamellophones, deeply booming and loosely buzzing drums, bottles and bells, melodious electric guitar, and call-and-response voices that intermingle with the instruments and lift to dreamily grooving heights. This band goes back to the early days of the Congotronics phenomenon, a formulation of the visionary Belgian musician and producer Vincent Kenis. Kenis persuaded members of five different bands from the Kasai region of the Congolese interior to collaborate for a European tour, never imagining that they would remain a band for years afterward. But here they are, 15 of them, making sublime and fascinating music. Kasai Allstars present an alluring cluster of paradoxes. Ceremonial sounds that evoke timeless rituals are laced with the electric guitar riffs straight out of the urban Congolese nightclub. And songs about ancestors, ghosts and fetishes, performed by painted, raffia-clad musicians actually deliver messages critical, or at least wary, of occult beliefs.  Amid the buzz and chime and undulating high and low voices on the album's title track, we get this message: "We suffer because our ancestors refused to obey the laws of the Lord and invented their own…  Beware the fetish, it is responsible for all miseries on earth." The Congo is nothing if not complicated, and I won't venture further into analyzing the spiritual leanings of the Kasai Allstars.  But outsiders like myself are apt to be moved in deep and mysterious ways by these enchanting songs. From the tinny, megaphone vocals on "Yangye, the Evil Leopard," to shifting tides of buzzy drums, muted guitar, leavening bell patterns, and deep bass punctuation points of "Down and Out," these pieces paint vivid soundscapes. On the lovely "He Who Makes Bush Fires for Others," folkloric sounds take a back seat to ambling guitar-driven rumba. The varieties of tradition, instrumentation and vocal style keep things interesting over the course of 12 long tracks. There's nothing ethnomusicological about the presentation here.  This is—for all its indigenous trappings—pop music, with catchy melodies, arranging points and slyly seductive dance grooves. Lest we forget that, the session ends with a long track from the Congotronics vs Rockers oeuvre. (A groovy double CD by that name features collaborations between Congotronics artists and international musicians.) Here, "The Ploughman" is a multi-textured, techno-roots jam incorporating members of Konono No. 1, and a number of non-Congolese collaborators, including San Francisco noise-pop band Deerhoof. It's a suitably ecstatic send-off to what may be the best excursion yet in the ongoing Congotronics journey.