Cape Town Winter in Columbus Circle: Jo'Burg All Stars at Dizzy's
Rain and fog had descended on Manhattan as a sextet of top-flight South African jazz musicians took the stage at Dizzy's Club Coca Cola (part of Jazz at Lincoln Center) on Friday, April 4.  The MC, who clearly knew the music and musicians well, said it reminded him of Cape Town winter—a paradox in the early days of a New York spring. But the music that followed was truly transporting, conveying a unique alloy of hope, melancholy and deep reflection that goes to the heart of the South African jazz tradition, and in some ways, the South African experience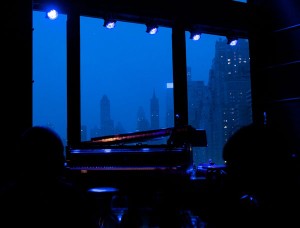 This group goes by the name Uhadi: All Stars of Johannesburg Jazz.  Its leader and spiritual center is the legendary singer Sibongile Khumalo, a kind of South African Ella Fitzgerald—able to scat, belt and coo with total control--and a vocalist deeply schooled in a variety of traditions. Khumalo proved an entrancing stage presence, summoning deep emotions, many of them quiet and subtle, making the moments when she danced and smiled that much more special.  Khumalo presided over, and kept the reins on, a staggeringly talented band of veterans, young and old: Feya Faku, trumpet; McCoy Mrubata, saxophones/music director; Paul Hanmer, piano; Herbie Tsoaeli, bass; and Justin Badenhorst, drums. The moment was auspicious. This month, South Africa celebrates 20 years of freedom from apartheid. And, at the Rose Theater, within the same Jazz at Lincoln Center building where these musicians were holding forth, the great Hugh Masekela was celebrating his 75
th
birthday. In fact, between her two sets at Dizzy's, Khumalo made an appearance on that stage as well, joining Masekela for a song not long before another veteran of South African musical history—Paul Simon—did the same.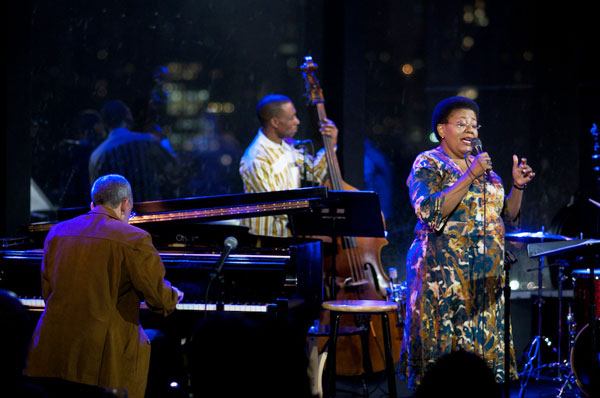 But coming back to Dizzy's, the set I caught was like a philosophical encounter between old friends. Homage was paid to a long list of South African jazz greats who have passed away recently. One name I recognized was that of composer and saxophonist Winston Mankunku.  Mankunku did not join the exodus of Cape Town jazzers who made their way to Europe and America during apartheid. And Afropop heard his group and interviewed him there in 1987, on our first research trip to South Africa. Hearing the musicians of Uhadi, I was reminded of something I learned from Mankunku and others back then. What really distinguishes South African jazz is not so much scales and rhythms, but a certain attitude, a kind of soothing peacefulness.  This music is about sanctuary from the storm, not the wild release of pent-up passions, like much American bebop and free jazz. As this graceful ensemble exchanged voices, the solos were nuanced and beautifully paced, rarely showing off chops—though clearly, all these player had them in reserve.  McCoy Mrubata on saxophone unleashed a few breathtaking volleys, but they capped supremely well-constructed solos, a well-earned payoff, never an onslaught.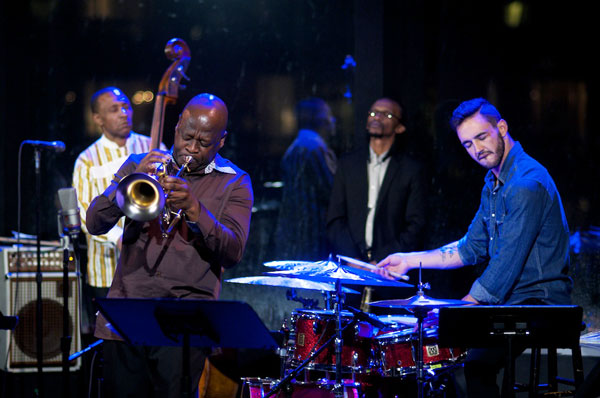 Paul Hanmer's composition "Same Old" began with the breezy, meditative mood of Abdullah Ibrahim's 1974 classic "Manenberg." Khumalo preceded her singing with a vivid spoken-word segment about healing "this broken homeland." Although there was much to celebrate this night, these musicians were not about touting milestones or victories. Rather, their profoundly moving performances provided a serene space in which to honor the sacrifices of the past and ponder the daunting challenges facing South Africa, and the world, today.