Producer Sam Backer is currently working on a upcoming Hip Deep program about the wide variety of African music bubbling through Lisbon, Portugal. Stay tuned for more blog posts detailing his journey soon!
When we get to Anos 60 at around 11:30, the small, grubbily hip bar in Lisbon's up and coming Baxia neighborhood is pretty much empty. There are touches that wouldn't be out of place back in Brooklyn—a wall of electric typewriters, for instance, provides the primary decoration—while others, such as the ashtrays and the one euro beers, are a reminder that I'm in a truly different city. Also the fact that the bar is, you know, empty at midnight on a Friday. I'm here with Francisco Sousa, one of the two DJs behind Celeste/Mariposa, a project devoted to exploring and furthering the Afro-Lusophone heritage that can be found everywhere in Portugal's capital city. We are here to see a performance by Chalo Correia, an Angolan singer and guitarist whose debut record,
Kudihohola,
is the first release from the team's newly launched label. (Check for a review coming soon.) In fact, the vinyl copies of the record have just come in, and Francisco is excited to be able give Chalo his LPs. Chalo has lived in Lisbon for about 25 years, mostly playing in bars and cafes like this one. And while the record features a full band, tonight he will be playing solo acoustic. Francisco tells me that it will be a wild party, that it always is when Chalo plays. I'm a bit doubtful—I've found that it's the rare acoustic performer who can bring enough energy to really make a crowd dance. And plus—where's the crowd? There's still basically no one here.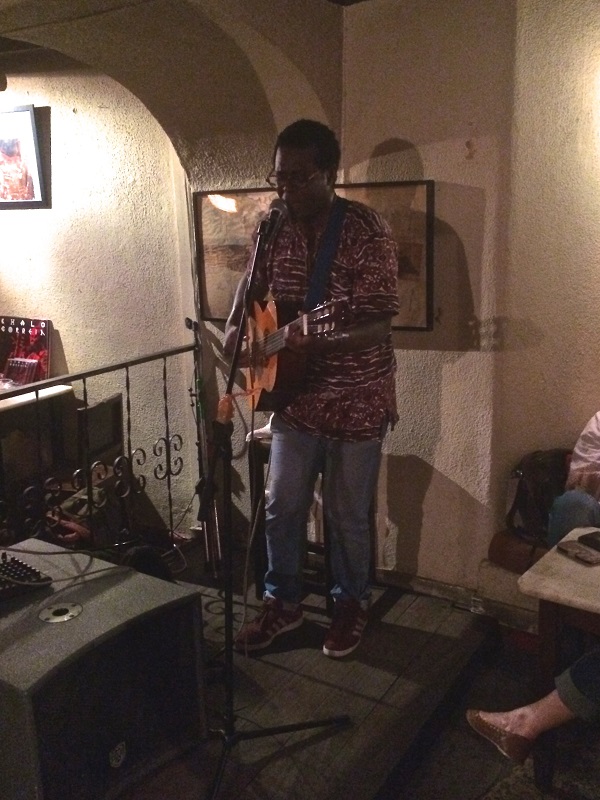 Chalo walks in a little after 12. He greets Francisco, happily receives his copies of the record, and then starts greeting his friends who, sure enough, have started to wander through. By the time Chalo's tuned up, tested his mic, and set the levels, it's about 12:30, and a thin crowd has started to gather. From the first song, it's clear that all my reservations are completely unfounded. Chalo plays mostly
semba
, a classic style of Angolan pop that manages to combine melancholy and danceability about as perfectly as any genre I know. The songs are three to four minutes long, punctuated by blasts of harmonica, and driven by a half-arpeggiated strum with enough rhythm to set the crowd moving. And within another 20 minutes, there is definitely a crowd. Drinking Super Bock or Sagres, the two national beers of Portugal, and producing a billowing cloud of cigarette smoke, the now-full bar increasingly turns its focus to the music. Even the seemingly uninterested people by the door, who were apparently just here to drink, are tapping along to the beat, their previous conversations forgotten. The vibe is amplified by the fact that Chalo has clearly brought his own fans. Francisco and I are standing by a table of African men splitting bottle after bottle of Coke and wine (apparently it's a thing in Angola), and banging along to every song, while other people step up to exchange smiles with the stage before diving into the now-packed dance floor. Buoyed by the coke-bottle rhythm section provided by our neighbors, Chalo begins to really dig into the music, sweat pouring off his face as he wails the refrain of his song "Mariana." We all scream back. The crowd has now exploded into dance; couples, people freaking out by themselves, those who know the moves and those who don't. It really is a party.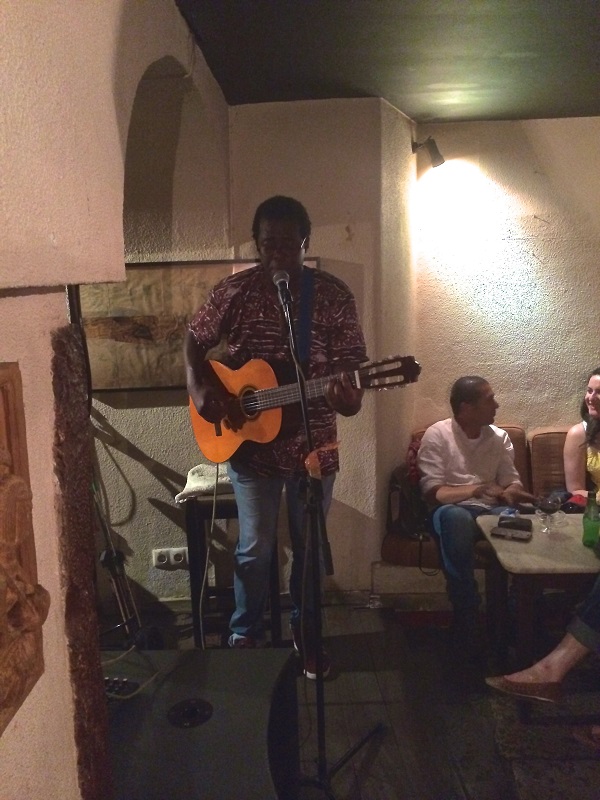 And then a break. It's 1:30, and Chalo has played for about an hour straight. He takes 20 minutes—just enough time for him to catch his breath, and for us to do a brief interview outside the bar. And then he's back. In his absence the crowd has only grown in density and alcohol consumption. They're howling now, and Chalo gives them exactly what they want. For another three hours. With a full day of interviews scheduled for Saturday, Francisco and I stumble out of the bar at around 3a.m., with things still in full swing behind us. Francisco is a little disappointed with the number of records sold. While people definitely bought some, the number simply isn't that large compared to the crowd at the bar. It's a challenge with Lisbon, he tells me. People will dance to African music all night, but it's much harder to get them to pay for it, or to put it on a main festival stage or a concert hall. It makes it hard for the artists. Chalo is great, but he's been playing this kind of show for over a decade. Ultimately, it's not sustainable. For now though, with a record released and tour in the works, things are moving. And it's hard to be too upset with a crowd like that. Stay tuned for a review of Chalo's album,
Kudihohola
,and a more reporting from Lisbon, coming soon. https://www.youtube.com/watch?v=1lJStN8qnqs https://www.youtube.com/watch?v=2-PTrWXHgq0