Doudou N'Diaye Rose and Vieux Sing Faye: Honoring Two Musical Giants of Senegal
Brendan Kibbee is a PhD student in ethnomusicology at the CUNY Graduate Center. His current research deals with the performance styles and politics of women, youths, and members of Sufi organizations in Dakar's historical Médina neighborhood. Kibbee began learning sabar drums from Mar Gueye (the son-in-law of Doudou N'Diaye Rose) and Morcoumba Gueye (Doudou N'Diaye Rose's grandson) in New York, and he currently plays with members of the Sing Sing Family accompanying sabar dance classes at Alvin Ailey. In 2016, Kibbee will return to Senegal as a Fulbright Hays Fellow to finish his dissertation research.
C'est un frère, un ami, un homme de paix, et un grand disciple de Serigne Babacar... Beaucoup de gens sont venus l'accompagner dans sa dernière demeure. Je ne sais pas si j'aurai le même monde, mais je prie fortement pour l'avoir.
He was a brother, a friend, a man of peace and a great disciple of [Sufi leader] Serigne Babacar [Sy].... Many have come to accompany him on his last procession. I don't know if I'll have as many people, but I pray that I do.
—Doudou N'Diaye Rose,at the funeral of drummer Vieux Sing Faye, one day before his own passing
Ñun doom yi, ñi fi des nañu fexe am li ñu am, ñoom. Muy sama ñaari baay yi fi jógé El Hajj Vieux Sing Faye ag El Hajj Doudou N'Diaye Rose. Sen kollëré gën na feeñ kii jógé fi tey kii jógé fi subë. Bi fi kii (El Hajj Vieux Sing Faye) jógéé dafa dal ndox bi fi El Hajj Doudou N'Diaye jógéé dafa dal ndox.
We the children, those who are left, let's try to compare their achievements, those of my two fathers who have left us, El Hajj Vieux Sing Faye and El Hajj Doudou N'Diaye Rose. Today, their friendship is more apparent because one left today, the other the following day. When El Hajj Vieux Sing Faye left, it rained and when El Hajj Doudou N'Diaye Rose left, it rained too.
—Mbaye Dieye Faye, Vieux Sing Faye's son and Youssou N'Dour's longtime percussionist
On Aug. 18, 2015, Senegal lost Vieux Sing Faye, the patriarch of the illustrious Sing Sing Family of drummers and artists. At Santhiaba Mosque, in the heart of Dakar's Médina neighborhood, Doudou N'Diaye Rose came to bear tribute to his friend and rival. One day later, on Aug. 19, N'Diaye would be lost as well. The histories of Vieux Sing Faye and Doudou N'Diaye Rose are deeply intertwined and their passing just one day apart, as Mbaye Dieye Faye suggested, gives us a chance to reflect on a chapter of Senegalese musical history that began in the 1940s and '50s. As many have recounted in recent tributes, Doudou N'Diaye brought an exciting dynamism to performances throughout the world, drawing countless audiences to Senegalese drumming. His story maps a progression of the art of
sabar
drumming from the neighborhood street to the international stage. The legacies of both artists taken together, however, give an even richer portrait of the country's dynamic musical landscape. Vieux Sing brought a mastery, a mysticism and a deep, deep connection to the Cap Vert Peninsula, where Dakar is located. Doudou N'Diaye earned the title of
tambour majeur
of Senegal and Vieux Sing was
baj géwël ndakaaru
(chief griot of Dakar). Both artists left an indelible mark, doing so through divergent yet complementary paths. At 85, Doudou N'Diaye, the better known of the two, was 12 years older than his counterpart. From nine years old, he came of age in the Champs de Course section of Dakar's Médina neighborhood and maintained a family house there until the 1990s, when the property came under eminent domain for the building of the Radio Television Senegalais headquarters. From RTS, it is a short walk down the dusty, busy, lively Rue 22 to the Sing-Sing family home, where Faye's extended kin have dwelt since being expelled from Dakar's downtown Plateau by French colonists in 1914. As a teenager, Doudou N'Diaye began playing with Vieux Sing's father, Daouda Faye and cousin, El Hadji Mada Seck, who he often credited as his mentor. When Mada left for Ivory Coast in 1959, Doudou N'Diaye recounted to me in a 2013 interview, he took his group on a farewell tour through every neighborhood of the city. They played for all of the major associations, with Mada presenting Doudou N'Diaye to each association leader as his replacement. Demand for the young prodigy's services continued to grow. In the colonial era, the governor invited him to play for July 14th (Bastille Day) and November 11th (Armistice Day) celebrations, and after independence he became the preferred drummer of President Senghor, who Doudou N'Diaye described as an
homme de culture
(cultured man)."On Saturdays and Sundays, he [President Senghor] would call me to come to his home and have me accompany his poems," he recalled in our conversation. By his own account, Doudou N'Diaye "modernized" Senegalese drumming. He created new drums and new combinations within the ensemble, emphasizing interplay between drums at different registers of the sound spectrum. He assembled groups with 10 times the nine-man lineup of the typical sabar ensemble. He produced huge spectacles with the Majorettes du Sénégal and for the
bicentennial of the French Revolution
, not to mention the Rolling Stones and Miles Davis. [embed]https://www.youtube.com/watch?v=wHSfpD-JNSg[/embed] In the last decades of his life, Doudou N'Diaye, a committed member of Senghor's Parti Socialiste, felt somewhat shut out the liberal governments of Abdoulaye Wade and Macky Sall. In the
last interview
 that he gave for
L'Observateur
, he complained about the lack of government initiative in opening a long discussed school of global dance in Senegal that he had championed, noting leaders' resentment of his loyalty to the PS as a key factor. He complained also that no Senegalese dignitaries had attended the 85th birthday celebrations thrown for him by the American and Japanese embassies. Still, the atmosphere surrounding Rose's passing was like that of a state leader. The crowds that showed up to his funeral lived up to the hope he had expressed at Vieux Sing Faye's funeral, and many of Senegal's major television networks aired 24/7 tributes and footage of his work, Rose's picture filled the front page of every newspaper. The reaction to Doudou N'Diaye's passing left little doubt that he continued to serve as one of the country's most beloved figures. At Rose's funeral,
Mbaye Dieye Faye told a touching story
: "Doudou N'Diaye Rose was the last to leave my father's gravesite. His children came to take him away but he told them, 'Go. I'm speaking with Vieux Sing.'" That Vieux Sing Faye could communicate with his friend from beyond the grave made sense to many people to whom I spoke in Dakar. Vieux Sing was known both as a drummer and a mystic, the only person in Dakar with the ability to communicate with
Leuk Daour Mbaye
, the chief
rab
(spirit) of the Cap Vert peninsula where Dakar is located. The passing of Vieux Sing was less of a national event, but it hit the Médina neighborhood hard. Just a few hours after the news broke, a large impromptu crowd gathered around Santhiaba mosque, including Doudou N'Diaye, Médina's mayor Bamba Fall, Youssou N'Dour and the Grand Serigne de Dakar (the leader of the Lebou association, Dakar's precolonial inhabitants). Medina was Dakar's "native quarter" in colonial times. It is the product of a 1914 public health act that most residents correctly recognize as a pretext for segregation. In the years since, it has come to represent Senegal's non-European radical creative potential, as the former home of the École des Arts, as a base for Maoist groups connected to the Front Culturel
,
as the birthplace of Youssou N'Dour. It is also a place rooted in traditional values, whose streets regularly play host to Sufi gatherings, spirit possession ceremonies (
ndëp
), amateur traditional wrestling matches (
mbappat
) and late-night women's dances (
tanebeer
). The neighborhood is seen as poor, crowded, scrappy, but welcoming, creative and deeply rooted in
cosaan
, Senegalese cultural heritage. The Sing Sing Family is central to that heritage. Not only do Sing Sing drummers perform at countless assemblies in the neighborhood's streets each year, but the several generations of family patriarchs have served as
baj géwël ndakaaru
(chief griot of Dakar), a position within the Lebou hierarchy that is equal in prestige to the Grand Serigne (the leader of the association). [caption id="attachment_24899" align="aligncenter" width="600"]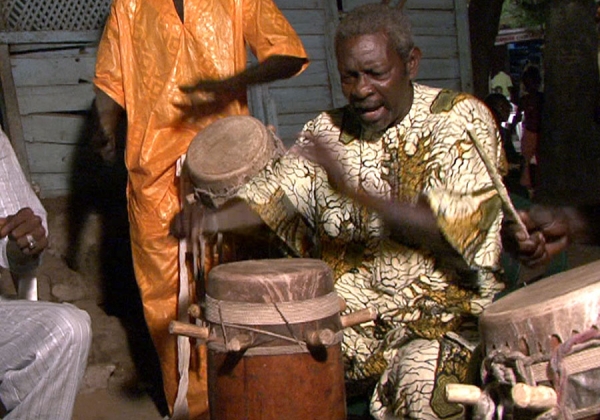 Vieux Sing Faye[/caption] As baj guewel, Vieux Sing played sabar for the introduction of other Lebou notables, used his drums to summon the
rab
Leuk Daour Mbaye, preserved genealogical knowledge of Lebou families and served as the Grand Serigne's mouthpiece on certain occasions. Vieux Sing inherited this title from his father Daouda Faye, and his grandfather, Sing Sing Faye. In fact, members of the Faye family have held this title since the time of Dial Diop, who founded the Lebou republic on the Cap Vert peninsula at the turn of the 19th century. Like his ancestors before him, Vieux Sing's relations to notables in the human world as well as the spirit world set him apart. He was the preferred drummer, not only of Lebou notables, but also of politicians and wrestlers. He played for ndëp, spirit possession/healing ceremonies that take several days and involve the effort of hundreds of people. Vieux Sing's grandson Tapha N'Diaye recounted to me: "When we were kids, we would sleep in the courtyard sometimes. Pa Vieux would be sittings on his low-slung chair and sometimes he would wake us up and tell us 'go to your room, Leuk Daour Mbaye is here.' We would leave, but Pa Vieux would stay to talk to him." Vieux Sing was thus the inheritor of a great body of knowledge, a mediator between the human and spirit world and the head of the family that actively propagates the griot arts, not only in Médina, but now throughout much of the world. It is tempting to map the legacies of Vieux Sing Faye and Doudou N'Diaye Rose over the worn duality between traditional and modern; after all, Vieux Sing inherited a title that has been in his family for two centuries while Doudou N'Diaye played with Miles Davis and the Rolling Stones. This narrative, however, would not be true to the present day experience of being in Médina. Senegalese modernity, I might suggest, is the ability to hold the figures of Doudou N'Diaye and Vieux Sing, side by side, as complementary institutions shaping contemporary life. Both artists, in different ways, upheld the values of
enracinement et ouverture
(rootedness and openness), championed by Senegal's first president Leopold Sedar Senghor. Doudou N'Diaye endlessly studied the "secrets of percussion"–a phrase that came up often in our interview–from the masters of the generation before him while Vieux Sing proclaimed to me that when he was born, the knowledge acquired by his ancestors came directly to him. Doudou N'Diaye showed an openness to working with international artists with wildly divergent values and musical ideas, while, true to the Wolof (and more specifically Lebou) practice of hospitality, Vieux Sing and his family have continuously opened their home, their neighborhood, their stories and their values to strangers and foreigners. As the next generation of Senegalese drummers steps into the elevated roles left vacant by these two masters, the examples of artistic, spiritual and personal leadership that they set continues to resonate.