Field Report: Montreal International Festival of Jazz
The 39th Montreal International Festival of Jazz took place in the French Canadian city this year from June 28 to July 7. It is the largest festival in Montreal, and one of the largest jazz festivals in North America. Hundreds of thousands of attendees came out for over 500 shows, two-thirds of them free to the public.
Unfortunately, there were two situations which left a mark on the festival. A massive heatwave, shooting daytime temperatures above 100°F with up to 80 percent humidity, and lasting almost the entire week, made it very trying to run from stage to stage. But the festival quickly set up water and misting stations throughout the grounds downtown to help cool off attendees.
The other issue was the heated controversy over the musical production, Slav, described as "a theatrical odyssey based on slave songs." The show starred Beatrice "Betty" Bonafassi, who adapted traditional slave songs from the famed Alan Lomax collection. Activists who took to the streets and social media, and the decision by California singer/songwriter Moses Sumney to call off his show in protest, pressured festival producers to cancel the remaining performances of the show. The major issue at hand was that Bonafassi, the show's director and much of the cast, were white.
Bonafassi first gained international notice as the singing voices for the main characters in the animated film classic, The Triplets of Belleville. She has put out two solo albums since, a self-titled release in 2014 and Lomax in 2016. Both albums are explorations into the Lomax collection. She wrote of the 2014 album that it is "a tribute to the resilience, dignity and beauty of the African slaves who were deported to America for labor. The African continent has shaped the American continent, deeply affecting its structure as well as its art, at a great cost. I would also like to thank Mr. Alan Lomax whose meticulous research as an ethnomusicologist made it possible for us to hear these songs a century later, so that we never forget what happened to them." Bonafassi also performed many of the songs in concert at the festival last year without incident.
"We remind you that this show was presented 73 times in Quebec, Canada, the U.S. and Europe," the festival wrote in an official statement, "without provoking anything like the reaction we have witnessed over the last few days.... That is why we were initially surprised by the turn of events.... We found that the debate was much deeper than the SLĀV show itself.

"Going forward, the Festival International de Jazz de Montréal intends to continue listening to the testimonials and comments of those who felt hurt or upset, as well as those who were disappointed by our decision to cancel the performances.... Our point of view is simple: issues of race must be discussed openly. We must take the time to communicate in order to better understand one another and do better in future."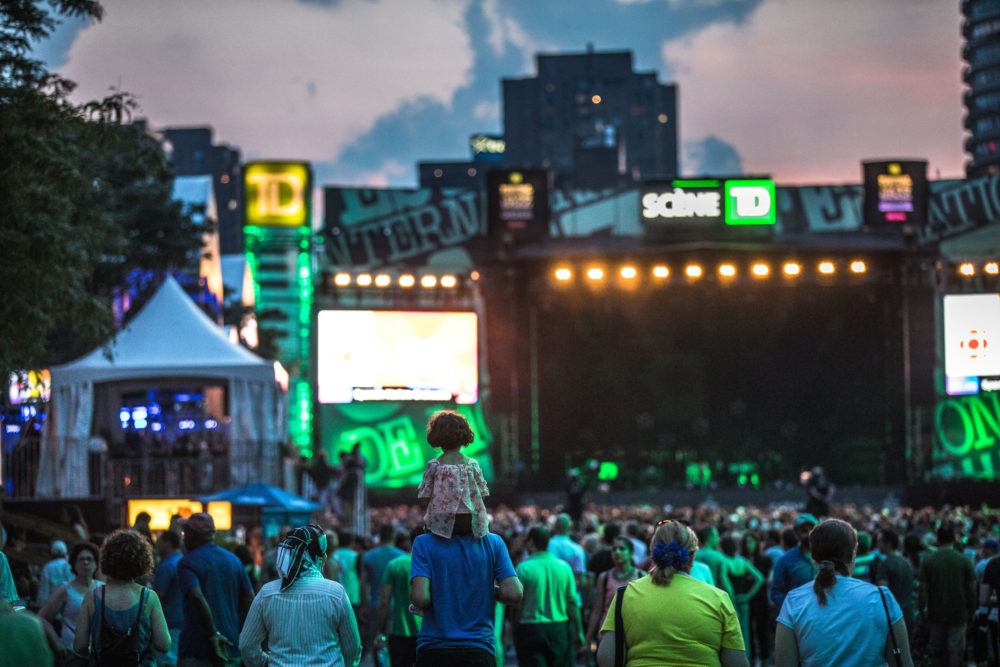 Since we didn't see the show, we do not have an opinion to share. But we are saddened that a festival, which for 39 years, has brought artists and music lovers from all over the world together, promoting and advocating for greater understanding through the arts, became better known this year because of this controversy. But on to the highlights....
With so many acts performing over the 10 days, it's impossible to see them all. Sometimes, it just comes down to a roll of the dice as to who to go see. And while the festival maintains its focus on jazz, there are always plenty of rock, blues, soul, hip-hop and especially world music acts to catch. This year our top favorites in the world music category were weighed towards strong female performances.
(Three of best acts we saw—the Congolese band Jupiter and Okwess, Spanish diva Marinah (formerly of Ojos de Brujos) and Brazilian legend Vinicius Cantuaria—will be featured with interviews shortly here on the website.)
As the story goes, Brazilian Mariana Da Cruz was singing bossa nova in an Irish pub in Lisbon, back in 2005, when Swiss producer Ane Hebeisen (AKA Ane H., and formerly of '80s industrial music group Swamp Terrorists) caught her act and the two decided to join forces. Thus, the band Da Cruz was born. Their latest album, Eco Do Futuro, released late last year, taps into genres ranging from Brazilian disco to Afrobeat, with even some cumbia thrown in. The lyrics address the growing economic divide, and she spoke between songs about the need for free education for all people of the world. But more than anything, Da Cruz's music is insanely danceable. We were especially taken with her rousing cover of Jorge Ben Jor's classic "Taj Mahal."
Hailing from the Cape Verde island of Santiago, Elida Almeida grew up singing in churches. She was discovered by producer José da Silva, who previously worked with Cesaria Evora and Boubacar Traore, among others. Her first album, Ora Doci, Ora Margos, was released in 2014, and in 2015 she was a finalist for Discovery Prize of the Year from Radio France International. Her music takes its cues from both Cape Verdean traditional funaná and batuque, but she has definitely found her own original sound. The audience in Montreal was quite taken by her youthful and energetic presence and her set lingered in our minds throughout the rest of the festival.
Gato Preto (which means "black cat" in Portuguese) is electronic beats producer Lee Bass and singer/rapper Gato Misteriosa who met and formed the group in Dusseldorf, Germany. Bass's family came from Ghana, and Misteriosa's from Mozambique. When performing live, they also include Senegalese djembe drummer Moussa Diallo and a pair of dancers. Their sound and style is highly influenced by their mutual love of science fiction and the Afro-futuristic scene. On stage, they rivet your attention and it's impossible not to move your body to their fierce and infectious beats.
Seeing Spanish jazz pianist Chano Domínguez perform his mash-up of jazz and flamenco was a very special evening indeed. In addition to his trio, he includes a flamenco singer and a dancer on stage. The idea came several years ago to Dominguez who was inspired by Miles Davis' "Flamenco Sketches," and he covers several Miles Davis classics. It was a perfect marriage, as both jazz and flamenco rely so much on improvisation and inspiration.
Another great evening was the electrifying performance from the Spanish Harlem Orchestra. Celebrating their 15th anniversary this year, the group, formed by pianist Oscar Hernandez and producer Aaron Luis Levinson, are seemingly an unstoppable force. Not one person in the massive crowd was standing still, driven by the band's addictive salsa beats.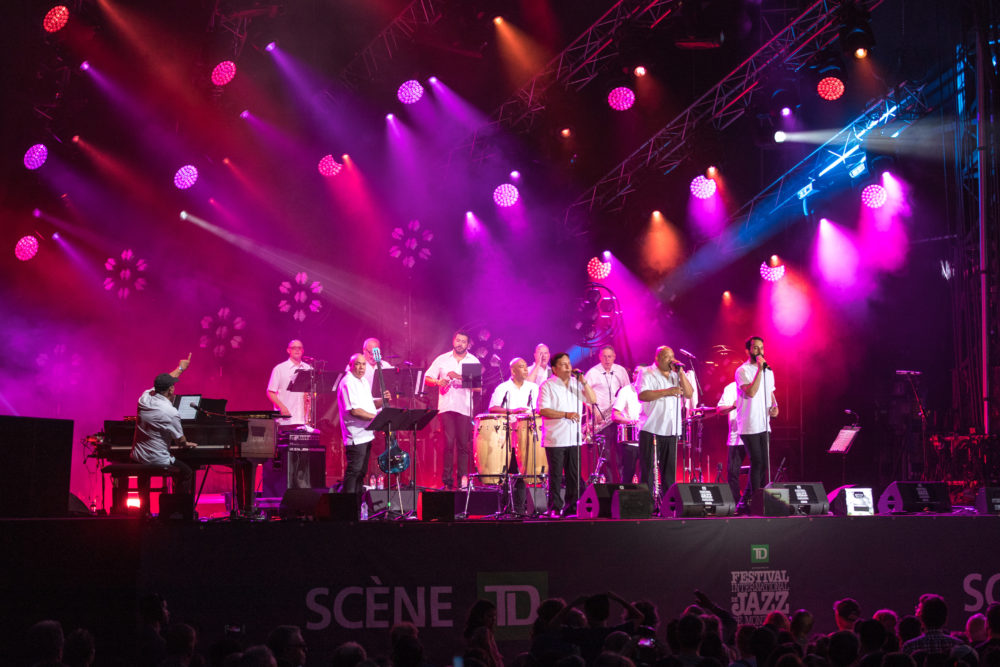 Jazz/hip-hop singer José James's soulful tribute to Bill Withers rose above merely just covering the vault of Withers's timeless catalog, driven by his passion for the material. An album of the songs will be released in the fall. If you get a chance to see him, be prepared to sing along to some classic Withers tunes.
Last, but certainly not least, Lakou Mizik. Formed in the aftermath of the 2010 earthquake which devastated Haiti, the nine-member multigenerational group of musicians was shepherded by Chris Velan and Zach Niles, who helped bring us the Sierra Leone Refugee All-Stars. They released their first album, Wa Di Yo, in 2016, and are busy working on their second release, recording at Montreal-based Arcade Fire's studio here in Quebec. Lakou Mizik seems to enjoy playing with each other immensely, and those good vibes shoot out from the stage into the crowd.
Other notable world music performances included Tuareg guitarist Bombino, Delgres, whom we caught last year at Festival Nuits d'Afrique, and two world beat groups—New York-based Banda Magda and the French band Lo'Jo. As well, several local world music groups performed including the Afro-electrica Afrikana Soul Sister, Afrobeat group Afrodizz, Latin hip-hop meets cumbia band Boogat, nueva Mexican group Agua Negra, and "Afro-coustic" Noubi Trio, who will also be playing at Festival Nuits d'Afrique celebrating their first album release.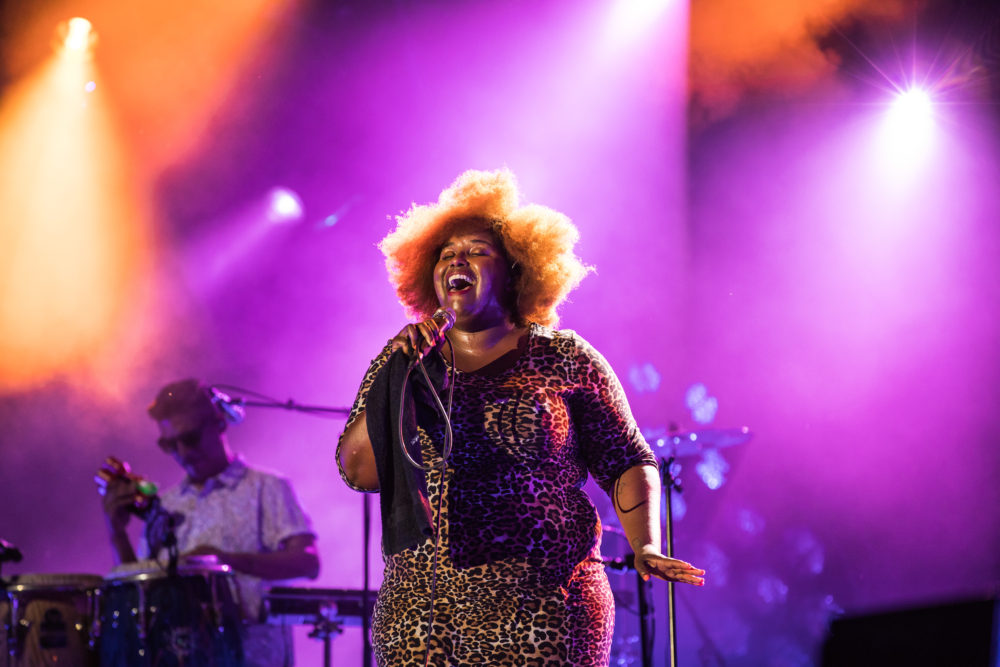 Moving into other genres, a band that has been on our radar for some time, Houston-based The Suffers killed it with their outdoor concert. Lead singer Kam Franklin is on a fast track to become a new soul queen and you should not miss an opportunity to catch them. Also, Montreal's own Fredy V oozed so much retro-funk that the audience was drenched in it and should now be on your radar. And local funk/jazz collective, the Kalmunity Vibe Collective, celebrating 15 years of improvised vibrations, held the M2 venue for three late-night packed performances.
A real surprise was the performance from Deva (pronounced "Diva") Mahal, the daughter of blues legend Taj Mahal. She commanded the outdoor stage with a soulful set of tunes, singing, dancing and playing guitar. She has clearly inherited her father's musical talents.
Ry Cooder performed a beautiful, but also wistful set. The 72 year-old performer tapped into both his latest and some of his oldest material, including a heartfelt rendition of "The Very Thing That Makes You Rich (Makes Me Poor)."
For jazzheads, this year saw a great mix of young and old performers. From the Preservation Hall Jazz Band to Kamasi Washington, Dr. Lonnie Smith to Corey Henry, Archie Shepp to Theo Crocker. And mixing it up together was Herbie Hancock and Thundercat in concert.
Rock fans also had multigenerations of performances to catch: Jethro Tull's Ian Anderson, Boz Scaggs, George Thorogood and the Destroyers, Ani DiFranco, M. Ward, Jack Broadbent, and The War on Drugs.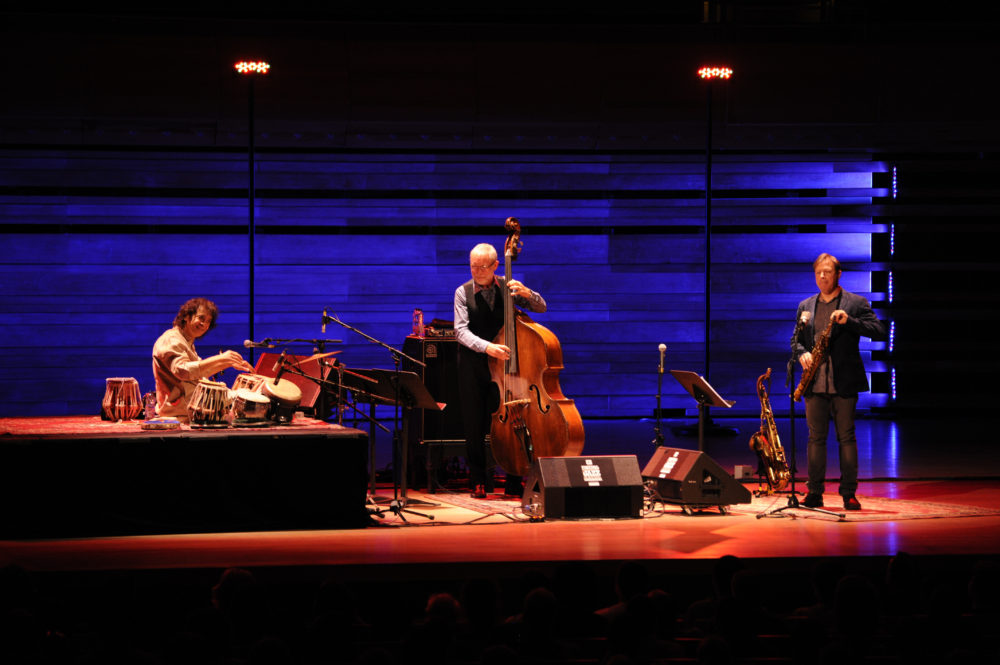 The festival gives out awards each year to recognize various achievements by musicians. This year winners included Ben Harper, who received the Ella Fitzgerald award, "in recognition of the versatility, improvisational originality and quality of repertoire of a singer renowned on the international scene;" Ry Cooder received the Spirit award which "underlines a popular artist's extraordinary contribution to the musical world; and Indian tabla player Zakir Hussein received the Antonio Carlos Jobim award, which is "to honor artists distinguished in the field of world music whose influence on the evolution of jazz and cultural crossover is widely recognized."
We are absolutely looking forward to next year's festival, which will be its 40th anniversary, and we are sure there will be some extra-special surprises when they announce the schedule next spring.