Gqom is tribal house music for those who prefer to hear influences from their Zulu ancestors, not a sample pack they found on the Internet. If there was any doubt, we can start with the genre name itself, gqom, which comes from the onomatopoeic Zulu word for a drum kick, the main signifier of a good gqom track. The music itself is a product of the townships outside Durban, the third-largest city in South Africa. More than a third of the city is under the age of 19 so it comes as no surprise that young artists are leading the charge. TLC Fam and their label mates Cruel Boyz, Dominowe and Mafia Boyz plus many others represent the future of this house music-inspired genre.
A comparison to Wu-Tang Clan is always difficult to make, but the sheer size of this 23-member group is impressive enough to warrant one. Although the members' jobs are spread out across a variety of duties, (producing, deejaying, dancing, emceeing, and even promoting a taxi business) they are all considered to be an integral part of the TLC Fam. Producers DJ Magic and Resto handle the brunt of the track creation, maintaining their sound with the distinct "taxi kick" that they've popularised. This drum kick is heavily distorted and is especially desirable when seeking out a hip cab to take you to the club so the party never stops. The taxi drivers were turned on to this sound in the early 2010s and have not looked back since as they are constantly searching for the best gqom to play to attract customers (well showcased in this documentary on the genre and the artists behind it). Even without their taxi-driving members, TLC Fam maintains a heavy presence in the cabs, and this album, Isbethelo seGqom, provides proof as to why.
[caption id="attachment_37350" align="aligncenter" width="640"]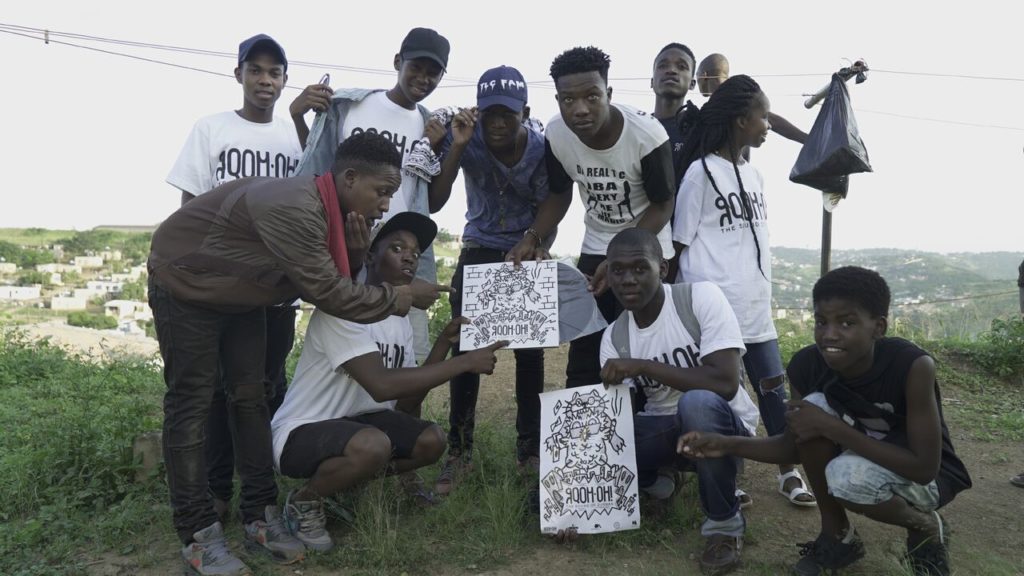 Members of TLC Fam (Photographed by Tommaso Cassinis)[/caption]
The songs on this LP can best be described as a puzzle made up of all the lost pieces that you've accumulated over the years. While other artists in the genre will keep their songs to a more simple formula, TLC Fam works to keep you on your feet, both literally and figuratively. Every track takes its shape as a repetitive drum pattern but is interwoven with samples to leave you guessing as to what will, or could possibly, come next. One might not expect to hear dizzying operatic female vocals paired next to grunts and shouts, as is the case on "Isthakazelo saResto," but when stitched together, these chopped samples form a dark, beautifully aligned union. This is definitely club music but is much more ominous in tone than anything being played in your average American bar. The droning synth in the background of "Tribute to Nomfundo," as well as many of the other songs, is eerie but also works to empower when paired with the heavy drums and chants. There comes a brief breakdown where the drums exit and an optimistic synth line removes the shroud, only to immediately throw you back into the hunt, ululations and bird calls sounding in the distance. Zulu influence can be heard all over the album, in their choice of vocals as well as the rhythms and even in most of the track titles. These musicians are proud of their African heritage and are not afraid to show it in every part of their image.
Although some may find the songs too repetitive, the constantly changing soundscapes kept me intrigued as they quickly evolved like the genre itself. The music is often made in cramped concrete houses outside of the city of Durban, but this does not affect the influence that they have on Durban's club scene. Through these beats, TLC Fam hopes to share their party music and for those around the globe to hear what the underprivileged citizens of South Africa have to say.
You can stream the entire album with the link provided or purchase it on Gqom Oh!'s website: