MogaDisco: Bringing "Africa's Finest Sounds" to London's Dance Floors
MogaDisco is a London-based collective of four young DJs with a shared passion for classic African dance music—Afrobeat, highlife, soukous, jùjú and more. Since they started throwing parties in South London in 2013, they've carved out a niche for themselves in the capital and have brought their sounds to dance floors throughout England and as far as Brussels, Hamburg and Accra. As they prepare to celebrate their fourth anniversary, the crew brings us an exclusive mix of music from across sub-Saharan Africa, warming up with a selection of songs by some great female vocalists before bringing up the energy to give us a taste of what a MogaDisco party might sound like at peak hour.
Afropop staff writer Alejandro Van Zandt-Escobar caught up via email with MogaDisco DJs Folayemi and Kaspar to learn more about the group's history and forthcoming projects.
MogaDisco's fourth anniversary party takes place on April 16 at the Jazz Cafe in London.
---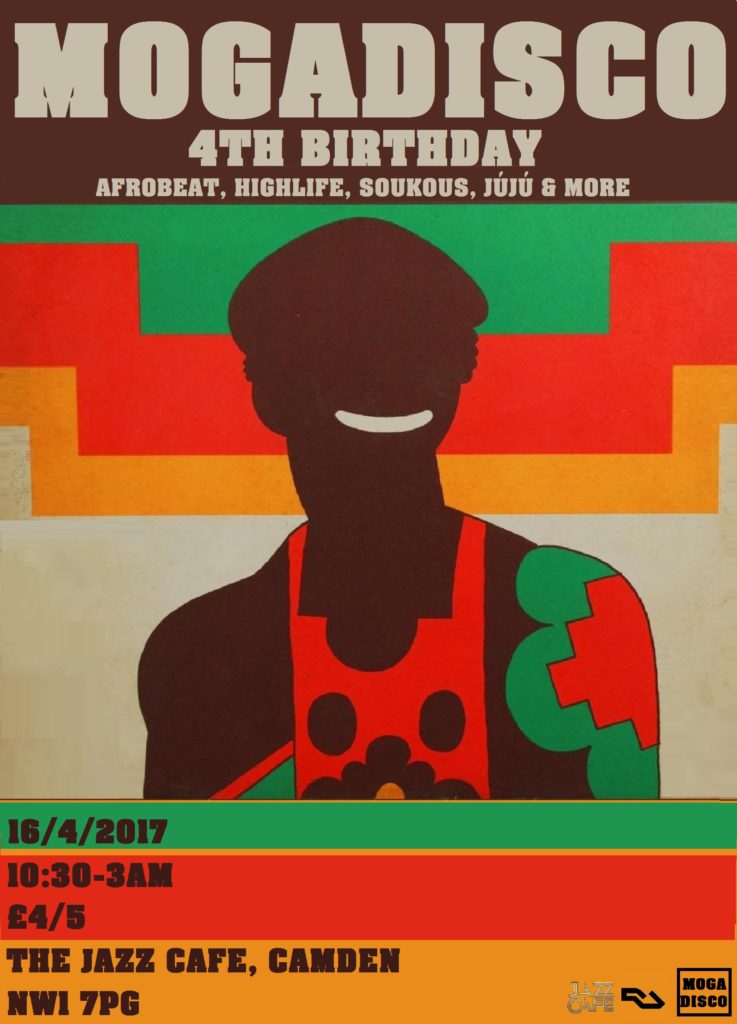 Alejandro Van Zandt-Escobar: Chances are most of our readers on this side of the Atlantic haven't yet been to a MogaDisco party. Tell us about your crew and what you do.
Kaspar: We started MogaDisco parties because we were confident that other people would enjoy the old-school African tunes that bound us as friends, but also because of a dearth of quality club nights in our part of town. The first was four years back in Deptford, South London, in a matchbox club with a small stash of records and MP3s. Since then we've built up a significant library specializing in pre-'90s African music, consciously taking a broad approach as a way to introduce our audience to a wide range of music.
Folayemi: We've played sets all over in London, Manchester, Liverpool, Bristol, Brussels, Hamburg and Accra, most of which are outward-looking port towns connected to the wider world through their waterways. Beyond parties we make themed mixes, have screened documentaries with a focus on African music, and we were recently published in collaboration with Between the Borders.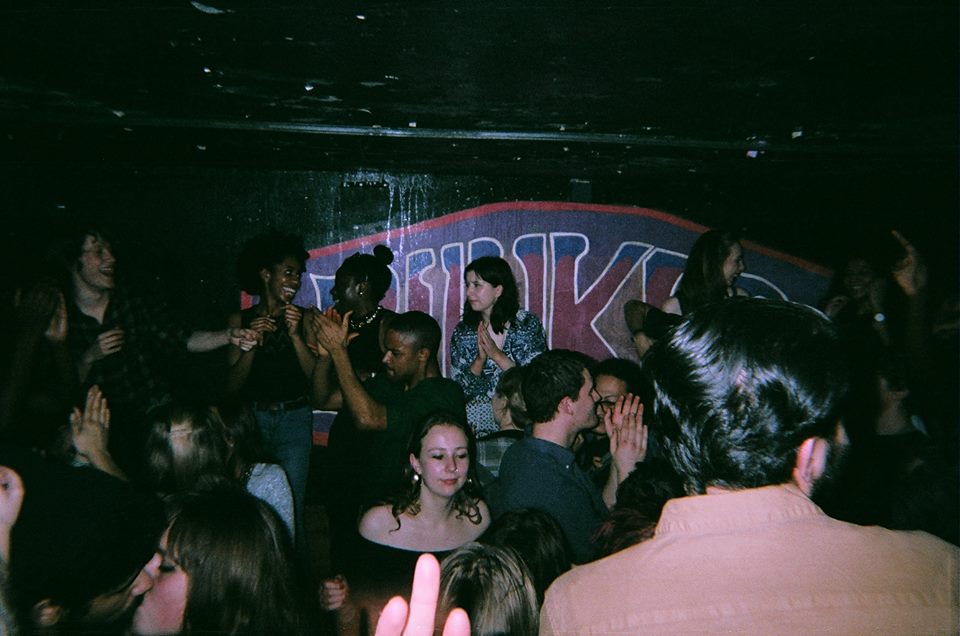 © Igbinoba / Loftin
What about your personal connection to this music? Where are all of you from, and how has this music become part of your lives?
Folayemi: Two of us—me and Bosa—are Nigerian British and growing up with the likes of King Sunny Ade, Sir Shina Peters, Fela, Sir Victor Uwaifo gave us a head start. I lent Kaspar my prized Shina Peters tape over 10 years ago, and he tells me he borrowed a classic Victor Uwaifo off Bosa too. I guess that set him on his path!
Jack met Kas and Bosa up at university in Manchester and we adopted him as an honorary South Londoner when he moved down. Jack's dad is big on African music so you could say it's in his genes too.
You're in the U.K., playing music from another continent that was for the most part made decades ago. Who comes out to hear this music? Do you see many people who were around when this music was contemporary, or grew up with it through their parents? Or do you mostly see a demographic with little direct connection?
Folayemi: Most of our crowd is young but we always have a sprinkling of seasoned party-goers—including our parents—which is nice to see. Part of the reason we have held daytime events is to allow the "aunties" and "uncles" to enjoy their music too. My mum was certainly shocked when she saw how people of all creeds and color were getting down at Moga.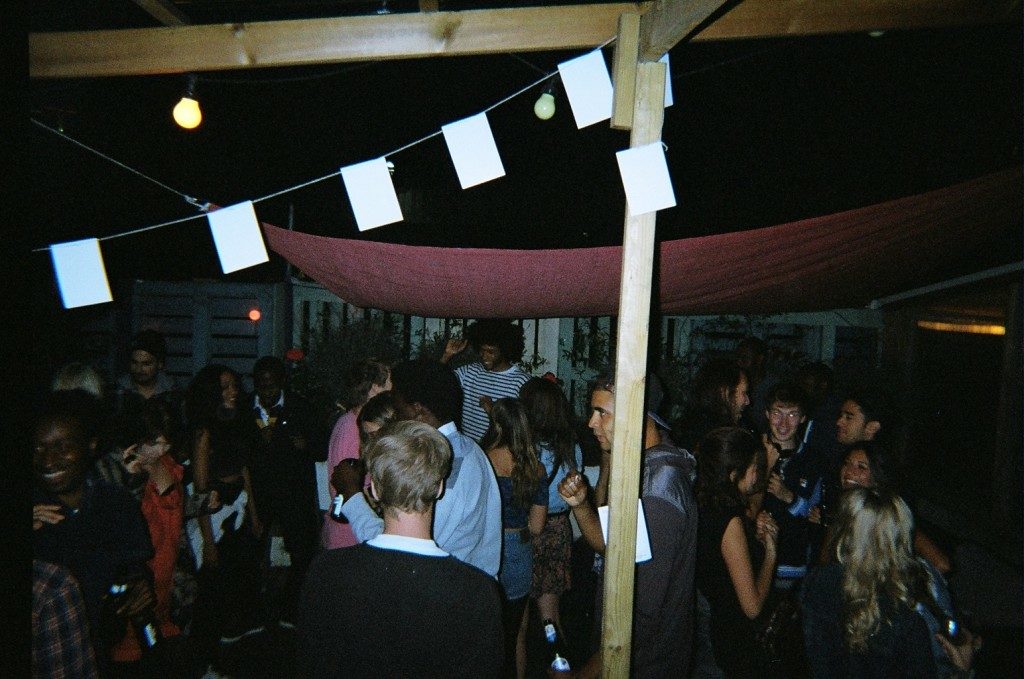 © Igbinoba / Loftin
Kaspar: Our film screenings have had an even more diverse range, and it's generally a more mature feel. We also see our mixes as a space where people who are less comfortable clubbing can still engage with the music. My brother told me that his friend's Dad plays our mixes all the time!
I've recently seen Brian Shimkovitz (Awesome Tapes from Africa) billed alongside big name DJs who don't share his African music focus (e.g. Tim Sweeney, Roman Flugel, Egyptian Lover). I've found it interesting to see how promoters and audiences feel comfortable juxtaposing his sound alongside more mainstream aspects of Western dance music culture (house/techno/disco). What do you think of this, and how do you see MogaDisco fitting into the wider dance music scene in the U.K.?
Kaspar: It's interesting and has definitely become more apparent in the last year or two. When we first started we didn't envision the music we play featuring alongside some of artists you have mentioned. Because we started our own club night we weren't looking to and didn't need to (or maybe couldn't have) attached ourselves to existing scenes in the U.K.. As a result we had to carve our own little space, largely supported by friends and then a growing fan base.
More recently we have been approached for sets at club nights where other rooms are playing the kinds of genres you mention above. In terms of tempo, house music etc. is not too dissimilar to some of the stuff we play so it can fit. Although, there are definitely too many dodgy "edits" of classic African tunes! We agree to these sets on certain conditions, most importantly if we can see that there will be some cohesion between us and the other artists on the bill. We have had to turn things down when the shoehorning is too great!
In terms of the wider scene it's hard to grasp where we fit in because we are the planners of most our shows and therefore not reliant on promoters.
Coming up on your four-year anniversary party, have you seen attitudes and tastes towards classic African music evolve in this respect since you launched?
Folayemi: Maybe we have answered this a bit above, but yes most definitely. If anything the success of our club nights is testament to the growing interest in the music. When we first started we played to maybe 150 people, last New Year's Eve in Belgium there were 900 people in the club! So clearly this era of African music is no longer niche.
Kaspar: There are more labels reissuing albums now, although one prolific label (PMG Records) seems to have caused some major controversy. More hip-hop producers are sampling African music and lately in London it seems like there is an African music club night springing up every month or so. I think it's fair to say that classic African music is having somewhat of a renaissance right now.
I've noticed that your work has started to extend beyond club nights—a DJ set at the Late at Tate and a film series at Deptford Cinema. Do your audiences at these events overlap with those at your dance parties? How does your DJ work fit into wider ideas of promoting African music culture?
Folayemi: From the beginning it has never just been about making people dance to obscure African music (although we of course take a lot of pride in that). Other than well-known artists like Fela Kuti, the Africa music aesthetic has been dominated by the "world" label which has presented a certain type of African music to the Western world. I think that the music we play challenges this image. The narrative of Africa (in the West) has been dominated by negative and stereotypical images and subversively we have been presenting a different version of Africa to our audiences.
Last year we made a trip to Ghana, with our Moga savings, to visit Professor John Collins (who I know you guys have interviewed) and understand more about one of the most significant genres of the era we play: Highlife.
Kaspar: Our film nights at Deptford Cinema have been a way for us to engage with audiences in a more reflective space, and to explore a specific genre of music in a more academic way. We have invited speakers and musicians to come and share their knowledge and experiences. There is some overlap in audiences and I think these people appreciate that we are trying to explore African music in a deeper way. Ideally we want them to come with us on that journey.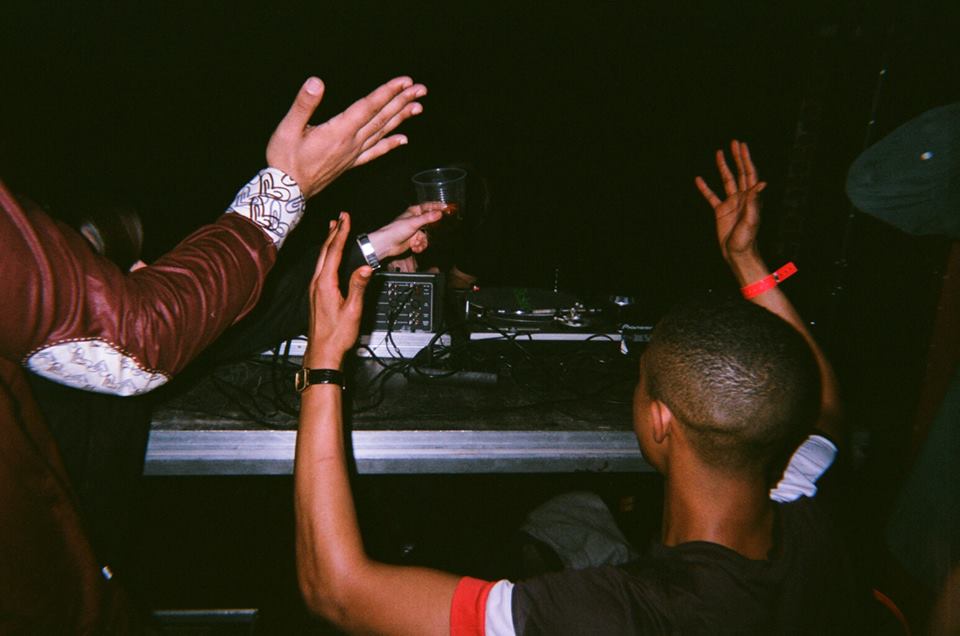 © Igbinoba / Loftin
We know you have your four-year anniversary party coming up. What other projects do you have on the horizon?
We've just started a four-month residency with Worldwide FM, where we'll be sharing some of our collection. Next week we'll be supporting Belgian-Congolese rapper Baloji on April 4 in London.
Our fourth birthday is on April 16 at the Jazz Cafe, a venue that has welcomed some great artists over the years so we are excited to be gracing the stage there. There are still tickets available for this so any U.K.-based Afropop readers—we look forward to meeting you!
We have some future dates fixed for London, including another show in Elephant and Castle and one at Brilliant Corners. Beyond this we're heading to South Africa at the end of the year to do some research and also play a few shows. More long term we are planning something special in West Africa.
Four years has been a blessing, we just want to continue learning and sharing with our audience.
Catch our mixes at: www.mogadisco.co.uk
Tickets for the Fourth Birthday party can be found here: https://www.residentadvisor.net/event.aspx?937053