Nuits D'Afriques: 26 Years of Afro-bliss in Montreal
It's summer in Montreal and once again African music is in the air. Twenty-six years ago, a young nightclub owner from Guinea--Lamine Touré--and a small team of African music enthusiasts mounted the first Nuits d'Afrique festival on a single stage, set up on Saint Laurent Street, out in front of Toure's club, Balatou. In 2012, the festival is staging 91 shows over 2 weeks, using 7 indoor venues, and culminating in 4 days of free outdoor concerts (July 19-22)  in a virtual African village constructed in downtown Montreal. Nuits D'Afrique has a reputation as one of the world's best African music festivals--an amalgam of the best in pan-African talent, and also an expression of a truly cosmopolitan city that is now home to an impressive cast of international musicians, and some of the most enthusiastic audiences you will find anywhere.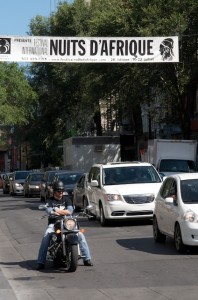 Afropop made a long-overdue pilgrimage to this historic festival catching this year's early shows, and I am happy to report that Nuits d'Afrique lives up to its billing. The musical curation was consistently excellent. The venues were comfortable with good sight-lines and superb sound every time. And the ambiance of this singularly international city--like a de-stressed New York--completed the experience with an easy flow of culture and languge. Afropop gathered material for a number of future broadcasts--on Algeria, Zimbabwe and Afro-Montreal. The only hard part was leaving early, "without completing the race," as Lamine Touré playfully scolded me. But it might not be too late for you. As I write, the festival has a great week to go. Here's a report on Afropop's Montreal experience. Click here for full details on the
26th Festival International Nuits d'Afrique.
more
Montreal responded with clapping, chanting, ecstatic dancing with arms raised high.  Montrealers are lucky to have this band visit regularly. Gnawa Diffusion has never performed in the United States. (One tour was scuttled by visa complications.) On stage, the low thud of Amazigh's
guimbri
(deep-toned Gnawa lute) and the hypnotic clinking of metal castanets were a constant refrain in a set that shifted moods masterfully between melodious ballads featuring the Amazight lute (
mandole
) and edgy urban jams and, always, the rocking spiritual chant and cry of the Gnawa. Amazigh greeted the crowd like old friends--and clearly many were--and, after the band's last long encore, he left the stage triumphantly, holding his castanets in the air and proclaming, "Long live love. Long live the revolution."
soukous
band, cranking briefly before the sound and spirit of the forest subsumed them once again.  It was like a metaphor for modern African music--no matter how polished and fused the presentation, everything is rooted in drums and rhythm. When at last Les Tambours left the stage, this venerable old hall fairly shook with roars of appreciation from a packed, sweaty and totally satisfied house. Zimbabwe's Oliver Mtukudzi--known to his fans at Tuku--is an old friend of  Nuits d'Afrique, having appeared at the festival a number of times over the years, once closing it at a well-remembered outdoor show.  This year Tuku brought a small, sharp 5-piece band and delivered two masterfully paced sets--full of old chestnuts and some new songs--at the Cabaret de Mile End (formerly the Kola Note).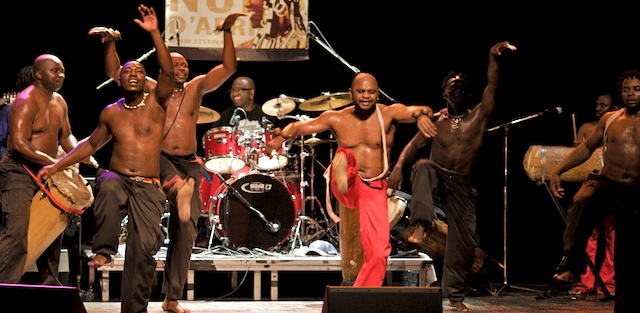 In a nightclub atmosphere,  Tuku began with ballads, tickling melodic arpeggios from his nylon-stringed guitar, easing up to foot-stomping, singalong classics like the poignant "Todi" and the joyous "Dzoka Uyamwe" and gospel tinged "Hear Me Lord."  Tuku's burly, soul-man voice is perfectly in tact as he nears his 60th year. But when the music heats up, you need to watch Tuku's feet and legs. He has some of the subtlest and most expressive stage moves of any African singer.
more
Also fascinating was to watch the crowd at this show. There were a few Zimbabweans with flags, and knee-hoisting Shona dance moves to prove it. But among this very mixed crowd were also a number of West Africans--Tuku fans via the diaspora in Montreal. Across borders of language, culture and history these Francophone Africans were bonafide Tuku supporters, even if their shoulder-shifting dances would have been alien in a Harare beerhall.
cumbia
with the Afro-pumped energy of
champeta
, and liberal doses of reggae, ska, dancehall, afrobeat and various Latin styles. Basically, it's a wild Miami mixup. My interview with the three principles--Itagui Correa, Mark Kondrat and Javier Delgado--was nearly as much fun as the show itself, full of stories of street life in Miami, discovering the music of their parents, being starstruck at the Grammys, and, memorably, the time Prince showed up at one of their gigs and asked to sit in.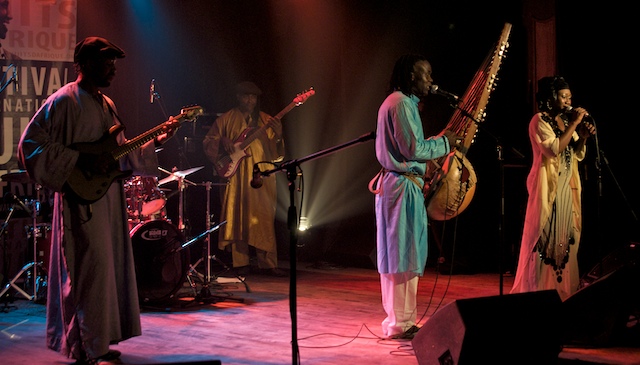 The crowd at Lion D'Or demanded an encore from Zal Cissoko and his band. Clearly the man is loved in this town. I though about Lamine Touré's scolding for leaving the festival without "completing the race." As I told him, Afropop will be back. The Nuits d'Afrique festival is a gem, in part because 26 years have made them splendid judges of the best in African and African diaspora music and experts in putting on a great urban music festival. But also, all concerned are graced to live in one of the most worldly and welcoming cities in North America, with one proviso every Afro-Montrealer will note: as long as it's not winter!