On Fire for Afrofunk in Accra
"Are you on fire for God? Are you ON FIRE for God?! ARE YOU ON FIRE FOR GOD?!" So asked, implored and finally screamed the pastor at the local Assemblies of God Church in our neighborhood of North Kaneshie, where I've been staying with Banning and Sean, the founders and producers of Afropop Worldwide, a show that's inspired me for almost 20 years to dig ever deeper into African music, and through it, our common musical humanity. The small band, with the drummer on an even smaller drum set, in a little school house along a red earth road, with another congregation directly upstairs seemingly bringing into song every time this service quieted down and a junior pastor somehow managing to teach Sunday school in the midst of the ruckus, was grooving. It wasn't quite highlife, never mind Afrofunk, but it was close, and was more confirmation of who much the music of the churches and Ghana's greatest secular music tradition have crossed into each other. Not everyone might be on fire for God here (although it seems that way given the explosion of churches and Christianity more broadly here in the last 35 years), but everyone here is on fire for funk. This is my second visit to Ghana in the last three years. The first time I came with the UC Irvine Department of Dance to do an exchange program, training and performance with the Ghana Dance Ensemble, whose musical troupe boasts some of the finest drummers and traditional instrumentalists on the continent, if not the planet. But my real quest was to meet Ebo Taylor, the Afrofunk legend and long-tiem friend of Fela Kuti, who's still making profoundly complex and inspiring music at the age of 77 (Ebo's about to head out for his second European tour in as many months, this one for over 15 dates). [caption id="attachment_8343" align="aligncenter" width="600"]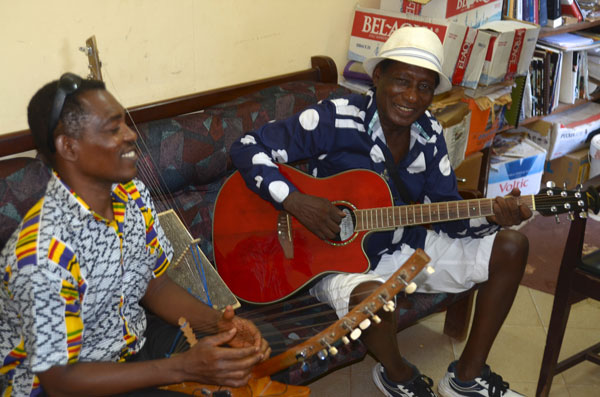 Ebo Taylor and Aaron Bebe Sukura jamming for Afropop Worldwide at the University of Legon, April 26, 2013[/caption] Having played funk as the most important part of my musical life for over 25 years, when I hooked up with Ebo it felt immediately like I'd found a musical grandfather, someone who could take the place of my first mentor, Albert Collins, who first brought me into the world of being a professional musician almost three decades ago. Both were very similar figures, not that tall but withoutsized personalities, searing musical sensibility, and a love of horns even though they're guitarists. Ebo and I spent several days together and also jammed with Aaron Sukura, one of Ghana's best Seprewa players, and explored the roots and connections of the blues, funk and traditional African music. I knew right away that I'd be back in Ghana. The pull of the drums, the instruments, the voices, and the people, was just too strong. So here I am, thanks to Banning and Sean, and Afropop's Kickstarter supporters. Ghana is not a large country but the complexity of its musical history is exceeded only by that of its political economy and cultural mixings. Talking with John Collins, one of the most respected long-time members of Ghana's highlife community and professor of ethnomusicology at the University of Legon, we came up with just a few of the web of connections over 5 centuries that together produced the great music of Afrofunk: Northern Ghanaian peoples like the Dagomba and Gonja who provided the wailing, blues-like voices and shouts that James Brown would make famous centuries; the incredible "percussive propulsion" of the southern Ghanaian music like the Konkoma and other Akan peoples; the music of the British colonizers and its interpretation by generations of slaves and then black soldiers from the Caribbean, who beginning in the latter 19th century came  Ghana and other Anglophone African countries (particularly from Jamaica), bringing calypso and other West Indian styles; the music of the Kru peoples, the fishermen-turned-seamen whose communities stretching from the coast of Nigeria through most of West Africa all the way to the UK, who brought the modern guitar to Africa and so profoundly shaped highlife; bebop artists like Charlie Parker, Miles Davis and John Coltrane; big bands and especially the great arrangers like Billy May; Frank Sinatra (whom Ebo says was a major influence on his style); Deep Purple; and of course, James Brown.  And that's just the short version. [caption id="attachment_8342" align="aligncenter" width="600"]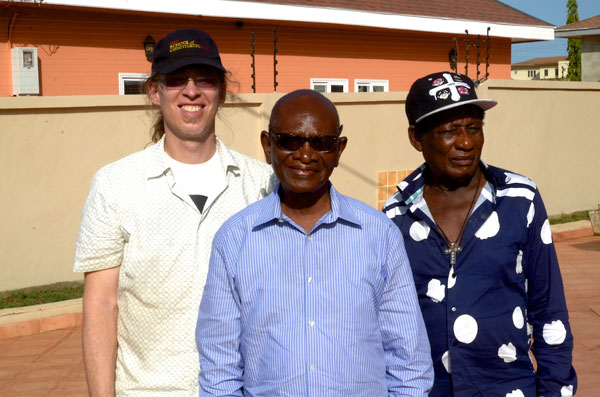 Mark LeVine with highlife producing legend Essiebons and Ebo Taylor at Essiebons' house in Accra.[/caption] The thing that strikes me the most about Afrofunk is how deep it is. Local artists revere James Brown like a deity, as Collins puts it, precisely because, as Taylor notes, James Brown is so African in every aspect of his music. For Ebo JB was the summit that everyone had to aspire to but no one could actually reach. It was JB's energy that "made every African get up and dance, then and now." But for me, Afrofunk does the same thing, but even more so. In the end, JB was an Afrofunk artist, but there is something about the horns, that Ebo so famously has been arranging for almost fifty years, that gives home grown African funk it's particular flavor and, to me, urgency and power. Not surprisingly, as Ebo explains and we'll be focusing on in the show, this comes from his intensive training as an arranger at some of the best music schools in Ghana and then the UK, where he and Fela studied at the same time for several years. In the program Ebo will explain how he and Fela parted ways when it came to the particularities of their two approaches to highlife and Afrofunk, but to give a preview: it's in Ebo's intense love of bebop and big band arranging, which led him to arrangers like Billy May and through him to Sinatra during the period he recorded songs like Paper Doll and Night and Day. To spend a few hours with Ebo going through old Billy May charts I managed to find on the internet and then watch him quickly write out some of his own charts from memory and explain the evolution from
Sinatra's signature sound
to
highlife
is one of the biggest musical surprises of my life. Ebo's description of the decisive break from Highlife to Afrofunk/beat helps elaborate the difference between them: "Highlife starts to fade from people's minds when funk arrives." For him the funk just had so much greater propulsive energy, which is what Ebo had always been searching for, and continues to strive for to this day.  "We put jazz on top of funk" and ran it through the musical obstacle course of half a dozen indigenous Ghanaian styles, to get Afrofunk. For him, Afrofunk is rooted in
James Brown
, (
here's a little clip
shot on my Blackberry of the Konkoma drummers doing an impromptu JB-inspired jam with Ebo) and continues through to
Public Enemy
. I will be devoting an entire article to Public Enemy and the influence of African music on their signature sound for my weekly al-Jazeera column and will post the link when it's published. [caption id="attachment_8341" align="aligncenter" width="600"]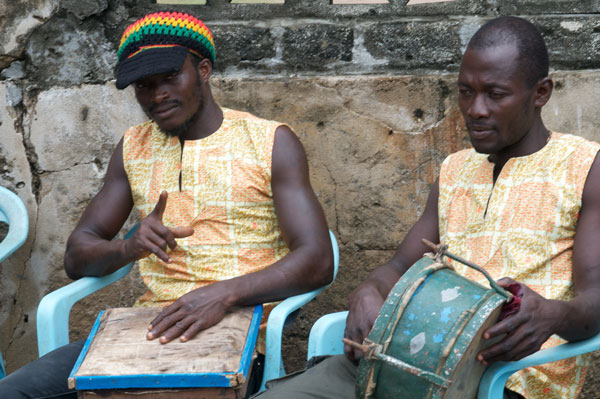 Ebo Taylors Konkoma group jamming over an imaginary James Brown groove as they warm up for the session at the beach[/caption] Today Afrofunk and highlife are not mere relics of a bygone age played for old-timers and tourists. It's still very much a living tradition, not merely with new musicians entering the genre directly, but more importantly as more of Ghana's hiplife generation, artists like
M.anifest
and
Efya
and even straight ahead rappers like D Black and Sarkodie, increase use live bands whose musicians are grounded in African funk and highlife, and bring in traditional instruments as well, like the Seprewa and Gyli, Goje and xylophone as well (in that regard, we've been lucky to hang with
Aaron Sukura
, one of Ghana's most versatile and talented instrumentalists, particularly on the seprewa (we also hung with his teacher, the master seprewa player,
Osai
). The journey continues. Ghana is a place where you go in circles forever and each time the landscape is utterly different. The music has so much to teach us all. [caption id="attachment_8338" align="aligncenter" width="640"]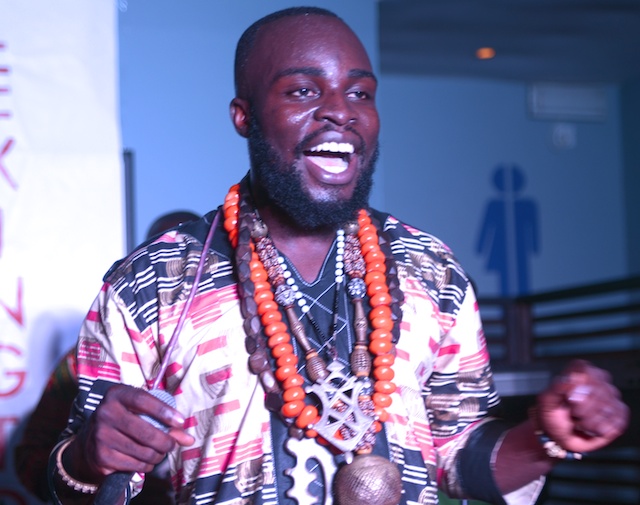 Hiplife artist/rapper M.anifest performing at the Lexington Bar at the Paloma Hotel, Accra.[/caption] Finally, on yet another beautiful music-filled night, I returned with Banning and Sean to Plus 233, one of the best live jazz clubs in Accra, to see Gyedu Blay Ambolley, another of Ghana's highlife legends. While the band kicked a totally tight highlife set, it was clear Ambolley's purpose was more pedagogical. Most of the first set was spent doing well known jazz songs from the likes of Wayne Shorter and Weather Report. Rather than playing, Ambolley spent much of the set sitting down, watching and listening intently, with the goal of ensuring that his musicians "could go anywhere and step into any situation and play with anyone," as he put it when we spoke during the break between sets.  It's clear that for highlife musicians like Ambolley the genre can become a straightjacket if the musicians don't have the ability to expand their repertoire and play other styles. Ambolley is clearly intent and letting everyone who hears him--Ghanaians and foreigners alike--know that Ghana's jazz musicians are world class. Picking up where Ebo left off, he's creating a hybrid sound, which (as Banning described in his previous blog from the first few days
here
) he terms "Highlife Afro Jazz." It's a style that is right at home within the mainstream of global jazz, but also add a unique Ghanaian element even to the standards. Ambolley is in fact actualizing Ebo's feeling that Ghanaian artists must spend a lot more time learning jazz and not just be satisfied mastering the traditional repertoires, whether from fifty or two hundred years ago. The question I have is how artists can focus on this goal and not lose at least a bit of the grit, power and precise arranging style that made Afrofunk so revolutionary. April 29 UPDATE: Just met with
Efya
, perhaps the best of the rising generation of Ghana's female artists. She's
worked
both with Ebo and M.anifest, and is finding increasing prominence across Africa as a vocalist. Of the many fascinating aspects of our interview was her strong confidence in "the future of Africa. We don't need people coming here who don't understand that the future is in Africa. We're doing it ourselves. But if you understand this, that Africa is the future, then you should come through and see for yourself." It's hard to disagree... April 30 UPDATE: we met with some more rappers and some wonderful highlife/Afrofunk musicians this evening. What is becoming clear during this journey is that a new trans-African live music scene has developed in the last five years or so that is literally exploding with talent and with constant movement of artists between countries. The frequency and amount of touring by younger artists to other sub-Saharan countries--Ghana, Ivory Coast, Togo, Nigeria, Kenya, Tanzania, South Africa, etc.--and the amount of money these young artists are able to earn as performers is really reshaping music, and the politics of music, on the Continent. I think it helps account for the general avoidance of political issues by most of the more well-known younger artists, compared with a focus on "party songs" and songs about love and relationships. As more than one artist has explained to us, everyone is working hard and at the end of the week they just want to go out and have fun. "People don't need us [artists] to tell them how bad or corrupt the government is; they know that already," is how Efya explained it. That's no doubt true, but for generations one of the most important functions of art has been to reflect unpleasant truths back on people so as to motivate them to act. And particularly here, music has always been about story telling. It leaves me wondering if there's enough party songs yet to be written to keep this dynamic going or if, sooner or later, the young artists we're meeting will have to address more directly the social and political problems their societies face. But for now, the more successful of the new generation seems to be having too much fun to worry about this issue. The future is, in their view, theirs and they're using the famed entrepreneurial spirit and instincts of Ghanaians and Nigerians to expand the industry at a rate and to a degree not seen in several generations.