Remembering Doudou N'diaye Rose, 1930-2015
Renowned Senegalese percussionist and bandleader Doudou N'diaye Rose died in Dakar on Aug. 19. He was 85. He leaves behind a body of work that includes collaborations with Miles Davis, the Rolling Stones, and Nine Inch Nails, and promoting Senegalese culture from across the globe. He was such a gifted cultural ambassador that in 2006, the United Nations Educational, Scientific and Cultural Organization declared Doudou a "living human treasure." In his homeland, Doudou managed to span the worlds of folk and popular music.
Contemporary Senegalese rapper Didier Awadi told the BBC
that Doudou's acumen with one fed his abilities in the other. "He knew the language of the drum,"
Awadi said,
"because the drum was our first cellphone to communicate."
In a 2010 interview with The Independent,
Doudou explained how, when he was growing up, the sound of the tam-tam was everywhere, and as Awadi alluded to, it was being used for communication. In addition to announcing things like weddings, as Doudou told it, the drums told him to skip school and play drums. Studying percussion in Senegal's Plateau district, though, entailed taking on a huge body of knowledge on its own. "I met the elders so that they could teach me the very precise language of drums that everybody recognized then," Doudou said, "how to announce a bush fire, that a snake has bitten someone and what kind of snake, that a woman who has just got married has gone to the conjugal home and that the husband is happy with her." Much to his father's annoyance, Doudou became a chief drum major in Dakar, and then joined the National Ballet of Senegal in 1960 after the country declared independence. At a celebration for the 50
th
anniversary of Senegal's independence in 2010,
Afropop's Sean Barlow recalls seeing Doudou and Awadi share the stage at Cheikh Anta Diop University in Dakar
. Awadi was launching his album
Présidents d'Afrique
, which pays tribute to Senegal's liberation fighters as well as leaders from Nelson Mandela to Martin Luther King Jr. Deep into the show, Awadi brought out Doudou and his ensemble of some two dozen drummers— comprised mostly of Doudou's own children. Barlow said the reception was just "deafening and huge." "He represented their traditional music—sabar music," said Barlow. "He was the best known champion of
sabar
music and it was remarkable how emotional and how immediate the reaction was from the largely young—teenagers and 20-somethings—audience." Barlow added, "He was well loved by everybody."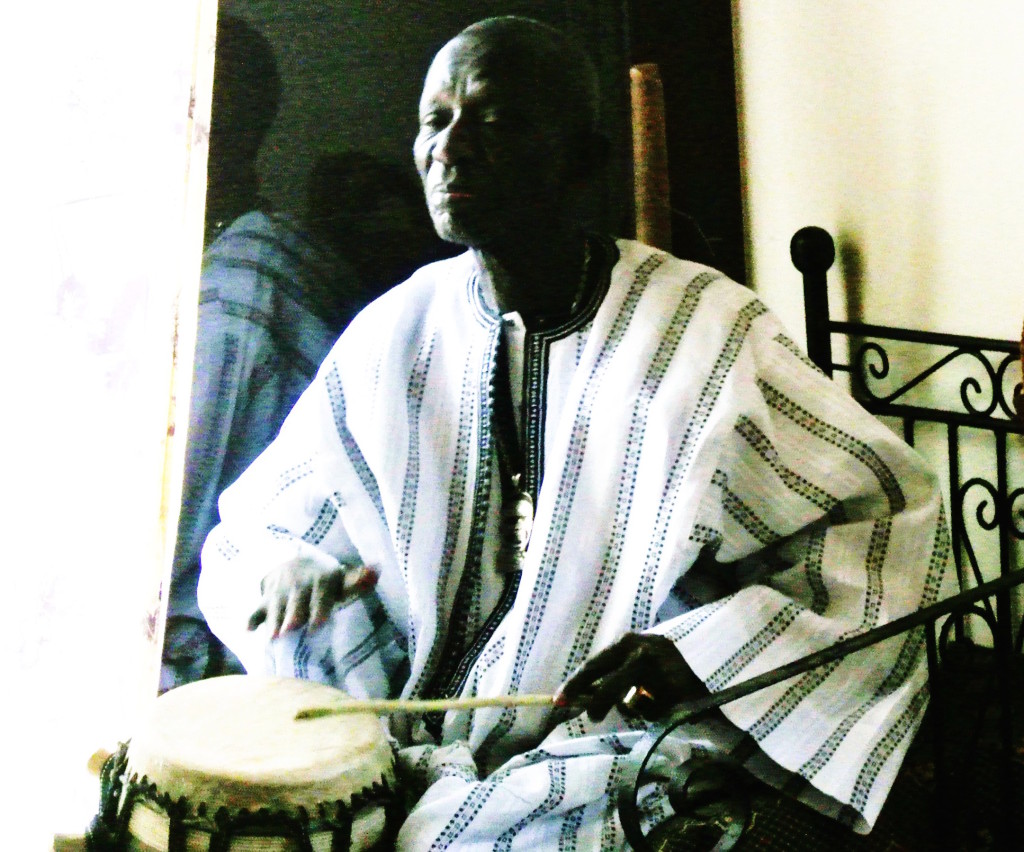 Doudou's music lives on, not just in recordings, but because the man was a patriarch both artistically and literally. Many of his 38 children are actively keeping their father's musical legacy alive as drummers as well.
He told The Independent
that he thanked God his children had learned the language of percussion as well, saying, "I can even no longer play, and just listen to them."