AFROPOP'S ICONS & INNOVATORS BENEFIT PARTY IN D.C. A HUGE SUCCESS
Our inaugural Icons & Innovators Benefit Party in D.C. last week was a huge success. First, we avoided disaster as torrential rains and the flood conditions forecast did not materialize. The ancestors must of have been looking out for us. We had a full house of people from all walks of life—artists, journalists, students, lobbyists, Africanists, entrepreneurs, federal workers, professionals, friends of the program, and new friends too. The spirit was high as we celebrated and honored three icons and innovators, Laolu Senbanjo of Nigeria, Samba Mapangala of the Congo, Kenya and the world, and our own Georges Collinet of Cameroon. And we raised over $30,000 in support of Afropop's unique, Peabody Award winning work in connecting people to Africa and the Diaspora through their compelling music and stories. [caption id="attachment_31800" align="alignnone" width="640"]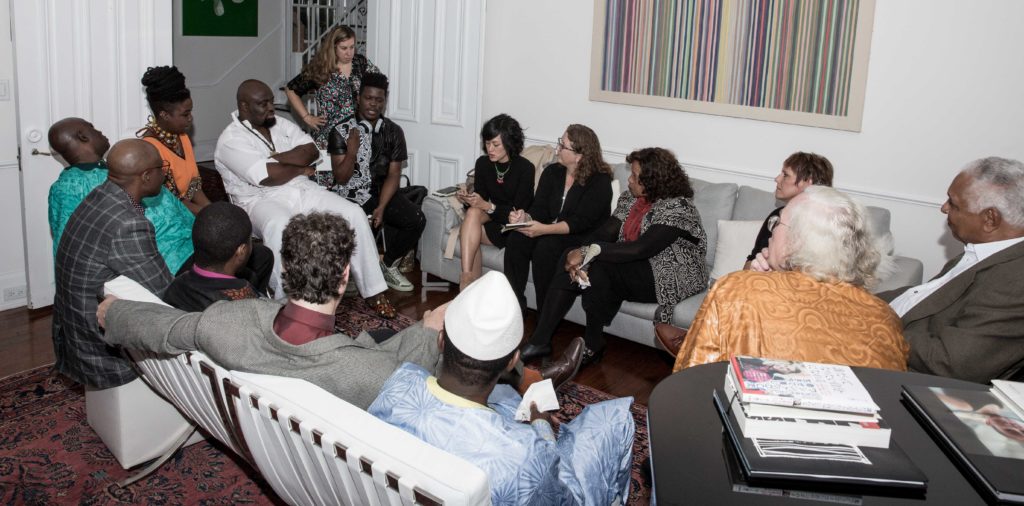 Learning session with Disney Imagineers team and honorees. All photos by Oluwaseye.[/caption] The evening opened with a group of talented D.C.-based African artists sitting down with our Walt Disney Imagineers colleagues to share their stories and answer questions. Laolu Senbanjo, the visual artist and Beyoncé's body painter, told the very familiar African story of following in the footsteps of his lawyer father and then getting a lot of doubt and disappointment from him when he decided to become a full-time artist. Laolu started painting a guest's face as the discussion proceeded with stories from attending musicians from Uganda, Congo, Kenya, and Mali, and he continued painting faces and bodies for the next three hours—to everyone's delight. [caption id="attachment_31802" align="alignnone" width="640"]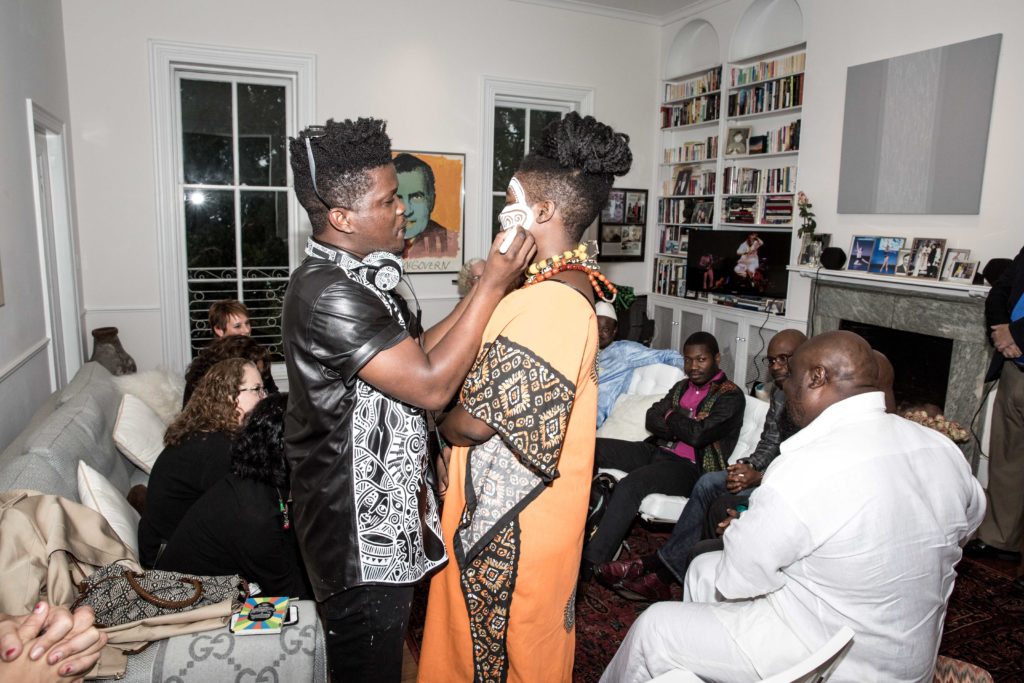 Laolo Senbanjo paints his muse, Becca Masinde[/caption] We moved from the VIP cocktail reception in the library upstairs to the beautiful high-ceilinged main room downstairs that spilled out onto a verandah overlooking Georgetown. This was the historic Friendship House built in 1814 where Tim and Shigeko Bork graciously hosted the event. As people entered the space, they saw Cheick Hamala Diabate from Mali riffing away on his electric ngoni, accompanied by John Bashengezi on acoustic guitar. What a grand way to enter the party space! [caption id="attachment_31847" align="alignnone" width="640"]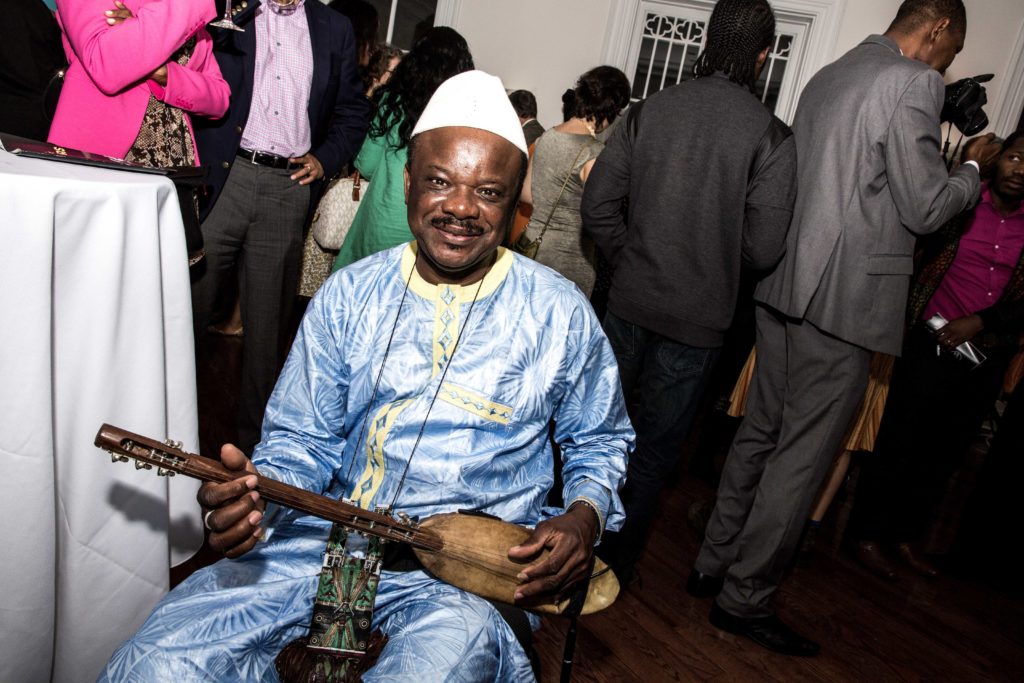 Cheick Hamala Diabaté played the ngoni for guests as they arrived.[/caption] And what a cool Nigeria theme we had going! The musical soundtrack was current Afrobeats tunes, mainly Nigerian. There was Nigerian food. We had Laolu painting up a storm in the middle of the room. And when it came time to start the program, MC Sheriden Booker, our development consultant, described the main goal of this benefit: to raise money for the support of Afropop's ambitious research project in Nigeria in early 2017 that will yield four new programs. We're also raising funds for our work in Cuba and Jamaica. She also noted that another goal for the evening was to raise money for a complete overhaul of our website (
afropop.org
) to make it mobile friendly on all platforms. That means we'll tremendously expand the number of music fans we can reach globally. (If you could not join us in DC, you can still help make our goals happen by donating here:
afropop.org/donate
) And then it was my turn for remarks. I did something unconventional by inviting everyone to turn to someone next to them they did not know, and tell a story about a meaningful encounter with African music, whether on the continent, at a show, or even in their dreams. The room erupted with eager voices almost immediately. It was not easy to get folks to stop talking! [caption id="attachment_31838" align="alignnone" width="640"]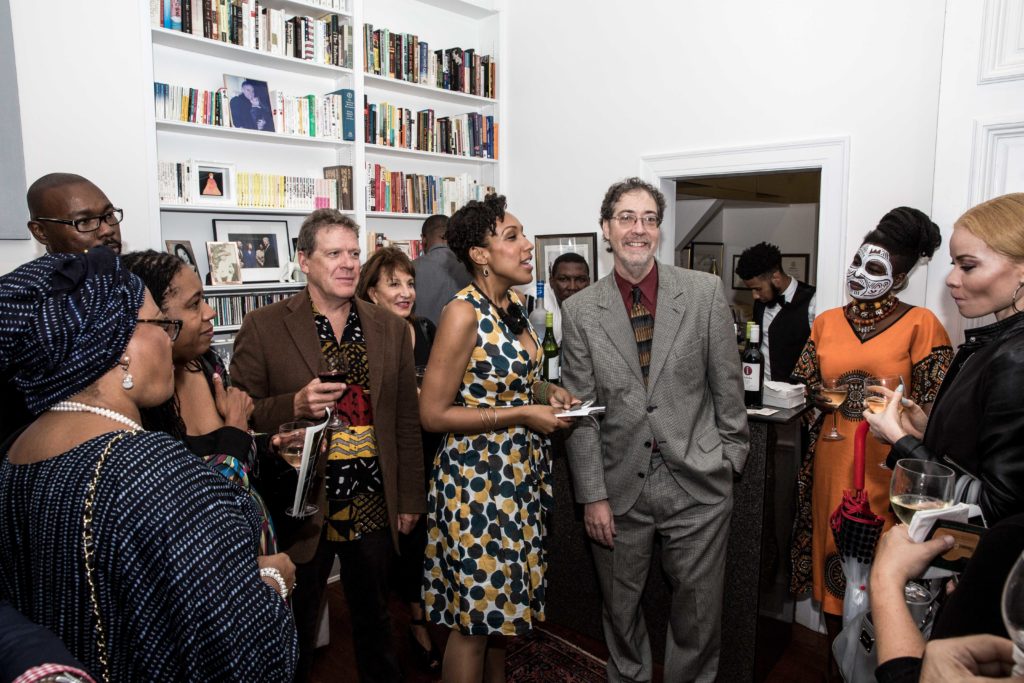 Sheriden Booker and Sean Barlow[/caption] I told the story of
Afropop Worldwide
's beginnings and our mission. I started by talking about my first research trip to Africa in 1985. My final destination was Kinshasa, Zaire (now Congo). Wow! The most fantastic musical city I'd ever been to. You had your choice of at least 10 leading bands to go out and see. You'd head out on the town no earlier than midnight and then dance
jusqu'à l'aube
(until dawn). All the bands featured multiple guitar players and five-part male high harmony singers who doubled as dancers. So much fun! I had the honor of interviewing Zaire's most celebrated artist—Franco—singer, composer, guitarist, record producer, impresario. After the interview he turned to me, looking unhappy, and said with piercing words, "We Zairois, we know your music—James Brown, Aretha Franklin, Wilson Pickett—but you Americans don't know our music. Why?" This was a cry from his heart and it hit me hard. I said "Franco, that's a very good question. I don't know why. But I will tell you, when I get back home to America, I will try my best to do something about the situation." Franco didn't seem totally convinced there and then, but after a successful Afropop pilot in 1986, we got the initial funding from the Corporation for Public Broadcasting to do more research on the continent and to start production of Afropop. And Afropop has been fulfilling that promise I made to Franco ever since. [caption id="attachment_32058" align="alignnone" width="300"]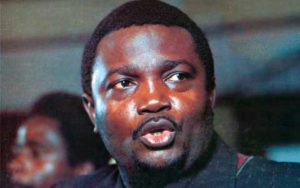 Maestro Franco from Congo who inspired the creation of Afropop in 1985.[/caption] I mentioned that over the years Afropop teams have produced many programs from our research in Mali, Senegal, Tanzania, Zimbabwe, Mozambique—so many places! We began visiting South Africa in 1988, where we interviewed the likes of Mahlathini, Lucky Dube, Johnny Clegg and Ray Phiri—all of whom helped keep people's spirits alive during the bad old days of apartheid. Other high points include our 19-part "Cuban Connection" series that our groundbreaking producer Ned Sublette started in 1990 (
afropop.org/the-cuban-connection
); our series "Samba at the Dawn of Modern Brazil" from the 1880s to the present (
afropop.org/sambastory
); our two three-part series on Madagascar, 13 years apart; our five-part series on Egypt in 2011 in the wake of the Arab Spring; and so many more locales we've given the "Afropop's Visit to..." treatment. [caption id="attachment_31842" align="alignnone" width="640"]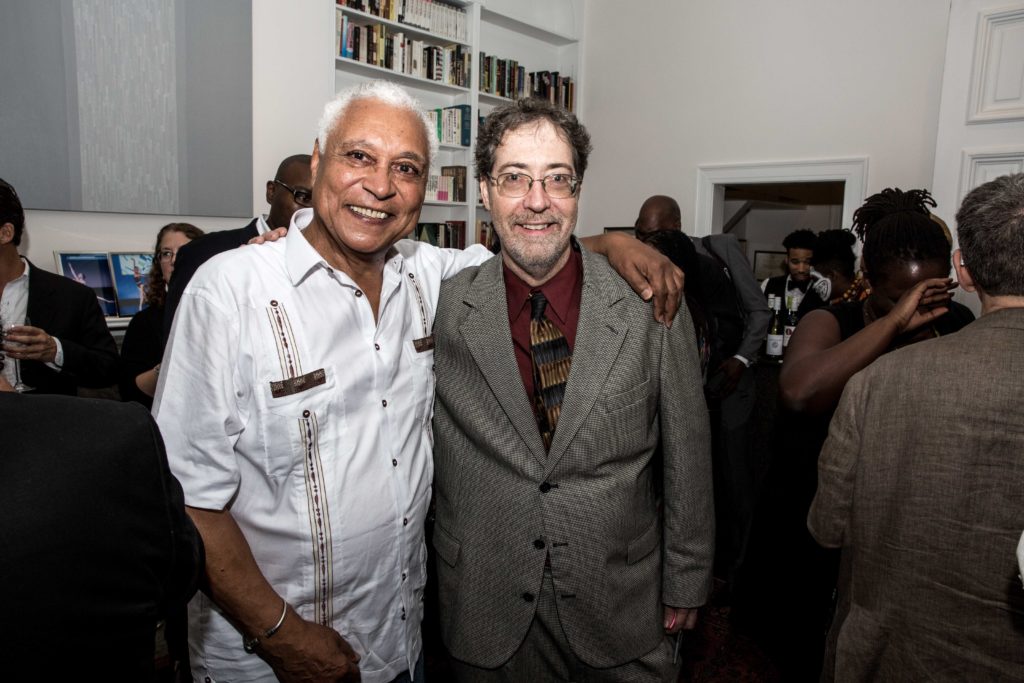 Georges Collinet and Sean Barlow[/caption] I noted that intrepid top-notch researchers would never have been enough without a radio host possessing extraordinary personality, charisma and depth of experience in the music. That's Georges Collinet! Georges has that rare capacity in broadcasting to connect with people deeply. I recalled our visit to North Country Public Radio in upstate New York, a network of stations that serves a wide, mostly rural area and small towns. Some of our listeners drove hundreds of miles to meet Georges and dance to African music. In his early days on radio, Georges hosted two hugely popular shows—one in French, one in English—on the Voice of America from 1965 to the mid-'90s. One estimate had his audience at over 100 million! On a recent trip to Abidjan in Côte d'Ivoire, I witnessed none other than Ivoirian reggae megastar Alpha Blondy explode in disbelief and joy when he saw Georges, telling us that Georges had introduced him to James Brown, Aretha Franklin, Smokey Robinson, Stevie Wonder and so many other stars. When Georges accepted his Afropop Icon Award from me he thanked his mentors, particularly Terry DeRosa, who "taught me everything I know in radio and my boss Max Kraus who had enough confidence in me to give me "Bonjour L'Afrique," the daily one-hour breakfast show. He said, 'Do whatever you want, but make it a success.'"! [caption id="attachment_31868" align="alignnone" width="640"]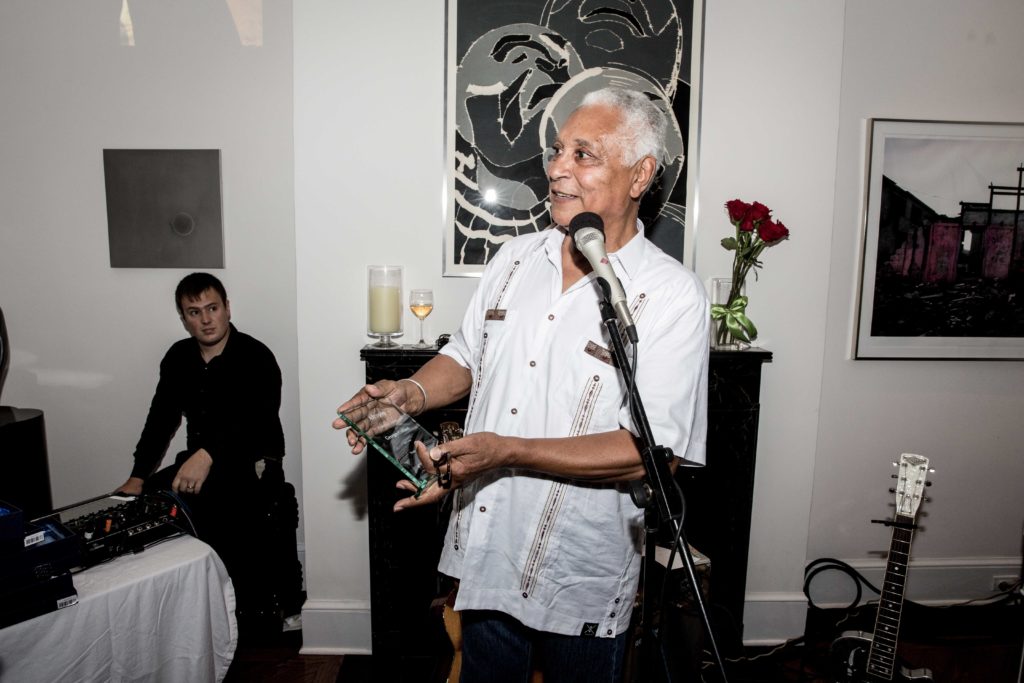 Georges Collinet[/caption] Next, veteran producer Banning Eyre took the microphone to introduce our second honoree, the incomparable veteran Congolese composer, singer and bandleader Samba Mapangala. Samba was clearly humbled, noting that although he had been a star in Congo, Uganda, Kenya, the U.K., Europe and America, he had never received an award before. Hard to believe! He held his Afropop Icon Award with special pride. [caption id="attachment_31871" align="alignnone" width="640"]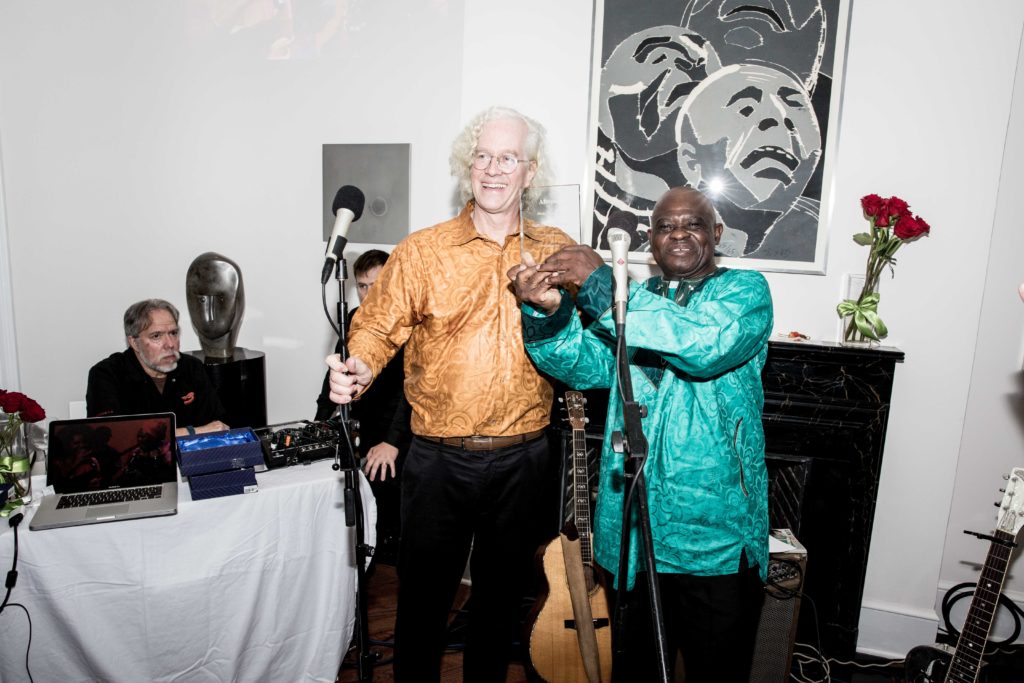 Senior producer and editor of Afropop Banning Eyre presents Samba Mapangala with his Icon Award.[/caption] Finally, Sheriden Booker introduced and awarded the evening's Innovator, Nigerian artist Laolu Senbanjo. Laolu has had quite a year, going from a groundbreaking musician and artist with a loyal Internet following to being the body painting guru for Beyoncé' sensational
Lemonade
visual album, and appearing on the front page of
Smithsonian Magazine
and the front page of the
Washington Post
, after participating in the recent opening of the National Museum of African American History and Culture. It's enough to make one's head spin, but Laolu seemed remarkably clear and grounded. He spoke especially to the young people present—and there were quite a few!—telling them never to abandon their dreams, artistic or otherwise. [caption id="attachment_31876" align="alignnone" width="640"]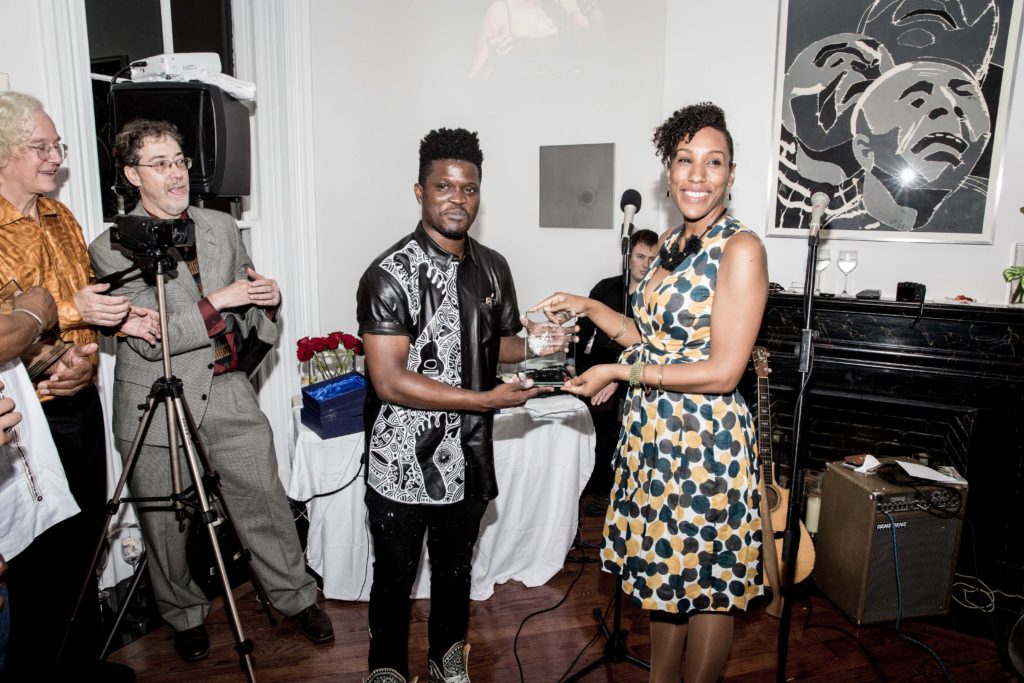 Sheriden presents Nigerian visual artist Laolu Senbanjo with his Innovator Award.[/caption] Then it was time for music and dancing. Samba Mapangala sang classic songs: from Congo's Tabu Ley and Grand Kalle, to his own compositions, and the classic "Malaika," tracing his defining musical journey from Kinshasa to East Africa. He was accompanied by Banning Eyre on guitar and Joseck Asikoye of Kenya on
orutu
drums. It warmed my heart to see young dancers from Howard University's Department of Theater Arts, freshly painted by Laolu, dancing to rumba songs written decades before they were born. The generations were definitely coming together in what turned out to be a joyous celebration of Africa. If only Franco had lived to see it! [caption id="attachment_31890" align="alignnone" width="640"]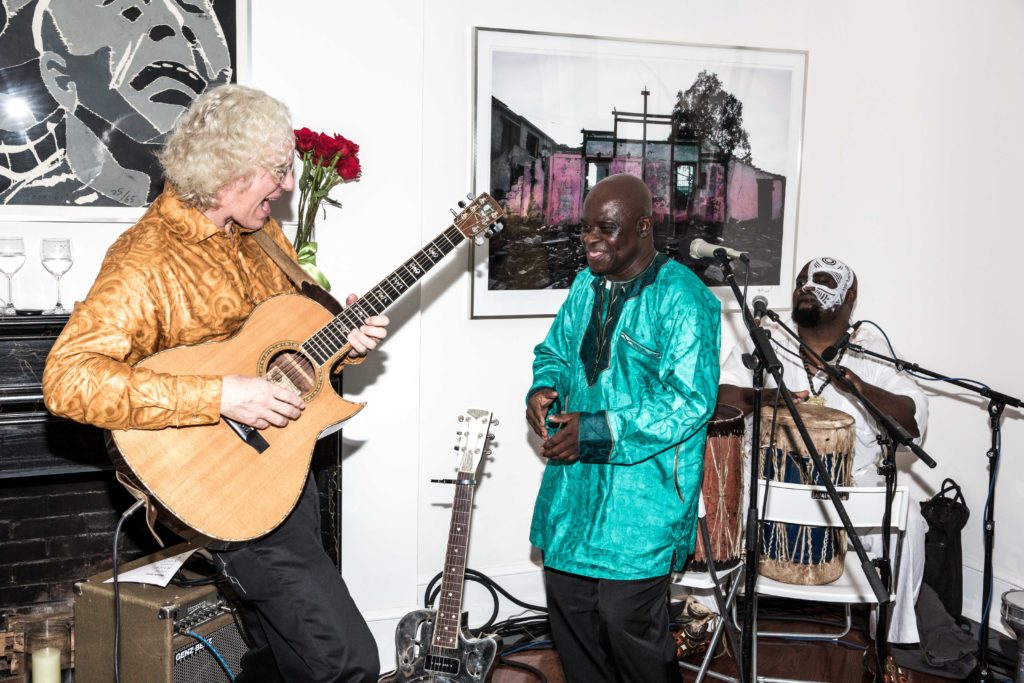 Banning Eyre (guitar) performs with Samba Mapangala and Joseck Asikoye (percussion).[/caption] [caption id="attachment_31941" align="alignnone" width="640"]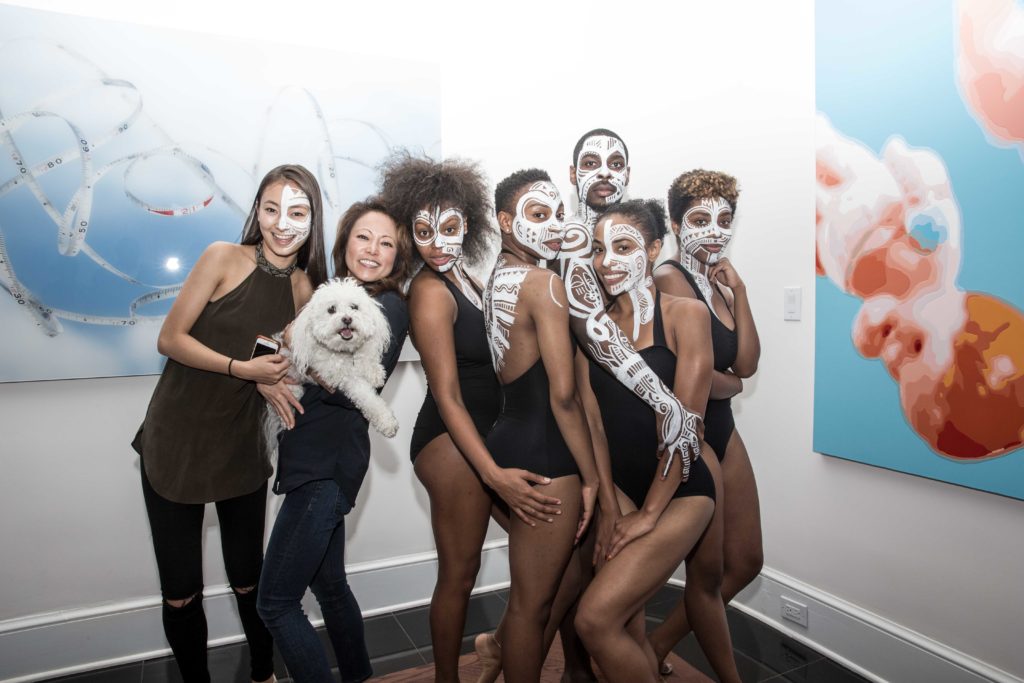 Skye Bork, Shigeko Bork and dancers from Howard University[/caption] ++++++++++++++++++++++++++++++++++++++++++++++++++++++++++++++++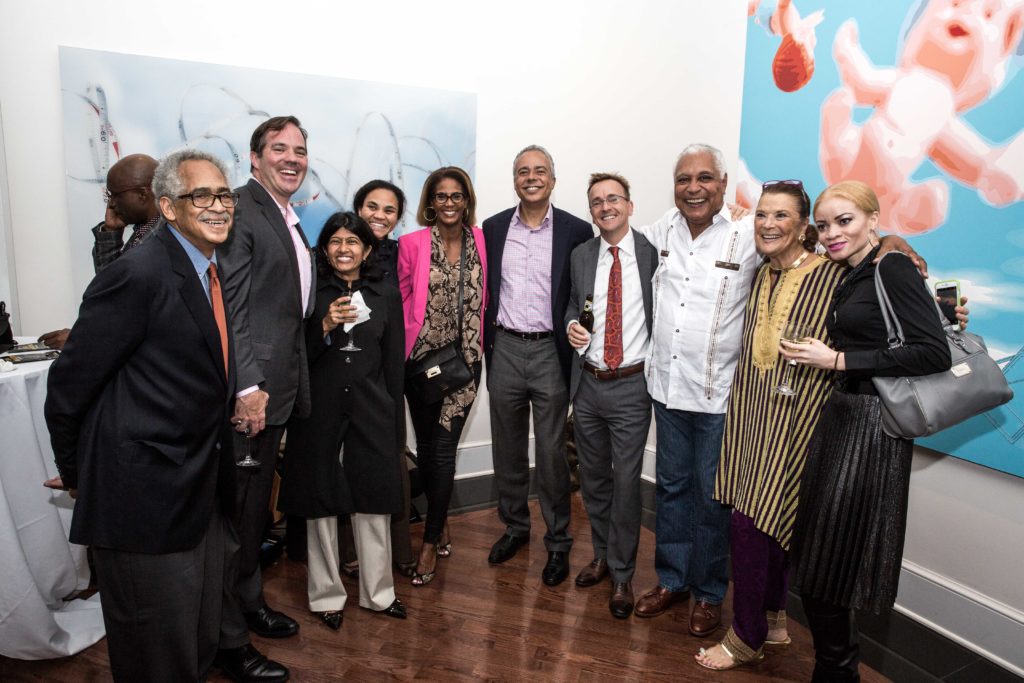 Afropop Worldwide would like to thank Walt Disney Imagineering and the Pharmaceutical Research and Manufacturers of America (PhRMA) for generously sponsoring our Icons & Innovators Benefit Party. We would also like to thank our Benefit Committee—Ellen Barlow, Timothy Bork, Cooki Collinet, David Greeley (our Afropop Board Chair), Stephen Hendel, Sue Porter Kelley, Marika Partridge, Rosemary Pritzker and Jeffrey Sturchio. We would also like to thank our promotion partners— D.C. area WOWD-LP 94.3 FM and WERA 96.7 FM, OkayAfrica, Returned Peace Corps Volunteers Assoc. of D.C., the Corporate Council on Africa, Wesleyan University, and Angelique Kidjo. And we would like to thank Jax Deluca for attending our event on behalf of the National Endowment for the Arts Media Arts Program which has supported
Afropop Worldwide
for over 25 years. ++++++++++++++++++++++++++++++++++++++++++++++++++++++++++++++++ If you could not make our benefit party but would still like to make a tax-deductible donation to support Afropop's unique work connecting the world to Africa and the Diaspora through music on public radio and the web, please visit:
afropop.org/donate.
Afropop Worldwide
is distributed by Public Radio International to over 100 stations in the U.S. and is also available online through
afropop.org
,
iTunes
, and
SoundCloud
. ++++++++++++++++++++++++++++++++++++++++++++++++++++++++++++++++
Photo Gallery: 
All photos by Oluwaseye
[envira-gallery id="31984"] More photos by Ben Bangoura at 
http://alloconakry.com/parade_du_jour_gallery/afropop-icons-and-innovators-awards-and-benefit-party-2016/