Rio Journal: Red Bull Favela Beat Studios
As part of our Hip Deep programming, we sent Afropop producer Marlon Bishop to Rio De Janeiro to produce a two-part radio documentary series about the history of samba in Brazil's iconic city by the bay. Read about his experiences doing research for the program here on the blog.
One of the nicest music studios I saw in Rio wasn't the posh Zona Sul spot where I saw Pedro Luis e a Parede rehearse. It was tucked away in a cultural center in the Vigário Geral favela, a solid hour bus journey north from downtown. "Afroreggae" isn't any ordinary cultural center. From humble beginnings in 1993 as a Afro-centric cultural newsletter, the center has exploded into what is probably Rio's largest cultural NGO. The group produces everything from television shows to major touring bands and operates a network of centers around Rio's favelas that offer free classes for underprivileged youth in music, dance, video journalism, and just about anything else you can think of.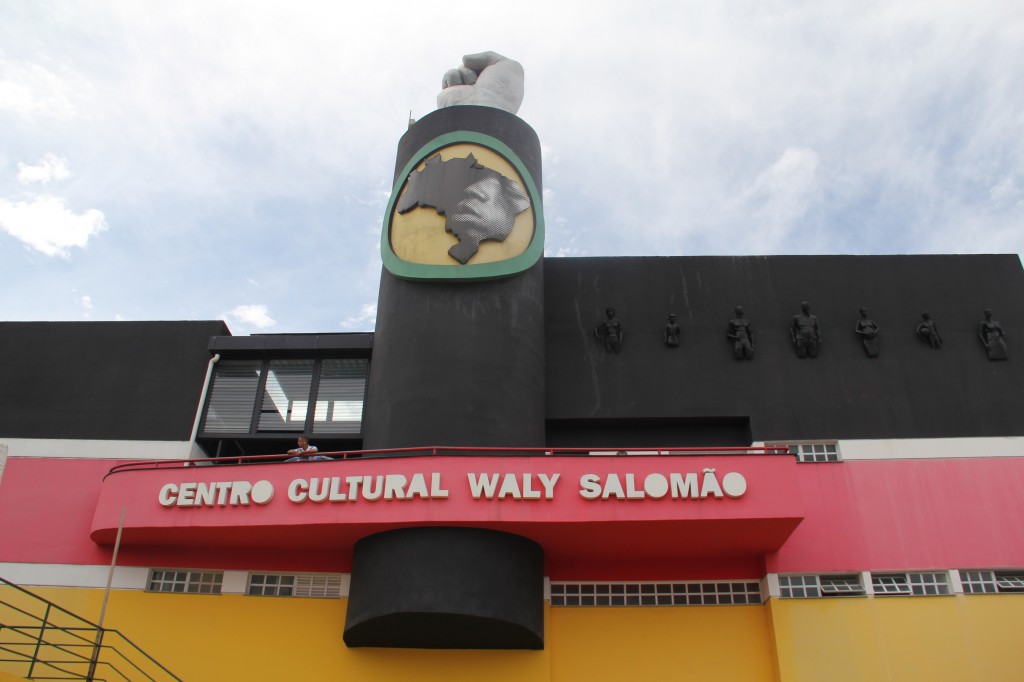 The center in Vigário Geral is the most impressive center; a spiffy, colorful campus topped with a giant statue of a raised fist rising above the humble favela homes. It's home to the Red Bull Favela Studio, an electronic production lab funded and outfitted by the energy drink giant. Red Bull has a bunch of studios around the world in places like Cape Town, Los Angeles, London and Auckland, loosely connected to their ambitious Red Bull Music Academy project. The favela studio offers free courses in music production for kids 16 and up. The classes are taught by some of Rio's top producers: funk carioca legend Sany Pitbull, MPC virtuoso Grandmaster Rafael, and turntablist DJ Nino. Celebrities like Afrika Bambaataa, Diplo, and former president Lula have paid visits to the studio. The day I visited, DJ Nino was on deck. One of his former students, Bruno, was there too. "Before I came here, I would just press play at the party and the computer did everything. I was fake DJ," says Bruno. "When I saw Nino playing for the first time, I thought – damn, 'I never saw anybody play this way. I need to learn." The studio is designed to teach kids how to use Serato turntables, CDJs (CD turntables, which are still very common in Brazil), and especially, the holy MPC. For the unacquainted, the Akai MPC, which stands for Music Production Center, is a sampler, sequencer and drum machine and one of the fundamental production tools of hip-hop history. In Brazil, however, the MPC has really shone. Funk carioca DJs have taken the art of playing the MPC to a virtuoso level. Loaded up with some essential samples – the "Volt Mix" drum loop, the tamborizao beat, the horn fanfare from the "Rocky" theme, and the occasionally moaning female – funk DJs will often create their beats live at favela soundsystem parties, their fingers flying across the pads. Nino isn't an MPC specialist, but he gave me a little demonstration nonetheless, using samples from Daft Punk's "Harder Better Faster": http://youtu.be/6Q5GebngT3E Overall, what Afroreggae has managed to do is impressive. Upstairs from the Red Bull studio is a state-of-the-art acoustic recording studio, band rehearsal rooms, and "classrooms" full of guitars and drum sets. But it's not about the nice equipment or generous funding. What Afroreggae has managed to do is create a space for education and culture in a place where the biggest employers are drug mafias and young people are lucky to make it through their adolescence alive. In plenty of cases, the drumming and DJ lessons are literally saving lives, giving kids something positive to do, showing a path out of the cycles of poverty and violence that affect favela communities, and teaching people to be proud of their African heritage at the same time.
Of course there's always two sides to every story. I did hear some grumblings from people around Rio that the organization had grown to large for it's own good, and had lost sight of the original mission. I didn't hang around long enough to really be able to give an opinion. To learn more about the studio, check out
Favela Rising
, an award-winning 2005 documentary about Afroreggae.