As part of our Hip Deep programming, we sent Afropop producer Marlon Bishop to Rio De Janeiro to produce a two-part radio documentary series about the history of samba in Brazil's iconic city by the bay. Listen to the programs, read about producer Marlon Bishop's experiences doing research and read interviews from this great 2-part series.
(Teresa Cristina)
Programs
Rio 1: Samba at the Dawn of Modern Brazil
In Part One of our 2012 Hip Deep Brazil series, we travel back in time to Rio De Janeiro in early 20th century to explore the birth of Brazil's most iconic sound: samba. Beginning with the arrival of poor nordestinos in the city after the end of slavery in 1888, we follow the exploits of the early sambistas as they forged the genre that would come to represent the nation. Brazilian scholar Carlos Sandroni shows us how Afro-Brazilian religious music and popular styles like the modinha transformed into the syncopated samba beat. Then, media scholar Bryan McCann guides us through the glamor and political intrigue of 1930s Rio as samba explodes as the popular music of choice throughout the country. Plus, we speak with samba greats from the old guard to the young bloods including Dona Yvone Lara, Heitorzinho dos Prazeres, Paulão 7-Cordas, and Luciana Rabelo. In the end, we find out how samba, an ambitious radio station and a populist dictatorship worked together to shape Brazilians' ideas about race, society and the Brazilian nation itself.
Rio 2: Samba Strikes Back Part two of our Hip-Deep series on the music of Rio de Janeiro picks up the samba story where we left off in the 1960s, tracing the rhythm as it transforms and re-appears throughout the many popular music forms that developed in Rio in the later 20th century. Scholar Frederick Moehn, author of a book about samba and pop music titled Contemporary Carioca, shows us how samba's shadow re-appears in the youth music of MPB-stars Pedro Luis and Marcos Suzano, and how a samba revival led by young artists in the Lapa neighborhood revitalizes Rio's urban core. Arriving in the 21st century, we see how samba's footprint continues to reverberate in Rio today, in the form of the electronic tamborizao rhythm behind funk carioca tracks , and in the beats of Brazilian hip-hop pioneer Marcelo D2.
Rio Journal: Trem do Samba, World's Best Party?
Each year around the "National Day of Samba" on December 2, Rio throws one of the coolest parties on planet Earth. For one day, the commuter rail system that connects the sprawling, low-income suburbs of the city's North Zone to downtown Rio is taken over and becomes the Trem do Samba (Samba Train)...
Rio Journal: Dona Ivone Lara, Samba Legend
When I went to interview Dona Ivone Lara in her house in Rio's Zona Norte, she opened the interview with a line as perfectly dramatic as samba itself.
"My story is samba. I started very young, and today I continue accompanying samba wherever it goes," said Dona Ivone.
Then again, she wasn't exaggerating. Her story truly was samba.
http://youtu.be/B31mznm75T4
Rio Journal: Red Bull Favela Beat Studios
One of the nicest music studios I saw in Rio wasn't the posh Zona Sul spot where I saw Pedro Luis e a Parede rehearse. It was tucked away in a cultural center in the Vigário Geral favela, a solid hour bus journey north from downtown.
Rio Journal: Samba, the New Class
The central topic of the show Rio 2: Samba Strikes Back is how samba surged Rio in the '90s and '00s after being largely forgotten by the middle class in the '80s, when young people turned towards rock and international styles. One face of this samba revival was a strong interest in roots samba – what they call samba de raiz – centered around the downtown neighborhood of Lapa.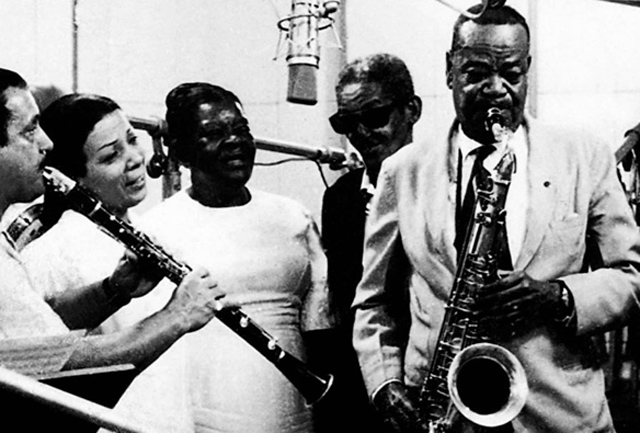 (Pixinguinha)
Interviews
Music, Culture, Brazil: An Interview with Bryan McCann
Bryan McCann, a professor of History at Georgetown University, is a prominent scholar of Latin American History. His work focuses in particular on the intersection between music, popular culture, and politics. His book, "Hello, Hello Brazil: Music and The Making of Modern Brazil" explores the development of Brazilian popular music between the 1920′s and 50′s. He sat down with Afropop producer Marlon Bishop for this interview.
Samba and Pop Music in Rio Today, With Ethnomusicologist Fred Moehn
Fred Moehn is an ethnomusicologist who studies Brazil and other Lusophone (that is, Portuguese-speaking) musical worlds. His new book, out on Duke University Press, is called 'Contemporary Carioca,' and it's about the presence of samba in the pop music being made in Rio in the '90s and '00s, and how technology, culture and identity come together in process of music production.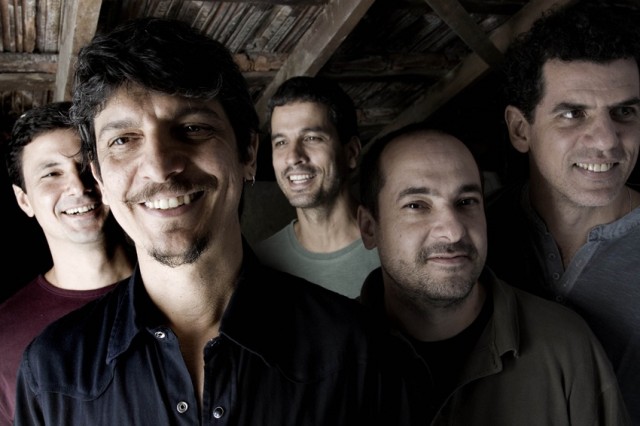 (Pedro Luis e a Parede)