Seun Kuti Kicks Off U.S. Tour in New York City
Seun Kuti has grown into his role as a principle torchbearer of Afrobeat, the globally loved Nigerian musical genre created by his late father Fela Kuti. After Fela died in 1997, his youngest son inherited the old man's band, Egypt 80, and in those early days, you felt the rub of generations as Seun--then a wiry, rubber-limbed youth--gyrated among elderly gentlemen with guitars, horns and
shekeres
.  Today, as the band launches a tour to promote their third album--
A Long Way to the Beginning
(Knitting Factory)--that rub is less pronounced. Seun has grown into a muscular, commanding stage presence and a charismatic frontman, quite up to the task of leading one of the most venerable bands in African music. The band's two-hour set at New York's Highline Ballroom produced sustained ecstasy before a packed house that included members of the
Fela!
Broadway show cast and other local luminaries, such as Bajah of the Dry Eye Crew. Ever since taking the helm of Egypt 80, Seun has generally favored a more classic approach to Afrobeat than that of his considerably older brother, Femi, who leads his own band, Positive Force, and experiments more freely with jazz, rock and pop formulas. But this show, and the new CD, both find Seun shaking things up with a generally edgier, denser, at times willfully discordant sonic textures, and even a surprising throwback to highlife ("Okun Aiye"). The Highline show featured material from the new album with a transcendent read of "Higher Consciousness," and a long, subdued--even reverential--"Black Woman," before which Seun delivered a homily to African women, "the guardians of our culture"--words that would not likely have escaped Fela's lips. (Seun dedicates the new CD to his daughter and her mother.) Seun projects a sunny persona on the stage; it's hard to imagine musicians cowering in fear of his glance, as they once did with the eagle-eared, notoriously unforgiving Fela. But make no mistake: Seun is 100 percent his father's son, as in-your-face pissed off about greed, corruption, hypocrisy and injustice as any rapper or political activist alive. The new CD's not-exactly-radio-friendly single "IMF" hammers home the refrain "International mother f%$cker." Seun and his two dancing backup singers worked that line hard in the show, and Seun drove the point home with a paint-peeling screed at the end. Seun's blend of playfulness and anger, beautifully reflected in the band's brooding yet buoyant grooves, is the mark of his style of Afrobeat, and it's working well, both live and on record. [caption id="attachment_18946" align="aligncenter" width="600"]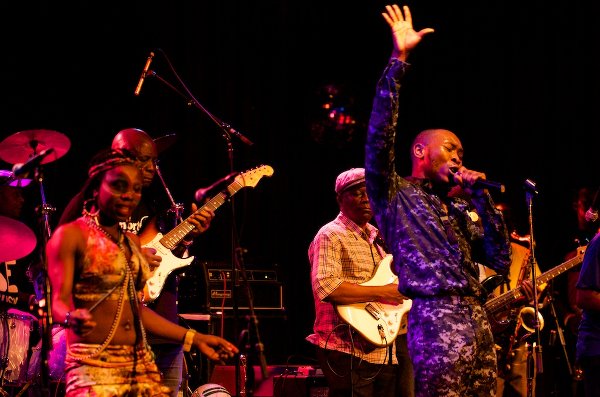 Seun Kuti and Egypt 80 at NYC's Highline Ballroom (Eyre 2014)
[/caption] Last night's show was the first in a long summer tour for Seun and Egypt 80.  Here are the first leg of dates, but we learned at the show that the band will be off and on in the U.S. until mid-September, so catch your chance when you can:
Seun Kuti tour dates
6/10 - Highline Ballroom - New York, NY 6/11 - Howard Theatre - Washington DC 6/13 - Bonnaroo Festival - Manchester, TN 6/14 - Pisgah - Black Mountain, NC 6/17 - World Beat Center - San Diego, CA 6/19 - SF Jazz Center - San Francisco, CA 6/20 - Sierra Nevada World Fest - Boonville, CA 6/21 - Catalyst - Santa Cruz, CA 6/22 - Hollywood Bowl - Los Angeles, CA 7/11 - Festival d'Ete International de Quebec-Quebec City, QC 7/12 - Phoenix - Toronto, ON 7/13 - Concert of Colors - Detroit, MI 7/14 - Concord - Chicago, IL 7/15 - Englert - Iowa City, IA 7/16 - Cedar Cultural Center - Minneapolis, MN 7/20 - Vancouver Folk Music Festival - Vancouver, BC 7/21 - Neumos - Seattle, WA 7/22 - Star Theater - Portland, OR 7/23 - Knitting Factory - Boise, ID 7/24 - Top Hat - Missoula, MT 7/25-26 - Calgary Folk Music Festival - Calgary, AB
 A final note: This week, Afropop Worldwide was treated to an advance screening of Alex Gibney's documentary film
Finding Fela
, which opens in 16 cities, including New York, on Aug. 2.  Interweaving archival footage of Fela's life, interviews and performances with backstage (and onstage) vignettes of the
Fela!
Broadway production--from its inception to its 2012 staging at the Africa Shrine in Lagos--and interviews with first-hand witnesses, most notably Femi, Seun, their sister Yeni, this appears to be the definitive Fela film. It will prove as essential to Afrobeat fans as the film
Marley
is now to to reggae aficionados. The candor and insight of Fela's kids is especially satisfying. We can really feel the journey they have traveled together since Fela's death, and the way that experiences have brought them closer together--to the point where Seun thanks his one-time rival brother Femi for his "example and leadership" in the notes to
A Long Way to the Beginning
. With all the history in this remarkable film as preamble, Seun's performance in New York last night really did  feel like the beginning of something, a fresh new chapter in the ongoing Afrobeat story... [caption id="attachment_18947" align="aligncenter" width="600"]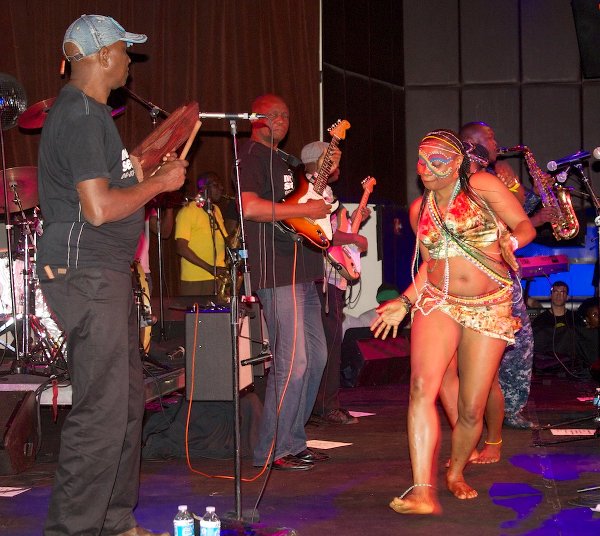 Egypt 80 at New York's Highline Ballroom (Eyre 2014)
[/caption]