The Very Best's Free Mix for Fact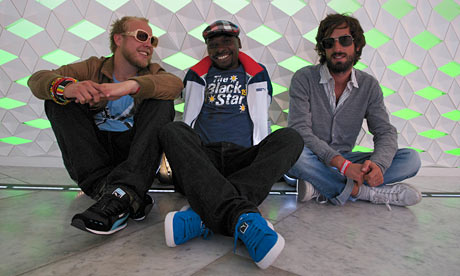 Cross-over Afro-electro outfit The Very Best recently threw together an hour long mix for
FACT magazine
. The trio made up of UK production duo Radioclit along with Malawi singer Esau Mwamwaya have gained international recognition for their blend of western and African styles. Their mix is a near-perfect collection of pop, rock, African house tracks, and traditional Malawai styles. In other words, it is just the type of sound that influences their own albums.
You can listen to the mix in its entirety and download it below. Just press that little black button on the player. Enjoy!
Thanks to
Okay Africa!
for bringing this excellent collection to our attention.
or
Tracklist:
1. Unknown Artist – In My Life
2. DJ Clock – Hypersonic
3. Gus Gus – David
4. Bujo Mujo – Ngifuna Wena
5. Gregory Salto feat Helen Mendes – Bao Viagem
6. The Very Best & Moroka – Ndekha
7. P Diddy Dirty Money – Coming Home (Dirty South remix)
8. Toddle T/Dillon Francis – Take It Back (We Don't Belong In Pacha remix)
9. Banana Seat – Champipple
10. High Powered Boys – work
11. The Very Best – Kamphopo (Lazy Flow remix)
12. Dj Znobia – untitled
13. We Don't Belong In Pacha – BadBoy†onigh†
14. The Very Best & Rusko feat Vocal Slender & Afrikan Boy – Africa To California Anthem
15. Buraka Som Sistema – Hangover (BaBaBa)
16. Jessie J – Do It Like A Dude (Jakwob remix / Dj Riot edit)
17. Sensato Del Patio feat Voltio – La Fila India remix
18. Copia Doble Systema – One Day Revolution (Schlactofbronx remix/ CHLLNGR vocal version)