Field Report: Three Takes on Southern African Music
In the past week, three strong acts from Zimbabwe and South Africa have graced East Coast stages. We already reported on the Africa Now show at the Apollo Theater, featuring Mokoomba, a young band from Victoria Falls, Zimbabwe. We were so impressed by their set—which presented high-energy electric songs from the band's debut CD Rising Tide—that we followed the band up to Marlboro, NY, where they played their "acoustic" or "traditional" show at a local restaurant/nightclub called the Falcon on March 29.
[caption id="attachment_28580" align="aligncenter" width="590"]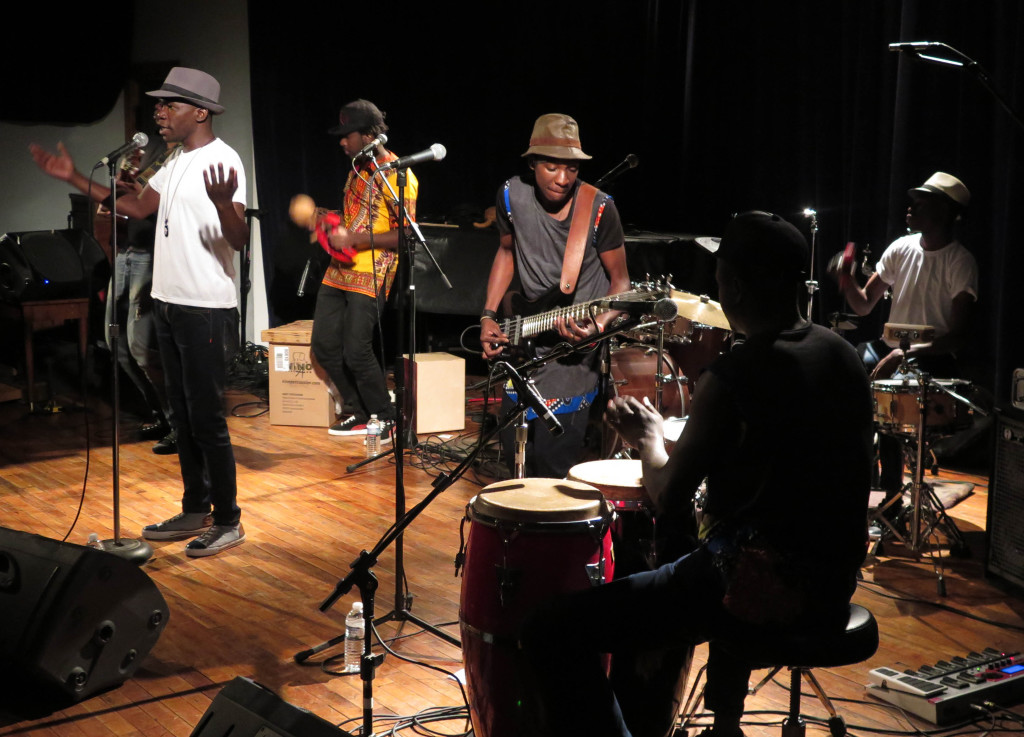 Mokoomba at the Falcon, Marlboro, NY[/caption]
This performance featured material from Mokoomba's upcoming album. The bass player, Abundance, had told me that the new album draws upon material from a Tonga initiation ceremony in which boys spend some days in the wilderness learning to become men. Apparently, there's a great deal of music and dance involved, and this experience has long been a key source of inspiration for the guys in Mokoomba. The set started off in what felt like a quasi-Latin or soukous mode. The guitarist, Trust, played a nylon-string acoustic guitar, achieving a nice Congolese vibe by adding a little delay, but he also moved through impressive finger style grooves. The drum kit was a stripped-down affair, using a West African calabash as bass drum. Other than that, there was only bass, percussion and vocals—no keyboards or electric guitar at all.
[caption id="attachment_28583" align="aligncenter" width="589"]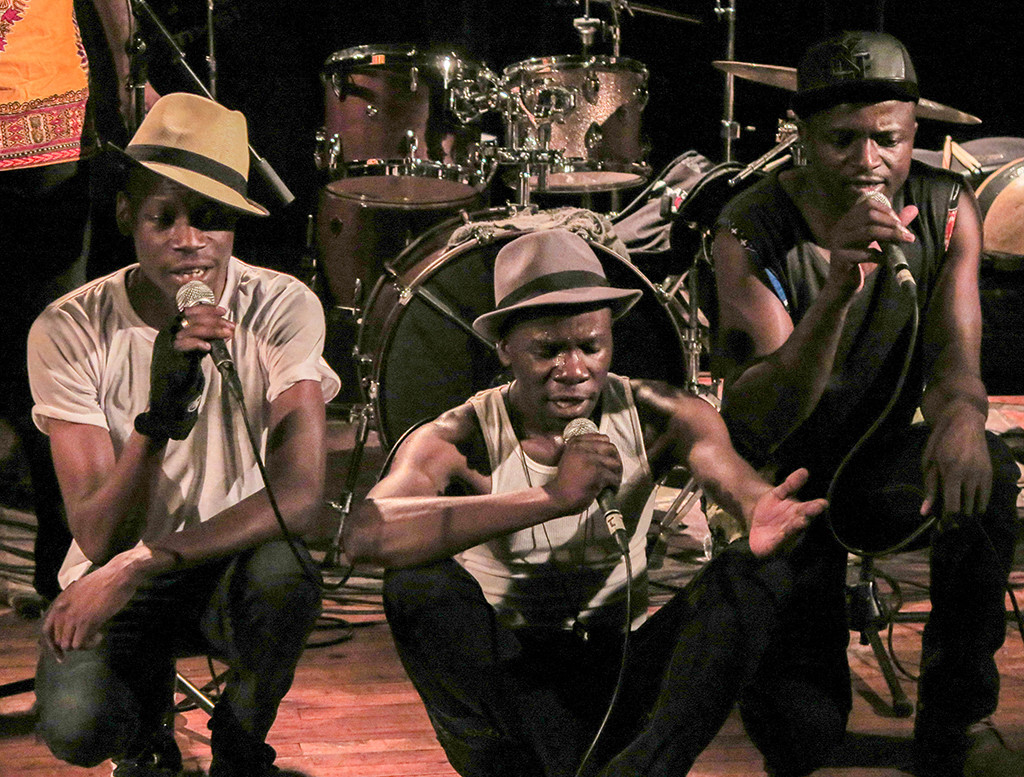 Mokoomba at the Falcon[/caption]
The real payoff came when the musicians put down their instruments and picked up drumsticks, which they struck together in unison as backing for an elaborate a cappella performance of some 15 minutes, beginning with the isicathamiya style of Ladysmith Black Mambazo and moving quickly into a more rhythmic call-and-response mode with lead vocalist Mathias shifting between a dancehall-like growl and a keening high voice verging on overtone singing. Mathias has the most remarkable new voice I've heard in African music in years—period. And everyone in this group sings beautifully together. As such, Mokoomba's vocal prowess is becoming legendary, but this particular segment topped all, earning hoots and hollers from a crowd of mostly initiates to African music. The piece ended with the three principle singers seated and entranced by the sound they had created.
[caption id="attachment_28584" align="aligncenter" width="596"]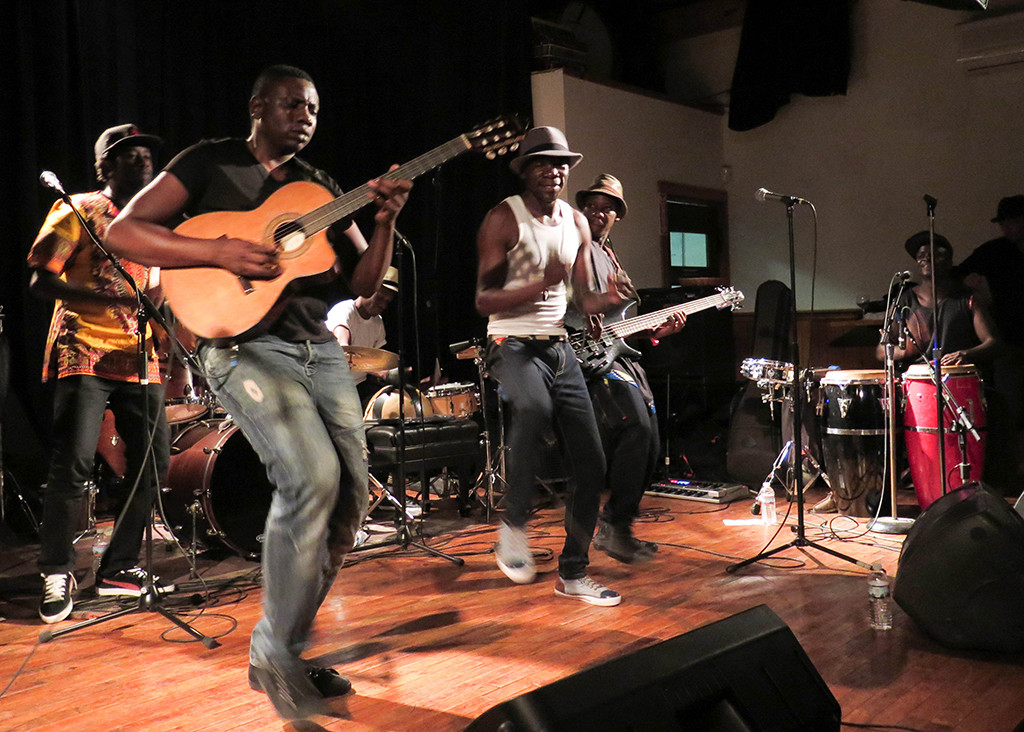 Mokoomba at the Falcon[/caption]
Soon the guys were on their feet, moving and grooving again. The show had an arc that left no one behind. Mokoomba's sound is nothing like the acts we normally associate with Zimbabwe, but their energy recalls one of the greatest, the Bhundu Boys, who wowed many an audience before their sad demise in the 1990s. Mokoomba has that kind of impact. When their new album drops, and they perform this acoustic show more widely, watch out.
[caption id="attachment_28571" align="aligncenter" width="602"]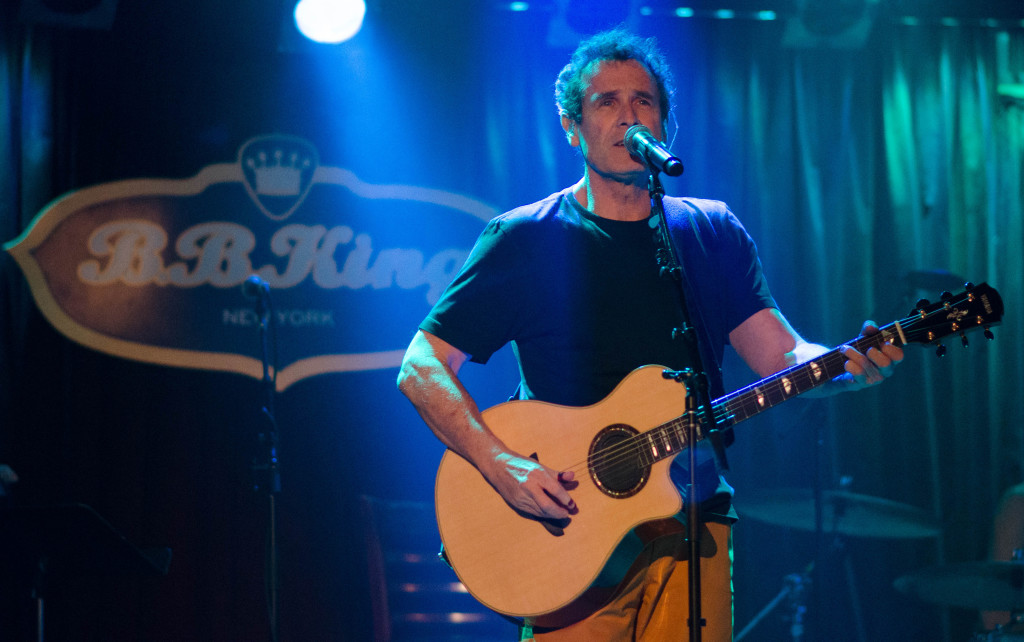 Johnny Clegg at B.B. King, NYC[/caption]
A few nights later (March 31), Johnny Clegg of South Africa opened a two-night stand at B. B. King Blues Club in New York City, with a somewhat smaller band than in the past. The powerful voice of Mandisa Dlang, a veteran of Clegg's band Savuka, was missed. But Clegg's combos have always been tight and versatile, and this was no exception.
The set was familiar. It's been some years since Clegg produced a new studio album. But his catalog is deep, going back to his first band, Juluka, in the 1970s. And he's reworked all the arrangements, often giving them a more freewheeling indie rock feeling. There were a few surprises, the reggae-like "Spirit Is the Journey" from his 1982 breakout release Scatterlings, and a fine a cappella rendition of an even earlier number, "Digging For Some Words." Clegg still plays guitar, concertina and mouth bow, and his voice still sears with commitment and passion, undiminished by the years and clearly adored by his fans.
[caption id="attachment_28572" align="aligncenter" width="483"]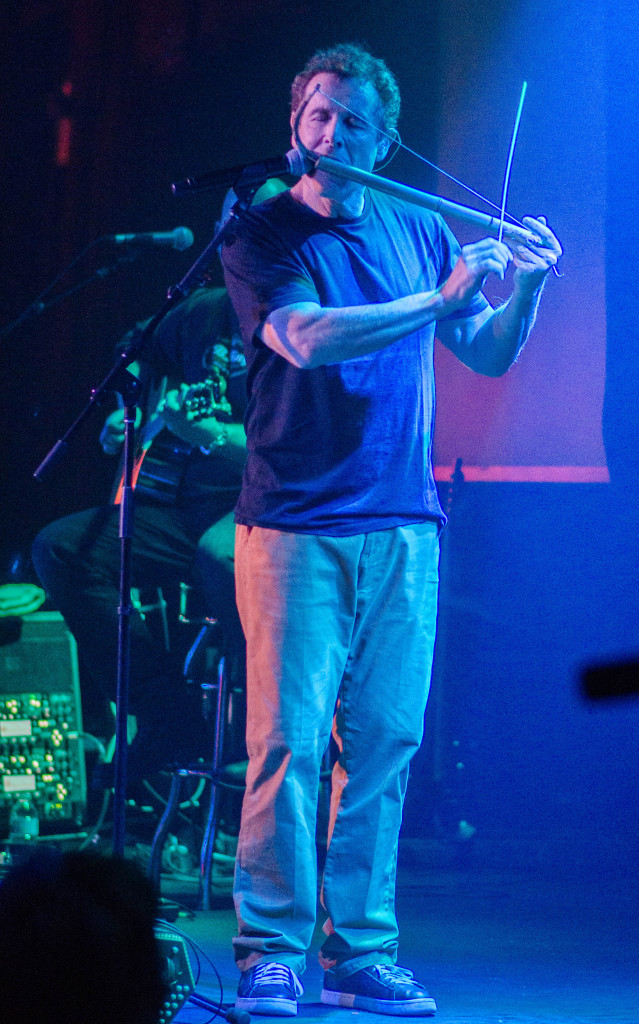 Johnny Clegg on mouth bow[/caption]
The crowd consisted mostly of the faithful, aging alongside the rest of us who cottoned on to Clegg's unique fusion of English folk rock and Zulu maskanda many years ago. "I am an anthropologist by training, and a musician by accident," Clegg quipped from the stage in one of his ever-engaging if well-worn stage patter riffs. After the show, he told me that since his last U.S. tour in 2014, he had taken time off to have gall bladder surgery, and afterwards had considered scaling down to a trio format. In the end, he decided that the material demanded the muscle of a full rhythm section, so this version of the band, featuring veteran guitarist and arranger Andy Innes, emerged.
[caption id="attachment_28573" align="aligncenter" width="561"]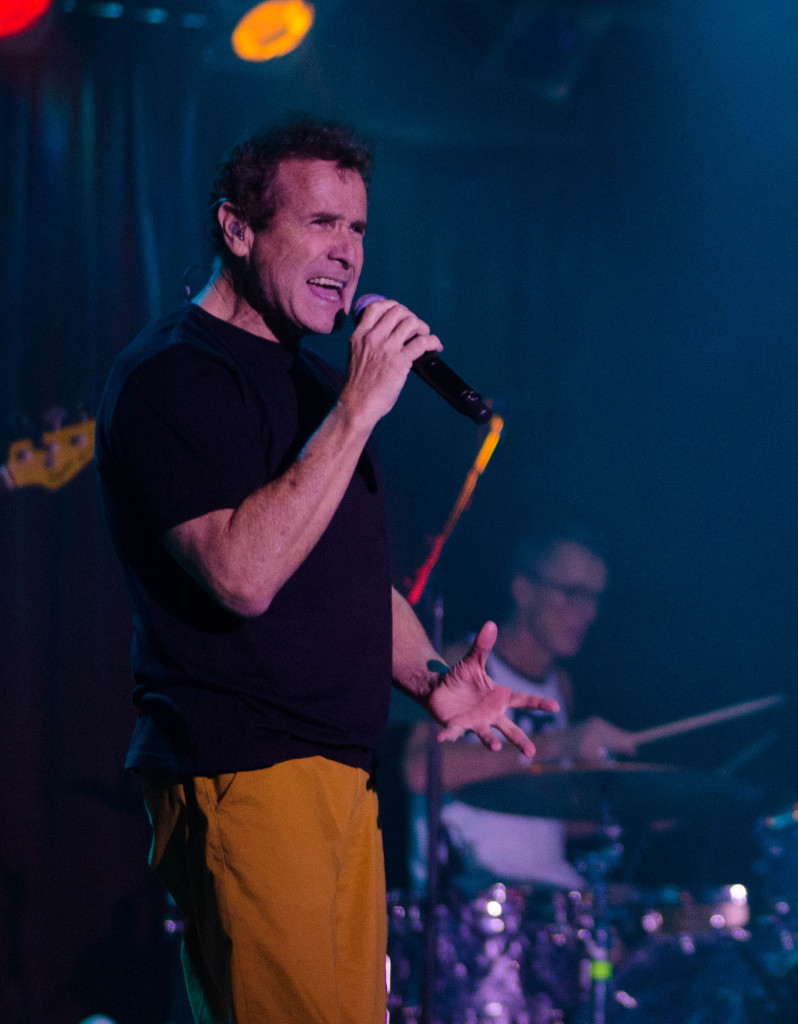 Johnny Clegg at B.B. King[/caption]
Backstage, Clegg also voiced his disappointment with the music scene in South Africa these days. He feels that a cadre of hip-hop producers and programmers now dominates national radio and television, and that there is not only a lack of emphasis on music that draws on African tradition, but an actual stigma, a "gulf" as he described it. I played him a clip of Mokoomba and he dug it, a clear sign that whatever the media spin of the age, traditional music endures and can always be reinvented by willing young musicians.
[caption id="attachment_28579" align="aligncenter" width="596"]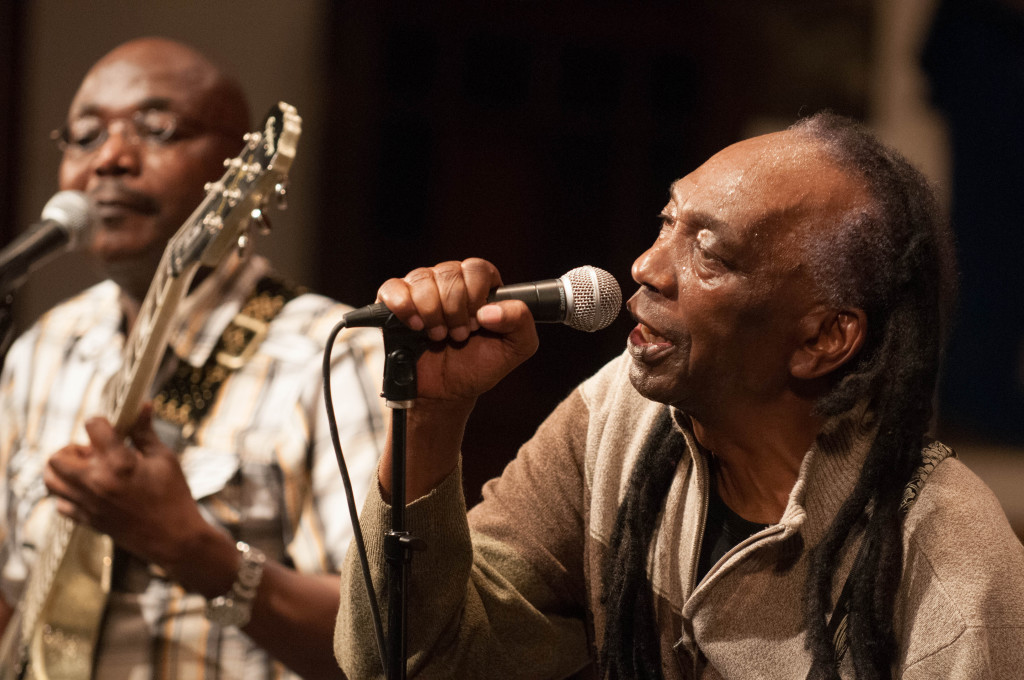 Gilbert Zvamaida and Thomas Mapfumo at the Sanctuary in Troy, NY[/caption]
Then, on April 2 and 3, at the Sanctuary in Troy, NY and the College Street Music Hall in New Haven, CT, two lucky audiences got to hear the latest from Thomas Mapfumo and the Blacks Unlimited. Luckier still, I got to join my old friends—after all, I am Mapfumo's official biographer and long-time occasional accompanist—on guitar. So I won't offer a review as such, although I can attest that band is in fine form. Mapfumo naturally draws upon his vast catalog of songs, constructing his set on the spot and moving through traditional mbira songs, guitar and brass-based numbers, and the occasional reggae number.
[caption id="attachment_28577" align="aligncenter" width="600"]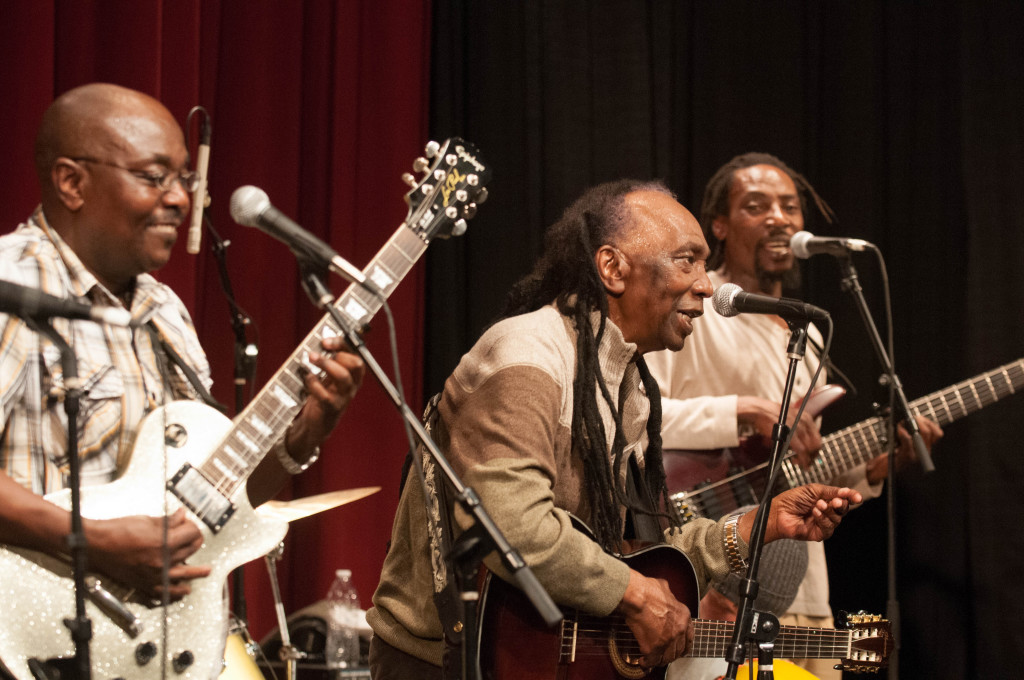 Thomas Mapfumo and the Blacks Unlimited[/caption]
And there are always surprises in Mapufmo's sets, like a new version of the 1986 hit single "Mugarandega," which he hasn't performed live in decades, and a very catchy new mbira-based song called "Chinogiya." This song celebrates an extremely powerful woman, and in conversation, Mapfumo let it be known that he thought it might be time for Americans to have a woman president. That didn't go down so well with the Bernie fans at the Sanctuary, but the music—two long sets—sure did. In New Haven, the band closed out the three-part Africa Salon concert, which also featured a hip-hop/Afrobeat set from Blitz the Ambassador. This time there were Zimbabweans in the house, who sang back praises to "Mukanya," Mapfumo's totem name, in between songs. And I'm glad to report that there is a new album in the works from the Lion of Zimbabwe.
[caption id="attachment_28576" align="aligncenter" width="518"]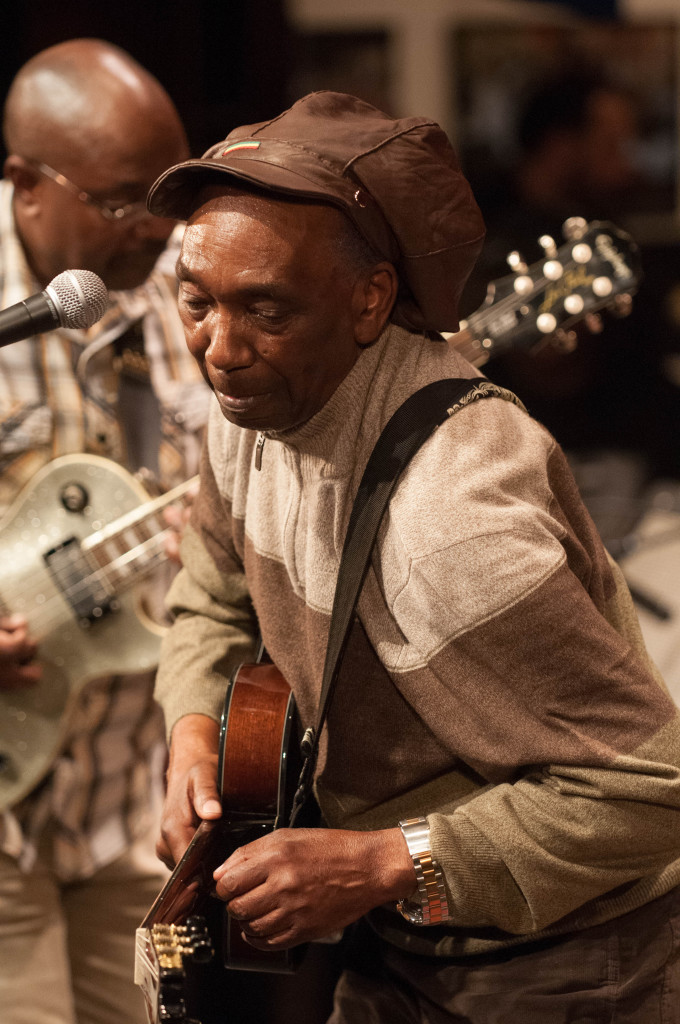 Thomas Mapfumo, Troy, NY[/caption]
These three shows left a strong impression. As ever, West African music continues to dominate the American stages that offer any African music at all. But from both the young generation, and the elders of African pop, there's still plenty of great music cracking south of the Congo River.
All photos by Banning Eyre
[caption id="attachment_28570" align="aligncenter" width="540"]
Johnny Clegg at B.B. King[/caption]
[caption id="attachment_28582" align="aligncenter" width="601"]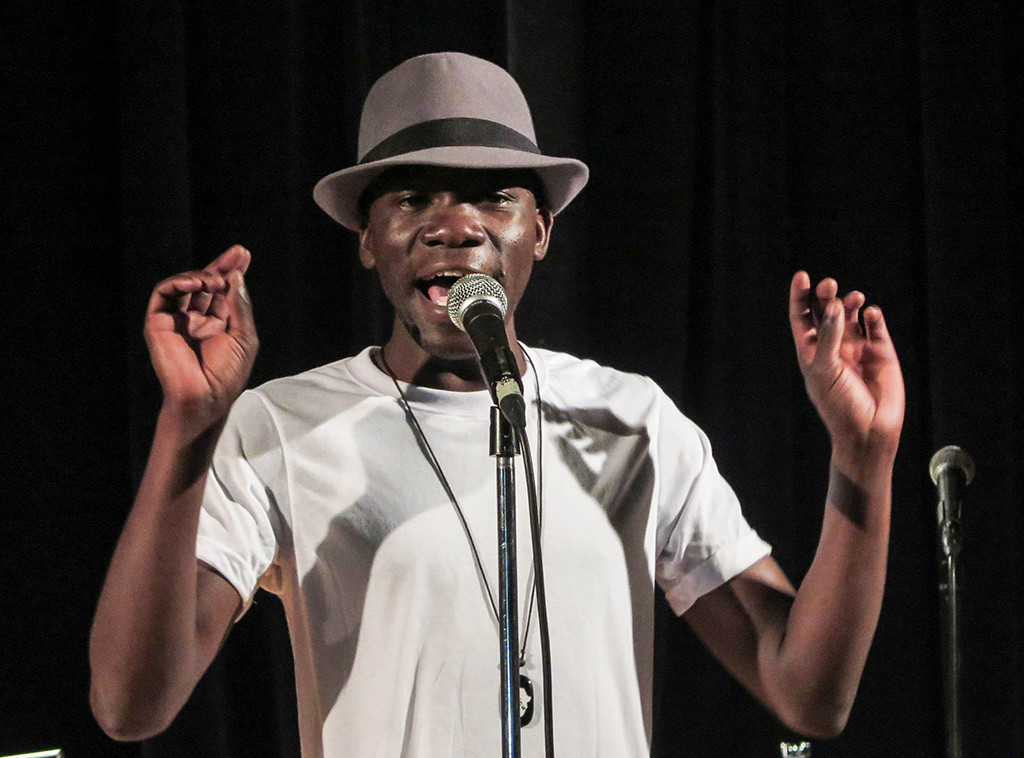 Mathias Muzaza of Mokoomba[/caption]
[caption id="attachment_28578" align="aligncenter" width="609"]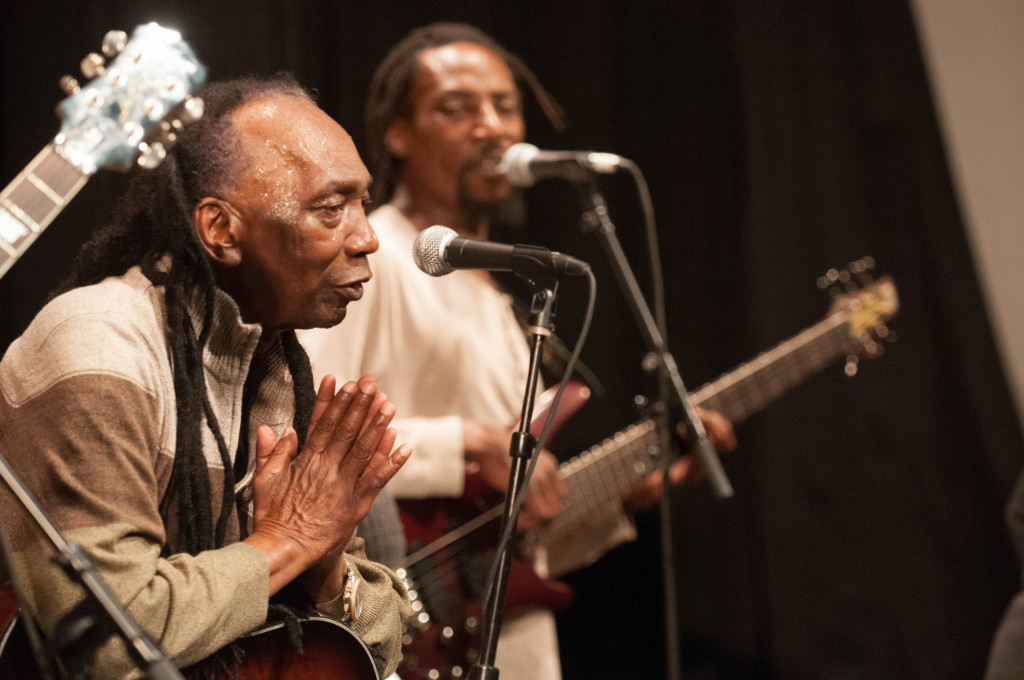 Thomas Mapfumo and Chris Muchabaiwa[/caption]
[caption id="attachment_28585" align="aligncenter" width="596"]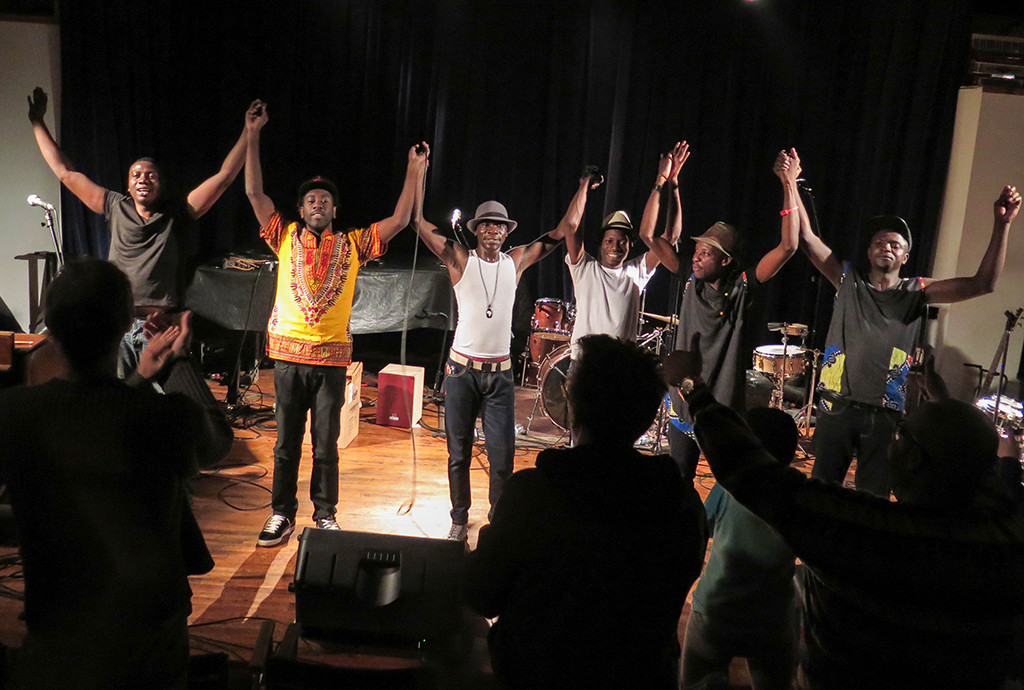 Mokoomba curtain call[/caption]