Womex 2013 report from Sean Barlow
WOMEX 2013, the annual gathering of some 2,000 delegates from  80 countries from all aspects of the world  music biz, gathered in Cardiff Wales this year. I missed the opening night celebrating Welsh culture, but my first night was a blast. First up in the tent sessions was
Fanfari
, the Moroccan-Algerian-French group based in Paris. They featured a big, raucous horn section and a prominent rhythm section. They model themselves on the
ibalen
, the Algerian street orchestras of the 20
th
Century.  And their sound ranges from rai and chaabi to reggae and beyond. [caption id="attachment_15136" align="aligncenter" width="448"]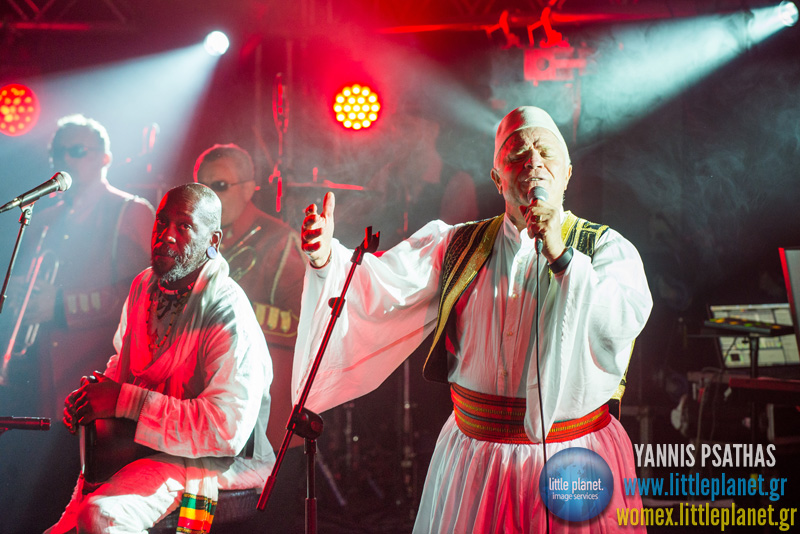 Fanfara Tirana meets Global Underground - Photo by Yannis Pisathis[/caption] Closing the night was the fun  fun fun  group
Debademba
led by Mohamed Diaby from Mali on lead vocals  and Abdoulaye Traoré from Burkina Faso on lead guitar.  Mohamed was not only a fine singer but he had a theatrical, charismatic stage presence that won the crowd over. And Abdoulaye delivered an intricate, intensive performance. They  were completely comfortable in the Afro blues tradition as well as the classical Manding repertoire. Wow!  Next stop, America, Insh'Allah…. [caption id="attachment_15137" align="aligncenter" width="500"]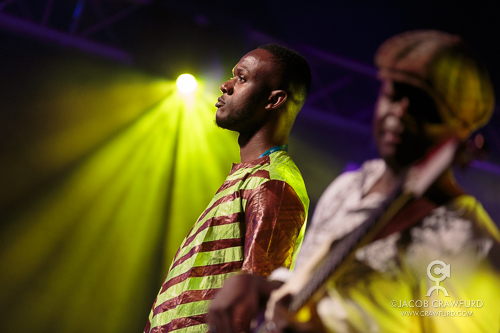 Debandemba. Photo by Jacob Crawfurd[/caption] WOMEX is highly competitive. Some 800 bands submit applications for the 45 showcases. Then the "Seven Samurai," a different group every year, make the final cuts. Afterwords, the delegates on site informally promote the bands they know and love to their colleagues. And finally it's up the artists themselves to deliver the knock out blows that may earn them gigs all over North America and Europe the following year. So the stakes are high. And the artists pay their way to get to WOMEX. So it's a gamble. The second night featured
Les Tambours de Brazza
from the Republic of Congo/France.  Senior Producer Banning Eyre had seen them at
Nuits D'Afrique
in Montreal and recommended them. The band is comprised of about eight drummers wearing long, single drums slung around their waists. I had imagined they would do a lot of sophisticated, multi-part drumming. But instead they mostly played in driving unison.  Animating the group was an excellent soukous guitarist, bass player and drummer.  For us North American Afropop fans starved for Congolese music, Les Tambours delivered a classic, happy dance set. A welcome surprise for me was
 Ganesh-Kumaresh,
brothers who are masters of the Carnatic violin tradition in south India. They looked very young but they've been performing for 40 years, starting as children in the city of Chennai  (formerly  known as Madras.) Their virtuosity and interplay was simply sublime.  This tradition is especially  dear to me since I studied Carnatic singing during college and made a trek to Chennai in 1983 to make recordings for my first national series for public radio. All the rage that year was 
Mandolin Srinivas,  
a child prodigy of the electric mandolin. Check him out
some day. [caption id="attachment_15141" align="aligncenter" width="400"]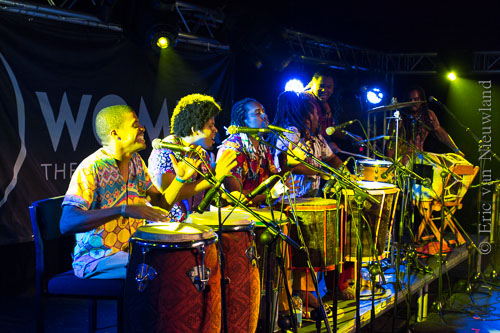 Groupa Bongar. Photo by Eric Von Nuewland[/caption]
Grupo Bongar,
a passionate percussion and vocal group from Pernambuco  in northeastern Brazil led off the closing night. They're inspired by local traditions such as coco do xambá, maracatu, ciranda, and condomblé.  A strong show.
Nomfusi 
is a talented, charismatic singer from South Africa
.
She and her band delivered a great show. Also from southern Africa,
Teta
from Madagascar is a gifted guitarist in the tsapiky style who I  got to see for the first  time.  Since we are headed to Madagascar this spring to gather material for a three part Hip Deep series, this was an especially sweet moment. [caption id="attachment_15142" align="aligncenter" width="500"]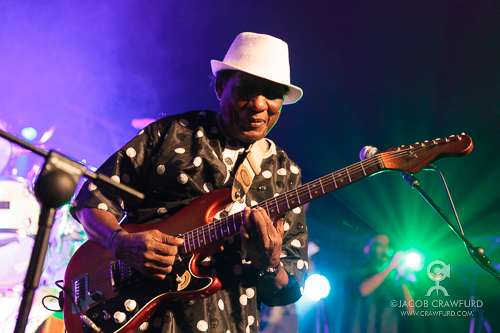 Ebo Taylor. Photo by Jacob Crawfurd.[/caption] The honor of closing out WOMEX on the last night went  to the great
Ebo Taylor
from Ghana. Ebo and his tight band moved from afrobeat,  to Afro funk, to highlife. At the center of all was 77-year old Ebo wearing a white hat and black and white polka dot shirt, singing, playing guitar,  bobbing to the groove and beaming. Banning and I spent
a bunch of time
with Ebo in Ghana this April, but never in a full band, so it was a huge confirmation for me to see him hit a home run at WOMEX.  The crowd gave him a warm, rousing welcome. And I hear talk of an Ebo Taylor tour of North America in 2014. That would be something special WOMEX helped make possible.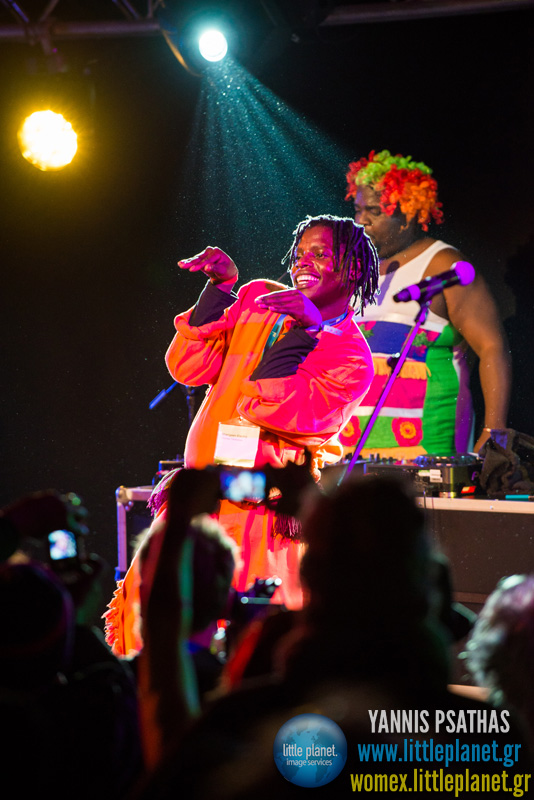 Also standing out for me were:
Shangaan Electric
from South Africa with their rapid fire electronic music and quirky, quick dancers;  the
Cumbia All Stars
big band from Peru;  and
Orquestra Contemporãnea de Olinda
with another big band drawing on the rich traditions of northeastern Brazil. As a veteran of WOMEX since 1996, I see changes along the way. I missed the last two editions of the showcase and trade fair. I was struck this time by how more prominent the country trade stands were—France,  Sweden, Belgium, Holland, Finland, Quebec, Canada, Spain, Catalonia, South Africa. Colombia, Brasil. They took several trade blocks  and strung them together to make large spaces for their national festivals, booking agents, labels, etc.  And concurrently, how many fewer record labels were represented at the booths. And stalwart record producers we've known from long back saying sadly they don't produce records anymore. It's not surprising. It's the way of the music business. As always, the heart of WOMEX are the artist showcases. Over the years I'm been blown away and delighted by artists I've seen at WOMEX the first time.  And WOMEX 2013 certainly carried on that tradition. Next year, WOMEX  will travel to Santiago de Compostela in Galicia in northwestern Spain Oct. 22-26
th
. Looking forward to that…