25 Years of Real World Records!
Real World Records turns 25 this year. That any record label dedicated to global sounds has survived this long is impressive; many others have gone by the wayside or changed course. But Real World has done more than merely survive. Driven by the passion—more on that in a moment—of its founder and overseer Peter Gabriel and a loyal and dedicated staff, the label has pursued a highly idiosyncratic course, traversing nationalities, genres and the full spectrum from folklore to techno-pop. Real World 25, a -compilation drawing from the label's 200 releases, offers an expansive tour of this history with music ranging from Nusrat Fateh Ali Khan's ecstatic qawwali trance to the supremely danceable rganic, African guitar-driven pop of Remmy Ongala and Orchestre Super Matimila—and so, so much more.
[caption id="attachment_21546" align="alignleft" width="200"]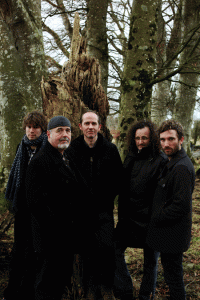 The Gloaming (Feargal-Ward)
[/caption]
Real World's veteran director Amanda Jones compiled the commemorative CD release.knows better than anyone how tough it has become to "sell" music recordings. Over the years, Real World has had to cut back recording and promotion budgets and release schedules. But in a recent phone conversation from the label's headquarters in Box, England, Jones said, "We've had some lovely surprise successes recently, which have encouraged us to believe that there still is an audience out there. One of the most interesting projects we have at the moment is a record called The Gloaming (released on Brassland in the U.S.), an IrishAmerican collaboration led by the Irish fiddle player Martin Hayes and featuring Iarla Ó Lionaird on vocals and a fascinating relationship with a young New York pianist called Thomas Bartlett who produced the record."
The four-piece act Spiro has also done well, with a contemporary take on folklore, mixing in elements from new classical music to trance grooves. Similarly, 9Bach, another "close to home" act, update Welsh folk music and ha met "a very positive reaction." Real World—like another longterm survivor in -based world music, oots agazine—has been able to maintain a bridge between a reliable audience for British Isles music (that "close to home" market), and a wide range of farflung sounds that appeal to a less reliable, more eclectic set of niche markets. It's a tough balance to pull off, but Real World has done it.
"It's important to know that, as a record label, we never set out to be ethnomusicological or completst," notes Jones. "We have never dreamed that we would cover the world, or even the continent of Africa, geographically. We are inspired by the music we love, music that turns us on—that's what drives our decisions. I think that philosophy is very much led by Peter Gabriel. He wants the label to continue to be vibrant and alive and kicking, but he wants it to be driven by passion. Remember, the first label on the record was called Passion, Peter's soundtrack for the film The Last Temptation of Christ."
[caption id="attachment_21550" align="aligncenter" width="400"]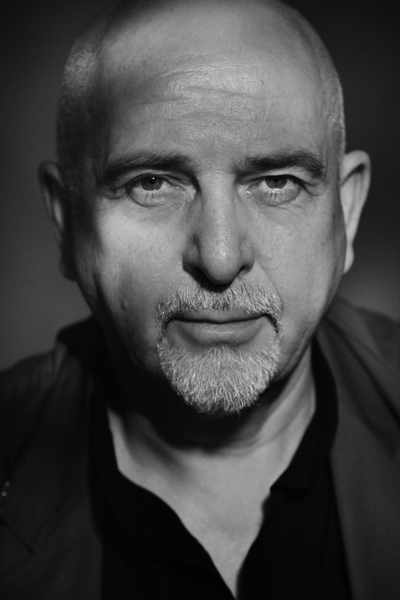 Peter Gabriel (Michelle Turriani)
[/caption]
Many of the label's most memorable releases were recorded at Real World Studios in Box. That includes a live set from the late, great Tabu Ley Rochereau of Congo, and, more recently, , a free-flying live session by guitar maestro Justin Adams and Juldeh Camara of the Gambia, with their ensemble.That was a high point for Jones"Juldeh is kind of like a Gambian Hendrix, and Justin Adams and he fit together brilliantly. They were a four-piece playing in our large wooden studio here, and they decided to work in an inspirational way, driven by the moment. They just plugged in and played. Justin said it was a bit like controlling a runaway horse that is completely spooked. That's a fun description about the way the tracks build and circle and layer, and the melodies interlock, but it's always driving and rhythmic." Indeed that is a thrilling listen, a brilliant blend of spontaneity and confidence.
[caption id="attachment_21548" align="aligncenter" width="600"]
Justin Adams and Juldeh Camara, or Juju (York Tillyer)
[/caption]
Looking at Real World's African release, a number of things stand out—starting with the label's trademark diversity. The elegant Ethiopian piano styling of Samuel Yirga grew out of the more ambient, experimental Dub Colossus releases—a contemporary mash-up of Jamaican, and Ethiopian sounds. Real World shepherded Congolese vocal star Papa Wemba through his most successful experimental phase, when he wrestled to become an artist in his own right, unconstrained by the fierce conformity of Congolese pop. Aside from Remy Ongala, Real World brought to light acts that few of us might ever have heard about otherwise. I'm thinking of the northern Mozambique folk-pop band Eyuphuro or Kenya's idiosyncratic maestro Ayub Ogada, the transfixing sonic textures of Tanzania's Hukwe Zawose and family, or Somalia's legendary (at least in Somalia) singer Maryam Mursal, all of whom produced classic, enduring releases for Real World.
The label has also released works by recognized African icons, including Thomas Mapfumo, the Lion of Zimbabwe. Real World's 2006Mapfumo release Rise Up may be the most important album of the singer's years in exile from Zimbabwe."What an extraordinary artist," says Jones. "Talk about people of political significance, artists who are worldchanging—Thomas Mapfumo is exactly that." Of course, political impact is not a requirement for Real World either—just a nice plus. And Mapfumo certainly passes the passion test.
[caption id="attachment_21549" align="aligncenter" width="600"]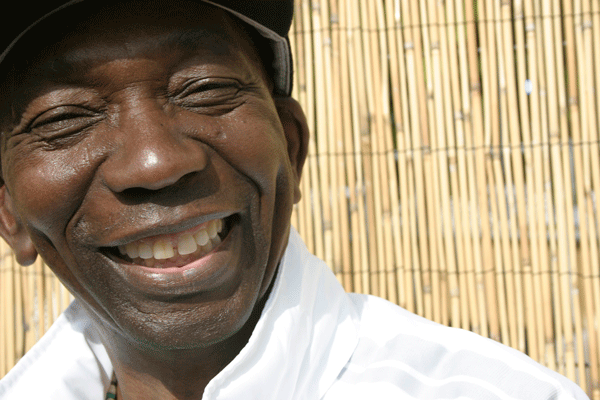 Thomas Mapfumo (York Tillyer)
[/caption]
Looking back on 25 years, Jones sees vividly how the landscape has changed. Back then, international music releases mostly came from what she calls "library labels" like Ocora and Chant du Monde in France, or Lyrichord and Nonesuch Explorer in the U.S., all of which tended to focus on traditions. The idea of specializing in contemporary international music was just dawning, especially in the U.S. Today, with the Internet and YouTube, Jones sees "a great democratizing of access to the music." But these developments have raised a new set of problems for aspiring global artists—namely, distinguishing yourself amid a vast ocean of offerings.The curatorial tastes of record label heads and festival programmers still count, "for good or for bad." The more things change, the more they remain the same.
One striking feature about the -CD Real World 25 set is how reflective, meditative, even melancholy many of the tracks are. Presented with that observation, Jones noted, "I'm sure Peter would say, and I completely agree, the best tunes are sad tunes. They are the ones that have the passion. Even an artist like Aurelio.On the one hand, you can look at Aurelio and see that his performance is very upbeat, very positive and danceable. But there is an underlying tone of melancholy and seriousness to his music, which I absolutely love about it. It's that dichotomy, the balance between the two."
Jones is referring to Aurelio Martinez the Garifna singer from Honduras whose new release Landini is one of the most resonant new albums of 2014, for exactly the reason Jones describes—that magical alloy of joy and sadness. "I think Papa Wemba is a bit like that," adds Jones. "His mother was a funeral singer. And that kind of plaintive yearning in Papa Wemba's voice I am sure is rooted in that."
[caption id="attachment_21543" align="aligncenter" width="450"]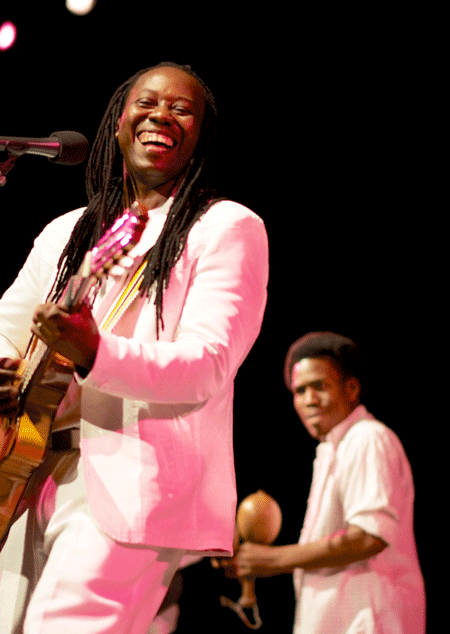 Aurelio live at Symphony Space in New York City  (Eyre 2014)
[/caption]
Peter Gabriel remains deeply involved with the label, despite family and career commitments that mostly keep him in London and abroad.Says Jones,"I'd like to see more of him. But he hears every single piece of music we make decisions on. He's been very attentive to this whole 25th anniversary release, and the decisions about music there. He's given us a lot of his time to help remember the 25 years. And I think the ethos of the label remains pretty much as it was when we started out. We're still basically on the same track, following the same principle."
Of course, the nature of popular music has changed radically during that time. Real World nodded early to the surge of electronica and mixing of genres. Back in 1997, the label signed Joi. "That was a fantastically exciting time for music in London," recalls Jones. "Joi were basically the hangra youth organization. They were part of the scene that included people like Talvin Singh and Nitin Sawney, who've gone on to be these hugely successful artists. But back then, this was kids in London who were mixing traditional Bengali music with James Brown riffs and break beats. The music grew out of the clubs; it didn't grow out of world music festivals." Electronica has not been a major focus for Real World, but the label's many Afro Celt Soundystem releases certainly have produced a wealth of club-ready dance tracks with folk roots.
Of necessity, the prospect of releasing Real World music as physical products has become harder. "We have to take budgets very carefully," says Jones. "We may only do four new records year. But in a way, that feels better, because it means we can work more closely with artists in developing their projects."
One upcoming project Jones previewed involves a veteran of Afropop's story, and Peter Gabriel's: Youssou N'Dour. Real World recently rediscovered a live set N'Dour and his band played in Athens, Greece, when he was supporting Peter Gabriel's 1987 tour. Says Jones, "It is an extraordinary recording of a young artist hitting his stride with supreme confidence. We have the original film footage from that concert, which is been painstakingly restored over about a year's time, and were going to release the audio from the show. There's a sort of raw energy in it. It's a wonderful testament to a young artist in absolute top form."
[caption id="attachment_21547" align="aligncenter" width="600"]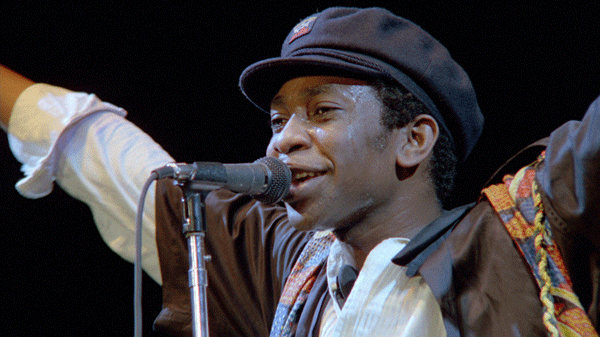 Youssou NDour, Live in Athens, 1987 (Real World)
[/caption]
Not a bad way to kick off the next quarter-century in the uncertain but everrewarding business of producing high-end recordings of popular global music. Kudos to a great label on making it this far.

[caption id="attachment_21551" align="aligncenter" width="600"]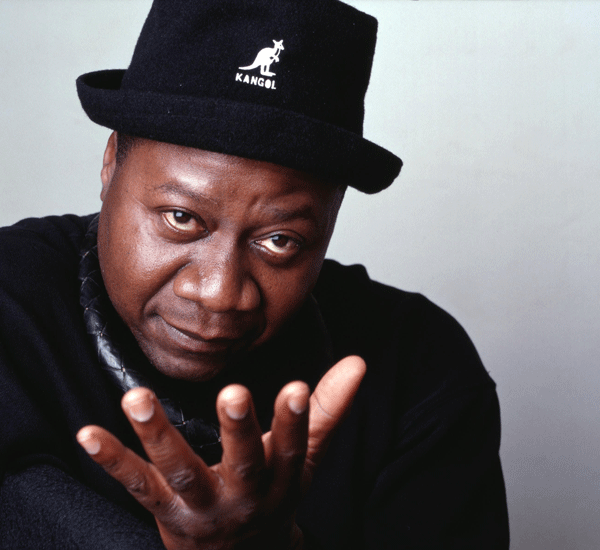 Papa Wemba (Douglas Kirkland)
[/caption]