Artists for Peace and Justice Present "Haïti Optimiste"
The evening of June 1, I stopped by the French Institute Alliance Francaise in Manhattan for a fundraising event billed as "Haïti Optimiste," put on by Artists for Peace and Justice. A packed house studded with artistic stars gathered to support the impressive
Artists Institute
in Jacmel, Haiti. Founded in 2004 by American filmmaker David Belle, the Artists Institute is the only college in Haiti to offer studies in film and music production entirely for free, and has proven itself by boosting the livelihoods and artistic expression of many successful graduates. The two divisions of the college, the Audio Institute and Ciné Institute, are housed on an oceanside campus and staffed by mostly Haitian teachers and administration, offering students a high-tech recording studio, film production studios, and the like. [caption id="attachment_29563" align="alignleft" width="350"]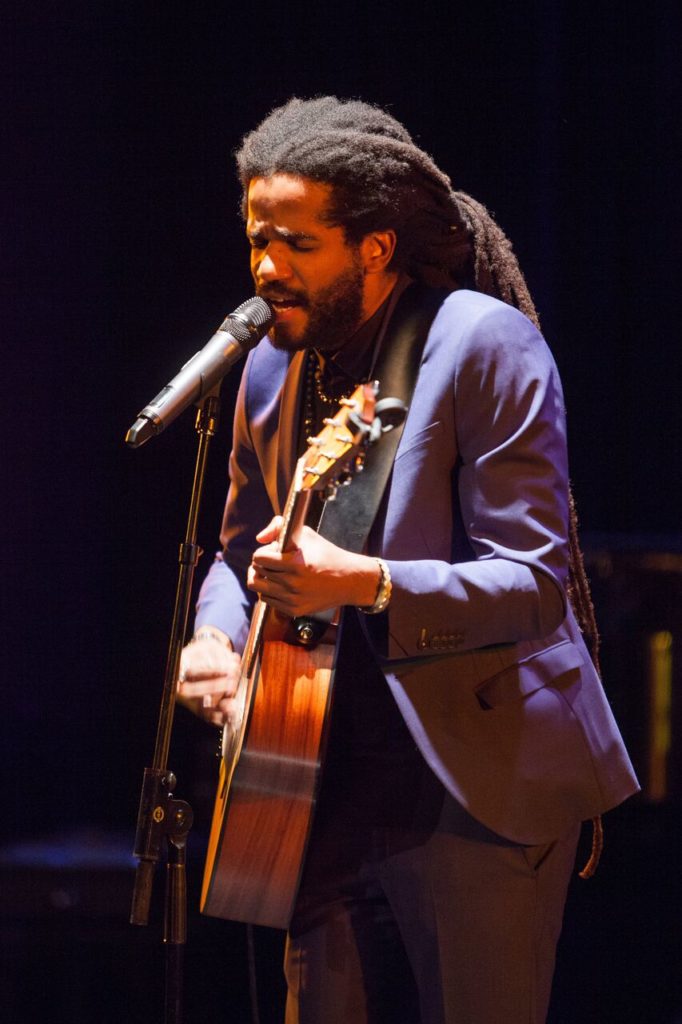 Paul Beaubrun. © Kat Cheng[/caption] We got to see the products of the Institute on Wednesday night: An excellent short documentary was shown profiling the beloved Haitian folkloric dancer and teacher Vivianne Gauthier; and Michael Brun, an internationally renowned D.J. and graduate of the program, showed a student-made video for his hit song "Wherever I Go" (produced at the Institute). The superb Haitian roots band
Lakou Mizik
, whose first album,
Wa Di Yo,
was recorded at the Institute, rocked the house. Also on the musical bill was Paul Beaubrun, a burgeoning Haitian singer and guitarist who has recently played with the likes of Sheryl Crow, Jackson Browne and Lauryn Hill, and Riva Précil and Monvleyno of Bohio Music. Beaubrun's solo acoustic guitar tunes were emotive and laid back, exuding his warm, gentle energy. Riva Précil, who has studied with Vivianne Gauthier, danced onto the dimly lit stage, undulating and flowing in the most entrancing way, to take the mic and sing jazzy Haitian roots ballads in her rich, sultry voice. [caption id="attachment_29560" align="alignleft" width="350"]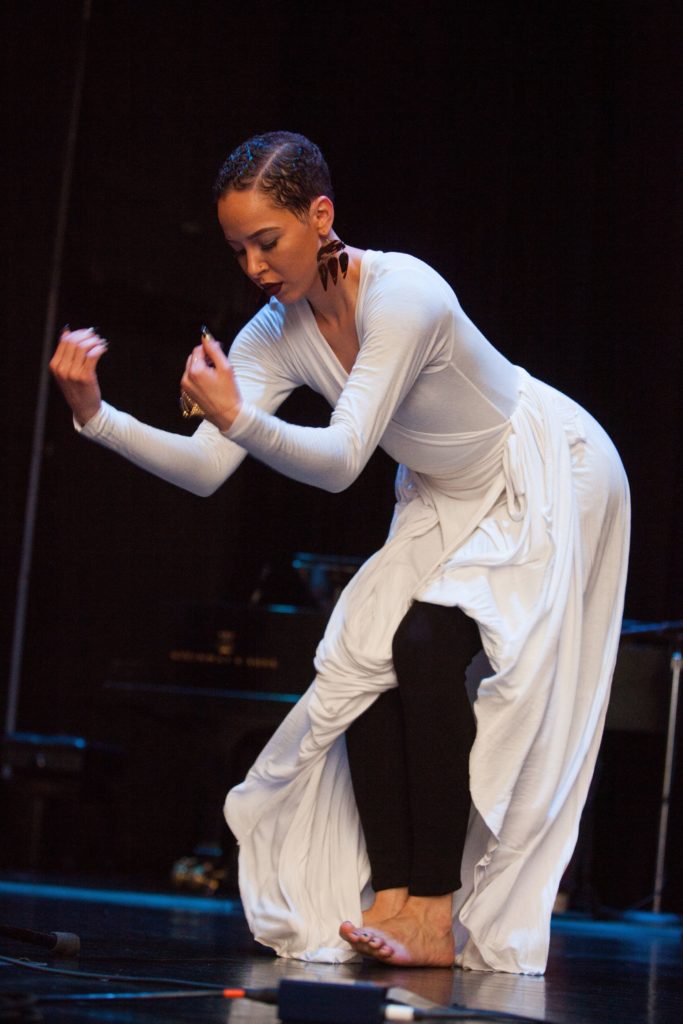 Riva Précil. © Kat Cheng[/caption] Famed soul singer Maxwell, who has Haitian roots, took the stage with Institute founder David Belle to speak praises of the Institute and raise funds, which they did with great success. Unfortunately all the music we heard from Maxwell was an impromptu 20-second cover of "Ain't No Sunshine." It was Lakou Mizik that really stole the show, with their high-energy fusion of the Haitian roots styles
rara, troubadou
and
vodou
, with rock and rap. Their sound is incredibly full and bright, reaching right into your core, and moving you to dance. At times they sound like a Creole U2, and at others like fiery and drum-heavy Cajun
zydec
o, but always presented with great positive energy and excellent musicianship. [caption id="attachment_29562" align="aligncenter" width="640"]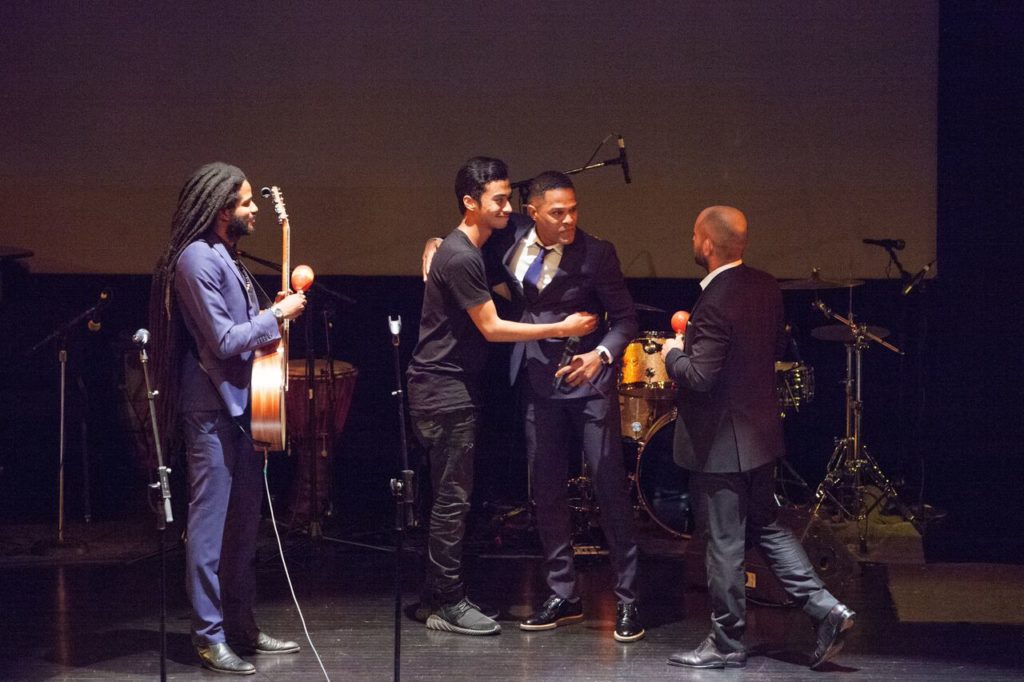 Paul Beaubrun, D.J. Michael Brun and Maxwell, with Artists Institute founder David Belle. © Kat Cheng[/caption] The overarching message and feeling of the night was optimism and positivity. All present offered a bright vision for the future of a Haiti ravaged by an earthquake, unreliable politics, poverty and disease–a future in part directed by a young generation who can make music, film and art to uplift their nation and reframe the tragic global image of Haiti. As written in Lakou Mizik's statement, the vision is that "Haiti's music and culture could serve as an antidote to the flood of negativity." To support this vision, you can buy Lakou Mizik's
new album
, support artists like Paul Beaubrun and Riva Précil, and contribute to
Artists for Peace and Justice
, who support the Artists Institute.
Featured image, Nadine Remy of Lakou Mizik. Photos by Kat Cheng.