Manny Ansar Reflects on the Festival au Desert in Timbuktu
Manny Ansar is the man behind the Festival au Desert, an annual concert in Mali which started in 2001. Due to terrorism and threats of violence in northern Mali, the festival has been canceled since 2012. In response to the cancellation of Festival au Desert, World Music Institute (WMI), in collaboration with the Metropolitan Museum of Art, presented Caravan of Peace: Ali Farka Touré Band and Terakaft on May 6 at the Metropolitan Museum of Art. Following the show, Afropop's Deguet Koné (A.K.A. Kinté, Le Prince Heritier) spoke with  Ansar regarding his thoughts on the world-famous Festival au Desert in Timbuktu, how it came to be, and what the future holds for the beloved music event. The original interview was conducted in French.
[caption id="attachment_36946" align="alignnone" width="640"]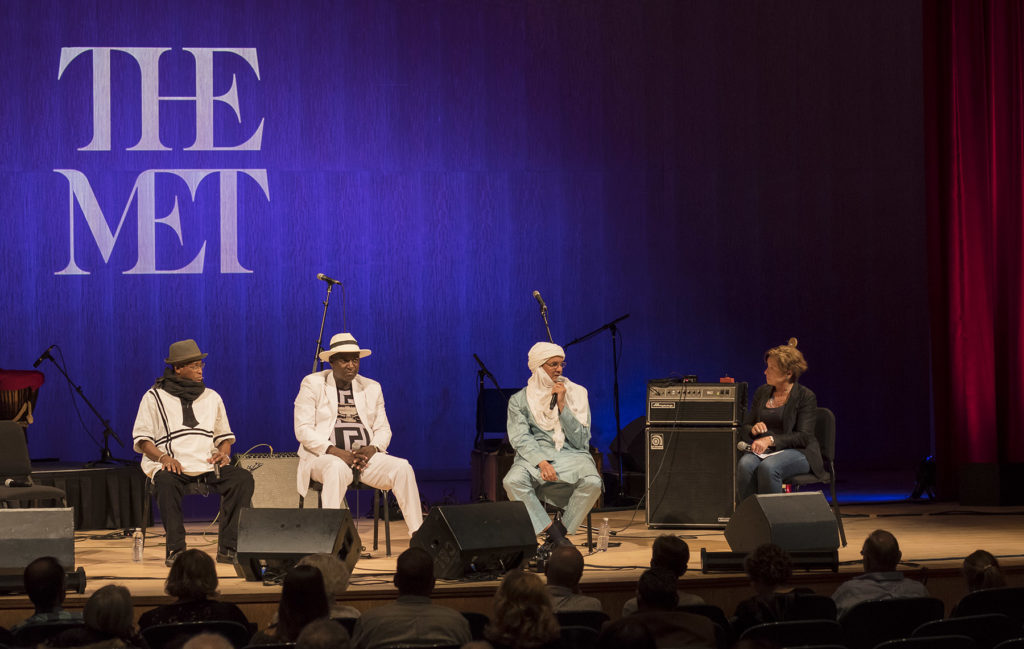 Professor Cynthia Schneider (far right) of Georgetown University leads a pre-show talk on the current situation in Mali with (from left) Afel Bocoum, leader of the Ali Farka Toure Band, Ali Guindo of the Ali Farka Toure Foundation, and Tuareg musician and activist Mohamed Aly (Manny) Ansar prior to a joint concert by Terakaft and the Ali Farka Toure Band at the Grace Rainey Rogers Auditorium at the Metropolitan Museum of Art, New York, New York, Sat., May 6, 2017.
All photographs © 2017 Jack Vartoogian/FrontRowPhotos. ALL RIGHTS RESERVED.[/caption]
Deguet Koné: Good evening, Mr. Ansar. I am Deguet Koné from Afropop Worldwide and I am honored to interview you today. For those who have yet to know you, how would you present yourself?
Manny Ansar:
 My name is Manny Ansar, I am from Timbuktu in the north of Mali. I am also the organizer of the Festival au Desert of Timbuktu which was a famous festival from 2001 to 2012. It was stopped in 2012 due to the invasion of the north of Mali by extremists who started prohibiting music. Since then the festival was unable to take place in Timbuktu. It then became a festival in exile, which is organized as caravans of artists throughout the world. We perform everywhere since we cannot do it at home in Timbuktu. We are welcomed by other venues, other festivals as a sign of solidarity. We also do concerts in Mali, where other Malian festivals invite us. Sometimes in refugee camps, because since the beginning of the crisis in Mali, a lot of Malians are refugees in Burkina Faso, Niger and Mauritania. We also do concerts for peace and reconciliation. We try our best to bring joy to people.
What has led to you to want to be in the music industry?
Music always interested me without being an artist. I always wanted to organize parties, concerts, so I started to organize my first concerts with a Tuareg group from the north of Mali named Tinariwen. At that time they were not called Tinariwen, it was just some young guys playing modern guitars. They played at Muammar Gaddafi's camps. They even played in refugee camps in Algeria. I had already heard their music when they came for the first time in Mali in the '90s. I found their music interesting and I knew they could become a real group. So I started organizing concerts for them in Bamako, Mali. Just to have fun among friends, but then we realized that they carried a new genre of music. It was the first time that musicians had the idea to adapt a Tuareg folk repertoire to modern guitars. Also getting inspired by Ali Farka's blues and other artists. They created a new genre that was accessible to others compared to Tuareg music as it was, and the Tuareg community appreciated it a lot. It was a music genre that was able to reveal Tuareg music to the world. So I told them: "Listen, you created a new genre that can sell throughout the whole world, let's try to create a group." That is how Tinariwen was created. Then they became successful. We started with a first concert in Mali where other musicians who came for a festival at Bamako saw us on stage and invited us to a festival that they were organizing in July 1999, in France. After our first trip in France they asked if we organized festivals in our country. We told them, no, but that we had traditional events where nomads get together. They asked if they could come. We said, yes, but there are no stages, no materials, no light, we do not see how you will play. They said, "O.K., we will think about it". Then they contacted us. They told us that they had found a French agency that would pay their ticket and the materials so they could come. We said great. We invited them to one of our traditional events. They came with their materials, we packed some sand, found a rock to put on top of it, and we created a stage.
Impressive, that was the first edition?
Yes, it was very basic.
At least it proved that something could have been done.
Yes, they came with few journalists who filmed. They were impressed by the sound in the desert. Also because it was the first time that people played in this part of the world.
I can imagine. The Tuareg culture is very mysterious.
Of course, it attracted people, they wanted to see so they came with some journalists who took pictures, filmed and when they left they told everybody that they were in the Tuareg country. That they saw a lot of camels. When we turned the light on in the dark and that we turned the music on we could see a dozens of camels after two hours from hearing the music from about 15 kilometers in the desert. Everybody came to know what and where was the sound they heard. With the light effects in the dark, the eyes of the camels shined like bulbs. So when we looked around we would see little dots around.
I see, you created a festival at a historical spot where nobody really believed they would attend.
Indeed, when we came around Timbuktu people saw that we could make festivals at Timbuktu in the desert with the Tuareg people. Especially here in the U.S., a lot of people were surprised to know that it was possible until they saw that they wrote articles about it. When people heard about Timbuktu they thought that it was a mythical place that did not exist, but then you had artists like Robert Plant of Led Zeppelin who started getting interested in our project. Artists like Bono of U2. People saw them coming to perform in Timbuktu so a lot of other artists even wanted to perform for free just to live the experience. We were overflowed by artists. The first year we were at about 500 to 600 people. We were over 5,000 after three years with more than 50 journalists.
Wow! Around what time was Terakaft founded?
Diara, the guitarist of Terakaft, was a founding member of the first group that I worked with called Tinariwen. I was Tinariwen's manager even though I had never thought about that in my life, then festival manager, while I had done diplomatic courses in college. I found myself in the music industry and I liked it. I still like the music. For Terakaft, everybody played on the side, they never really had the idea that they could form a group, so when we started to regroup them to perform at festivals in Bamako I realized that they had a future. We continued doing festivals together. I was their manager and responsible for the festival organization. We did not know how to organize modern festivals, artist management, the welcoming management, registration, press accreditation, we did not know anything about all that. Everything came to us, people came as volunteers. When Tinariwen started as a group and became professional internationally, they were a dozen but they coalesced themselves into about seven or eight people, and the other ones created their own groups, and that is how Terakaft created its group from Tinariwen. [caption id="attachment_36945" align="aligncenter" width="640"]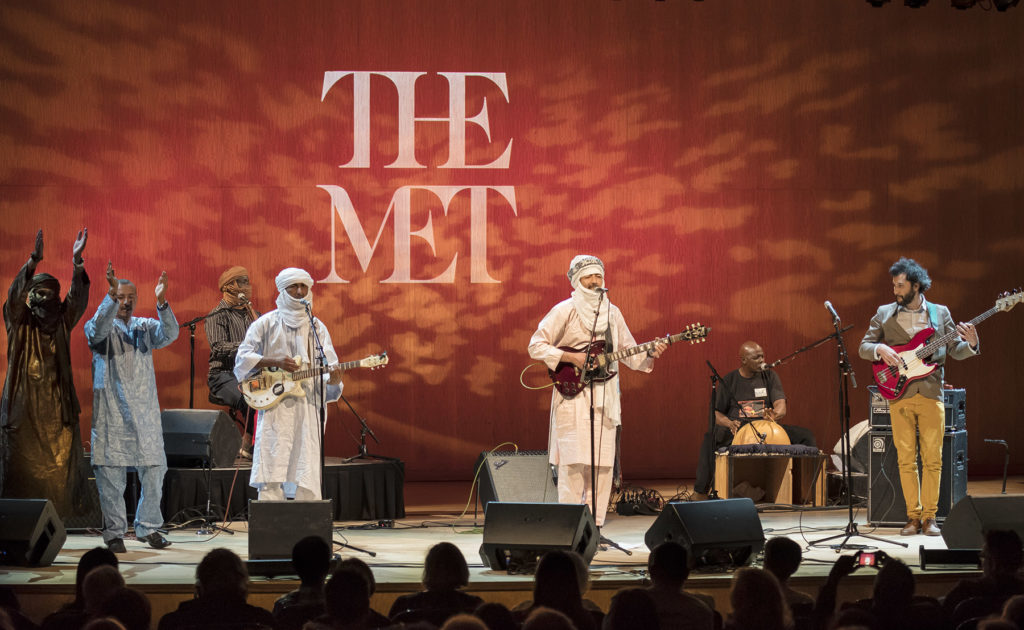 Members of the Tuareg rock band Terakaft with, from left: guitarist Liya Ag Ablil,
djembe
player Souleymane Kane (rear), guitarist/leader Sanou Ag Ahmed, calabash player Alpha Ousmane (Hama) Sankare, and electric bass guitar player Andrew Anwin Sudhibhaslip.  Intidane Moore (in dark robes) and Moussa Boubacar in light blue outfit dance and encourage the audience to enjoy the performance.
[/caption]
I noted that you also had the backing of artists such as Ali Farka Touré. How did you two get in contact?
We started the first two editions a little far from Timbuktu, but we decided to do the third one there. I then went to see Ali Farka Toure, who was already famous, and I told him that we had started a festival in the desert of Kidal but that we wanted to do one in Timbuktu in which he had to come perform. He said that he had heard about it. That we were doing something that he always dreamed about. He then said: "I am a musician, I toured in the whole world a lot of times, but I was the one going to the world, I wanted to bring people home but I did not know how to do that. Now that you organize this I support you, I will also be your godfather." He then started coming to the festival and he brought his lot of visitors, tourists, and journalists. He was the natural godfather. He was there every year and was the headline; the last performer of the last day. He supported the festival until his death in 2006. It was only around 2014 that his musicians got the idea of reviving his music. They had just found a guitarist that played just like Ali Farka Toure. Even when I close my eyes I doubt whether if Ali is on stage or not. They are able to reproduce Ali's music. That is when we decided to support them. This is also the first time that they have come to the United States as the Ali Farka Toure Band. We believe that they will be able to convince the public and then start an international career.
I believe that too. As an Ali Farka Toure fan I could not feel the difference beside Ali Farka Toure's presence. The music is alive.
Yes, the same people are playing the instruments.
Why do you think that it is only now that we give value to African music? Sometimes we call it the "African blues" but doesn't the blues come from Africa? Especially West Africa.
Of course. That's what Ali Farka Toure use to say. He said that he had always played his music. Starting at the border of the Niger River and that he did not have access to American blues when he started. There was no radio or television at that time. Not where he lived. He was amazed when heard the same music from the United States. He knew that it was not what influenced him so he told himself that if those who play this music were originally from Africa it meant that they had brought it to the United States. That was his logic. [caption id="attachment_36943" align="aligncenter" width="640"]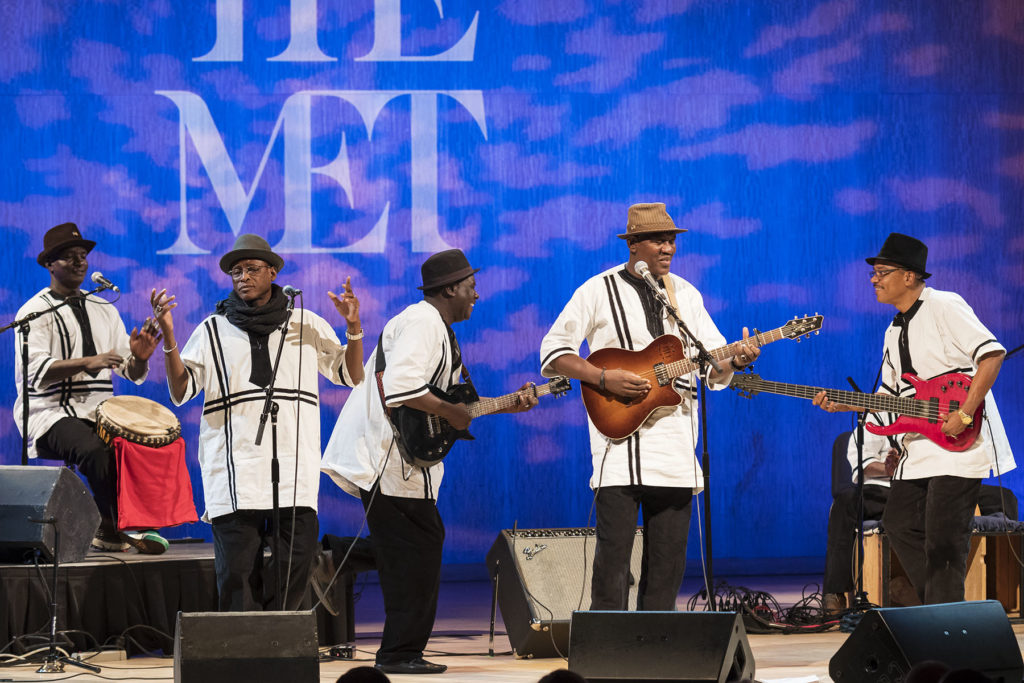 Members of the Ali Farka Toure Band with, from left, djembe player Souleymane Kane, lead vocalist and leader Afel Bocoum, guitar and vocalist Aly Magassa, guitar and vocalist Mamadou Kelly, and electric bass guitarist Oumar Diallo.[/caption]
Thank you for this anecdote. The Festival au Desert was a big international success but then the crisis started in 2012 in Mali. We can assume that you were in shock. How long did it take you and your team to move forward and to start touring?
It took about a year. From January 2012 to January 2013. The first months were blurry. Everybody had to leave Timbuktu. At least the festival artists. People were dispersed, we did not know what to do. Like I was saying the festival made itself a lot of friends all around the world. People who came to the festival in Timbuktu with their private jets. Big press names, artists of renown. All these people started contacting us to know what was happening in Timbuktu, to know where we were. They were trying to figure out if we escaped the crisis. What we wanted to do. That they would support us, also that we should not give up. This gave us courage. People told us to continue so we had an idea; since the festival could not take place in Timbuktu we had to do it somewhere else. We had to get invited by other festivals. That's how grew little by little the idea of caravans. Foreign partners, French corporations, Dutch, Norwegian, a lot of people who saw what was happening wanted to support the artists. We started touring with artists and that is what brought us here. In our objectives we will not always tour with the same groups every year. We take two, three, four, groups that we tour with--this time we chose Terakaft, and the Ali Farka Toure Band. Our objective for this U.S. tour is to keep the Festival au Desert alive and for it to stay in people's mind because after all our objective is to go back sooner or later in Timbuktu and resume the festivals. In the meantime we have to keep its spirit alive. It has to exist in people's memories and in ours too. It will be all over if even us forget about it. We have to keep believing.
Especially since the festival has become a tradition that some people want to shut down. What are your future dates?
This time in the U.S. we started a short tour because you always have to see what it gives and get back to it. We left off on three dates, maybe four. After today [May 6] we will be in Chicago next weekend. Then in Minneapolis. These three dates are confirmed for now but we have to get back in Mali on May 17. We will start an European tour a month later. From mid-June to end of July, in five or six countries. We will surely confirm other dates by then. France, Netherlands, Germany, Italy, Belgium, and other dates in discussion.
Do you think that the crisis in north Mali will end one day?
If faith follows facts we can say that it will take a year. When we are objective it might take longer, especially for the festival to start back with the crowd that came and left without risk. We think that we have to go slowly with some lighter formulas of the festival. The festival without Westerners which are targeted by the extremists, who are in danger by going there and see what happens. First, second, third year and see if it will all go well.
As you mentioned, it is the time to export Tuareg culture to the world. Do you think as many do that the cause of the conflict in north Mali is due to the fact that Muammar Gaddafi passed away?
Yes, I sincerely think so. Gaddafi did not bring extremism. No matter what we can reproach him, he was fighting extremism. We have to recognize that he was one of the strong links which faced the expansion of religious extremism in Africa, so when they took him down it was like they opened the gate for extremism to spread in the rest of Africa to Grand Bassam, Ivory Coast.
The man behind the Festival au Desert, Mr. Manny Ansar, we thank you for giving us the honor to interview you. Before we end this interview what message would you want the listeners to keep in mind?
My message has always been the same. It is the same message that the caravans hold. It was first for us to continue which means we have to resist. Each and everyone in their own field. Resistance to intolerance, to extremism and to obscurantism. Everyone has to play their role in Africa, especially in that part of Africa which is threatened by a lot of danger. Then my other message is that when we talk about Mali today, we think about war, division, extremism; we only see darkness. People think that there is nothing positive. We think that when Malians are not killing each other between the north and the south, extremists come and finish the rest. And yet Mali is standing. Mali still exists. It is getting up, hardly, even if it is very harsh what is happening to it. We are here to show the positive face of Mali, and Africa in general. There are beautiful things that happen in Mali, and in Africa. Especially in the United States when you talk about Africa, people only see Ebola, extremism, wars, so we rather show the positive things that happen at home. This is the message that we want to push through.
Thank you, Mr. Manny Ansar. Afropop Worldwide salutes you and passes through me the wish of good luck.