Vieux Farka Toure: US Debut Concert (2007)
February 4, 2007 Text and photographs by Banning Eyre
All who love the music of late Malian maestro Ali Farka Toure have awaited the arrival of his 25-year-old son, Vieux, with heightened curiosity.  After witnessing the son's very first full concert in the U.S.—at Wesleyan University in Middletown, CT, on February 4, 2007—I am pleased to report that the kid has
got it
.  I admire Toure's just-released debut CD,
Vieux Farka Toure
(produced by Wesleyan alumni Eric Herman, Jesse Brenner, and Dave Ahl), but as great as the recording is, it in no way prepared me for the charisma, chops, and overall showmanship of the young man himself.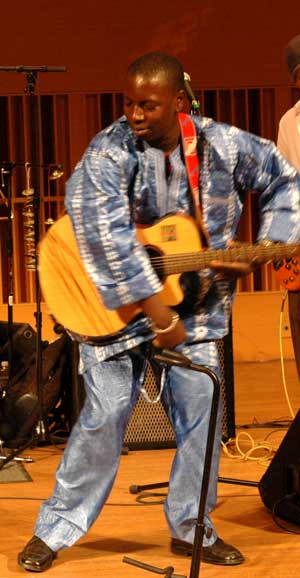 In a nearly two-hour set of songs, Toure moved from strength to strength.  The set included his own songs as well as those of his father, Mande tunes he learned during his apprenticeship with kora master Toumani Diabate, a song by Eric Herman, and a singalong encore old timers recognized as a Cassamance classic made famous by Senegal's Toure Kunda, back in the 1980s.  Toure was backed by a lean, punchy combo that included Americans on bass and drums, a Malian calabash player, and on large ngoni (lute) and guitar, the legendary Mama Cissoko.  Cissoko's history goes back to the classic Malian band Badema National, and he plays on Ali's final recording,
Savane.
  The young Toure referred to him as a "father," and Cissoko's presence gave the youthful group a welcome note of experience and sagacity. But frankly, with his confident, powerful riffing, delightful stage manner, and winning repertoire, Toure would have been a sensation all on his own.  It would be impossible for one so young to put across the mystic presence of the enigmatic sage, Ali.  But the son has learned well, and he brings a youthful spirit and guitar hero antics to the folklore of Mali, without cheapening it one bit.  His voice is strong and clear—if not as craggy and desert whipped as his dad's was—and he writes beautiful melodies, and delivers his material with effortless ebullience.  There is no question that Toure will be a hit on American stages, as at home at blues festivals and jam band gatherings as in traditional world music venues.  One left this concert with a very real, and very welcome, feeling that Ali has not left us after all. The day after the show, Sean Barlow and I sat down with Toure for
a lengthy interview
.  one of the first given in the United States by this major artist.