The international press has called Mokoomba, the six-piece group from Zimbabwe, an "overnight success story." But like many such stories, their "overnight" began a decade ago. The group hails from Victoria Falls, also known in Tonga as Mosi-oa-Tunya (the smoke that thunders)–the waterfall is twice the height of Niagara Falls. Because of its location close to the borders of Zambia, Botswana and Namibia, it's a popular spot for international tourists, and the members of the band grew up hearing a variety of music in addition to their traditional Tonga rhythms. They have brought all these influences together in what they call "Afro-fusion." We had a chance to sit down with Abundance Mutori, the bass player, before their impressive outdoor show at the
Festival International de Jazz de Montreal
earlier this month to talk about their journey and their music. "We come from the same town and the same neighborhood in Victoria Falls," says Mutori. "We knew each other and were playing together before we started playing music together–the same schools. So we've been friends for a long time. After we finished high school, we decided to really take on music like heavier." This was back in 2002, when they were 14 years old. "When we were in Victoria Falls, there was this old man, Alfred Mjimba, and he really saw we had some talent. He had some musical equipment and a place to play–because we couldn't afford our own instruments at the time. We would also play with him at shows because all his fellow members had moved away. So he was working somewhere but also still loved music, and so we found an opportunity through him to play." Of course, the teenager's parents weren't exactly thrilled at the idea, even though Mutori's father also played bass guitar, the reason why he first took up the instrument. Nevertheless, "this old man" Alfred Mjimba was a legendary Tonga guitarist whose band Koombaka was well known in the area. "Sometimes," Mutori continues, "I would have to sneak out from home and would have to lie and not tell him the truth we were going to a gig. I don't think my father thought music was a way to make money and wanted me to continue with my schooling. But we were playing something that was coming from the heart and that we loved to do. So we did that until we joined the Music Crossroads International competition. And this was a rare opportunity to take our music out and meet other musicians." This was in 2007.
Music Crossroads International
 is a nonprofit focused on southern Africa whose "aims and objectives are to improve self awareness and social inclusion of young African individuals, additionally to becoming a resource for developing the Zimbabwean music infrastructure." They do this through sponsoring music workshops and competitions in Malawi, Mozambique, Tanzania, Zambia and Zimbabwe.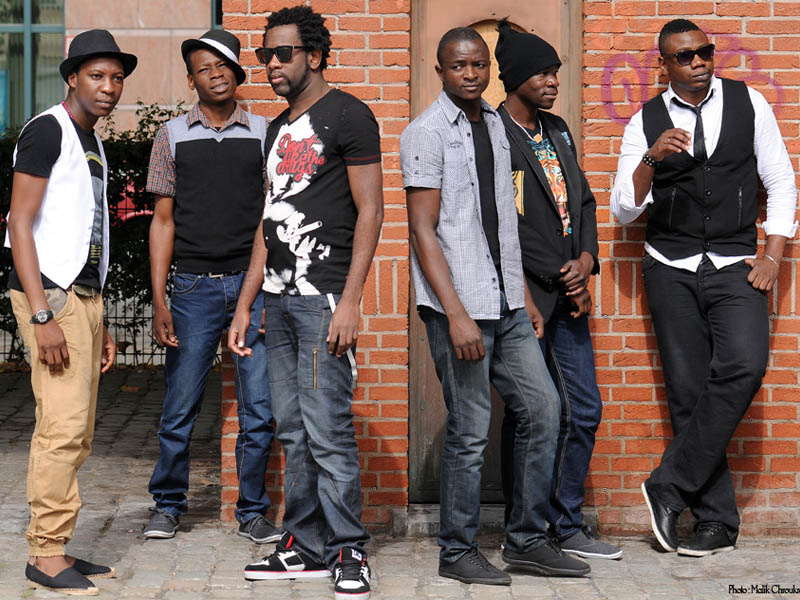 "For sure, we didn't know if anything would come from this," Mutori admits. "We just wanted to enter the competition and see if we could find something, but if we won the competition we could tour Europe and record a CD. We thought, 'Wow, if we could have this kind of opportunity, it would be great for us.' And so we won that and then we won the national competition, and that's how it all started." Their debut album
Kweseka
(Drifting Ahead) came out in 2009, and their first internationally released CD,
Rising Tide
in 2012.
Rising Tide
was produced by Manu Gallo, who has worked with Zap Mama and has released several of her own solo CDs. The album was given an A+ by Afropop's Banning Eyre, who noted on our website that: "Mokoomba is quite simply the most impressive band Zimbabwe has produced in recent memory.... The sheer density of ideas in this session is impressive, but it never feels like the musicians are merely checking off stylistic boxes." The album went on to making the Top 10 lists of world music releases that year, including those of the
Washington Post
, NPR Music, the
Guardian U.K.
, Canada's CBC Music, and Germany's Funkhaus Europa. They also took the Newcomer award in 2013 at the Songlines Music Awards in London. "As we started to do music, we never thought that in six years we would be touring the world," Mutori says. "It's all stepping stones, making progress all the time, and discovering new places and playing to new audiences, and having people receiving our music." "Things in Zimbabwe have changed to way better," he continues, "but even back then when it wasn't we had hope we could make it, and we fought hard in every situation, standing strong. We thank our parents–you know, from the first time they didn't really want us to do music, because they thought it had nothing to offer us. That we must find a job or something–not to play as a living. But when they saw all the progress and the opportunity for ourselves, and trying to achieve, from then on they were like, 'Wow.' They are like heads of our fan clubs, and really supporting us. Our families and friends back in Victoria Falls, they are still happy to see us doing well and support our future." While the band mostly writes their songs in their native Tonga language, a style of Bantu which is more spoken in Zambia than in Zimbabwe, it has led to some confusion amongst Zimbabweans that Mokoomba are not a "local" act. But in the West, where most of us wouldn't know the difference between Tonga and Shona, the language most heard in Zimbabwe, we had to ask whether Mutori felt the band's songs were being appreciated as fully as they might be if we understood their lyrics. "I think music is a language," he responds, "and even though people who don't speak Tonga don't understand the lyrics, it is the music, because of the way it is, people are feeling what's inside the music. Music is an emotional thing so they feel it. So people are enjoying and understanding it, I think." Because of the touring lifestyle, it's not often the musicians get to explore the places they visit, but Mutori says, "There are some days when we are on tour we can get out of the hotels and have a day or two to go about to see places." "We've experienced so much and seen so many cultures of people," he adds, "and that also changes the way you think and how you see people and their different cultures. As an example in music, we are hearing new styles of music which open our mind. Like in Morocco, we heard this different style of singing, like Gnawa traditional music–I like that. [The group played at the Festival Gnawa et Musiques du Monde in Essaouira in 2013.] Some places, of course, we've seen on TV, but now we get to see it for real. Sometimes we laugh thinking someplace that we've seen on TV must be like heaven all the time, but then you get to the place and see how people are living, their communities, and life is so much the same everywhere." Mutori describes their sound as "a fusion of our own tradition that we also brought other genres of music in. We mix it together and we kind of have this fusion going on–a little bit of reggae, soukous, rumba, a bit of Latin–so we can even appeal to young people of our own age and also to elderly people. Everyone can feel it." Recently, the band began to try something new in their shows–some acoustic and a cappella numbers that reflect a more traditional Tonga sound. "Because we had some theaters to play in the U.K., we wanted to show we could do a more smaller, intimate set," Mutori explains. "We started this original acoustic set where we have our own traditional drums, but also with bass, guitar and vocals. It's really good for playing theaters, small places, and also other places, because it's more intimate and more like the older traditional sound. It's still rocking, but we decided in the smaller venues it works. On this tour, we are doing both–a bit of the acoustic, but also Afro-fusion, just to mix it up. " While they were on tour two months ago in Europe, the band recorded a new CD of this acoustic music. The album, Mutori said, will come out sometime next year. When asked whether there are any other future recording plans in the works, Mutori smiles. "We recently played with Baaba Maal at this festival back home," Mutori answers, "and we are hoping after this album, maybe we can collaborate with him or maybe Salif Keita or other big guys. People like this, Richard Bona, Youssou N'Dour–we have always looked up to, and are still looking up to." He then adds, "And now we are the up and coming. It's truly amazing." Mokoomba will continue to tour North America during the summer, then will be touring Europe in the fall. Their schedule can be found on their website: http://www.mokoomba.com.
Cover image by Marcus Gora