A Taste of Africa: La Savane Restaurant
A lively, spirited debate is going on at the table next to ours. Several men at a communal table are mulling over the outcome of a soccer match (Germany vs. Spain) and are discussing what Africa was like 1,000 years ago. They are happily enjoying their time at La Savane, a West African restaurant in the heart of Harlem on 116
th
Street, and home to New York's large West African expat community. Acting as a de facto social club and gathering spot, the restaurant has a friendly and inviting atmosphere. [caption id="attachment_29351" align="aligncenter" width="600"]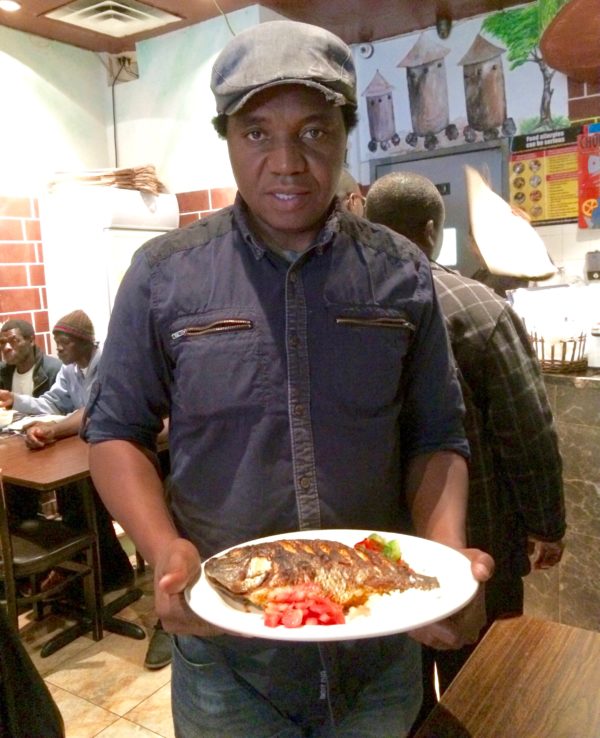 David Dembele, co-owner of La Savane Restaurant[/caption] Co-owners David Dembele and Kabine Sakho, hail from the Ivory Coast and Guinea respectively. Frustrated with the lack of good food they could get while driving taxis in New York City, they started the restaurant five years ago. Named after the region in the northern part of the Ivory Coast, La Savane serves delicious regional food from both the northern and southern regions of the Ivory Coast, as well as from Mali and Guinea. [caption id="attachment_29348" align="alignleft" width="300"]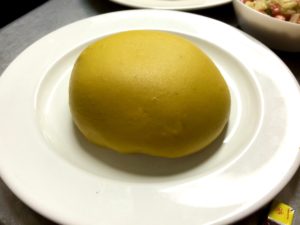 Foutou, made from plantains, at La Savane[/caption] A warm, dark, yellow mound arrives at our table.
Foutou
is a delicious, slightly sweet dish made with plantain flour. Eaten with your hands,
foutou
comes from the southern part of the Ivory Coast. I am also enjoying the chicken in sauce
gombo
, a tomato-based sauce made with fresh okra, red and green peppers, and spices. The chicken is moist and tender. Paired with the
atieke
, a couscous-like vegetable made with cassava, the combination is exquisite. Made only in the Ivory Coast, the atieke is pounded until soft, pressed to get all the liquid out, and then steamed. Voila! You have a delectable side dish. [caption id="attachment_29349" align="alignright" width="300"]
Chicken sauce gombo[/caption] The
poisson grille
(grilled tilapia), is served with a refreshing tomato, pepper and onion salad. Light and flavorful, the fish is delectable and cooked to perfection. Other regional specialties made here include the
kabato
, corn flour mixed with water, and formed into a ball. (A woman walked into the restaurant today specifically looking for the kabato; when she found out they didn't make any that day, she left.) There is
sauce djoumbele
, made with tomato and dried okra;
ragout aubergine
(stewed eggplant);
placaly
(cassava);
gigot
(lamb shank);
dibi poulet
(grilled chicken); rice dishes, and other delicacies. [caption id="attachment_29350" align="alignleft" width="300"]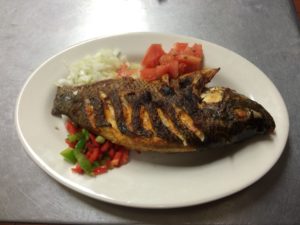 Poisson grille[/caption] I plan on eating here again, as there are plenty of wonderful options, and where everything I had was incredible. There's no need for dessert after you've eaten, as you will be quite full. No matter what you order here, you can't go wrong.
La Savane, 239 West 116th St., New York, NY 10026 (646) 484-5293; (646) 490-4644  Hours: Monday–Saturday 10 a.m. to 1 a.m.; Sunday, noon to midnight