Acoustic Africa: Habib Koite and Vusi Mahlasela at the Met
For the fourth installment of the Acoustic Africa series, old friends Habib Koité and Vusi Mahlasela joined forces again, 10 years after their appearance together in the 2006 debut of the series. On April 13 these two big stars of popular African folk music took the stage at the Metropolitan Museum, in a theater whose lobby is a gallery of ancient Egyptian tapestries and statues. Attuned to the audience that mostly remained seated throughout, their set was laid-back with powerful solo songs about African unity and migration interspersed with full-band jams. Mahlasela and Koité pair beautifully, with their intermingling acoustic guitar stylings, harmonious voices, and shared messages of peace and understanding.
Known in his native South Africa simply as "The Voice," since the '80s Mahlasela has been writing and singing political songs influenced by South African folk musics, American pop, and Chilean singer-activist Victor Jara, gaining him a place with creative groups watched warily by the apartheid regime. As an inspiration to many anti-apartheid activists, Vusi performed at Nelson Mandela's 1994 inauguration. His debut album, When You Come Back, was a tribute to South African political exiles and launched his career in Europe and North America. Mahlasela has, in a way, become a pan-African musical ambassador to the world, collaborating widely with big names in popular folk and blues, singing upbeat, inspirational songs of unity and freedom.
[caption id="attachment_28722" align="aligncenter" width="564"]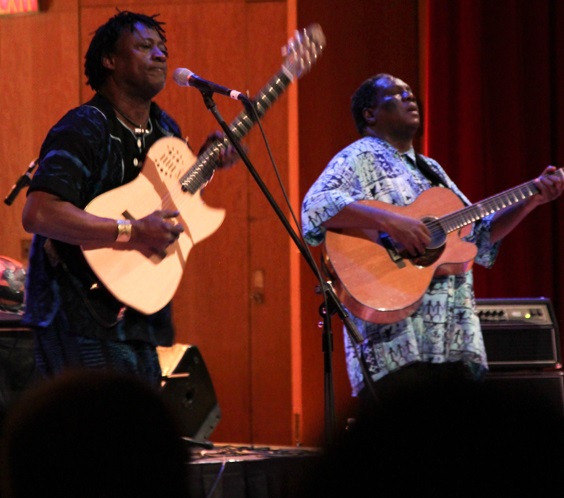 Habib and Vusi[/caption]
A Malian born in Senegal, Habib Koité has become something of an ambassador himself, through work with many European and American musicians, notably blueswoman Bonnie Raitt. Koité has also been featured on several Putumayo world music compilations, and two of his songs even ended up being built into the Microsoft Windows Vista operating system, a very strange but surprisingly effective way of exposing the world to music. Koité is a big star in West Africa as well: in the mid-'90s his hit song "Cigarette Abana" could be heard from radios across Mali and beyond.
At the Met, both artists performed their African musical emissary identities, presenting with crisp and polished skill an accessible set of tunes with a pan-African feel. Ace drummer Mama Koné opened the set with the boom clack of the calabash, accompanying Mahlasela onto the stage in his big, buttoned-up short-sleeve shirt and acoustic guitar. His voice--"The Voice"--flowed from a gravelly low to soaring heights, calling to mind the bright, svelte voice of Ladysmith Black Mambazo's Joseph Shabalala. After a simple, beautiful solo number with guitar and some nimble scatting and Xhosa lyrics, he was joined by the rest of the band: Ian Herman on drums, Abdoul Wahab Berthé on bass and kamele ngoni, and Mongezi Ntaka on electric guitar. All together, they kicked into a grooving tune with a very South African feel, a driving, shuffle drum beat and some excellent guitar work as Mahlasela sang about forgiveness, praising respected pan-Africanist leaders like Thomas Sankara and Kwame Nkrumah. The pan-African message pervaded, with songs like "Say Africa" and "When You Come Back" painting images of unity and strength.
[caption id="attachment_28723" align="aligncenter" width="532"]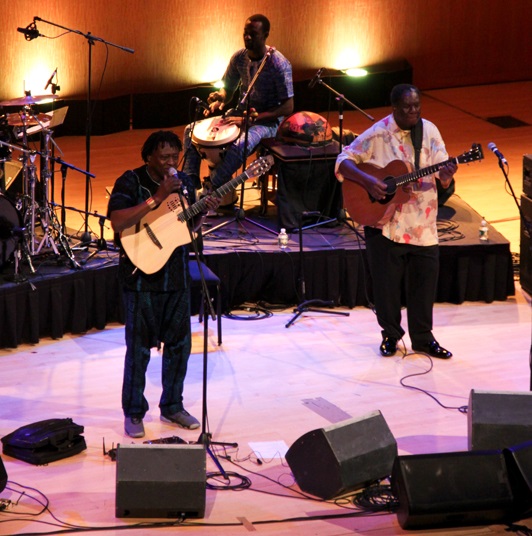 Habib and Vusi[/caption]
Habib Koité then tapped Mahlasela out, taking the helm for a few songs. For one song, Berthé on kamele ngoni and Koné on calabash riffed on a Malian song as Koité improvised words in English about coming from Mali ("and you come from I don't know where, probably New York") before switching over to Bambara. He tunes his guitar pentatonically, mimicking the kamele ngoni, a Malian string instrument similar to the kora, giving a particularly unique bluesy feel to his songs. In one solo number, Koité sang, in his piercing djeli voice, a moving melody written by group of women in protest of genital mutilation, with fluid, watery guitar accompaniment whose harmonic mode seemed to shift every few bars, from Malian pentatonic to more Arab-tinged intervals. Mahlasela hopped back on stage in the middle of one particularly energizing tune, treating us to some excellent dance moves, climbing up on a chair to shake his rear at the audience and gyrate. In his words that followed, "dance is freedom." Some Malian audience members certainly agreed, coming up to the stage during Koité's set show their appreciation through dance (and dollar bills).
Throughout the night, Koité's Mandé folk alternated with Mahlasela's vibrant, brightly textured South African sound. One of the many moments in which the duo joined forces was a plaintive song lamenting the mass exodus of Sahelian youth to Europe, seeking opportunity but all too often finding only their demise in the formidable Sahara or the waves of the Mediterranean. On the other end of the spectrum was the group's closing song--a raucous rendition of Koité's party song about hanging out in California, "L.A." (lyrics: "one shot, two shot, three shot, four shot, five ah...tequila! Tequila makes me happy"), bringing even the most reticent of the audience to their feet for some good foot stomping.