The world of popular music has lost a giant—a consummate musician, a shape-shifter who challenged norms and rewrote the rules of his nation's music repeatedly over four decades, who spearheaded a fashion movement, and now has left us suddenly and far too young. No, I am not talking about Prince, but Congolese singer, composer and bandleader Papa Wemba, who collapsed onstage during a concert at the Urban Music Festival in Abidjan, Ivory Coast, on Sat., April 23. He was 66 years old.
Born Jules Shungu Wembadio Pene Kikumba in the Kasai region of the Belgian Congo (now Democratic Republic), Papa Wemba grew up with traditional music.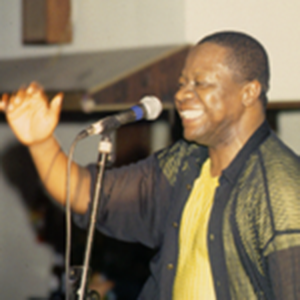 Papa Wemba, Kinshasa 1987
His father was a village chief of customs and his mother a professional funeral wailer (pleureuse). A powerful and gifted vocalist from childhood, Wemba sang in choirs before coming to Kinshasa in the late 1960s to become a founding member of Zaiko Langa Langa, sometimes called the Rolling Stones of Congolese music, and clearly one of the most influential African bands of the 1970s. It was in that context that Wemba bloomed as a provocative stage personality, notable for enormous and versatile voice and his wildly unpredictable outfits, which evolved from raffia to high fashion. Wemba became the catalyst for a uniquely Congolese movement of fashionistas known as sapeurs (Société des Ambianceurs et des Personnes Élégantes or Society of Ambiance-Makers and Elegant People). Sapeur zaniness lives on in the Congolese music and style of today. It started with Wemba.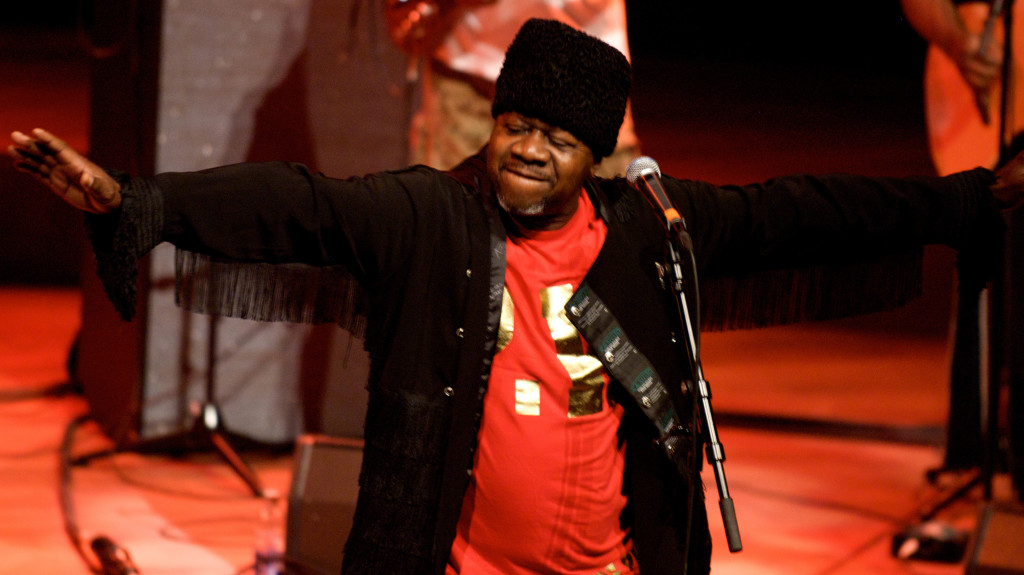 Photos by Banning Eyre
Wemba eventually broke off on his own and managed a complex career leading a Kinshasa band—Viva la Musica—that kept up with the demanding conventions of the Congolese sound, and a Paris-based international band that took all sorts of stylistic liberties, veering into soul, international pop, as well as adaptations of village rhythms from the Lubumbashi region of Congo, where Wemba spent his childhood. One reason Wemba could write his own script was his absolutely spectacular voice, sharp as a spinning saw blade, warm as spring sunlight, always sublimely expressive. Given that voice, and Wemba's willingness to innovate, it's little surprise that, of all the great singers in Congolese music, Peter Gabriel picked Wemba to work with on a series of groundbreaking releases for the Real World label.
Afropop Worldwide first met Wemba in Kinshasa in 1987, in the context of a Zaiko Langa Langa reunion concert. He was such a man about town in those pre-cellphone days, that although we spent long hours trying to track him down for an interview, all we got were brief, elusive encounters. As it was, the interview had to wait until the following year when Wemba came to America as part of the Africa Oyé tour. But that was the first of many memorable conversations with this remarkable artist. The last was at WOMEX in 2010. Wemba had recently emerged from a prison term, on charges that he had helped smuggle Congolese citizens into France by presenting them as musicians. Chastened but proud, and championing his renewed Christianity, Wemba was undiminished, delivering an exhilarating set, sadly, the last we would see of him.
Details are beginning to emerge as to exactly why Wemba was in such a vulnerable state when he took the stage in Abidjan the other night. But more importantly, the deeper story of this beloved artist remains to be told, and we hope it will be one day. For now, we can say only that we've lost another great, and that he died doing what he loved most, thrilling fans with his outsized voice and musicianship.
Read Banning's review of Wemba's album Notre Pere Rumba here.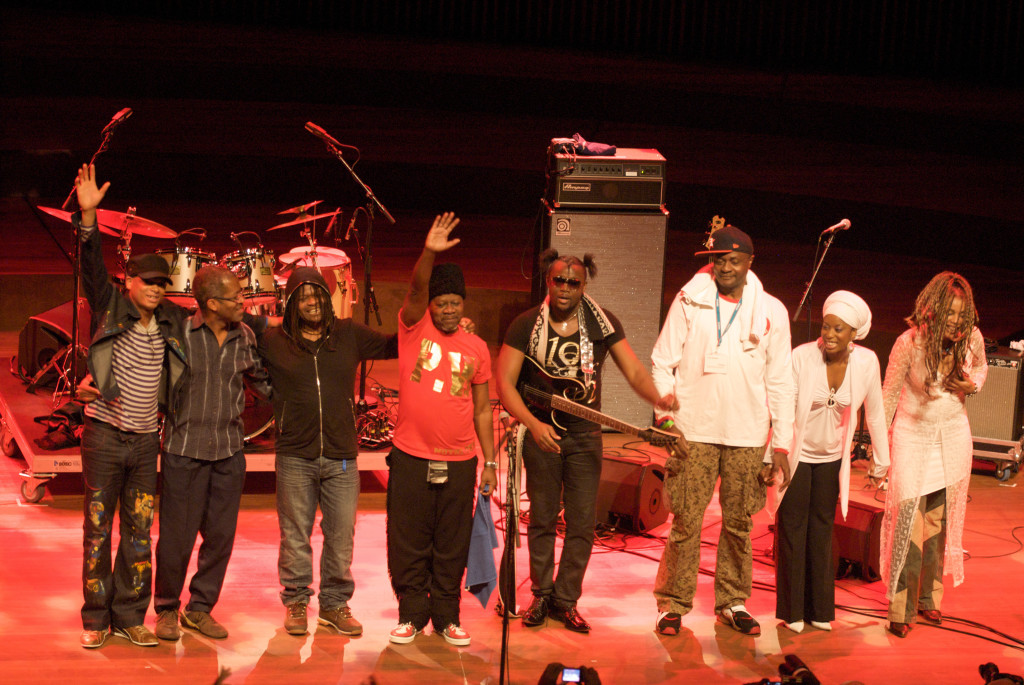 Papa Wemba, Central Park Summerstage, New York