Africa Now! 2018 in NYC: Photo Review
The sixth annual Africa Now! concert--presented by the World Music Institute and the Apollo Theater--took a new turn this year. The theme was Afro-futurism, much in the air in the era of Black Panther. There were more computers and keyboards onstage than in past years, and trippy projections towering over the performers. There was also plenty of fine musicianship, and the overall package clearly hit the spot for a near-sellout crowd.
First up was Ayo, and while her genre description might be something like Afro-reggae-tinged-soul-singer-songwriter, her claim on Afro-futurism has more to do with her complex identity. Raised in small town Germany by a Nigerian father and a Roma mother, she has lived and performed in Germany, France and, now, Brooklyn, New York. Recently featured on Afropop's "Feet in Many Worlds" program, Ayo is a gifted composer and a warmly engaging performer. Her strong, honey-smooth voice conveys consistent passion, and the grit of a complex and challenging life journey.
Ayo fronts her tight four-piece band brandishing a nylon-stringed guitar and her trademark flat-brimmed hat. Her short set contained just one track from her recent fifth album, Ayo. That was her rousing protest against summary killings of young blacks by overzealous police officers, "Boom Boom." The rest of her mostly uptempo set drew on earlier material, including the two songs that made her career, "Life is Real" and "Down on My Knees." In her brief words to the audience, she spoke movingly about what it meant to her to stand on the stage where James Brown and Nina Simone once performed, in all a sweet opening to a night full of twists and turns.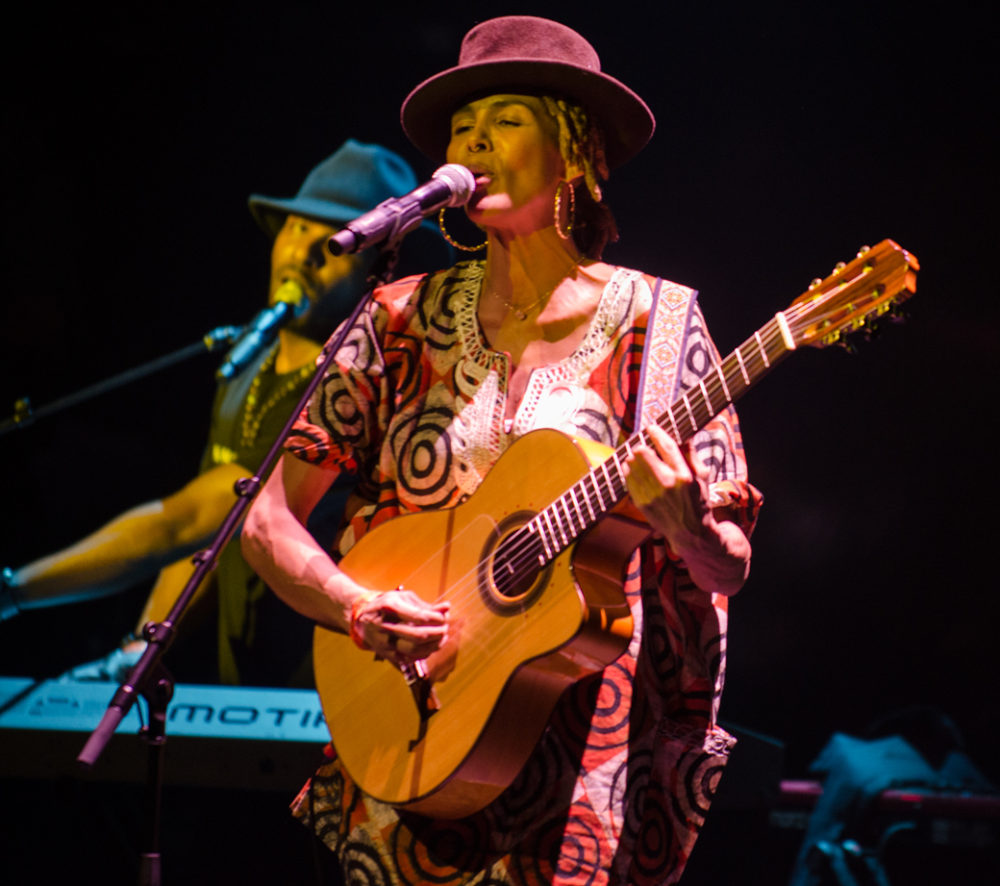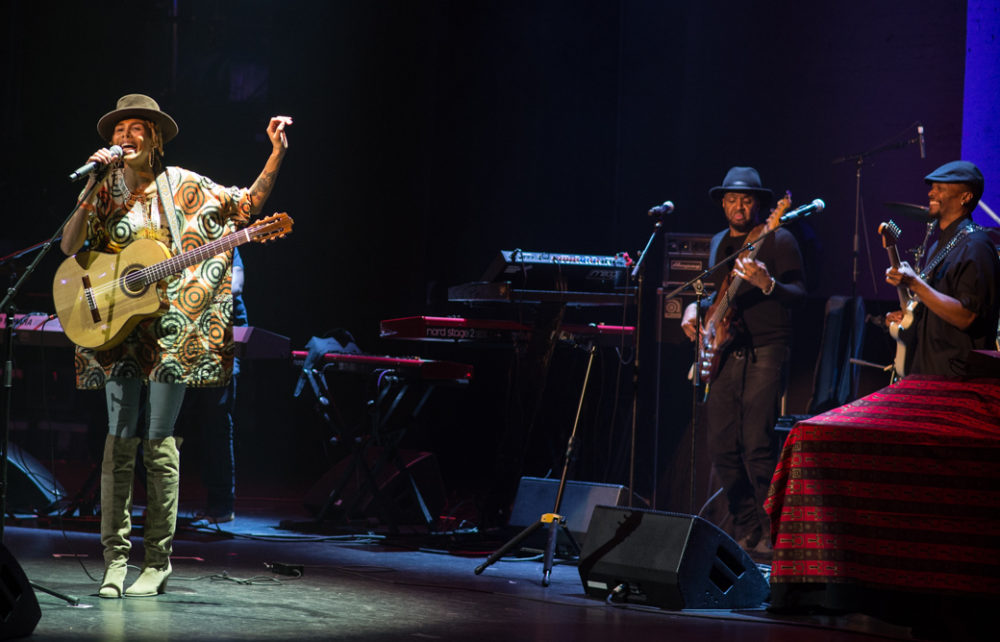 Next up was the latest adventure from Nigeria's most adventurous drummer, Afrobeat pioneer Tony Allen. In the past year, Allen has released tracks with Malian Wassoulou diva Oumou Sangare, and two fine jazz albums on Blue Note records, notably a tribute to Art Blakey. For Africa Now, he presented a relatively new and completely different project. During the many years he's lived in Paris, Allen has worked often with young, experimental musicians, creating innovative soundscapes often involving technology rather than acoustic instruments. His collaboration with Jeff Mills takes this strand of Allen's diverse career to a whole new level.
Mills is a Detroit-born DJ, composer, producer and founder of the techno collective Underground Resistance. In the world of techno, he's a king. African musical sensibilities have never been explicit in his work, so this was an adventure from both sides. Allen and Mills took the stage as two thirds of a trio, and improvised at length working off just a few loosely constructed compositions. With no vocals, and minimal keyboard melody--Mills played his keyboard more as a percussion instrument than anything else--the rhythms were the thing.
Allen told Afropop after the set that he has always thought of drumming more as storytelling than beat keeping, and that was on full display here. Of all the times I've heard Allen play live, this was perhaps the most satisfying, because in this minimalist setting, every nuance of articulation, variation and development was clearly audible. This set could not have been more different than the other three featured acts of Africa Now, but in many ways it was the most subtle and musical. Asked why he changes direction so often, Allen replied, "I get bored easily."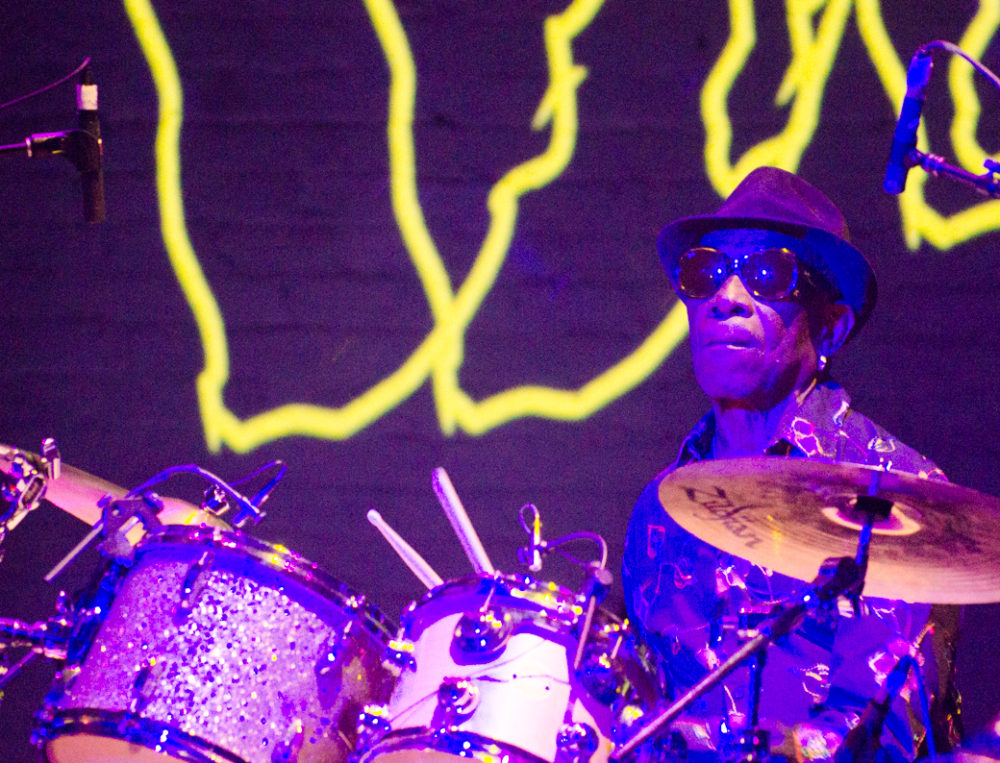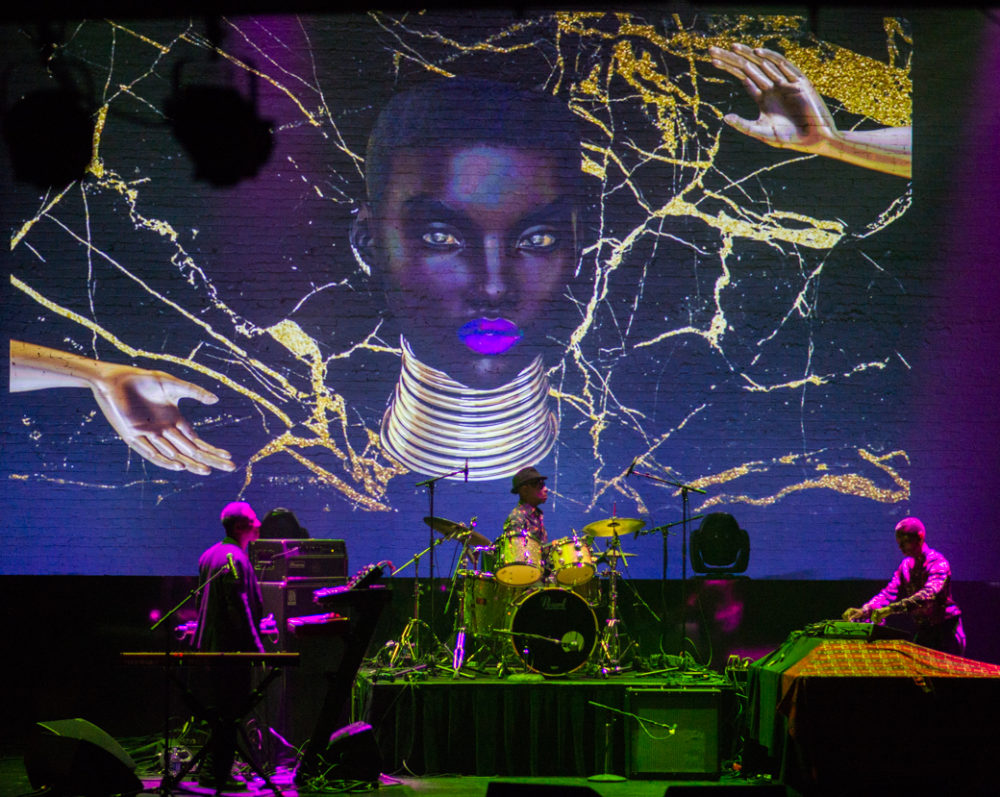 The second half of the program began with a young Congolese artist based in Montreal, Pierre Kwenders. Kwenders came to music as a profession relatively late in life. He was steeped in Congolese soukous and ndombolo from his youth in Kinshasa, but in Montreal, he studied accounting and worked as a tax collector! His casual involvement with a Catholic church choir led him into secular music, and before long, he was composing and recording music that seeks to bring together all the strands of his diverse musical life.
Kwenders' energetic set featured songs from his 2017 sophomore album, MAKANDA at the End of Space, the Beginning of Time. The music is a fascinating collision of styles and instincts, but the flavor of Congolese rhythm and vocal arranging weaves through it consistently. Kwenders sings in Lingala, Tshiluba, French and English.
He got the crowd going with his restless stage antics, pacing, gesturing, interacting with his musicians over fierce rhythms, sometimes choppy, sometimes swinging. To me this felt like Afro-futurism with the kinds of links to the past that give the term meaning and substance.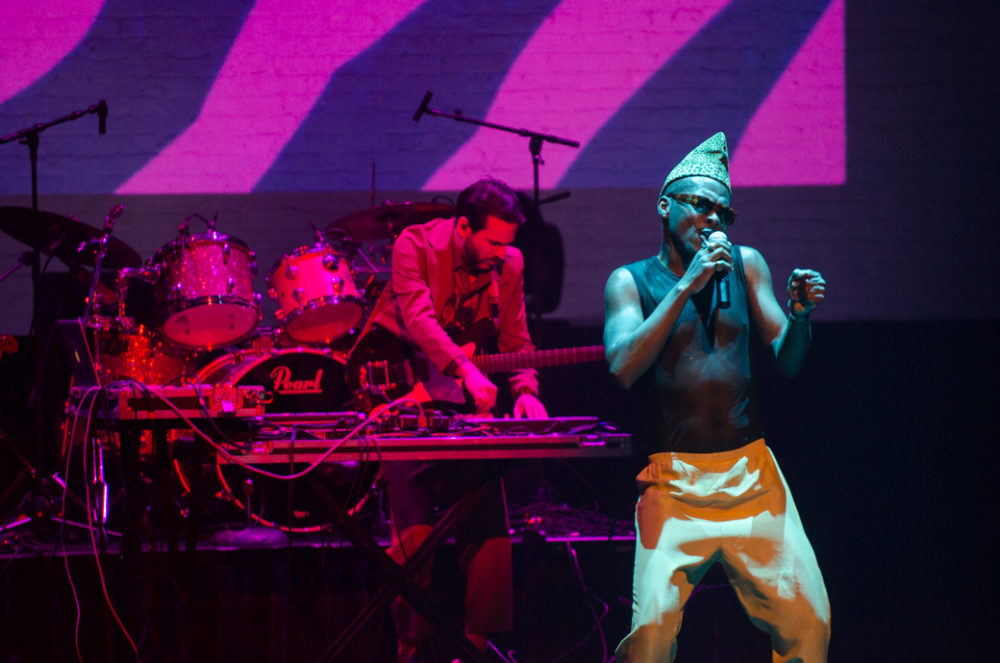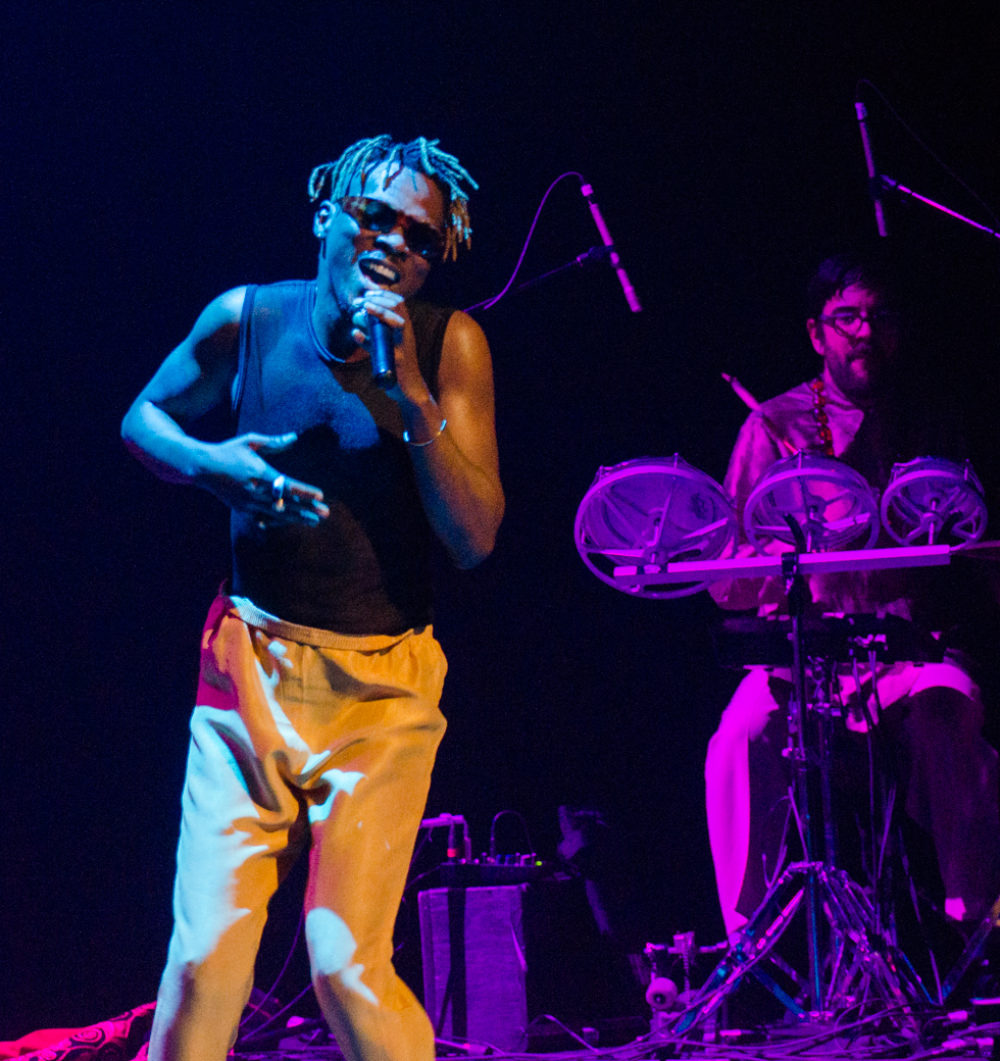 Now here's where I show my age and bias. Any fair observer would have to concede that the hit of the night for this crowd was South African DJ Black Coffee, whose non-stop EDM (electronic dance music) set had everyone on their feet early on, and the energy only got higher as the show went on. Dancers in futuristic outfits came onstage at points, and the projected graphics were the most creative and powerful of the night, with faces of people, animals and alien creatures merging and morphing throughout. Near the end, Coffee worked in songs the audience knew well, and they sang along with robust joy. It was a slam dunk hit by any objective measure.
But to my ear, this was the least interesting music of the night. The first 10 minutes worked around a stiff, machine-generated 4/4 beat with minimal adornment. It later evolved into a more interesting clave-like figure that drove the dancers wild. The energy was palpably exciting because of the way the audience reacted, but as a person who clearly does not get EDM, I was hard pressed to hear what drove such excitement. For me, the interludes of contemporary African hits provided during intermission by DJ Henri were more satisfying.
The show was interspersed by music, singing and antics by Mwenso and the Shakes, a multinational NYC combo who kept the energy going during set changes.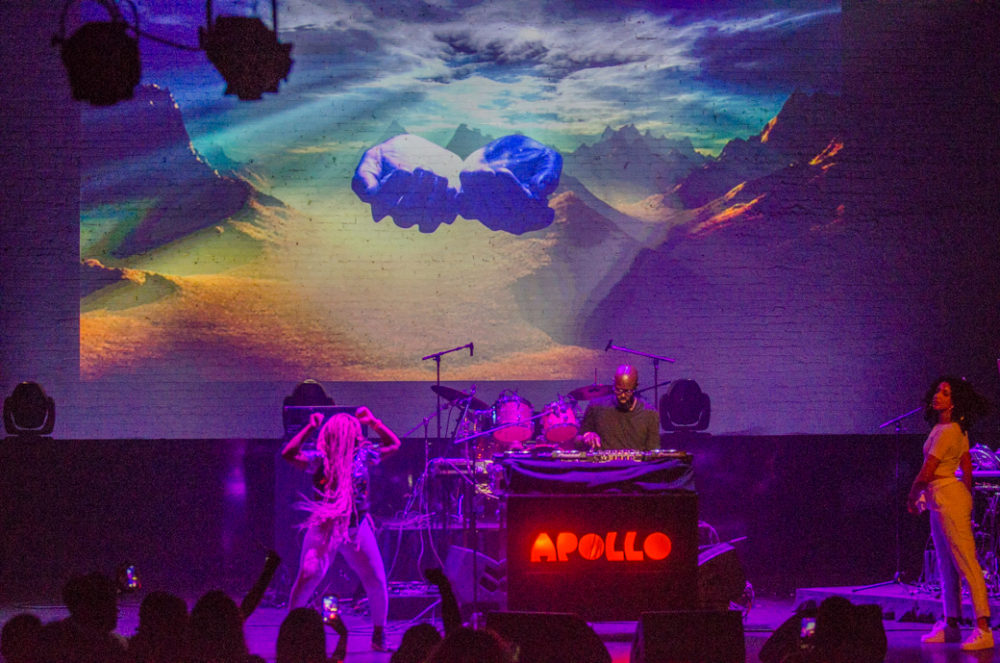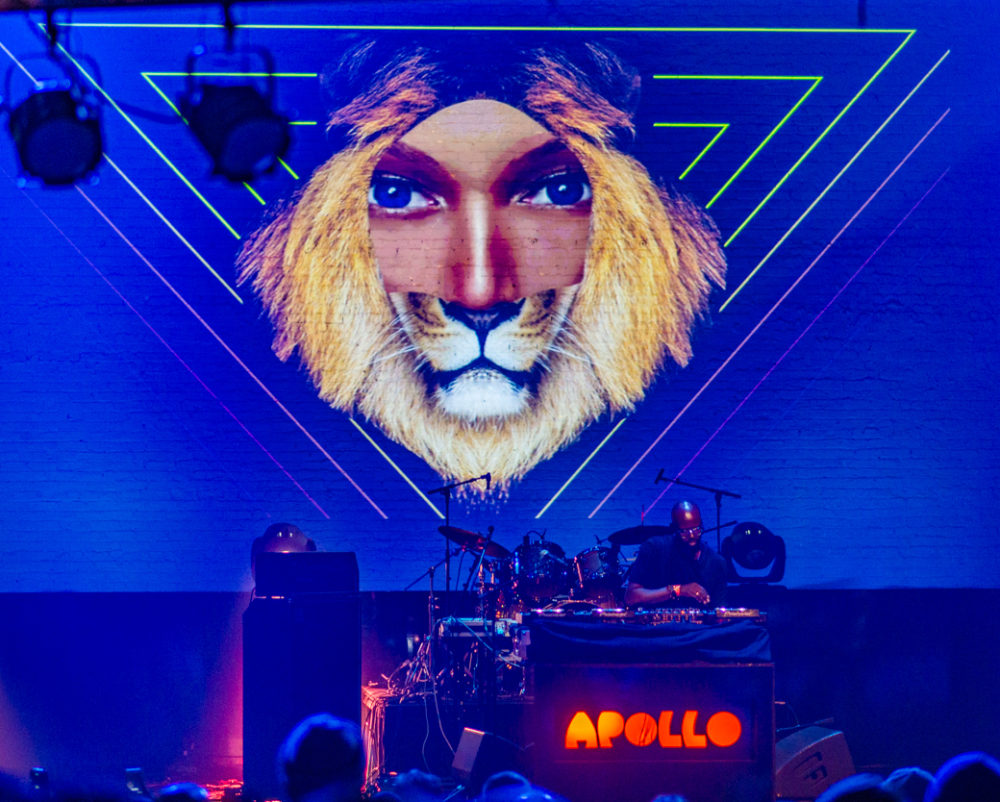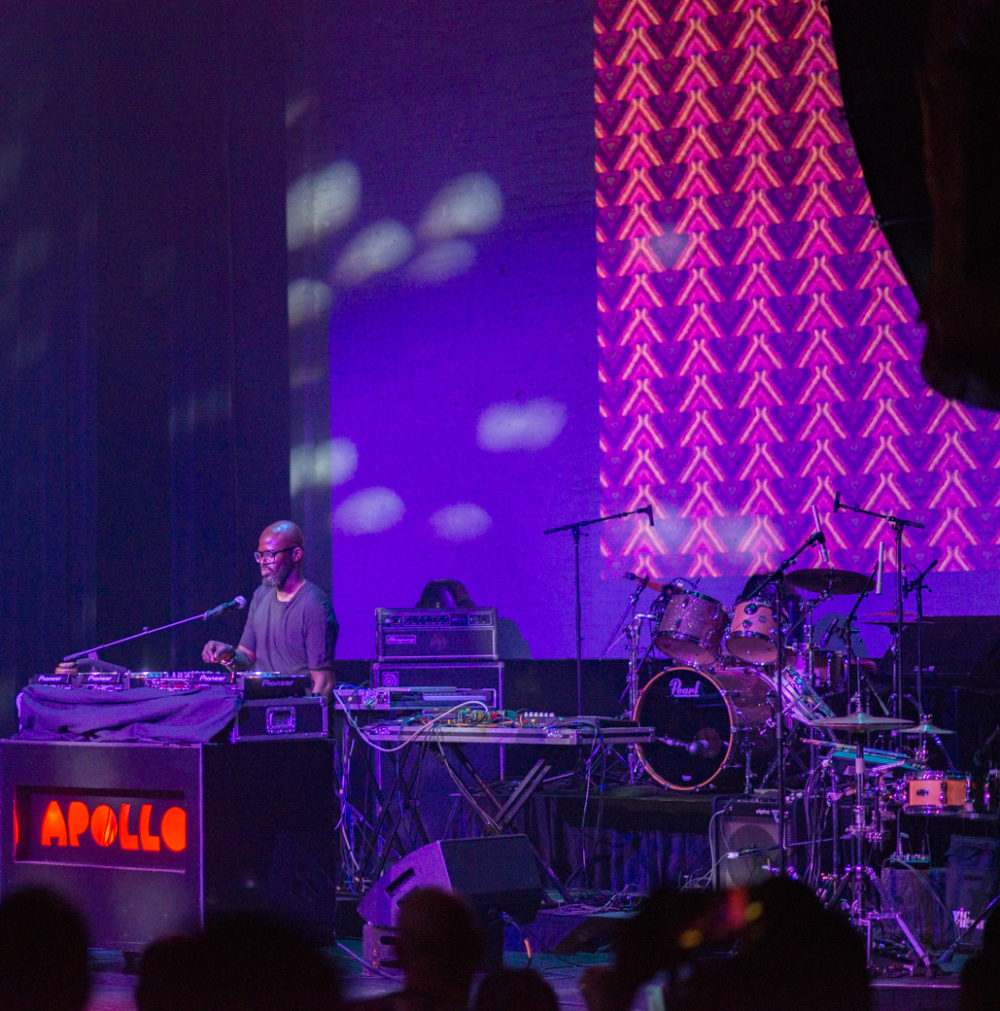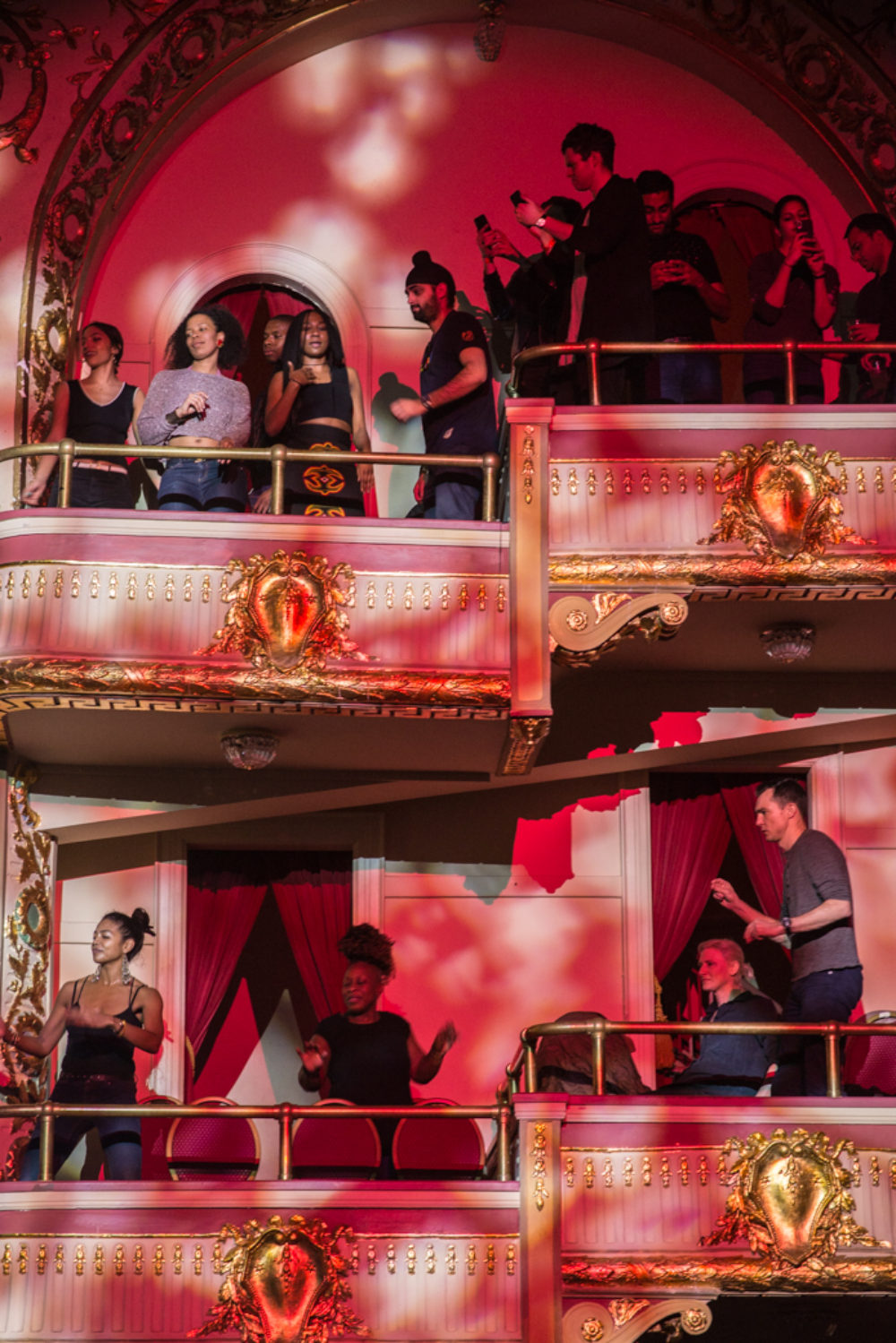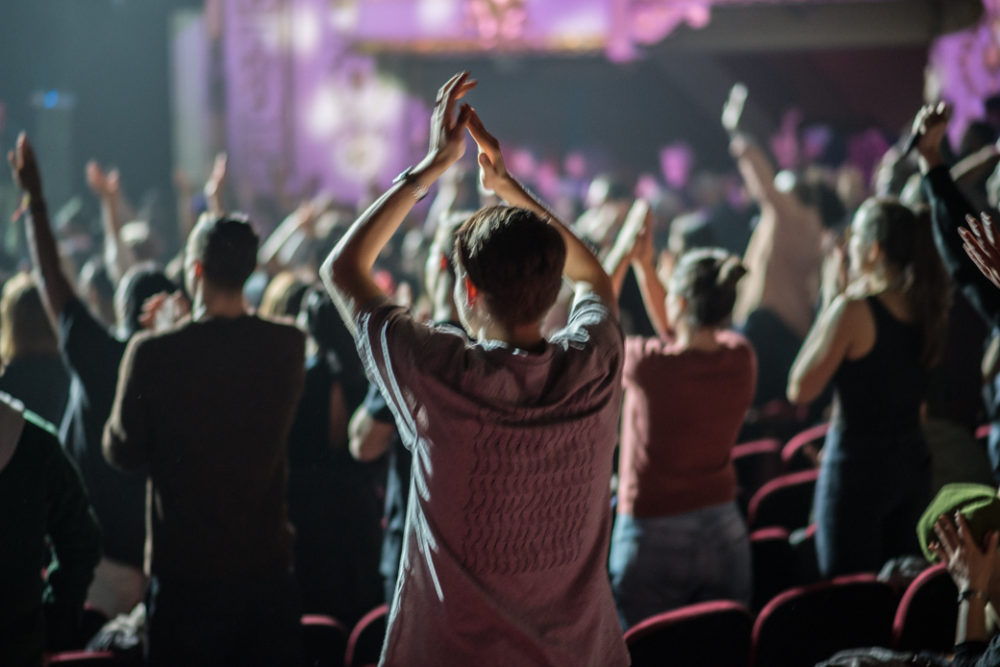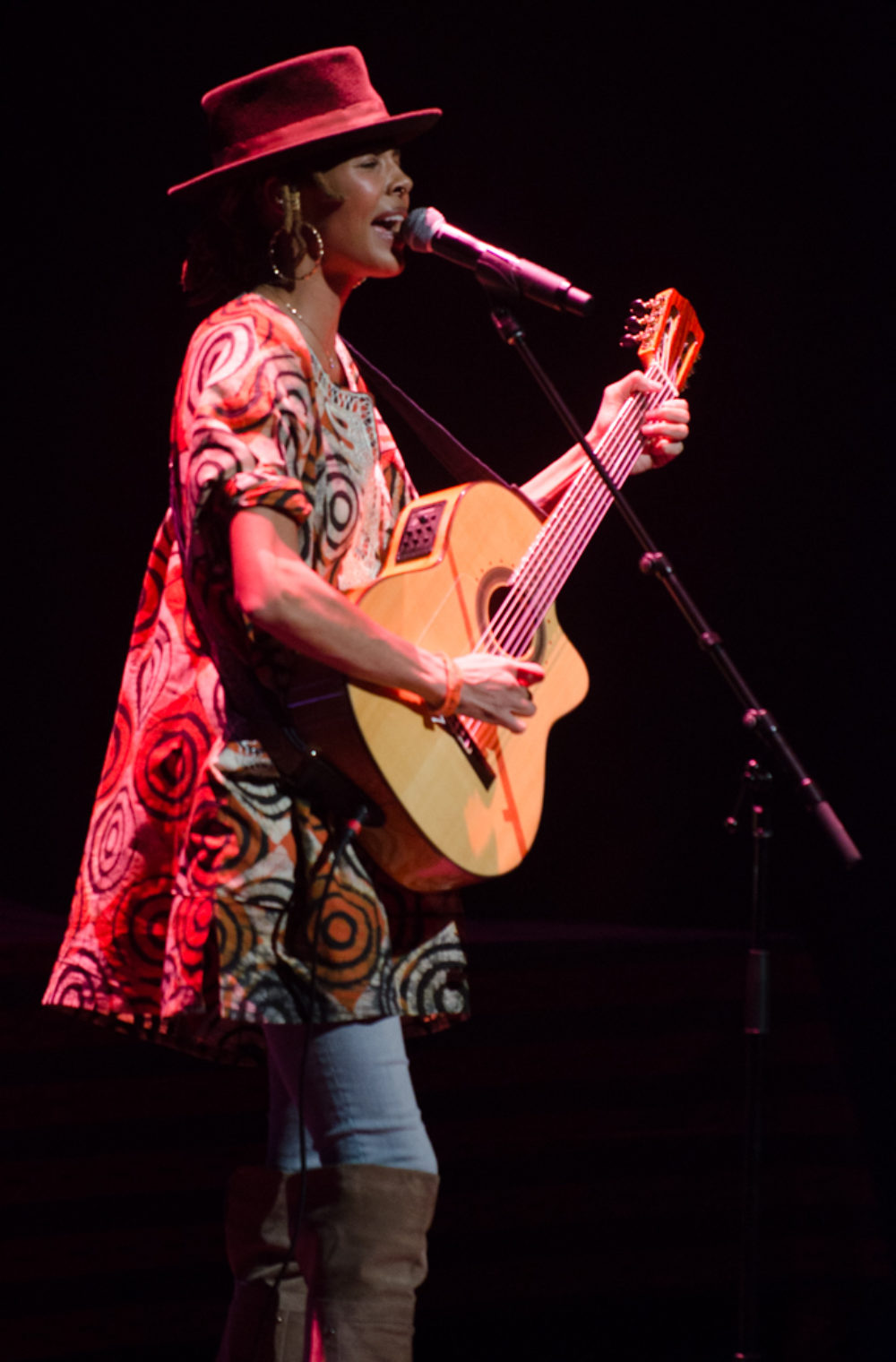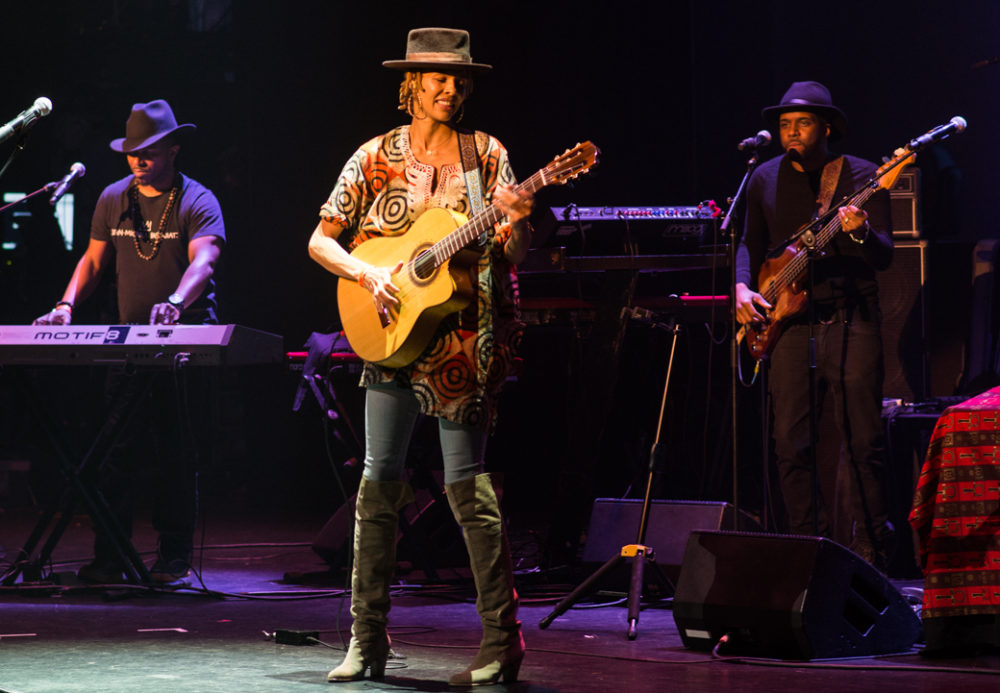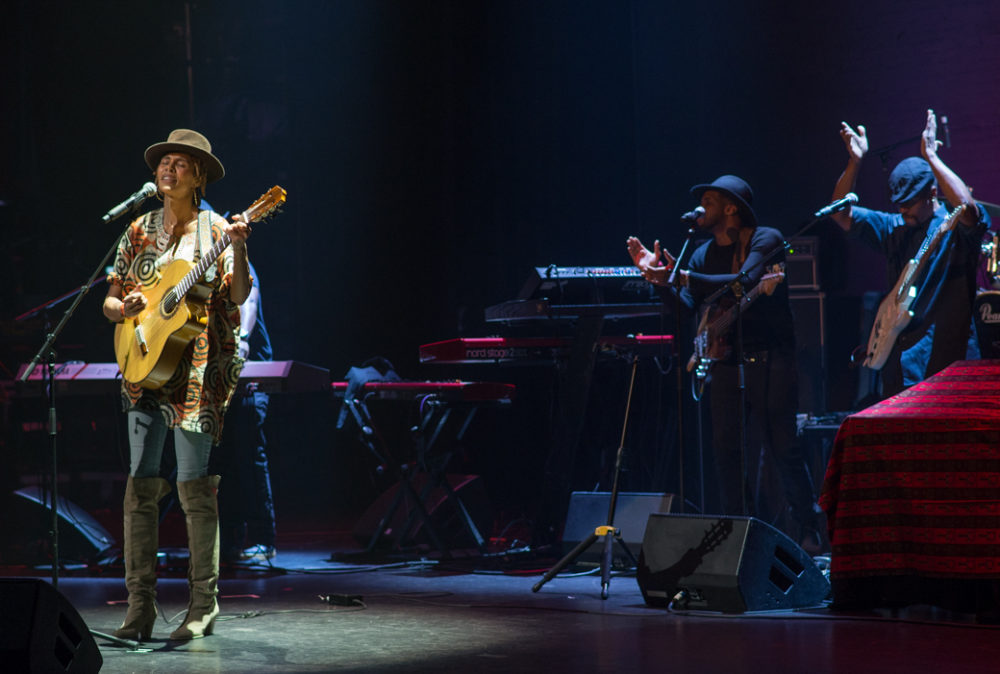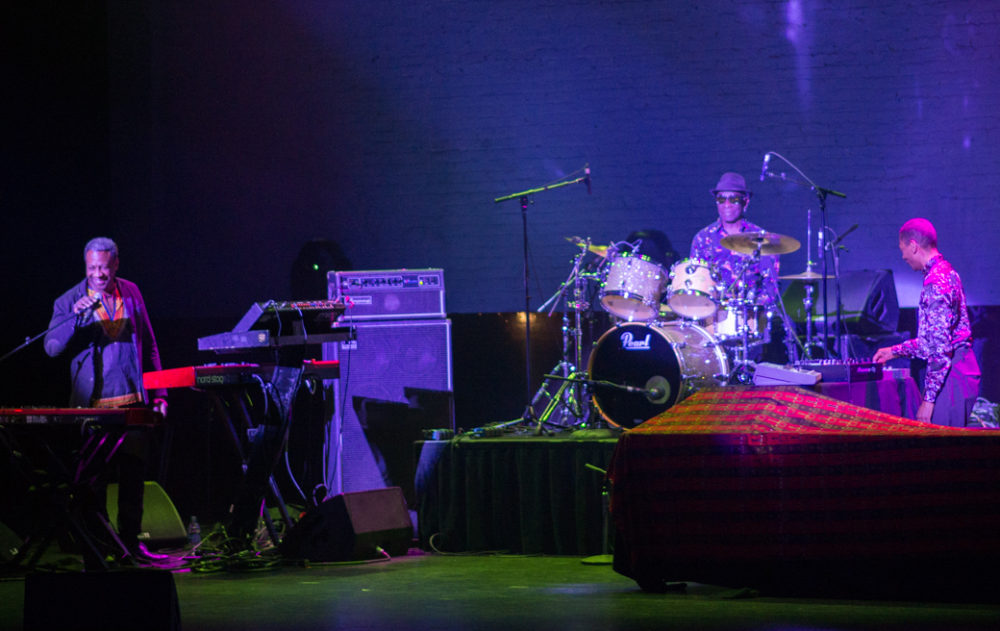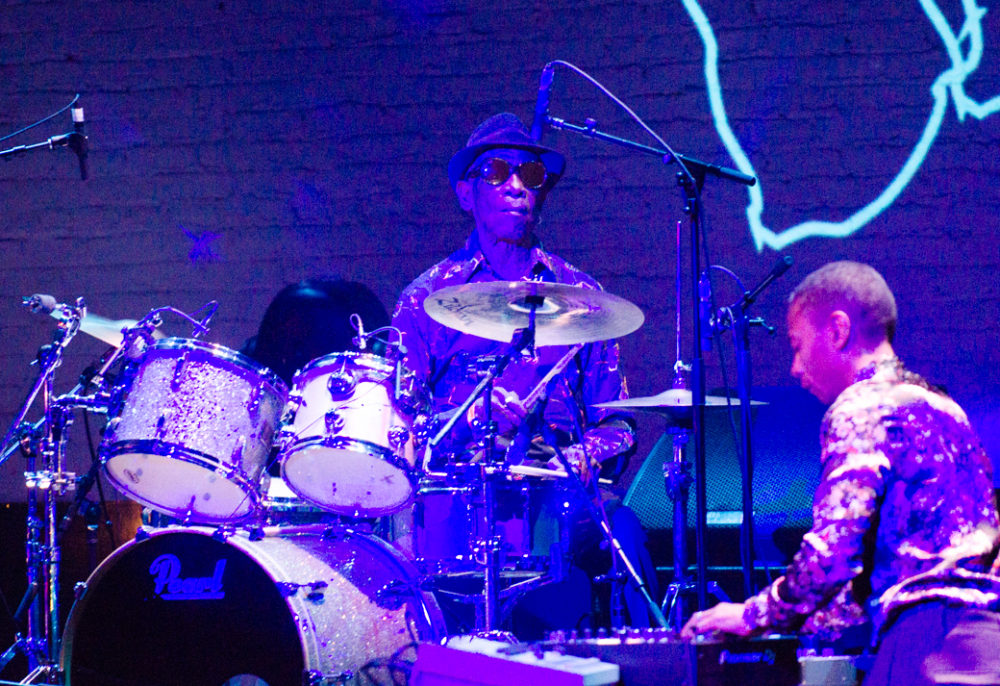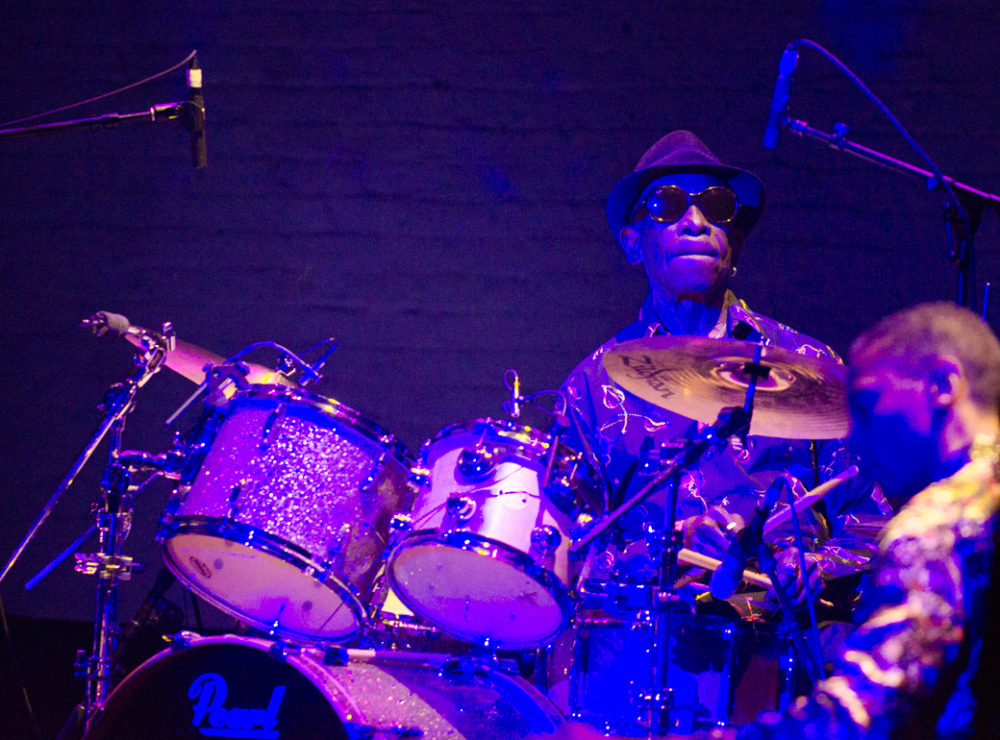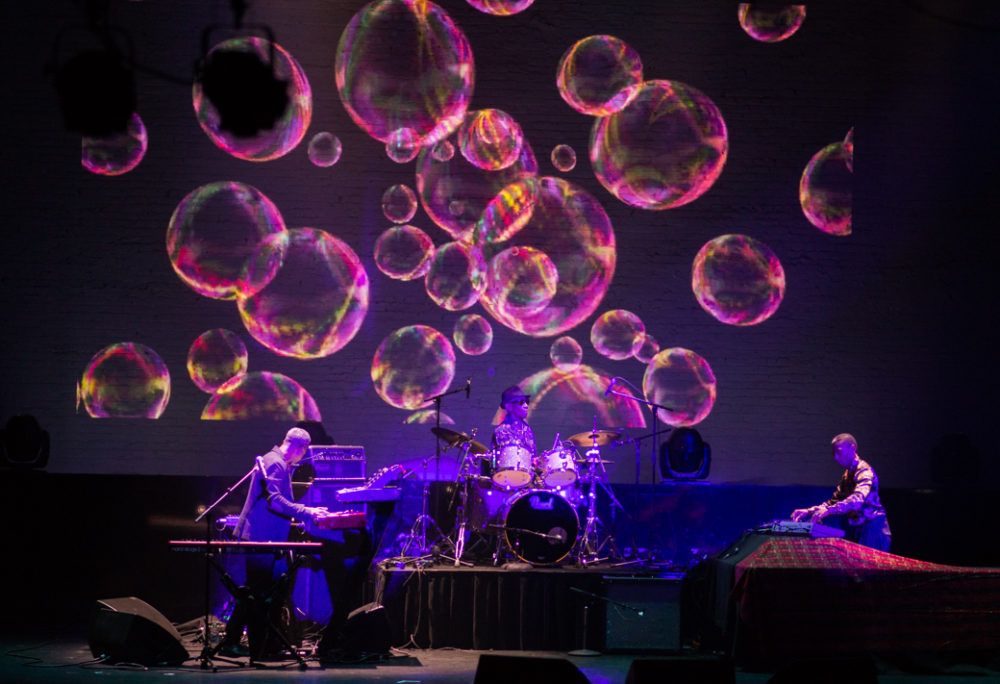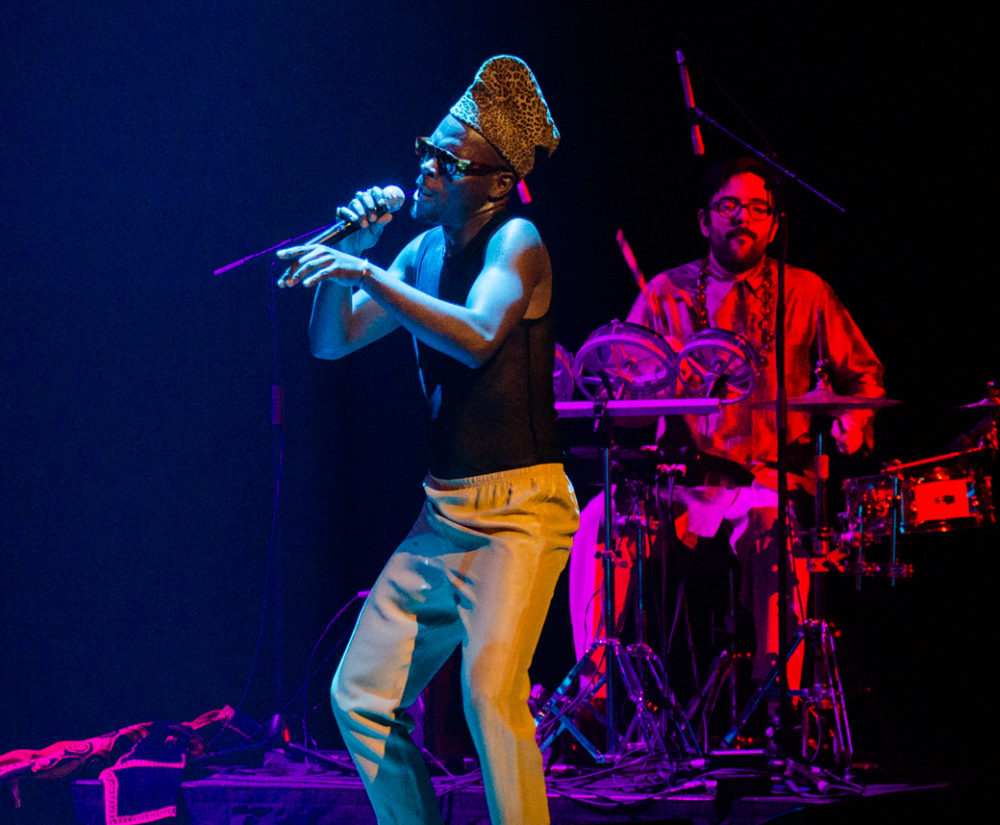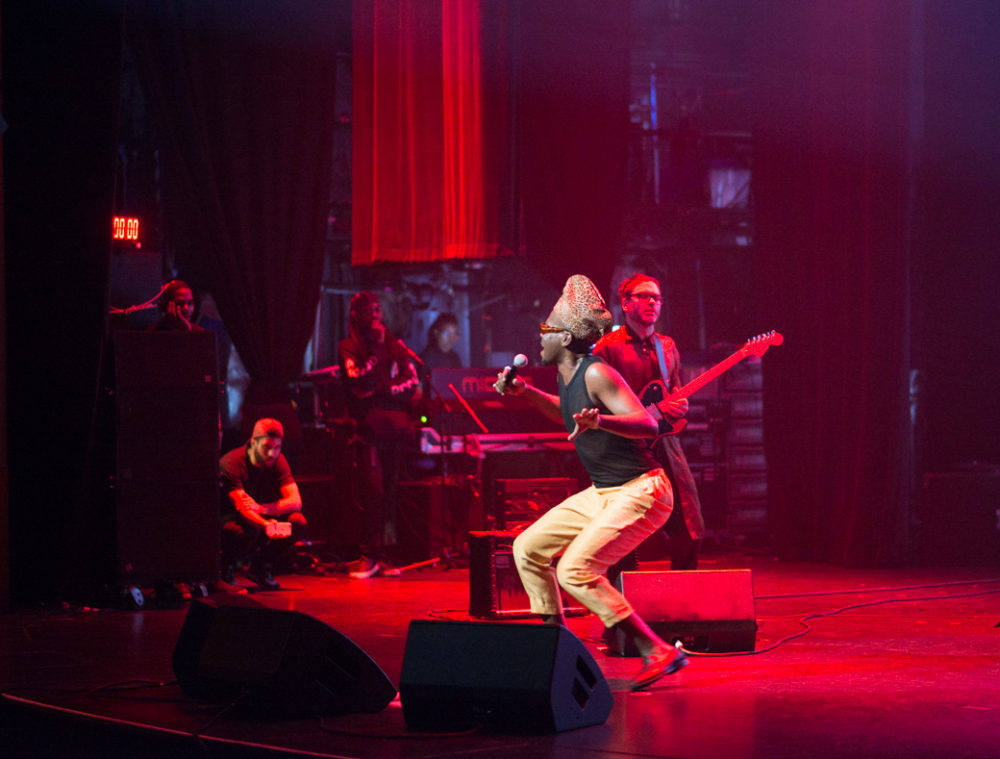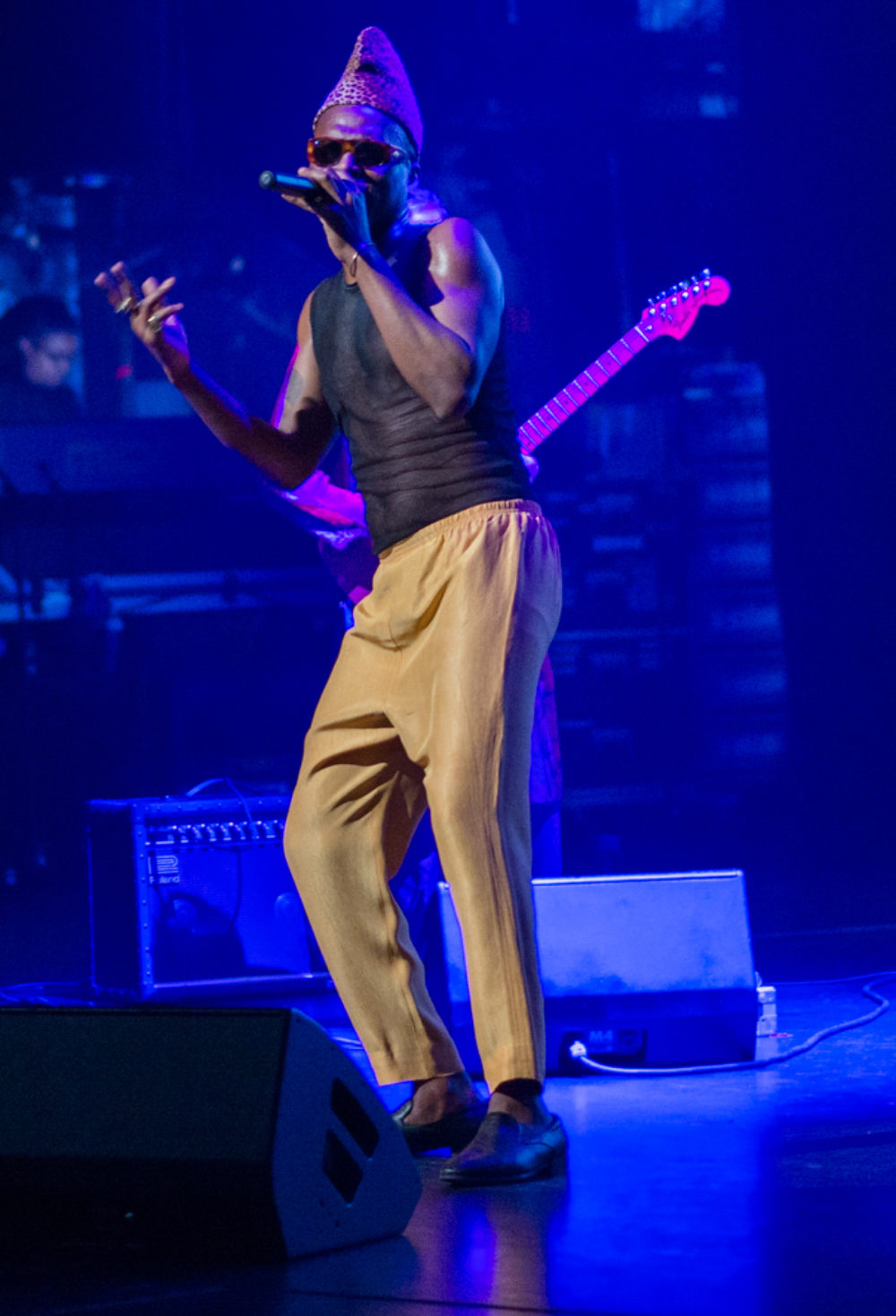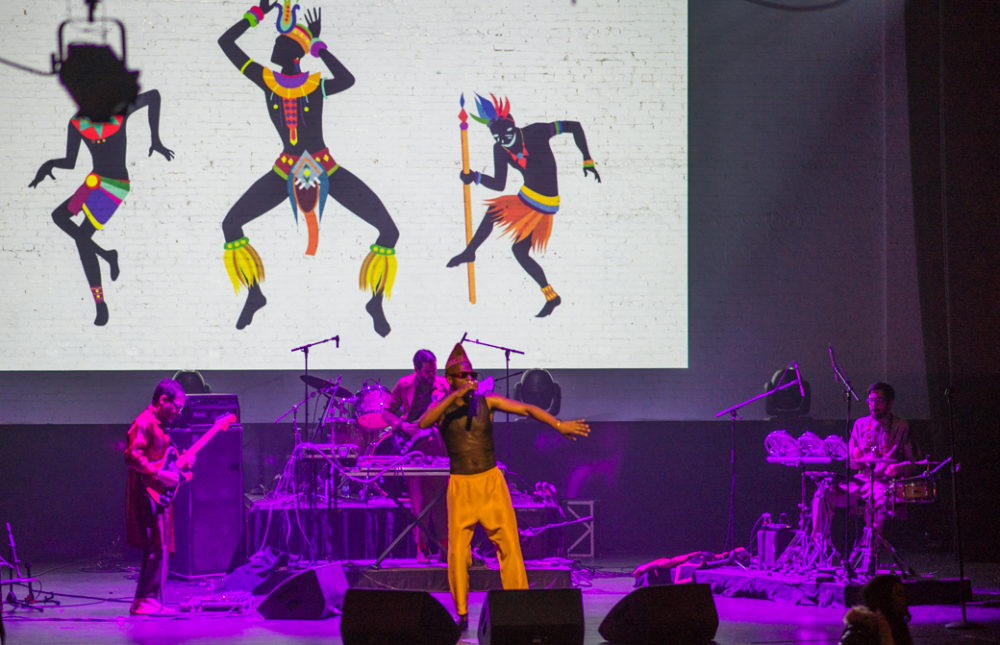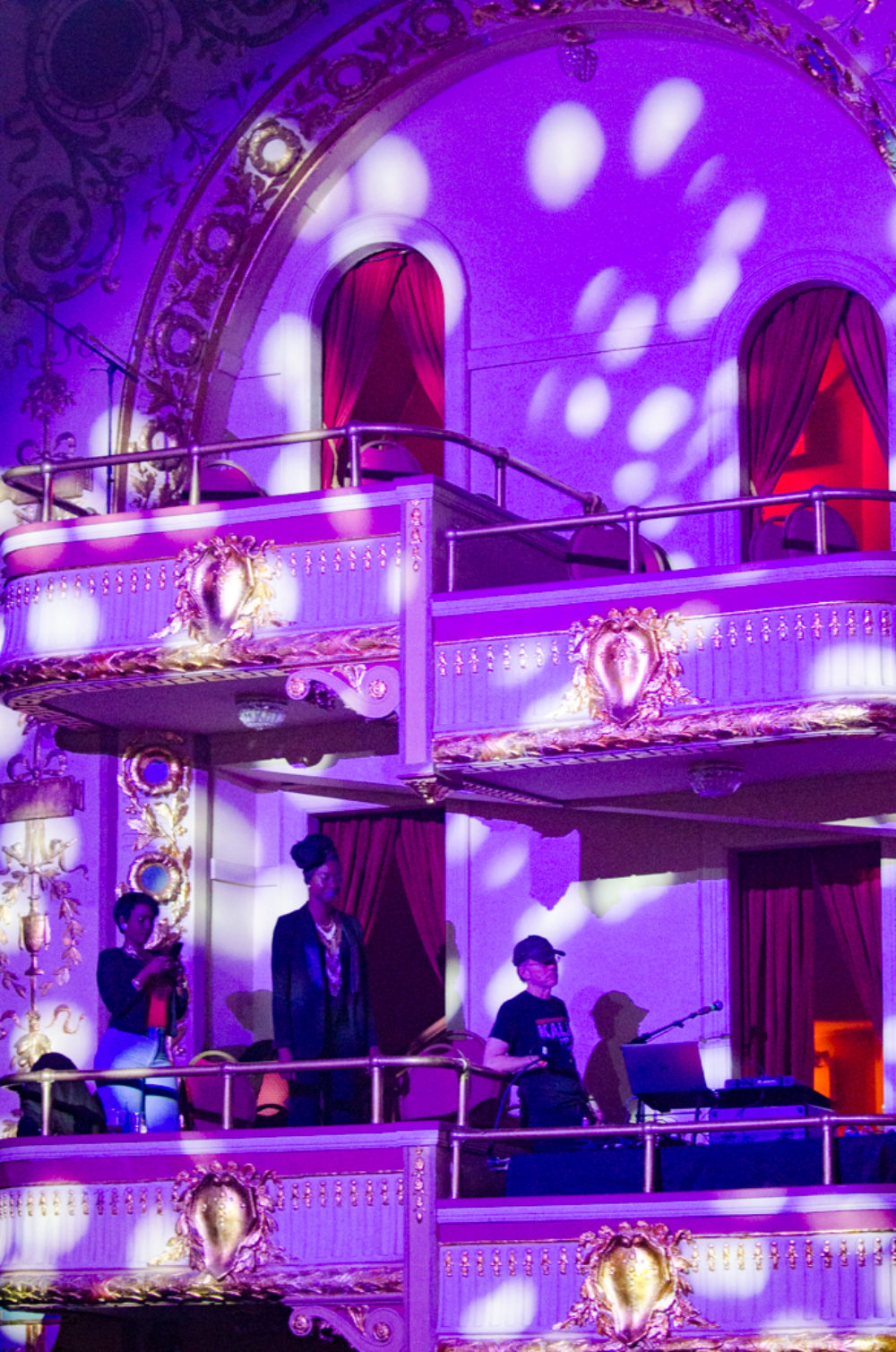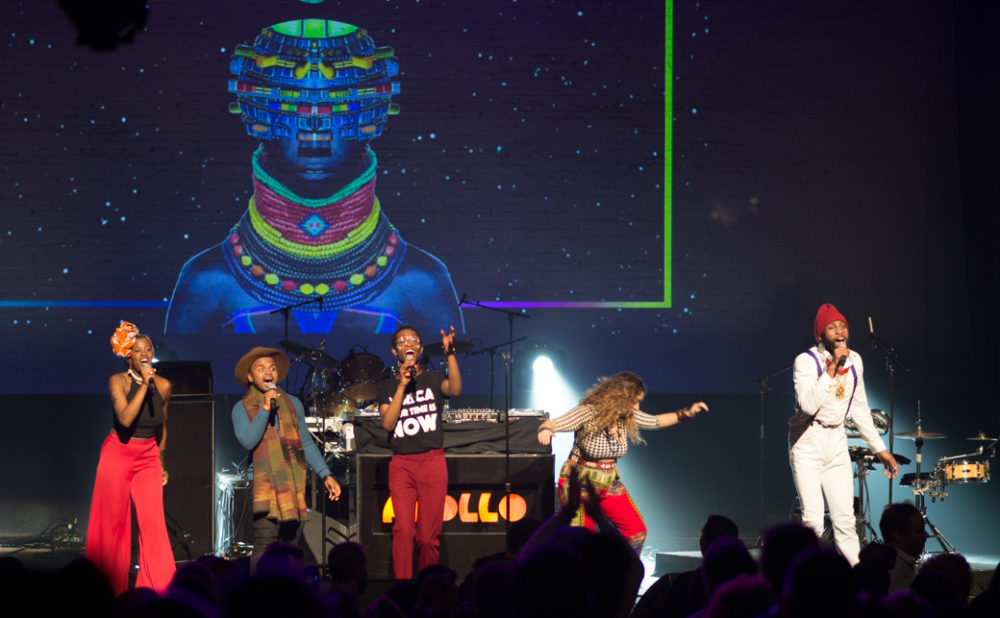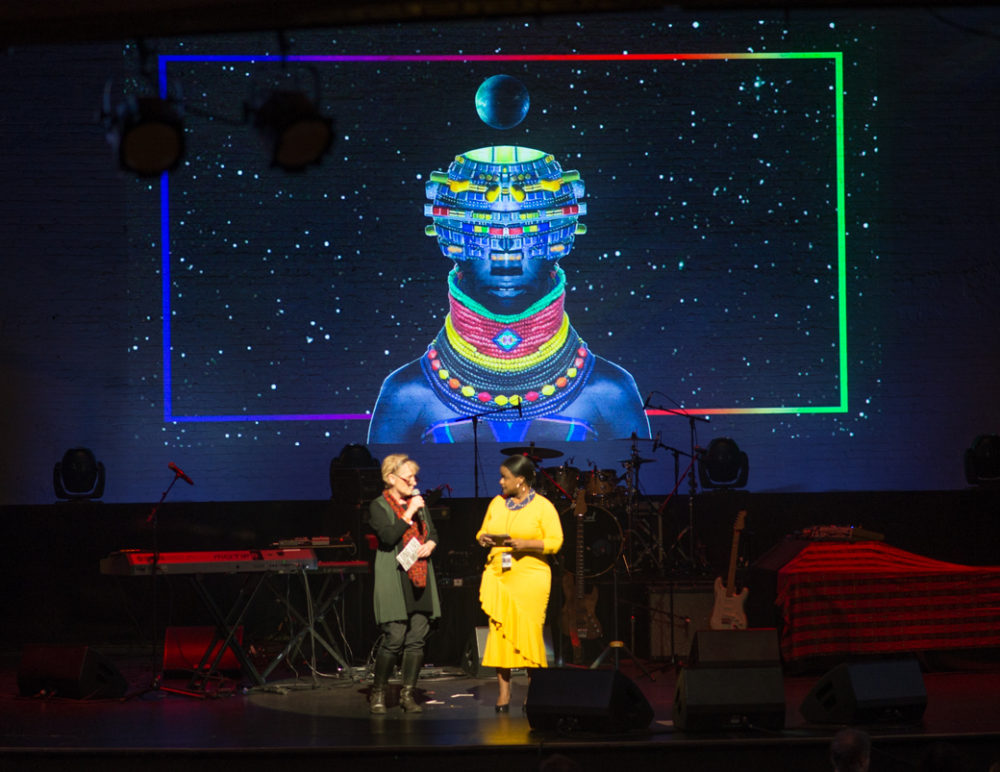 Thanks to the World Music Institute and the helpful staff at the Apollo Theater for another great night!