Africa Meets India in Brooklyn
Already home to Clocktower Radio—which broadcasts
the unparalleled Brazilian music show "Sonoridad"
—
Pioneer Works in Brooklyn
is adding another massive feather to its musical cap: a three-month residency of African and Indian musical collaboration. The
Indian classical music collective Brooklyn Raga Massive
is launching the residency at the gallery and event space in Brooklyn that will bring together some incredible artists from seemingly disparate musical traditions. [caption id="attachment_27346" align="aligncenter" width="640"]
Awa Sango[/caption] The residency kicks off on Feb. 3 with a triple bill that comprises
the golden voice of Mali, Awa Sangho
, a kora/tabla duo, the Brooklyn Massive All-Stars, and the (their emphasis) original pioneers of the genre, Afrika Meets India, whose lineup includes an
mbira
,
bansuri
, kora, sitar and tabla, as well as percussion. [caption id="attachment_27347" align="aligncenter" width="640"]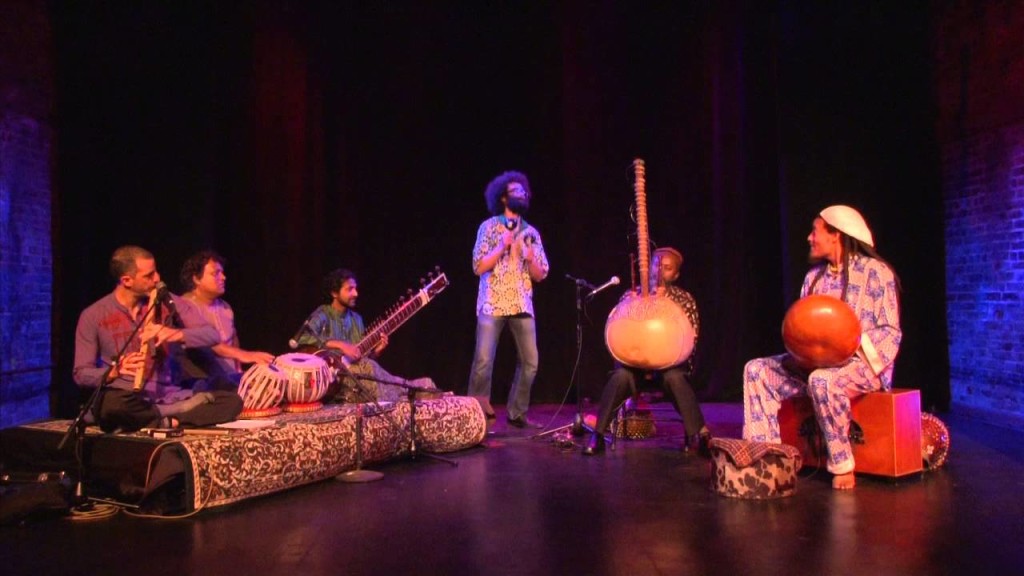 Afrika Meets India[/caption] Brooklyn Raga Massive has been presenting this concert series for over a year now, so you may have chanced upon an episode as it was broadcast on WKCR 89.9 FM in New York, and those out of the range of Columbia University's radio station can judge the results for themselves via the podcast
nycradiolive.org
. Of course, long-time Afropop listeners know just
how potent this combination can be, and how despite the distance, there's been cross pollination between the Asian subcontinent and the African continent over the years
. For others, this is a chance for not just good music but an education. "The Africa/India series has been really successful at bring African music fans to Indian music and Indian music fans to African music," says producer, radio host and BRM guitarist David Ellenbogen. "Both of these musics have a lot of common ground and complementary elements, it's been amazing to hear the synergy and joyous to see such diverse audiences coming together." According to the event's press release, "BRM's Pioneer Works residency will consist of multidisciplinary performances, recording sessions, educational offerings and podcasts. On every Wednesday in February, March and April, BRM will bring their weekly series to Pioneer Works with greatly expanded programming, including themed nights (Women's Night, Dance, Africa/India), tributes to musical legends from East (Ravi Shankar) and West (George Harrison) and special guest artists, such as Pt. Krishna Bhatt, Karsh Kale and Kiran Ahluwalia. Before each concert, BRM will host related workshops and film screenings, while during the concert, Bombay Sandwich Co. will provide delicious culinary offerings." Anyone in the area should definitely check it out—
we'll keep the Afropop calendar updated
—and anyone outside of the area who wants to check it out
can do so online
.