Afropop Hall of Fame: A History
Next month, on May 3 at City Winery in New York, Afropop Worldwide celebrates 30 years of bringing popular music of Africa and the diaspora to American audiences by way of public radio. The program, founded by Sean Barlow in 1988 and hosted by Georges Collinet, has opened the ears and eyes of countless listeners around the world. Afropop Worldwide would not be what it is today without the musicians who have worked and continue to work tirelessly to share their magnificent talents through recording fantastic original music, touring the world and using the Internet as their platform. They are the force behind our mission to promote music from the African planet to all corners of the world.
Throughout the years, Afropop has inducted some of these exceptional African artists into the Afropop Hall of Fame--Baaba Maal, Oumou Sangare, King Sunny Ade, Angelique Kidjo, and others. This award is meant to honor for their exceptional artistic talent and their exceptional roles in connecting Americans to Africa through music. These artists have also helped to dispel negative stereotypes about African, Caribbean, Middle Eastern and Latin American societies.
This year, at our 30th Anniversary Gala, two more musical acts will receive the distinct honor of induction into the Afropop Hall of Fame. They are Mokoomba from Zimbabwe, and Aurelio Martinez from Honduras. To learn more about this year's honorees and the gala on May 3, click here.
Now, we'll take a look back at the 13 musicians who received the Afropop Hall of Fame award in past years.
Harry Belafonte and Angelique Kidjo
Angelique Kidjo and Harry Belafonte were both inducted into the Afropop Hall of Fame at Tavern on the Green in New York during Afropop's 20th anniversary celebration 10 years ago. Both artists have been friends and strong supporters of Afropop's work. Angelique Kidjo serves on Afropop's board of directors. Below is a video of musician Peter Gabriel congratulating both honorees:
Angelique's career has spanned decades and the impact she's made around the world puts her in legendary status. A multi-Grammy award-nominated and Grammy winner, the influence of the singer and actress from Benin reaches beyond music. She is has served as a UNICEF Goodwill Ambassador since 2002, and in 2007 she founded the Batonga Foundation that focuses on higher education for African girls.
Harry Belafonte is an iconic American singer of mixed Caribbean descent. He is well known for the calypso-influenced "Banana Boat Song" and has received a Grammy Lifetime Achievement award for his contributions to music around the globe. Like Angelique, his influence has gone beyond music as he has been a player on the American political scene since the early days of the civil rights movement, and right up to the present. Belafonte is an Honorary Gala Co-Chair for this year's 30th anniversary gala.
King Sunny Adé
The Nigerian juju master was honored in style by Afropop at Celebrate Brooklyn! in July 2009. This was only a month after the King of Pop, Michael Jackson, passed away and so Sunny Adé, from one king to another, graciously dedicated the award to him. Adé was a pioneer in bringing his special brand of Nigerian juju—a deep amalgam of Yoruba rhythm, melody and poetry with Western guitars, keyboards and stunning stagecraft—to the United States. KSA began traveling the world in the '70s, delighting audiences with his colorful garments, exuberant dance steps and complex rhythms. Afropop Hall of Fame creator Sean Barlow says, "seeing KSA's joyous juju big band in 1983 featuring five singer/dancers and five guitarists and a fantastic Nigerian percussion corps changed my life, inspiring me to create Afropop. KSA is an example of the powerful effect one artist can have in introducing Africa to the general Western public."

In the 1980s, King Sunny Ade was signed to Island Records, and his international impact reached its peak, just in time for the dawn of our radio program in 1988. Long before the wild takeover by afrobeats that we're experiencing today, there was King Sunny Adé. See him accept his Afropop Hall of Fame award from Sean Barlow at Celebrate Brooklyn! below:
Bassekou Kouyate
Malian ngoni master Bassekou Kouyate was given the Afropop Hall of Fame award at Afropop's 25th anniversary gala at City Winery in New York 2013. He is an innovator who brought the small guitar-like instrument to the forefront when he decided to play it standing up instead of sitting down as his father and grandfather did. Watch him explain his process below in a 2010 interview with Afropop's Banning Eyre at Celebrate Brooklyn!
Bassekou was the first to bring the ngoni center stage, with an all-ngoni front line. In his band Ngoni Ba, the ngoni assumed the prominent role the guitar typically takes. He describes in the video that the ngoni "is not a guitar, it's a bit quiet. You have to reinforce it a little. So we have the calabash in place of the bass drum, and then a shaker in place of the high hat. So this is the idea, to really appreciate the instrument, to show people something they don't know and what we can do with our own instruments." Brilliant!
Check out Bassekou Kouyate and Ngoni Ba's full performance at the 25th anniversary gala below, filmed by BRIC TV.
Oliver "Tuku" Mtukudzi
With over 50 albums under his belt and an easily recognizable, raspy voice, Oliver Mtukudzi is one of the most prominent Zimbabwean musicians of all time. He was inducted into the Afropop Hall of Fame in 2013 at SummerStage in New York's Central Park. Like many of our other hall of famers, his work goes beyond music. He is a philanthropist and a UNICEF Goodwill Ambassador promoting methods for HIV prevention. Along with his countryman and agemate, chimurenga music pioneer Thomas Mapfumo (also a fellow Afropop Hall of Fame award winner), Mtukudzi has been a key ambassador to the world for Zimbabwean music with his self-branded style, "Tuku Music." Below is video of Mtukudzi reacting to receiving the Afropop Hall of Fame award in an interview in South Africa.
Habib Koité, Vusi Mahlasela and Dobet Gnahoré

In an unprecedented event, Habib Koité from Mali, Vusi Mahlesela from South Africa, and Dobet Gnahoré from Mali performed together as part of the "Putamayo Presents: Acoustic Africa" tour at B.B. King Blues Club in New York. At this 2006 concert, Koité and Mahlesela were inducted into the Afropop Hall of Fame and Gnahoré received the Emerging Artist award. Check out all three musicians on stage performing Koité's signature song, "Cigarette Abana."

As a result of this historic night, we produced a radio program to commemorate the occasion. You can hear exclusive interviews with the honorees as well as live music from that evening. Click play below to be transported to that magical night!
Oumou Sangaré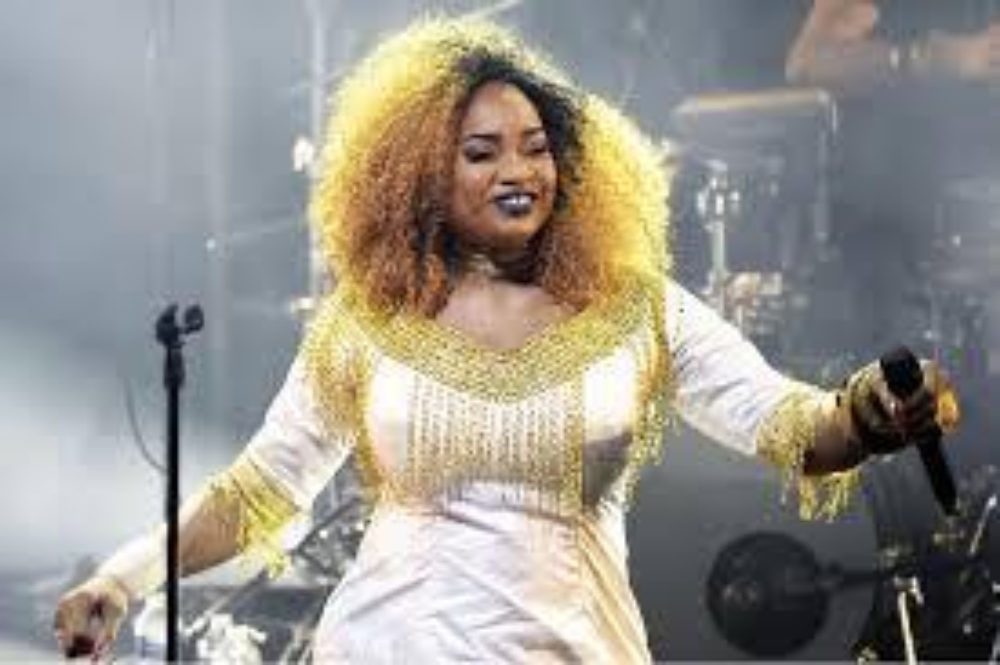 This Malian Wassoulou diva was inducted into the Afropop Hall of Fame for her commanding voice and feminist message that transcends cultures and continents. We have followed her career closely since she burst on the Malian scene in 1989 as a nineteen year old with songs that critiqued polygamy and arranged marriarages. Oumou came back with a bang last year releasing her seventh album, Mogoya, after an eight-year hiatus. Sangaré entered NPR's "150 Greatest Albums Made by Women" list in 2017. She is an important ambassador of the female-dominated Wassoulou musical genre from Mali, Ivory Coast and Guinea.
Youssou N'Dour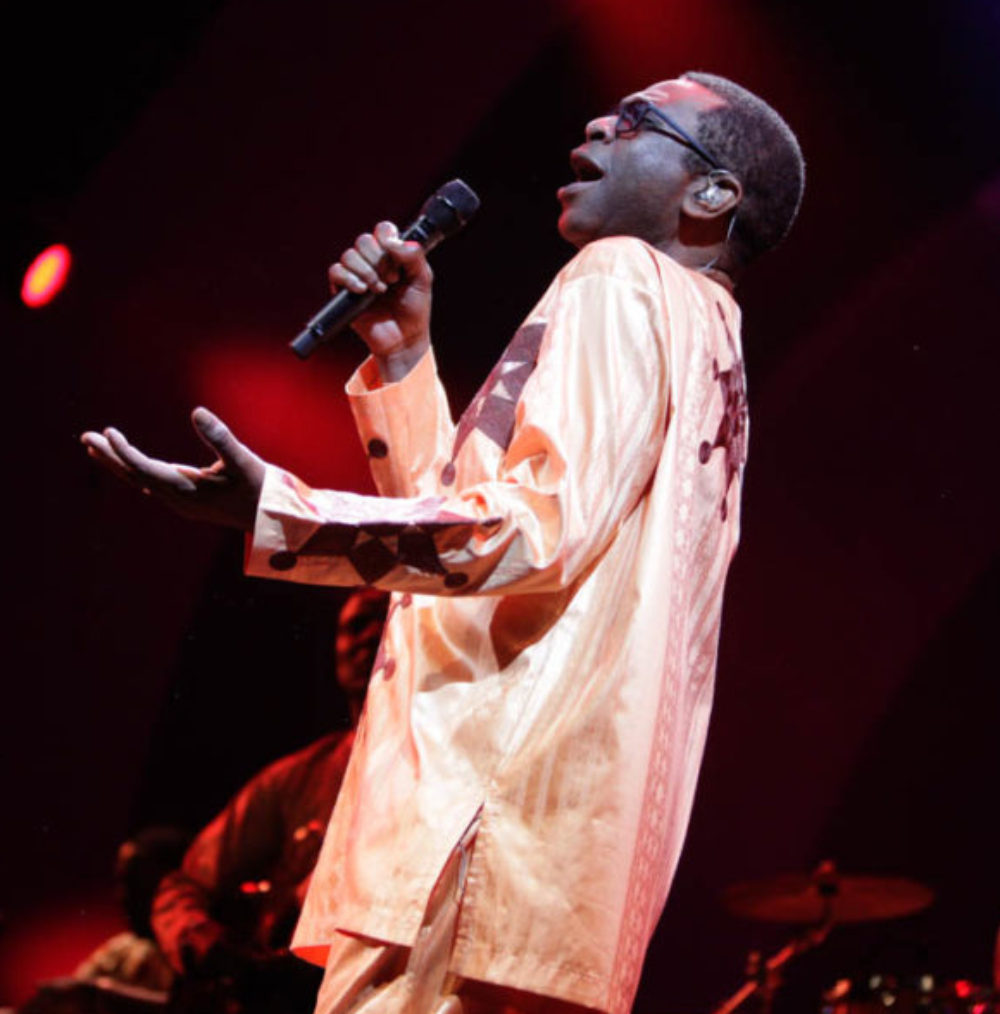 Youssou N'Dour joined the Afropop Hall of Fame in 2005 as one of Senegal's first international stars. We inducted him the night after the Carnegie Hall debut of his sublime Grammy Award-winning album Egypt, which combines an Egyptian orchestra conducted by Fati Salawa with roots Senegalese instrumentalists. Angelique Kidjo dashed from the airport to join us at the Hall of Fame gala and was able to convince Youssou to sing some a cappela songs. Beautiful!
The mbalax pioneer has mesmerized audiences around the world with his captivating voice and electrifying music, which has broadened the percussion-driven mbalax sound into the realm of international pop. We had the pleasure of witnessing his extraordinary talent live last year at Celebrate Brooklyn! and even with rain threatening to ruin the event at Prospect Park, audiences stayed and couldn't get enough of his music. He's still got it! N'dour is a man of many talents and has even served as Senegal's minister of tourism. He was also named African Musician of the 20th Century by FRoots magazine in the U.K. N'Dour is dedicated to sharing Senegalese music with the world while uplifting his countrymen. Check out the past honoree, Youssou N'dour, and this year's honoree, Aurelio Martinez, enjoying each other's company at an opening reception at Music Works in New York.
Thomas Mapfumo, Mahotella Queens, Dorothy Masuka

In 2001, we inducted three stars from Southern Africa into the Afropop Hall of Fame: Thomas Mapfumo from Zimbabwe; the Mahotella Queens from South Africa; and Dorothy Masuka, also from South Africa.
Dorothy Masuka

Dorothy Masuka is an 82-year-old South African jazz singer and songwriter who is still performing. In fact, she performed last year in April 2017 at the Town Hall in New York as a surprise guest when the late Hugh Maskela was unfortunately unable to participate in "The Jazz Epistles featuring Abdullah Ibrahim and Ekaya" concert. Masuka is a contemporary of Miriam Makeba, singing with her in a very popular trio in the 1950's. Masuka was exiled from South Africa for 31 years for singing politically charged songs. Her contribution to South Africa's vast canon of music is invaluable.
Mahotella Queens
The Mahotella Queens are Hilda Tloubatla, Nobesuthu Mbadu, Amanda Nkosi and Mildred Mangxola. Along with deep-voiced singer Simon "Mahlathini" Nkabinde in a style called "groaner" the quartet helped to popularize mbaqanga, a style with rural Zulu roots. With the success of Paul Simon's Graceland album introducing South African music to the West in the mid '80s, the Mahotella Queens gained international fame and toured internationally as a trio (Hilda, Nobesuthu and Mildred) along with Mahlathini and the original Makgona Tsohle Band). Anyone who saw those shows witnessed history. But onstage with Dorothy Masuka at one of the last shows staged at New York's Bottom Line, the Queens showed us they still had it. Their delightful stage antics aside, the Queens produced one of the most powerful and enduring vocal sounds in African music history. Scratch that. All of music history.
Thomas Mapfumo
If you've been listening to Afropop over the years, then you are likely familiar with Zimbabwe's Thomas Mapfumo—revolutionary singer, bandleader, musical revivalist, gadfly to authoritarian rulers, and as mesmerizing a performer as we've been privileged to see during Afropop's 30 years. Mapfumo—Mukanya to his fans—is the subject of Afropop senior editor Banning Eyre's 2015 book Lion Songs: Thomas Mapfumo and the Music That Made Zimbabwe, which intertwines Mapfumo's musical career with Zimbabwe's ruggedly eventful history. First and foremost, Mapfumo is a musical innovator, who grew up on the sacred well of Shona mbira music and many other sources to forge a musical genre dubbed chimurenga, roughly "struggle" music. Mapfumo's songs gave voice to the political aspirations of Zimbabweans to be free from colonial rule under Southern Rhodesia, and later, to citizens suffering under the harsh dictatorship of Robert Mugabe. Mapfumo has lived in exile since 2004 in the United States but continues to perform his music and share his story. With Mugabe's resignation following a coup in Zimbabwe, Thomas Mapfumo will return home. Learn more about Thomas Mapfumo in this Hip Deep program linked below: