Afropop to Honor Salif Keita at BRIC Celebrate Brooklyn! Festival: July 13
SALIF KEITA, "THE GOLDEN VOICE OF AFRICA," TO BE INDUCTED INTO THE AFROPOP HALL OF FAME AT HIS JULY 13 PERFORMANCE AT BRIC CELEBRATE BROOKLYN! FESTIVAL
SALIF KEITA'S TOUR CELEBRATES 50/70: 50 YEARS AS A PROFESSIONAL MUSICIAN IN 70 YEARS OF LIFE.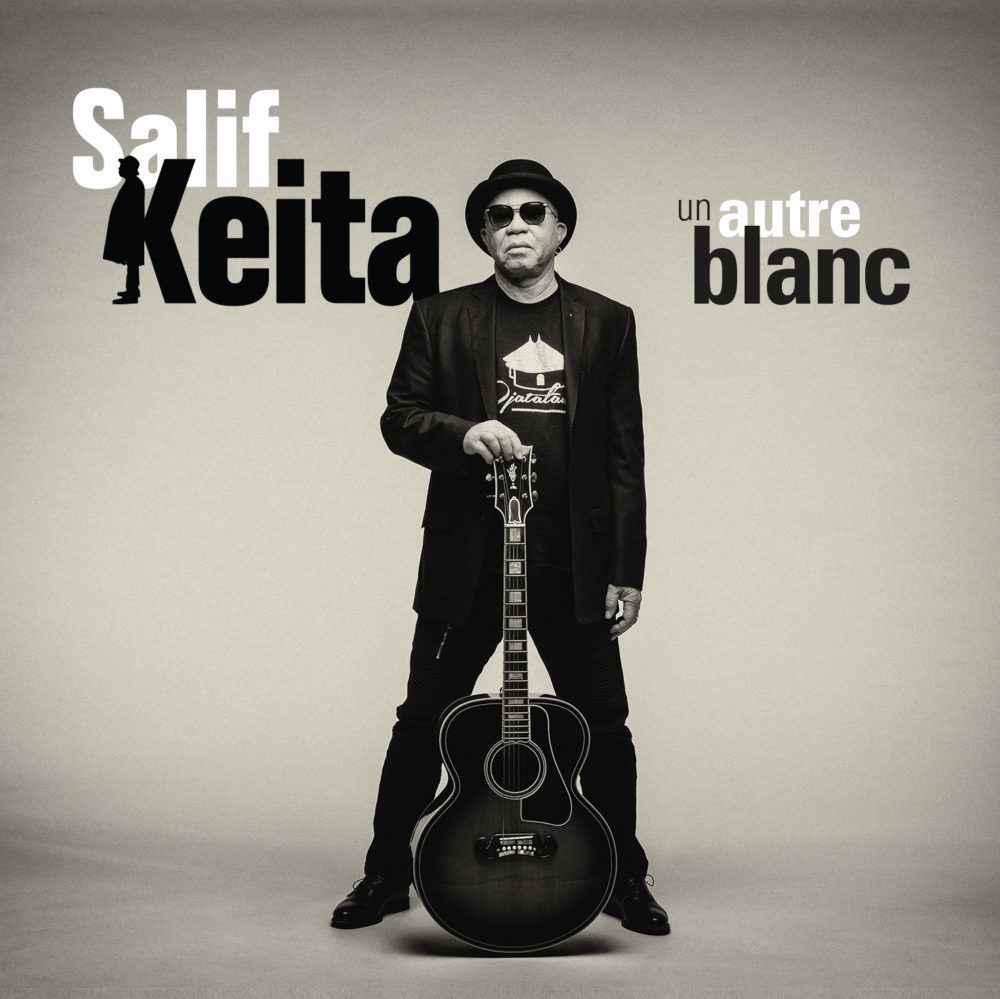 Malian singer, composer, poet, guitarist, bandleader and activist Salif Keita, "The Golden Voice of Africa," will be performing at the BRIC Celebrate Brooklyn! Festival at the Prospect Park Bandshell on Sat., July 13 at 7:30 PM. This will be his only U.S. appearance on a world tour that promotes his latest album, Un Autre Blanc ("Another White"), and celebrates his 50th year as a professional musician and his 70th birthday.
Afropop Worldwide, the Peabody Award-winning public radio show hosted by Georges Collinet and heard around the U.S. and locally on WNYE 91.5 FM (Mon.-Sat. at 11 pm and 5 am), has been honored to present Salif's music and story since the program debuted on NPR in 1988.
On July 13 at the free, open air BRIC Celebrate Brooklyn! Festival, Afropop Worldwide will induct Salif Keita into the Afropop Hall of Fame. Previous inductees include Youssou N'Dour, Baaba Maal, King Sunny Ade, Oumou Sangare, Angelique Kidjo, Thomas Mapfumo, Oliver Mtukudzi, Habib Koite, the Mahotella Queens, Dorothy Masuka and Harry Belafonte.
"We are so happy to give the Afropop Hall of Fame award to Salif. It's long overdue," said Afropop Worldwide Executive Producer Sean Barlow. "Our award goes to African artists of exceptional artistic talent who have made a major contribution to connecting American audiences to Africa. Salif has that sublime, soaring, one-of-a-kind voice that is instantly recognizable, and ultimately transcendent."
Speaking from his home in Bamako, Mali, Salif Keita said "I love Afropop! I'll be there at Celebrate Brooklyn on July 13th. I'll be taking my place at the Afropop Hall of Fame. Don't miss it!"
Salif Keita comes from noble heritage, a direct descendent of Sundiata Keita, the founder of the Mali Empire in the 13th century. According to his caste, Salif was not supposed go into music as a career but in a remarkable act of courage he defied the taboo and followed his muse and started singing professionally with the famous Rail Band of the Train Station Hotel in Bamako, Mali in 1970. He went on to front Les Ambassadeurs of the Motel in Bamako and experimented with mixing Malian roots music with international sounds. In 1974, The band moved to Abidjan, the cosmopolitan capital of Cote d'Ivoire, and changed its name to Ambassadeurs Internationaux. Fast forward to 1987 and his acclaimed breakout hit album Soro. By this time Salif was a solo artist living in Paris.
From a Parisian recording studio in 1986, Salif proclaimed: "Sina, O Sina, i den to tò le jamanakè do"/Sina, oh, Sina, your son is lost far away from home." Five years later, not only this son of Sina the master hunter and sweet Nassira Keita had not lost his way, he had reassuring words for his spiritual teacher: "O, Karamoko, taama diyara"/ "Oh, Master, my wanderings have borne fruits." They certainly have.
Besides Soro in 1987, Salif's albums have included Amen (1991), Folon (1995), Papa (1998), Moffou (2002), La Différence (2009) and Talé (2012). And Salif has attracted several inspired collaborations: Joe Zawinul, Jean-Philippe Rykiel, Carlos Santana, Cesaria Evora, Wayne Shorter, Vernon Reid/Living Color, and Esperanza Spalding. Many of his hits have been remixed and popularized by leading, world class DJs.
BRIC Celebrate Brooklyn! Festival's Executive Producer, Jack Walsh, says: "We are so thrilled to bring Salif back to the bandshell after more than a decade. He's an absolute legend, and to not only see him in a rare U.S. performance, but also to partake in his induction into the Afropop Hall of Fame, is an honor."
Fans can hear Afropop senior producer Banning Eyre's review of Salif Keita's latest album Un Autre Blanc that aired on NPR's "All Things Considered" and was heard by some 12 million:
https://www.npr.org/2019/03/20/705192890/salif-keita-gives-his-blessing-and-takes-a-final-bow-with-un-autre-blanc
Un Autre Blanc features 10 brand-new tracks including collaborations with young stars such as the Franco-African rapper MHD and Nigeria's Yemi Alade, as well as with veteran Afropop Grammy award-winners Angelique Kidjo and Ladysmith Black Mambazo and Ivoirian reggae superstar Alpha Blondy.
Un Autre Blanc continues Salif's advocacy for the human rights of people like himself with albinism, a fight his Salif Keita Global Foundation pledges to intensify, especially since the U.N. has declared June 13 International Albinism Awareness Day. Salif is protesting the continued abduction and killing of albinos in a number of African countries for purposes of what his foundation's website calls witchcraft, as well as financial profit. He decries the fact that local witch doctors often purposefully spread and perpetuate misconceptions and superstitions for personal gain, and in some cases, family members of these innocent victims being complicit in these crimes.
Heading into his 70s, Salif plans on spending more time at home in Mali and less time touring abroad. Fans are invited to visit Salif at the resort and conference center he has created on an island in the Niger River near Bamako, Mali. It is called Espace Culturel Moffou and features a world class stage, restaurants, a bar, swimming pool, meeting rooms and bungalows for visitors. More information at www.djataland.net
About Afropop Worldwide
Afropop Worldwide, hosted by international broadcast personality Georges Collinet from Cameroon, is the Peabody Award-winning radio series on air continuously since 1988. The program is distributed by Public Radio International to over 100 stations in the U.S. and is available globally via its companion website, afropop.org. The mission of Afropop Worldwide is to reveal the essential music and stories of Africa and the African diaspora, celebrating the roots of the world's great pop traditions. Afropop's public radio program, website, podcasts, events and collaborations harness the emotional power of music to foster a deeper intercultural understanding of our world and connect communities, inspiring fellow journalists, educators, presenters and businesses as well as laymen to further explore connections with Africa.
About BRIC Celebrate Brooklyn! Festival
The BRIC Celebrate Brooklyn! Festival is BRIC's flagship performing arts program. Unlike the multi-stage destination festival scene, the BRIC Celebrate Brooklyn! Festival is a free, summer-long experience allowing New Yorkers to come back again and again with their friends and family to appreciate or discover a new genre, acclaimed artist, or world culture each night of the festival. From its very first performance in the summer of 1979, the mission of the festival has been to bring Brooklyn together in a safe, harmonious setting that enhances our quality of life and understanding of the world by illuminating the vibrant cultures that make our borough so unique.
During its 40-year run, the BRIC Celebrate Brooklyn! Festival has presented more than 2,000 artists including celebrated global music icons, legendary jazz artists, chart-topping indie bands, gravity-defying dance troupes, large-scale film projects and even a virtual reality performance, drawing a diverse audience upwards of 200,000 each season.
More on the full BRIC Celebrate Brooklyn! Festival can be found at: https://www.bricartsmedia.org/...
More on Afropop Worldwide at www.afropop.org
To request interviews with Afropop Worldwide, contact sean@afropop.org
Thanks to Cherif Keita for help in preparing this press release.