Afropop Worldwide Wins Peabody Institutional Award
Public Radio's Afropop Worldwide Receives Peabody Institutional Award for 27 Year Body of Work
 --April 16, 2015, Brooklyn, New York
Contact: Sam Backer, 718-398-2733, info@afropop.org
 AFROPOP WORLDWIDE
is the groundbreaking weekly radio series hosted by broadcast personality Georges Collinet from Cameroon, and distributed by PRI to over 95 stations in the U.S. On air continuously since 1988 and now also available as a podcast, Afropop's mission is to promote understanding and enjoyment among its listeners and global web users (afropop.org) of the contemporary music and stories of Africa and the African Diaspora. Afropop is proud to announce that we are the winners of the 2014 Peabody Institutional Award. First bestowed in 1941 for radio programming, the Peabody Awards, based at the University of Georgia's Grady College of Journalism and Mass Communication, are the oldest in electronic media and among the world's most prestigious and selective prizes.
"Afropop Worldwide is an international icon," said Peabody director
Jeffrey P. Jones
. "The Peabodys are delighted to honor its ongoing ambition and influence and its history of illuminating the diasporic music of Africa and the creative dialogue it inspires in musicians and the music business worldwide." In the Peabody board's view, the judges' decision to give Afropop one of its occasional Institutional awards means that they believe the program has become an "institution" in the iconic sense like Tony Bennett or the Grand Ol' Opry is an institution. And in doing this, the board is saying that not only are the past year's broadcasts being honored but so are all the past shows and related materials on the website. In short, the award is for Afropop Worldwide in its entirety. Afropop Worldwide creator and Executive Producer
Sean Barlow
said, "On behalf of our talented and highly committed creative team--Georges Collinet, field producers, engineers, photographers, web crew (afropop.org) and our dedicated board, we are thrilled to receive the Peabody Institutional Award. Special thanks to the superb artists throughout Africa and the Diaspora whose hospitality and passion as they welcomed us into their homes, clubs and recording studios inspired us to do this work. Warm thanks also to our public radio station partners who connect us to their world savvy listeners. We treasure memories of meeting our fans at station produced Afropop Dance Parties around the country. [caption id="attachment_22499" align="aligncenter" width="300"]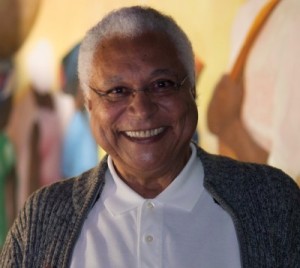 Afropop Host Georges Collinet[/caption] Host
Georges Collinet
said, "Very pleased to get the news about Afropop getting the Peabody. It just goes to show 100% talent, 200% hard work over a long period, and 300% charm goes a long way." For over a quarter century, Afropop Worldwide has taken our listeners to countries such as South Africa, Congo, Tanzania, Zimbabwe, Egypt, Cuba, Brazil, Jamaica, Suriname, Mali, Madagascar, Senegal, Nigeria, Angola, Lebanon, Morocco, Haiti and beyond. We have introduced listeners to world class artists such as Cesaria Evora, Baaba Maal, Franco, Angelique Kidjo, Ali Farka Touré, Chico Science, Khaled, Los Muñequitos de Matanzas, Thomas Mapfumo, Aurelio Martinez and many more. In addition, our digital production team has remained focused on covering the work of a new musical generation, from the favelas of Brazil to the townships of South Africa, utilizing a new set of tools to report on quickly moving styles around the world. Twelve years ago, with support from the National Endowment for the Humanities (NEH), Afropop launched our popular 
Hip Deep
sub-series. Senior Editor and veteran producer
Banning Eyre
said, "Hip Deep has been the inevitable evolution of Afropop's celebration of African diaspora culture. The idea is that music is encoded history, and starting with listening, enjoying, and dancing, you can arrive at a deeper understanding of why the world is as it is."
Melinda Ward
, Chief Content Offcer at PRI, which distributes Afropop, said "We at PRI are so proud of all the beautiful music and inspiring cultural stories that Sean Barlow and Georges Collinet have brought to listeners across the country for the last 27 years. No other American media offering tells the stories of these cultures with such depth of research, range, and consistent entertainment value." Afropop Worldwide recently launched an enthusiastically received multi-media education initiative based on Hip Deep research. The prototype is "The Story of Samba at the Dawn of Modern Brazil" site (
www.afropop.org/sambastory
).The targeted audiences are high school and college students as well as life-long learners. As the Peabody award arrives, Afropop is also addressing its legacy of research, specifically, the program's vast archive of audio recordings, photographs, videos, print materials, and more.  An aggressive effort to digitize and catalog this singular record of global culture is now underway.
Jones Audio Productions
's 'Studio 44' is the audio production headquarters for Afropop Worldwide. Our chief audio engineer and co-producer is Michael Jones.
Ned Sublette
 is Senior Producer and co-Founder of Hip Deep. 
Sam Backer
 is our Director for New Media. Afropop Worldwide gratefully acknowledges our funders throughout the years including the Corporation for Public Broadcasting, the National Endowment for the Arts, the NEH, BET, PRI, NPR, the Ford Foundation, the Rockefeller Foundation, the Nathan Cummings Foundation, as well as numerous individuals. We encourage readers to browse the Afropop Worldwide program roster:
http://www.afropop.org/category/program/
Hip Deep program archive (click on "All Hip Deep programs")
http://www.afropop.org/hipdeep/
For more information, contact us at
info@afropop.org
or write us at
Tax-deductible donations t
o support the work of Afropop Worldwide are welcome. Afropop Worldwide 220 36th Street, Unit 58 Brooklyn, NY, 11232