Afropop's 25th Anniversary Gala: One for the History Books!
(Above: Georges Collinet, Sean Barlow, Bassekou Kouyate. All photographs by Jason Gardner.)
A lot happened in three hours at the City Winery in New York last night, as Afropop Worldwide celebrated 25 years on the air in grand style. Five musical acts representing various parts of Africa performed before a large and diverse audience of Afropop fans and supporters, including a few musical luminaries, like jazz piano legend Randy Weston. Wise and moving words were spoken by Afropop host Georges Collinet, Afropop creator Sean Barlow, board chair David Greely, gala co-chair Rose Pritzger (of The Bully Project), and friends like Sahr Ngaujah (who played Fela on Broadway) and Lubangi Muniania (of Tabalilu Productions). Bassekou Kouyate was inducted into the Afropop Hall of Fame, and he and his group Ngoni Ba closed the night with music that was both rhythmically explosive, soulfully melodic, and visually arresting—quintessential Afropop!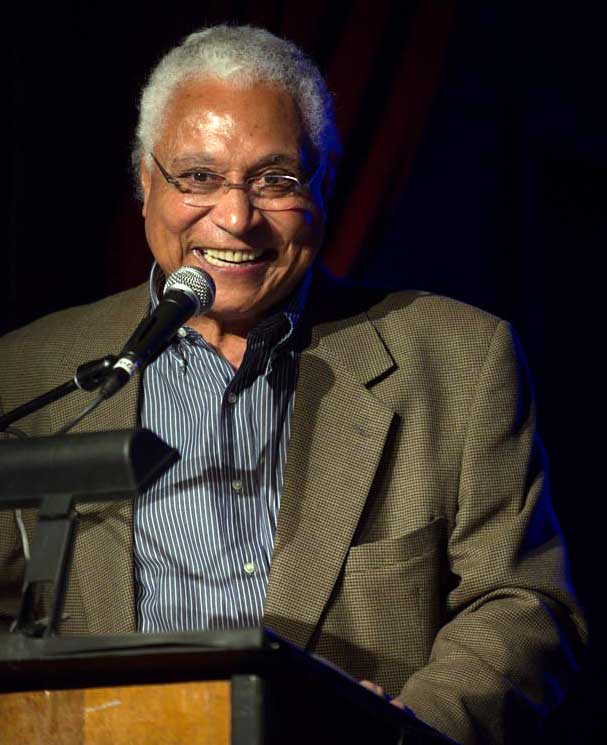 Georges Collinet (Jason Gardner)
Jake Bright of Cocody productions rolled out a wide-ranging set of African music to set the mood. Then the talking drummers of Ngoni Ba burst in from Varick Street and bore through the crowd to nudge people to their seats. The first live music came from Mamadou Kelly and his sensational ensemble from northern Mali, featuring mesmerizing grooves played by veterans of Ali Farka Toure's band, and introducing a terrific young Tuareg singer, Leila Gobi in one of her first US performance.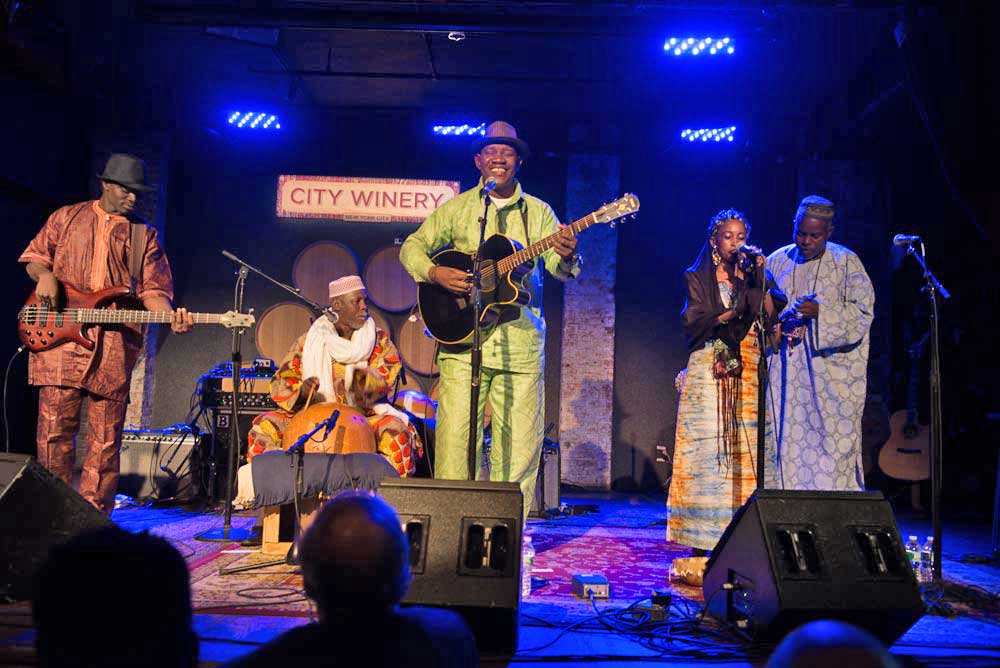 Mamadou Kelly and band (Jason Gardner)
Next, Congolese vocal legend Samba Mapangala crooned two classic rumba songs, his mellifluous, even angelic voice undiminished by the years. (Samba got his start back in the mid-70s!) Samba was backed by Afropop's Banning Eyre on guitar, and Isaac Katalay on beer bottle percussion—minimalist magic.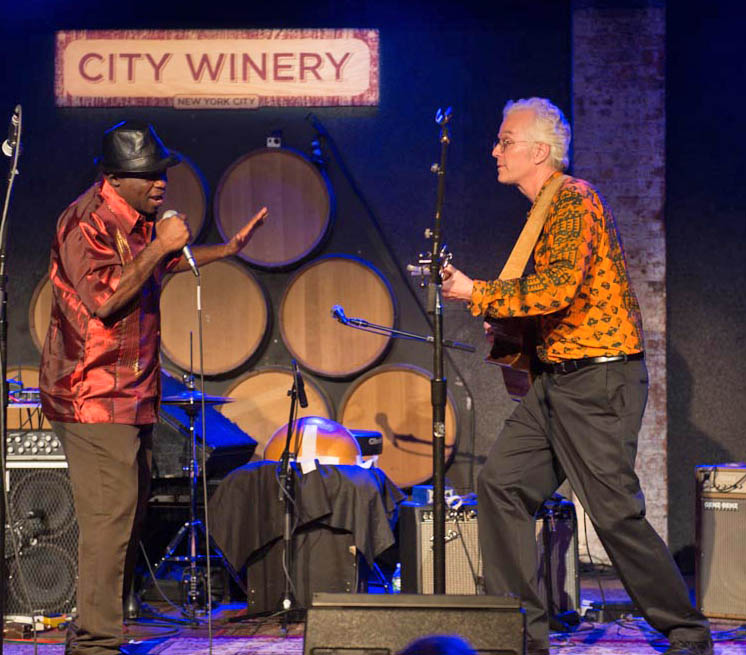 Samba Mapangala and Banning Eyre (Jason Gardner)
Then Boubacar "Badian" Diabate, a brilliant Mande guitarist from Bamako, who just happened to be in town, gave a stunning demonstration of fingerstyle griot guitar. The style is often called bajourou (big string), though Badian who has taken this lyrical, grooving, blindingly technical art to new places, calls his take on the style jeli foly (griot play!). Nora Balaban and Chris Berry represented southern Africa with a mesmerizing traditional Shona song, both playing mbiras and singing while Chris's daughter Waniso Berry kept time with hosho rattles.
Boubacar "Badian" Diabate (Jason Gardner)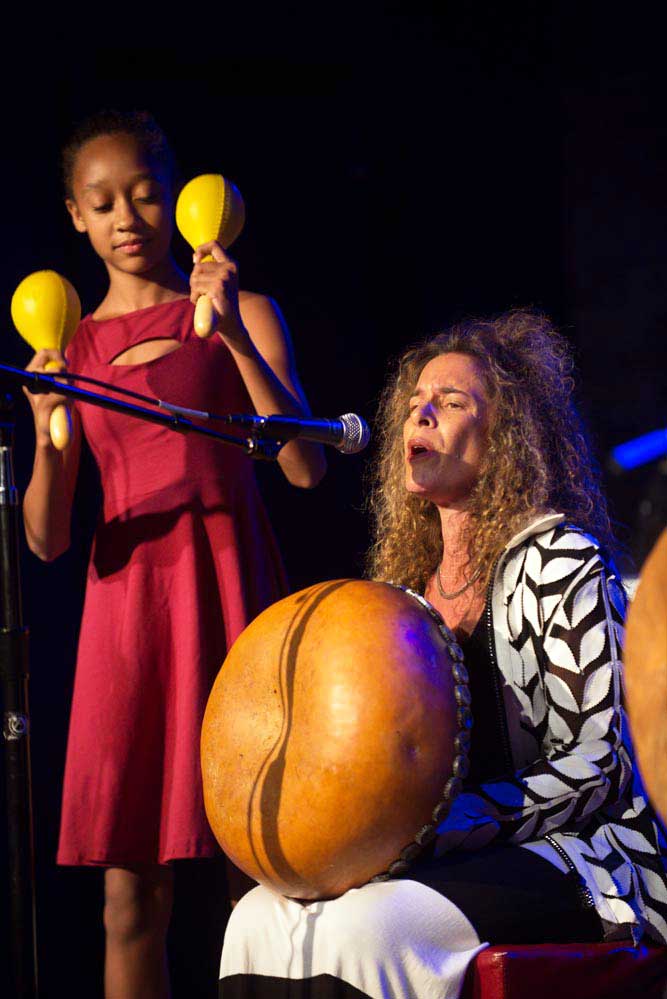 Waniso Bery, Nora Balaban (Jason Gardner)
The second half of the program belonged to Bassekou and Ngoni Ba. Midway through the set, Georges and Sean came on to present Bassekou with the Afropop Hall of Fame Award. Bassekou joins the likes of Angelique Kidjo, Thomas Mapfumo, Baaba Maal, and The Mahotella Queens in getting the Afropop nod for extraordinary work in introducing Americans to African and African diaspora music. Bassekou was deeply moved, in particular, because on this very day, 14 heads of state were gathered in Bamako for the swearing in of Mali's new president, Ibrahim Boubacar Keita. Bassekou drew a connection between this hopeful turn in Mali's recently troubled history, and his personal sense of gratitude at being recognized in New York. He and Ngoni Ba proceeded to deliver an absolutely staggering finale that had people young and old dancing with wild abandon. It was literally ecstatic, and as fitting a celebration of 25 years as anyone could have imagined.

Bassekou Kouyate (Jason Gardner)
(Stay tuned for gala concert highlights on Afropop Worldwidefrom PRI as well as television highlights on BRIC Brooklyn Independent Media. The gala raised funds to support Afropop Worldwide's work. You can still contribute: www.afropop.org/wp/donate/ . You can read, hear and see more on afropop.org. )