Banning Eyre reviews Alan Lomax in Haiti (box set on Harte Recordings)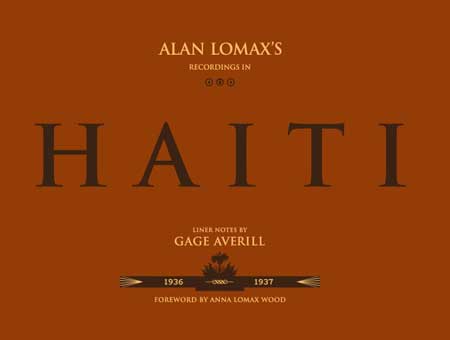 In late 1936 and early '37, Alan Lomax spent four months recording and filming musicians in Haiti for the Library of Congress. He brought his fiancé along and married her there. The US Marines had left the island after a 15-year occupation just weeks earlier, and the island nation was set to write a new chapter in its history. The African-descended population, brought there as slaves and "liberated" in the first successful black rebellion in the New World in 1803, had roots in West Africa and the Congo region. Most of the colonial population had been French, but Spanish, English and Cuban people had played roles in the country's turbulent history—all that before the American occupation. No surprise then that the legacy of "creolization" was running deep in the blood, religion, language, and of course, the music of this diverse agrarian society.
The Lomaxes returned with 58 ten-inch and 236 twelve-inch aluminum discs documenting some 1,500 Haitian songs and drum rhythms. They also shot 350 feet of motion picture film, and kept detailed notes on each and every piece they documented. All this material sat neglected for the next 70 years. But now much of it has been edited and remastered for this remarkable 10-CD package.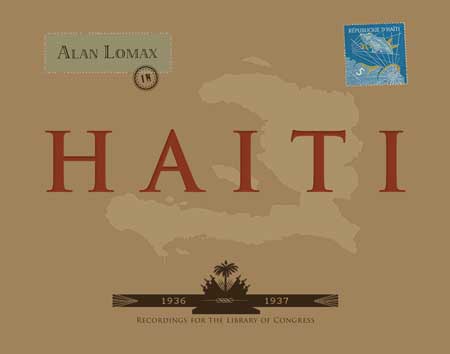 The audio recordings (and a few of the videos) come with book-length notes that include excerpts from Lomax's field observations, as well as extensive translations, contextual descriptions and analysis by Haitian music scholar Gage Averill, who also curates this release. There is also a diary from the expedition including notes, letters and other documents that give much insight not only into Haiti, but also the challenges the Lomaxes faced and the resourcefulness with which they maneuvered. The package is nothing less than a portrait of a society that has been transformed, and in some cases erased, by many rough decades of history since. As a window into a lost world, these recordings and writings present an amazingly rich and complete view, making childhood, work, celebration, worship, and even spirit possession as palpable from this distance as anything could.
Audiophiles take note. Despite all the work done to clean them up, these tracks include interruptions in the sound, speed variations, vocals buried beneath drums, and occasional distortion and scratchiness. But some of them, often the simplest ones, such as the solo voice of the Vodou ceremony singer Francilia, are tremendously powerful, and the more you listen, the more you hear past the technical imperfections and succumb to the spell of a rich world of bygone culture. Fans of contemporary Haitian music, whether compas, celebratory rara, racines (roots) pop, or religious choral music, will discover fascinating snatches of familiar rhythm, melody, inflection and spirit within these performances. For all the time I have spent with these CDs and the ample documentation that accompanies them, I feel I've barely scratched the surface of all they have to offer.
Disc 1 covers Merengues, cosmopolitan urban sounds from chugging banjo strumming overlaid with a doleful clarinet and harmonizing voices, to the off-kilter cadence of the dense, droning piano solo "Loko," a striking performance. There's a great deal of banjo and clarinet, some drumming, and some male choral pieces with harmonies reminiscent of a barbershop quartet. The darker songs cut deepest, like "Toulejou se yon sel chason (All Day Long it's the Same Refrain)," which Averill compares with "an old Trinidadian minor, double-tone calypso."
Disc 2 covers the roving troubadours Lomax found especially enchanting. Echoes of mento, calypso and Cuban music come through in clave stick percussion, banjo or ukulele accompaniment, and swooning, romantic, and sometimes shrill vocal melodies. Some songs are accompanied by large thumb pianos—an intriguing African retention. Where the vocals feel distinctly Haitian, one senses the beginnings of compas, the urban guitar-band dance music that would flourish in decades to come.
Disc 3 is a raucous set of Mardi Gras and carnival songs, the sort of dense, active music the Lomax's gear was least able to capture in a satisfying way. The latter part of the CD has a number of secret society songs, vocal pieces with drums and the deep-toned horns (vaksin) so prominent in rara music. Disc 4 delves deeply into rara and Vodou music. We hear how the celebratory music of Easter Carnival, laced with coded African spirituality morphs into the true music of Vodou ceremonies. There are costume dances, hooting vaksin, dense rhythms, and lost of call-and-response singing with men's and women's voices blended pleasingly.
Disc 5 is called Pou Timoun-Yo (for the children), and it includes songs by and for kids. Averill notes that high infant mortality and strict discipline added up to a tough childhood experience in Haiti. There is significant French/Catholic content in these songs. Indeed they are full of stylistic and thematic contradictions. The early songs feature the sweet voices of children, moving into game and circle songs in Kreyol. Late in the CD, we hear songs by what sounds like a rara group, but is in fact students from Port-au-Prince's Ecole Normal creating all the drum and vaksin sounds with their voices! Bobby McFerrin inventiveness looong before the brother was born.
Disc 6, Flowers of France, presents songs with an oddly melancholic air. The singers use nasal timbres, odd modes, drawn-out vowels, and quite a bit of vibrato. Overt vestiges of French music scarcely exist in Haiti today, but at the time they were still plentiful, and Lomax recorded lots of contredanses and romantic ballads (believed to have gone into the mix of early Cuban son) as well as more children's games. Though he documented these things, he left scarce notes about them, and Averill is at pains to translate many of the lyrics, presumably because the language has changed significantly. Romances and especially kantiks (Kreol hymns) were sung at funerals and found their way into the Catholic preamble of Vodou rituals. A French song about Gouvernour Boville includes the line "Jean Zombie, take me away." The contredances use fife and fiddle, and sometimes sound pretty squeaky and creaky. The legacy of English group dances, popularized in France in the 1700s clearly survived in Haiti up to Lomax's time, and all this became grist for the mill in the development of characteristic Caribbean dance styles, including Cuban danzon and Dominican merengue. Deep stuff!
Disc 7 is all about a single, remarkable, young vocalist, Francilia, Queen of Song. She was trained in the traditional oral way, at home and at temple, and she has a rare voice indeed—just the sort Lomax always yearned to find. What we hear is a warm, beautifully modulated voice, sweet and creamy, most often backed only by maracas. At times the voice blooms into raspy edginess, though this may have to do with variations in the recordings themselves. The informal laughter that accompanies this unusual session and the focus on a single voice—at a Vodou ceremony, these songs would be accompanied by a chorus and often drums—make this session, "a bit artificial." But in another way, it is the gem of this collection, clear sounding and musically compelling throughout. The songs are sung to lwa (gods), not humans, but themes are often earthly. Love and murder figure prominently. "Aye, ki gangan sila?" a children's game song about a healer, has a lovely swing. "Papa Legba Zandò" follows immediately with mournful darkness befitting "a powerful and potentially dangerous" god. "Fiyole pou Danbala" brings in the crowd and piercing ululations suggesting that possession is imminent. It's an exciting track, and a taste of what this gal might do at a ceremony. Her shouts of "Ay bo bo" will be familiar to fans of today's Haitian pop.
Disc 8, the Breaking-of-the-Cakes Ceremony, is in all likelihood the first ever recording of a Vodou ceremony in a temple. The drumming sounds clearer on these tracks, perhaps because of the acoustic qualities of the space itself. Often the vocals sound somewhat mushy and distant. We hear both the danse that happens on the night before the ceremony, and the event itself. Lomax meticulously reconstructs the action, and excepting songs sung in the "secret argot of Vodou," Lomax and Averill provide line-by-line translation. Some songs have lulling vocal melodies, and we hear the intriguing Christian prayers and invocations that work their way into Vodou ritual—syncretism in action. This is more a disc to study than to listen to for enjoyment, but it is an amazing document.
Disc 9 is called Songs of Labor and Leisure. Most of the music comes from the konbit, an invitational work party. This is a tradition going back to West Africa, an occasion where work, worship and socializing blend into one. Songs range from the gently melodious, like the beautiful first track "Lisya-o, komè sa ou vle?," sung engagingly by two old men, to driving call-and-response songs set to a clanging bell pattern. Some of the men's songs are laced with obscenity and even protest and threats against property owners:
Sanba: Wo! When I am singing the refrain, I am in danger!
Chorus: A! Ha!
Sanba: Wo! When I am singing the refrain, I am in danger!
A number of these work songs are accompanied by fleet, complex hand and stick drumming. The sound is surprisingly good on this volume.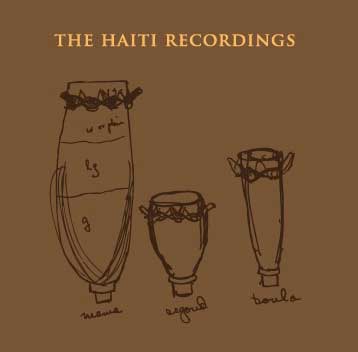 Disc 10, Worship in Carrefour Dufort, presents music recorded at two contrasting religious ceremonies in the same village. It demonstrates the difference between the two major traditions of Vodou worship, Rada and Kongo-Petwo. The lwa (gods) in these traditions come from West African and Congo spiritual lineages respectively. Petwo rituals are the rowdier more rebellious ones. The Rada ceremony here is an intimate affair, with an elderly man accompanied only by a woman singing, a sacred shaker and chiming bell. This is a clear and lively set of performances culminating in spirit possession. The Kongo-Petwo ceremony is announced with a flurry of drumming, just one drum, but still a flurry. One song, "Ti Kita, bouyi non woy (This is not How I Command)" features call-and-response singing decidedly reminiscent of the famed 1990 Boukman Eksperyans' hit "Ke'-m pa Sote." There is wild energy here. The tracks are short and episodic and the sound at times muddled, but the tearing rhythms and shrill voices let us feel the Kongo spirit as possession ultimately takes hold.