They aren't as flashy as Bombino, nor are they collaborative polymaths like Vieux Farka Toure; they aren't as instrumentally varied as Tinariwen. Yet Terakaft seems they could be the next band of Tuareg musicians to break big in America and elsewhere.
With just two guitars, bass and drums, their latest record, Alone, is full of space. Sanou Ag Ahmed and his uncle, Liya Ag Ablil—himself an alumni of Tinariwen who goes by Diara—composed the music with a steady rhythm guitar, which changes chords infrequently enough to sit atop the song as a drone, while the other guitar forms a flickering lead line. This opens up a ton of room in the low end, for the drums, both electronic and analog, and the bass to roll along in interlocking polyrhythms.
The result is grooves so long and winding you can get lost in them. At Joe's Pub in New York, Sept. 7, the first show of an ongoing American tour, a song would start on the guitars, and the beat would come in, but never in the most intuitive place. For all the discussion of this being "desert blues," the Tuareg take on the genre opens up rhythmic possibilities that American blues trimmed out back in the Delta days.
There's a certain straightforwardness in their music, and as a small band, that makes their music feel very approachable. The melodies—vocal or instrumental—aren't going to be mistaken for American music, but the instrumentation is immediately familiar.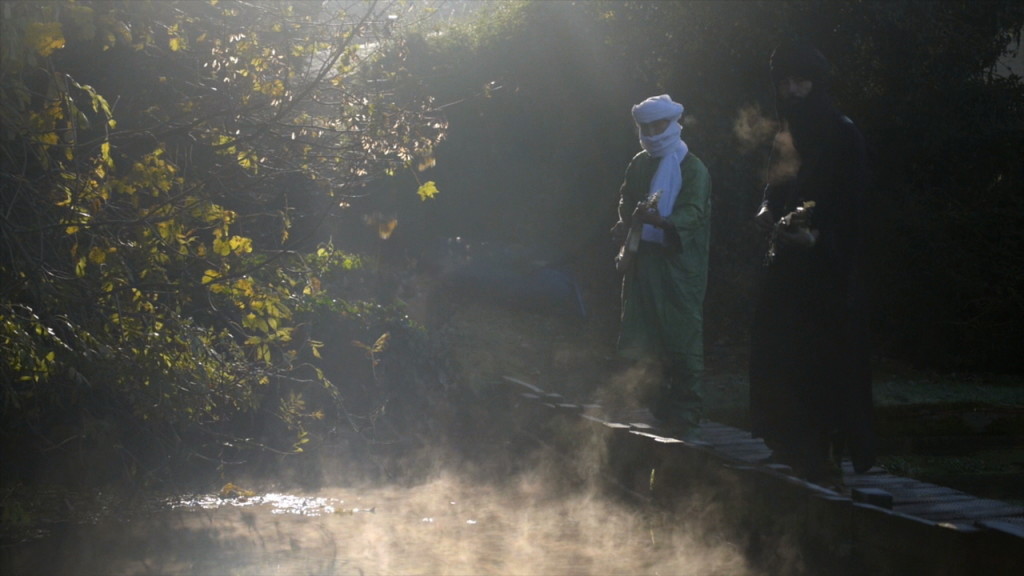 Like their peers in the Tuareg band Tamikrest, the lyrical subject matter on Alone can't help but bring to mind the war and political turmoil that Mali has faced over the last few years, especially the Islamist incursion into the Tuareg home region in northern Mali. But as Sanou Ag Ahmed explained, "Perhaps there's a harder edge in the music because of what happened in Mali in 2012, but it's an unconscious thing. Our goal with this was to make the songs very danceable."
If the opening concert of their tour was any indication, they've succeeded. As their tour kicked off in New York, the band started off playing through the songs while standing very still, maybe it was jet lag, maybe it was shyness. But as the night continued they loosened up and began dancing during guitar solos while the rhythm section exchanged grins. The need to move reached out and caught on in the seated crowd, who even after a long Labor Day weekend, couldn't help but get up and dance. As much as the music is about hardship, it also sounds like a triumphant overcoming of hardship.