Angelique Kidjo and Friends Salute Miriam Makeba and Ubuntu!
Ubuntu: Music and Arts of South Africa in New York City is a month-long celebration of the 20 years of democracy and freedom that followed the fall of apartheid. The festival lays out a feast of South African music, a chance to rehearse the glories of the past—as Hugh Masekela, Vusi Mahlasela, Dave Matthews and Somi did at Carnegie Hall on Oct. 10—a chance to discover hidden gems that have been there all along—as in the rare Zulu guitar concert featuring Madala Kunene and Phuzekhemisi at Zankel at Carnegie Hall on Oct. 11—and also a chance to discover contemporary sounds by artists like Simphiwe Dana, Tumi Molekane, The Soil and The Muffinz, all of whom played at the Apollo Theater on Oct. 11. There are also films, dance events, art exhibitions and more between running through Nov. 5. (For the full Ubuntu schedule, click here).
The exclamation point concluding the entire celebration is Angelique Kidjo and Friends with Mama Africa: A Tribute to Miriam Makeba, at Carnegie Hall on Nov. 5. I visited Kidjo recently at her home in Brooklyn, in between her concerts in Mozambique and Europe, and she remarked that it surprised her how many people she met did not recognize the name Miriam Makeba. "It's that thing where the song becomes bigger than the name," she says. "If you play 'Pata Pata' to anyone, they know it. Every time I play that song on stage, I say, 'If you don't know this song, you're not living on planet Earth.' And as soon as I start singing, they say, 'Oh, this one.' And they all stand up. But when you say Miriam Makeba, it's like, 'Who?'"
Angelique Kidjo (Eyre 2014)
This line of thinking sets Kidjo off on a familiar rant about the plusses and minuses of our technologically wired times. "We are living in a fast time," she says, "where information doesn't have the same importance it used to before. With technology, basically, we are not memorizing anything. It is really exciting, but at the same time, it's very scary. Because what are we going to leave this generation of ours?"
It's a question of memory. If songs and artists come and go with the volume and speed of YouTube hits, how do any of them lodge themselves deeply in the consciousness of a society or people? Miriam Makeba is the opposite of that in Kidjo's life: Makeba's voice wove itself through her entire childhood, literally from birth. "When she came to play Benin, I was too little to go, so the only thing I knew of her was just the voice. And it would take me far, give me perspective: One day I want to sing like that. One day, I want to be there. Then in 1989, I was lucky enough to meet the person behind the voice.
The moment came as Angelique was still working on the album that would introduce her to the world: Logozo. She was asked to pull together a band and perform a 30-minute set to kick off Makeba's show at the Olympia Theater in Paris. "A half hour and it seemed like days," recalls Kidjo, but the set she remembers best was not hers, but Makeba's. "She walked on stage with such grace, with no entourage, speaking in that soft voice, and with that angel's smile on her face. I mean, when she laughed, it was like a drop falling in water."
After that show, Kidjo said she fell into bed with a fever, unable to believe she had actually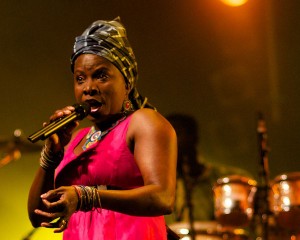 sung for her idol. But over the years, the two met often at festivals and shows around the world. Makeba came to treat Kidjo as a kind of daughter figure. "She worried a lot," Kidjo recalled, "Where is this world going? Where is music in general going? What does 'world music' mean? She was mad as hell about that, madder than I could ever be. 'Why suddenly do they feel the need to call my music by a name? Is it to put us in a ghetto again?' She also worried about technology. She was saying that the young kids in South Africa are more attracted to r&b or hip-hop and rap, but not the music of their ancestors. And she used to say, 'All those kids are trying to mimic the Americans. They would be more successful if they realized they have something that nobody else can have.'"
Kidjo calls Makeba "the first and the biggest pan-African artist ever." In part Makeba's success was a product of her 30 years in exile (1960-1990). Says Kidjo, "She moved from here [the U.S.] to Guinea, Conakry. That was the only place that would give her asylum. She was very close to Sekou Toure, and she started learning the language, singing in the language of Guinea. She went to North Africa, and she sang in Arabic. She sang in Portuguese, in Indonesian. Everywhere she went, she made an effort to learn a song. So as an ambassador, there's nobody who can do it better than her. We all try. But nobody can be better than her."
Having performed a number of Makeba's signature songs, Kidjo has earned a deep respect for the complexity of Makeba's vocal arrangements and performances. "Miriam's music seems simple from the outside. It's got a couple chords; you can do this and do that. But you start singing it, and you sweat. You go, 'Oh! OK. All right.' It's when you start as a singer trying to channel Miriam's voice—that's when you realize you know nothing yet."
The concert Kidjo is preparing for Nov. 5 will be unique. She's invited Makeba's backup singers, who she says carry with them the joy of Makeba's world-renowned stage show. Vusi Mahlasela will join Kidjo on stage, as will Ezra Koenig of Vampire Weekend, and a young British singer with an African heritage, Laura M'Vula. These are all artists Kidjo especially admires. Of Koenig, she says, "He's a huge fan of music that comes from Africa, and he has the humility not to think he knows it all. He's always willing to learn, and that's what I love about his approach. That's what makes Vampire Weekend the band that they are, because they are not narrow-minded. They can take rock 'n' roll to another road and another level, and that sets them apart."
Ezra Koenig of Vampire Weekend (Eyre 2009)
Kidjo has given each collaborator a large playlist of Makeba songs and asked them to pick one or two to interpret. As to the songs she herself will perform, mum's the word. "I'm not telling you nothing," she says when pressed, "'Pata Pata' will be played for sure. 'Malaika' will be sung for sure. And then after that, I ain't saying nothing."
When it comes to the larger mission of the Ubuntu festival, however, Kidjo is more than willing to hold forth. "What triggered this event," she says, "is the 20th anniversary of the freedom of Nelson Mandela, and ubuntu is his vision, what he was all about. Ubuntu is what defines a human being—compassion, empathy, love, soul. Nelson Mandela is ubuntu. So how can you celebrate that big person, that huge personality, without inviting a lot of people to come and tell the story? Let's celebrate ubuntu. Let all of us be ubuntu. Amen to that!"