Ayub Ogada and Sali Sidibe: RIP
African music lost two greats last week—both maverick artists who played by their own rules and were deeply loved by their fellow citizens although they never got the international recognition they deserved. Ayub Ogada was Kenya's roots culture champion, standing firm for Luo tradition and African sensibility in an age of rapid globalization. Sali Sidibe of Mali grew up with that country's young, bluesy, socially engaged Wassoulou music style, and was one of the genre's most memorable singers. Coming on the heels of the iconic Zimbabwean star Oliver Mtukudzi's death in January, these two passings add to the sense that we are witnessing the sunset of African music's greatest generation. Artists like Ogada and Sidibe never knew the financial success that African music stars now enjoy, but they were pillars of the generation that lit the spark and built the foundation for the blooming garden of possibilities we see today.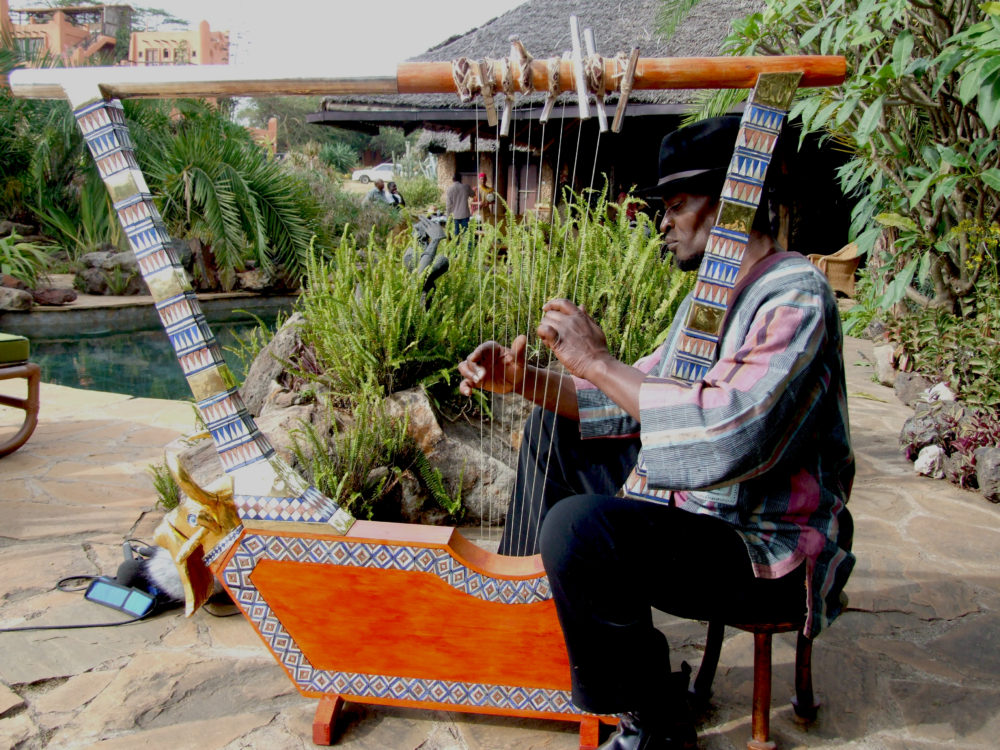 Ayub Ogada
Born in 1956 in Mombasa, Ogada was raised to revere his ancestors' Luo traditions. As a young man, he toured the United States and Kenya with his musical parents, performing Luo culture. He came to specialize in the eight-stringed lyre, the nyatiti. In 1979 in Nairobi, he formed the band African Heritage, dedicated to creating new, original music for a new time in Kenya. But in 1986, as the band veered more in the direction of international pop, Ogada left for London where he played with Taxi Pata Pata and formed a new roots band, Orchestra Rafiki. He also acted in films under his birth name, Job Seda.
Initially, it was far from clear that this ambitious, precocious young man would make his mark through music. "My original idea was to be an astronaut," he told me in our one interview in 2009. "I had to get off this planet. I studied very hard, and you know what I ended up being? A musician, just a simple musician. My original mentality is of a scientist. Music was my third test subject, after chemistry and literature."
That said, Ogada had a singularly impressive musical persona, which is no doubt why Peter Gabriel embraced him in the early days of WOMAD and Real World Records. Ogada's 1993 Real World album En Mana Kuoyo (Just Sand) is a classic with deeply resonant, even haunting songs that found their way into a number of feature films, notably Fernando Meirelles' 2005 adaptation of John Le Carré's The Constant Gardener. Ogada was not a prolific recording artist, producing just five albums in his career, but he put enormous research and concentration into his recordings, determined to create work that would last.
That he certainly did. My 2009 interview with Ogada came on the occasion of Real World's ceremonial reissue of En Mama Kuoyo. When I reached him by telephone in Nairobi, I quickly became aware of something not evident in his resume: the man was a restless, passionate intellectual, uncompromising, troubled and deeply impatient with his country's leaders, as well as many others, including me. "My continent has gone through a lot of tribulations," he noted early in our conversation. "Who invented Kenya? I am born Kenyan, but this is not my country. My country is Africa. And if I look at it properly, my country is the world. So right now, we re-create history, and fix people in their places. I refuse to be fixed. This planet belongs to me, a human being. You are my brother. I've got sisters all over the place. So who made me a Kenyan? It's not the real deal."
He scolded me for admiring his mesmerising vocal performances on En Mam Kuoyo, without having much understanding of his lyrics. "Go and understand those songs," he chided. "The mood has got nothing to do with it. Understand the lyrics. Understand how deep they go. Understand the parables, where they come from. Even though it is indeed such beautiful music, you'll find that the music is insulting you."
His critique was not limited to Africa. "Most of us live in stolen countries," he noted dryly. "America is a stolen country. Canada is a stolen country. Australia is a stolen country. They could not steal Africa. They could not steal India. We are still here. You look at the strongest music from anywhere in the world. It does not belong to Europe. We are original, indigenous people. And we still have our strength. My job is to contain that strength and to feed it out slowly. We must gain our power back, and then we can feed this planet. In my language, we say, 'The planet is drunk.' We are all drunk, and we are living drunkards' lives. So, me, I prefer to start drinking in the morning. Let me be truly drunk before the planet wakes up."
Over the course of that lengthy phone call, Ogada raved and rambled with bracing eloquence. He insisted that I also speak with colleagues sitting around him in his office, one of whom was making a documentary about him. It was nearly impossible to get Ogada to reminisce about the album I was to write about. Finally, he said, "I did it in three days. I refused to record inside the studio. I sat outside and played a concert. It took three hours. Then the next day, we called the percussionist. The next day we called the guitarist. It took three days to record that album." He called Peter Gabriel a dear friend, but insisted that the album, for all its beauty and acclaim, had done little for him.
I felt the power and frustration of a man with a profound love of African culture, but troubled by its squandering and perversion in the hands of those who undervalue or misunderstand it. As Ogada has now left us, I do hope that filmmaker and others have documented the man's words and thoughts, for they may prove as important a legacy as his music. As he told me in no uncertain terms, "Anybody can say anything about me, but until you speak to me, you will never know the truth."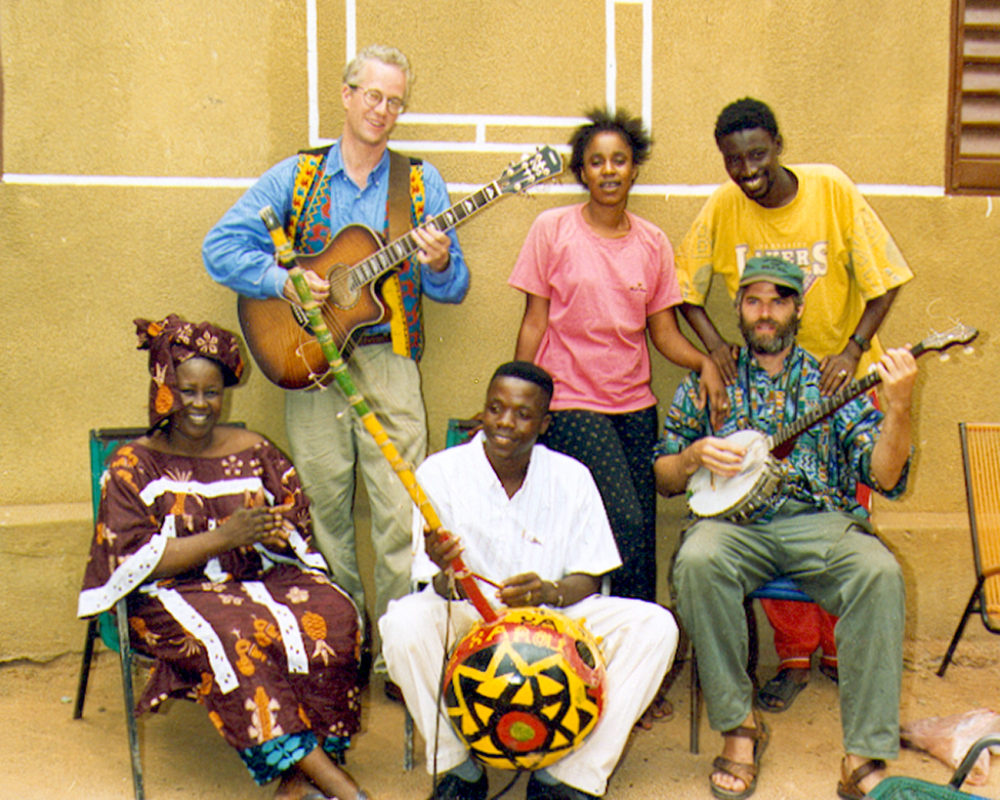 Sali Sidibe
They called her the Black Pearl of Wassoulou. Sali Sidibe was born in 1960 in Yanfolila, a town in the south of Mali. Her father was a sand diviner, a conservative man, and he never gave his blessing for Sali to sing due to her noble birth. "If you are a noble, you don't sing," she told me when I lived in Bamako in the mid-1990s. "But it was God who gave me this ability, and since it was a gift from God, people from around the village went to my father and told him to let me sing." But her father would not relent, and so Sidibe went to live with a village commandant, who encouraged and nurtured her talent. These events established early on a rebellious nature, and also an affection for men with power, whose praises she sang throughout her career.
Her talent won the notice of cultural players in Bamako, and after sensitive negotiations with the family, Sidibe was allowed to join the Ensemble Instrumental du Mali, despite her father's objections. This was the early 1970s, and the ensemble was just beginning to incorporate Wassoulou singers into the lineup. The late Coumba Sidibe and Sali were among the first. The kamelengoni (young man's harp) had only recently been invented, a smaller version of the sacred donsongoni (hunter's harp). The kamelengoni was fast becoming a signature instrument in an effervescent, bluesy style of music that was coming to rival the Mande griot pop that had long dominated Mali's airwaves.
Sali Sidibe's powerful songs on two landmark CD compilations titled The Wassoulou Sound: Women of Mali (Stern's Africa, 1993 and '94) brought her to international attention, and two albums of her own quickly followed: Wassoulou Foli (Stern's Africa) and From Gao to Timbuktu (Shanachie). She began touring in Europe, but her career faltered after she and her band became stranded for months in Congo-Brazzaville, during a period of civil disobedience. The experience was devastating for her band, and when I met Sidibe in Bamako in 1995, she was rebuilding. She was also struggling with health issues, but showed amazing stamina and high spiritedness. She believed deeply in her own talent, her musicians, and God, who she said guided every step in her life. One of those musicians was kamelengoni player Harouna Samaké who began working with Sidibe as a teenager and remained loyal to her until the end. When Salif Keita came to recruit Samake, negotiations ensued, but in the end, she knew this was a great opportunity for a remarkably talented artist she had mentored for many years.
Sidibe and Samake enjoyed a rich period of collaboration. Seeing them lead her tight band through performances in Bamako, on grand stages and at street weddings, was always a thrill. Whatever challenges she faced in her life, Sidibe absolutely shone on stage, and her robust, authoritative voice and Cheshire cat smile always commanded one's full attention. It is a pity that she never made it to American stages.
Sidibe paid close attention to politics and often allied herself with political leaders, singing their praises in songs and reaping the benefits. When we last met in 2016, she was dusting off after having enjoyed years as one of President Amadou Toumani Touré's (ATT) preferred singers. By then, ATT had been ousted in a coup, and Ibrahim Boubacar Keita had been elected the new president. "I am connected to the powerful," said Sidibe, "even the new president, IBK. He's a friend of mine. But the fact is, we Wassoulou artists are not like other artists. We don't just follow everyone. We are faithful to people." This was Sidibe's way of distinguishing herself from griot praise singers, who tend to spread their praises widely. The suggestion was that her faithfulness to ATT was special, and while she might have been "friends" with IBK, there was no mistaking that she had paid a price professionally when ATT was deposed. "They went to war with me," she said, "just like they went to war with Amadou. This was pretty pitiful."
At that last meeting, Sidibe told me she had enough songs written to record five albums. Sadly, it seems that many of those songs have gone with her.