Aziza Brahim: The Voice of Western Sahara
The life and music of Aziza Brahim are inextricably linked to the story of Western Sahara, a land she calls home but has never lived in.
Western Sahara is a basically a small strip of land, 103,000 square miles (about the same land mass as the state of Colorado) – with its west coast along the Atlantic Ocean, Morocco to its north, a bit of its east bordering Algeria, and the rest of the eastern side sharing a border with Mauritania. Spain used it as a port for exporting slaves in the 1700s, and by the late 1800s it was officially a Spanish colony. In the 1970s, Spain was under pressure to relinquish its hold on Western Sahara by Morocco and Mauritania, who were each vying to incorporate it into their respective countries. At the same time, Spain's dictator Francisco Franco was hoping to establish a pro-Spanish independent Saharan government. Eventually though, in November 1975, the Madrid Accords were signed, splitting the land between Morocco and Mauritania, with no voice for the Sahrawi people. Six days later, the Spanish dictator died. Shortly thereafter, a three-way war broke out with the Polisario Front (the Popular Front for the Liberation of Saguia el-Hamra and Río de Oro), representing the Sahrawi self-determination movement – which continues to be the legitimate representative of Sahrawi people, and Morocco and Mauritania, the latter backing out of the conflict in 1979.
The war between the Polisario Front and the Moroccans continued until 1991 when a cease-fire was brokered by the United Nations with a promise of a referendum for independence. The cease-fire left Morocco in control of the majority of the territory, while the eastern edge became known as "the Free Zone" or "the Liberated Territories," controlled by the Polisario Front. The planned referendum never happened. The Moroccans built a 3,000 kilometer (1,860 miles), six and a-half- feet high wall along the border of "the Free Zone," known as "the Berm," fortified with barbed wire and patrolled by Moroccan troops. They also planted over eight million land mines in case anyone should get past the wall. Cut to 2000, and former U.S. Secretary of State James Baker took on the task as a special envoy to the U.N., trying his hand for several years to get the process of autonomy for the Sahrawis moving forward. In 2003, a plan was endorsed by the U.N. Morocco refused and Baker quit. Today, 28 years since the cease-fire began, the stalemate continues with really no end in sight.
While all this was happening, beginning in 1974, thousands of Sahrawis began heading en masse into Algeria, whose government was pro-independence and welcomed them. The first of several refugee camps was officially established a year later near the southwestern Algerian city of Tindouf,. It is estimated by the Algerian government that there are about 165,000 refugees now living in the camps, while the Moroccan government contends there are about a third that many. The camps are also the base of the Sahrawi Arab Democratic Republic (SADR) government. The number of Sahrawis living in "the Free Zone" was estimated to be around 30,000 in 2008, and the number living within the Moroccan-held territory is controversial, but probably well over 100,000.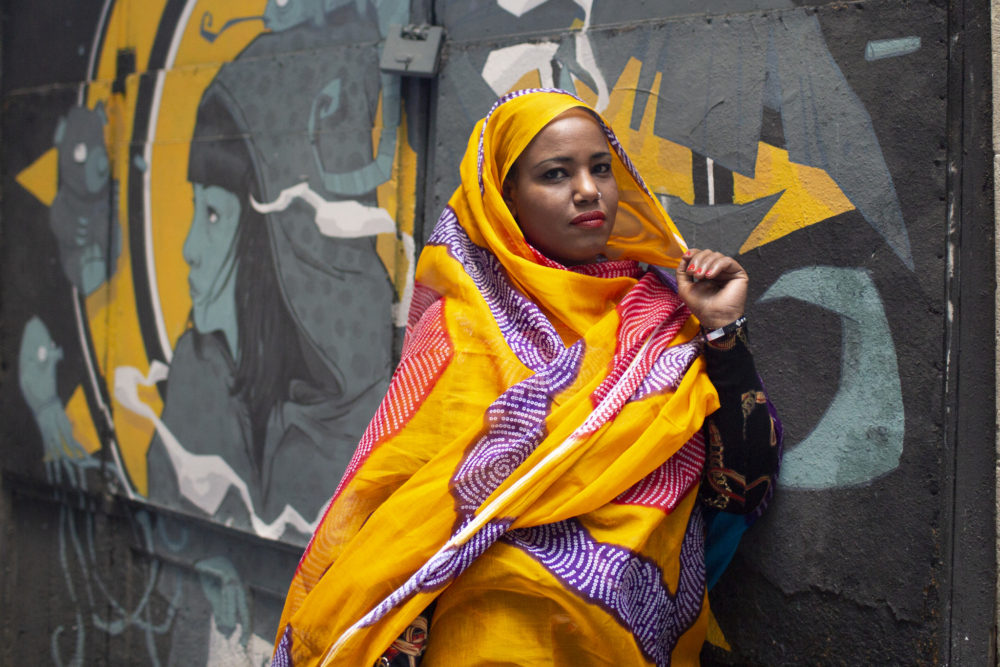 In 1975, a pregnant woman arrived among the refugees at the camp in Tindouf, and on June 9, 1976, Aziza Brahim was born. She would never meet her father, who died in the conflict. She has brothers in the Moroccan-held territory she has only been able to speak to on the phone with. Brahim, however, would spend much time with her grandmother, the poet Ljadra Mint Mabruk. Mabruk would become famous among the Sahrawis, given the moniker "the poet with a rifle," for her inspirational poems during wartime which were often recited to troops.

Speaking to QWEST-TV earlier this year, Brahim said, "When my people were still living in their country, her poems described nomadic life, traditions.… But when Morocco invaded the territory, my grandmother dedicated her art to the Sahrawi struggle, to testify and to give courage. She described the battles with such precision that it seemed as if she had been there, fighting on the front line. She was a very important woman for the oral transmission of our culture, an immense inspiration for me."
In another interview with the World Weekly in 2016, she noted, "[My grandmother] motivated me to learn music when I was a little girl and passed on her passion for creativity and ethical commitment to me. She would encourage me to create music for her poems and used to take me to her poetry readings. When I started creating my own music she listened to me. She has always been very supportive of my work."
Music and poetry thus became her passion and an escape from the hardships of life in the refugee camp. Along with many Sahrawi children of that era, at the age of 11 she was awarded a chance to go to school in Cuba. Being immersed in Cuban culture would later influence her music. Returning to the camp in 1995, Brahim began to get serious about wanting to be a singer, winning a local competition and touring Europe with a group of Sahrawi musicians. In the late '90s, she recorded with and performed on the Sahrawi National Radio, accompanied by Tuareg musicians.
Brahim moved to Spain in 2000 and struggled to make it on her own, at times cleaning shoes to make ends meet. In 2005, she worked with the Spanish ensemble Yayobo Latin Jazz, where, she told us, she learned a lot about the business of touring and managing a band. Two years later, she formed Gulili Mankoo, with a multinational group of musicians from Africa, Spain and Columbia. They released an EP, Mi Canto, in 2009 which rose quickly to number one on the emusic.com world music charts. Brahim also plays the Sahrawi traditional t'bal drum, which she also uses in her live performances.
In 2011, Brahim was nominated for her soundtrack at the Goya Awards (the Spanish equivalent of the Oscars) for the Spanish feature film Wilaya (Tears of Sand), and went on to win Best Original Soundtrack at Malaga Film Festival. She also acted in the film, which is set in the Sahrawi refugee camps.
Wilaya Film Trailer
In 2012, she released Mabruk, an album dedicated to her grandmother, featuring several songs she composed with lyrics from her grandmother's poems. Her next album, Soutek, came out in 2014, on which she took an acoustic turn.
It was followed by Abbar el Hamada (Across the Hamada) in 2016, coproduced by Chris Eckman, who has also worked with Bombino and Samba Touré (who guest stars on the album), and dives into a more desert blues vibe.
Brahim typically sings in Hassaniya, her native Arabic tongue, but also sometimes in Spanish. And mostly, her songs speak of her people's struggle and their continued hope for a resolution that will allow them to return to their home. Her music continues to grow and explore new sounds, blending the traditional and modern, Spanish guitar, Tuareg blues and African rhythms. Brahim currently resides in Barcelona with her husband and three children. On her new album, Sahari, coming out in November, Brahim coproduced with Amparo Sánchez, from the Spanish group Amparanoia, and together she has begun to experiment by introducing electronics, programming and keyboards into her music.

We caught Brahim live at the Reeperbahn Music Festival and Conference in Hamburg, Germany in September. The packed crowd at the Nochtspeicher Club was totally enthralled by her performance. A couple of days later, we sat down with Brahim, speaking via a translator, before her show at Berlin's YAAM Club.

Ron Deutsch: Let's start with the current situation in Western Sahara. There seemed to be some talk of possible movement towards a new resolution earlier this year, but it seems to have stalled again. Can you talk about what's happening?
Aziza Brahim: I see a few different things that are changing for the people back home. Food and rationing, for example. It's getting worse and worse. Basically, the people are still surviving in the camps, because of the NGOs being there. The main problems right now are lack of food and drinking water. Also diseases in the camps are a problem because they aren't able to get enough medication and people are not able to be treated.
Basically, 20 years ago the United Nations came down to Sahara and talked the Moroccan government into giving some authority to the people living there, but they have neglected to follow through. There's still hope, but nothing has changed in terms of autonomy. The situation has been stable, but in a bad kind of way, in terms of nothing has moved forward. This is because all the big actors like the Moroccan authorities, the U.N. and the E.U, none of them seem to care much about what's happening. So it hasn't changed for the better.
I've read that it can get above 120 F degrees in the camps.
Yes, yes. During the summer this year, people couldn't do anything for most of the day. It was a really hard thing to do anything because of the heat.
It terms of ending conflict with Morocco, do you believe that the core of the problem is about possession of natural resources? Specifically, phosphate?
Yes. The Western Sahara is like the biggest producer of phosphate in the world, but also it's the third largest fishing bank in the world. Morocco is just doing whatever they want to do there, and the European Union knows about it. They say they shouldn't do it, but they don't employ any kind of big force on Morocco to not do it.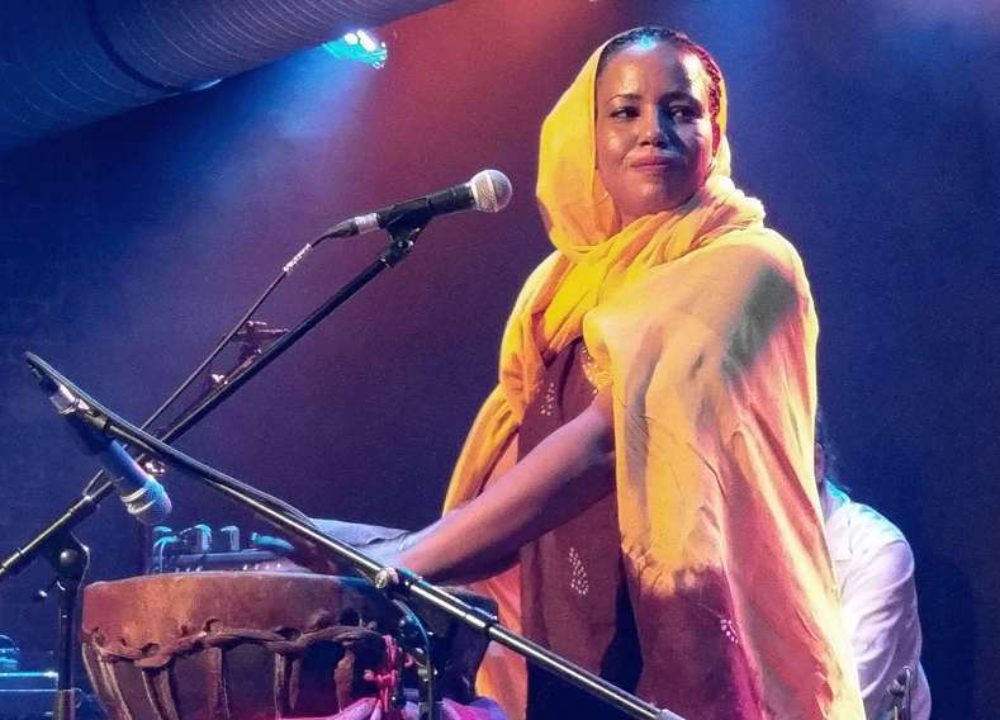 Over the last couple of decades, there has been a massive migration from many parts of Africa due to politics and climate change. You talk of how you sing of the plight of the refugees in your country, but now also I wonder how you feel connected with this wider diaspora.
The fact is that human rights should be proclaimed everywhere, but I've found over the last decades, I feel, that humanity is changing into inhumanity. People don't really care too much anymore about what's happening.
When I write my songs, the first thing I think about is my own life – growing up in the camps, living in exile. Then I try in the music to be a voice of the people still living in exile, and combine that into the music which is a way of spreading your words in a much bigger way than just writing letters.
For example, on this new album, Sahari, there are songs about my personal exile, but also will include the personal stories, voices of my ancestors and those living in exile. I try to capture the feeling of longing that my elders express for the land that was taken away and for their past life in their country. But I know it's not just us; there are currently 70 million people forcibly displaced in the world – 26 million of them are refugees. Music and putting strong content into the music is what I feel is the main thing I can do to make their voices heard, not only for my people, but for all the refugees in the world.
Speaking of the new album, you are starting to integrate electronic music now. That seems to be very popular right now with music from Africa. Besides the obvious desire to stay relevant, how were you able to introduce it and still keep it connected to the traditional?
Because my music has to keep evolving in some kind of way, as well, and people are looking for new things, my music cannot stand still. It was a very hard process for me to combine these new electronic sounds into my music, because I just wasn't used to it. But together, with Amparo Sánchez, of the band Amparanoia, we tried very hard to have a very organic kind of symbiosis of my traditional sounds and bringing in these new sounds, bringing them together into a kind of harmony.
Amparo is an artist I've always admired and she was involved from the beginning, which is why I think the music came together quite well – because we had the time to get it together.. She suggested introducing the electronics, and that meant recording in a different way. Before, we'd record everything live. This time we all worked in different studios then put the pieces together. Amparo and I tried to find the way to actually get the electronic parts into the music and combine both the new and old. It was a very difficult job – scary, at first – but a very interesting challenge to work in a new way, yet make your own songs sound exactly as you want.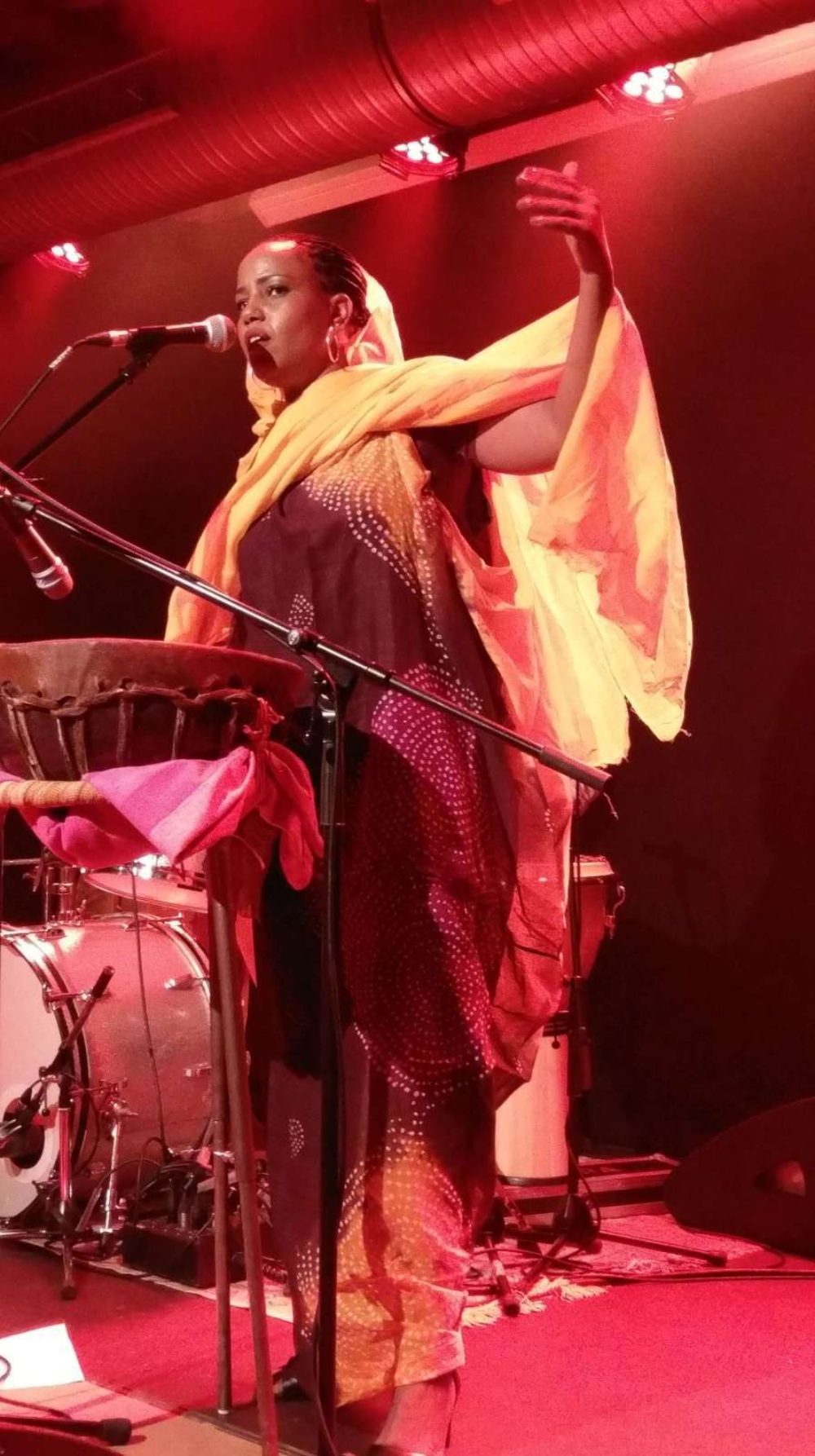 We haven't been playing the new songs yet on stage. Though last night [in Hamburg] was the first time we introduced one of the songs from the new album. Once the album comes out, we'll be ready and comfortable to play all the new songs.

I want to ask you about what happened in Paris earlier this year. I read that you were to play a concert there, but it was reported that it was canceled after pressure from the Moroccan government. Do you mind talking about that?
For the last few years, I've been persecuted by the Moroccan authorities – not just in Paris, but a few other concerts that were also canceled. One in Helsinki, for example, the Moroccans put so much pressure on the Finnish authorities, but they let some others happen. And this has also happened regularly elsewhere. We had a tour of Belgium last year, and while no shows were canceled, every performance place, every concert hall, every local authority – they all got phone calls from Moroccan authorities asking to not have the concert go on.
It means a lot to me because it means that the things that I am writing about are the truth – and Morocco doesn't want the truth to be known – and that's why they've put on a lot of pressure. It means there is some recognition that my songs are still being very truthful.
As for the gig in Paris, we were supposed to play at the Arab World Institute Museum (Institut du Monde Arabe), and so Morocco put on pressure saying that if they didn't cancel the concert, they would not get any financial aid from them anymore.
You've been able to honor your grandmother, the great poet, with turning some of her poems into music. And she got to see you sing and become known. I'm wondering about your own family, your children. Are you able to pass on this passion for music and Sahrawi independence to them?
First, I am very proud of my grandmother for all she was and all she did. When I was very, very small, my grandmother took me to poetry recitals, so I really felt even as a child that music and/or poetry might be something for me to do as well.
My eldest daughter is now 23 years old from an earlier marriage. My other two – one is 13, the other 5. All of them have a very large knowledge of music, in general, and I try to reflect what I am doing and interested in back to them. They are very proud of me, but it's also hard for them to have their mom gone, as I'm often gone two or three weeks on tour.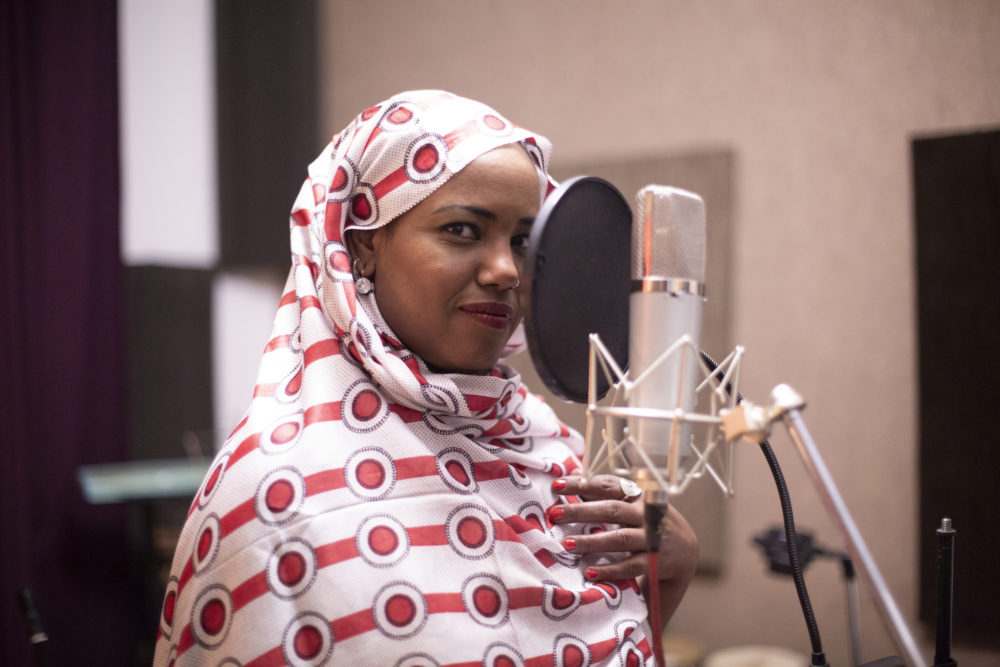 Have you taken the children back to the refugee camps?

My eldest daughter was born in the camps and she comes and goes regularly. The 13-year-old, we went back a couple of years ago. The smallest, who is a boy, is already asking to go, but we haven't gone back yet.
Living as you are in Barcelona, beyond how it manifests in your music, how does living in exile affect your personal day-to-day life?
I am very grateful for my life, but it's really a hard situation. I've had to fight for every place I gotten to. But I've received such a great welcome and made to feel at home – every city or country I've lived in took in me and treated me well. And now I've actually found a really good place to live.
And in my songs, I know very well that I have to be very grateful for my life, and I feel I have to do everything in my power to be able to help the people get back home.
Let's talk about your band, especially your amazing guitarist Ignasi Cussó. How did you find each other?
I've known Ignasi for many years now, since 2012. At that time I was living in the north of Spain and going back and forth to Barcelona. I had stopped making music and a friend of mine introduced us and we got along really well from the beginning. He's an amazing musician and beautiful human being too.
When I realized he was going to be the guitarist in the band, I would play him tracks of Tuareg music, like Bombino and Tinariwen. I wanted his own guitar sound, but also with this kind of African sound. He's such a versatile musician that he was able to do this. He's actually a professor of guitar at one of the best schools in Barcelona, and he's got also a very technical background as well.
I'm very grateful that I've been able to work with three amazing artists. Aleix Tobias is a really well-known percussionist in Catalonia. He has his own group with over 10 percussionists who perform as well. He also specializes in African rhythm. The same with Guillem Aguilar, the bass player, who is very special and talented.
Anything else?
You asked all the right questions. Gracias.