Bahamas Junkanoo Carnival
Bahamas Junkanoo Carnival
combines hundreds of years of musical tradition with a relatively new carnival celebration. This carnival happens in May, off-season from other carnival pre-Lenten February celebrations. The festival gives visitors to this Caribbean island nation a chance to not only experience traditional Bahamian culture, music and food, but also enjoy some of the modern manifestations of the music scene, as well as the opportunity to "jump up" and parade with one of the "road fever" companies that march in the streets of Nassau on Carnival Saturday. The Bahamas has a rich musical heritage for a relatively small country (population 320,000 in 2014). One of the major traditions since before 1834, when slavery was outlawed in the former British colony, is
junkanoo
, celebrated annually on Boxing Day (Dec. 26) and New Years Day (Jan. 1). While the origin of the term is under dispute, the most accepted version is that the word junkanoo comes from the name John Canoe, an African prince in the 17th century, who was a hero to the slaves. [caption id="attachment_29515" align="aligncenter" width="600"]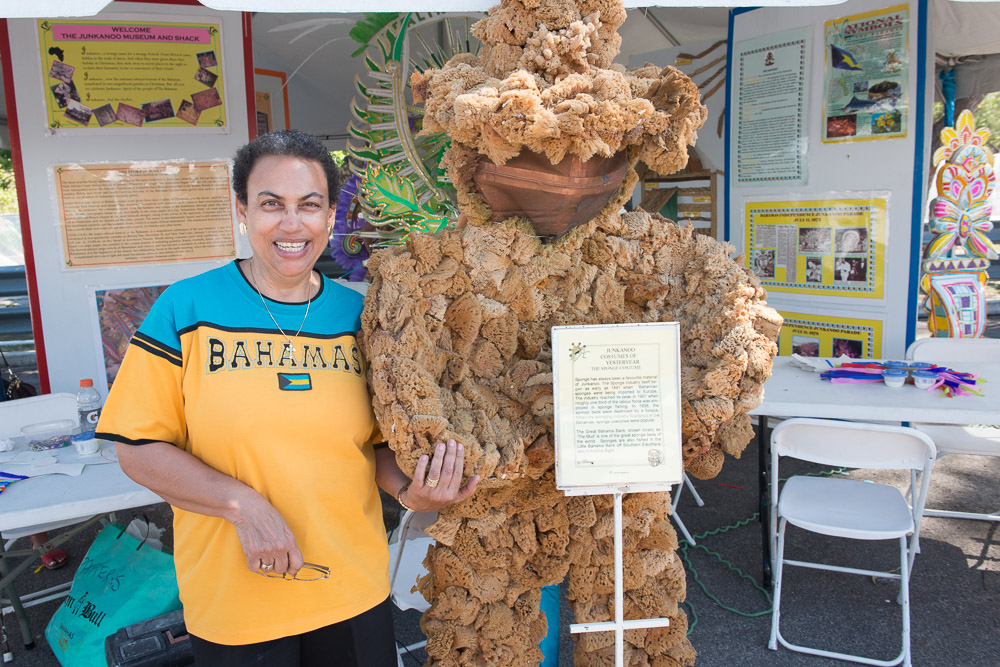 Arlene Nash Ferguson at the Junkanoo Museum displays a traditional costume made of local sponges at Da Cultural Village. All photos © Jason Gardner.[/caption] Says Arlene Nash Ferguson, director of the Junkanoo Cultural Museum in Nassau, "Junkanoo is a uniquely Bahamian festival that originated in the Bahamas, brought by enslaved Africans. They were granted three days holiday at Christmastime along with the rest of the colony. And they stole away under the cover of night to celebrate their history and their heritage and the fact that they had survived. So junkanoo really started as a form of resistance to slavery. They were reinforcing their humanness in the face of a very cruel and evil system that in some cases didn't even define them as human beings. Junkanoo was born out of the spirit of survival of the people of the Bahamas who found themselves transplanted here from West Africa. It is a compilation of a variety of West African festivals." Musically, junkanoo utilizes brass (trombone, trumpet, cornet), drums (tom-tom, bass drum), extremely noisy cowbells with clappers inside, metal oil-barrel drums with goatskin heads, and piercing whistles behind dancers in elaborate costumes who parade in formations of hundreds at once. Foghorns, bicycle horns, bugles and the conch shell's trumpet blast, in slavery times used as a signal heard across the island, are incorporated into the wall of sound. Reminiscent of a mix of New Orleans second-line shuffling and West African ritual procession, the whole group marches down the street to a rhythmic and infectious beat. D Mac, a young Bahamian star, told me, "Anywhere junkanoo is, if it plays--I don't care where it is--you have to move. If you don't move, you're either deaf or you're dead." As Wyclef Jean put it, "If you put yourself inside of a junkanoo parade as it starts to move, 10-15 minutes you are in a trance."
[See Afropop's interview with Wyclef Jean here.]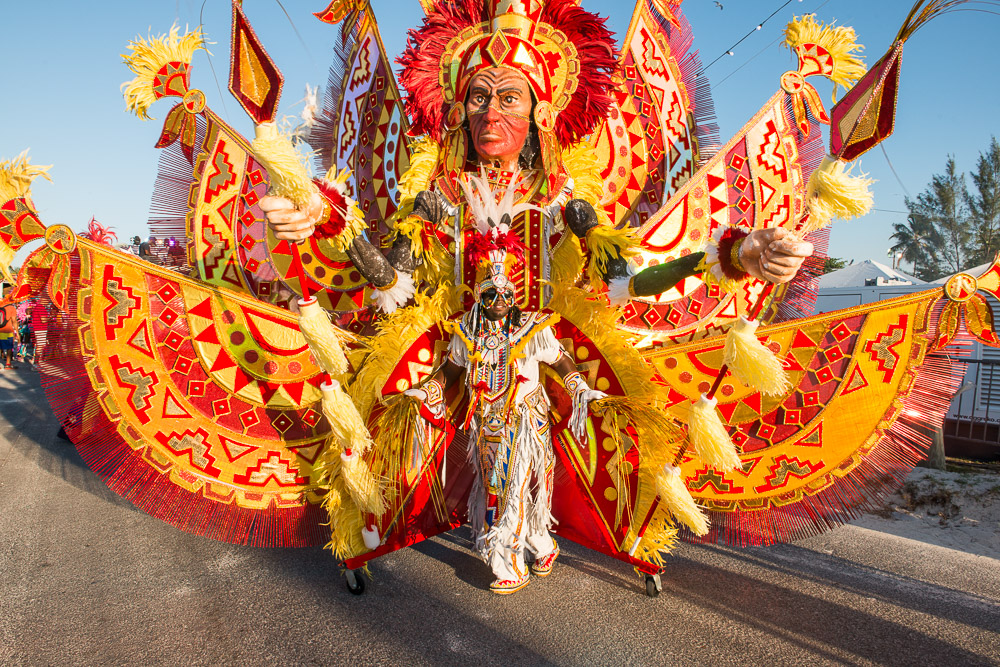 Costume designs are fiercely guarded secrets, as every year a new design must be rolled out "on da road" when the junkanoo goes for its "midnight run," sometimes featuring towering displays 15 to 20 feet high. The main center for the Bahamas junkanoo carnival activities is the Cultural Village on Arawak Cay. With palm trees lining the bay and a stunning beach in the middle of the city, the area features a main stage and a large area for the public with over 40 local vendors of Bahamian cuisine and drink. You can get many varieties of the local delicacy, conch—conch chowder, "cracked conch" which is a fried dish, and conch salad served cold, reminiscent of
ceviche
. [caption id="attachment_29505" align="alignleft" width="300"]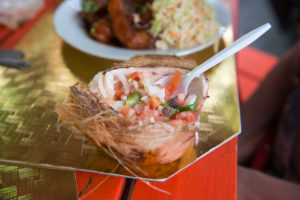 Conch salad in a coconut shell, at the "Fish Fry" waterside restaurant row, Nassau.[/caption] Also on hand is spicy and sweet jerk chicken, grouper, shrimp, among other seafood. You can wash it down with a cold local beer, Kalik, or the infamous frozen cocktail Bahama Mama (or Bahama Papa), or the aptly named Sky Juice (served "leaded" or "unleaded"). Be careful, because Bahamians like their drink very, very strong, and if you have a few drinks you'll feel it, a few more and as you reel and pass out, you'll understand why the locals would say you're "bus'up" (busted up). Much of the Bahamian musical tradition was on display for the kick-off Junkamania concert of Bahamas Junkanoo Carnival weekend, on Thursday night, May 5, held at Da Cultural Village. There are full junkanoo orchestras playing the raucous brass sound on stage, pop music of soca and reggae borrowed from Caribbean neighbors Trinidad and Jamaica, and the indigenous "rake 'n scrape" groups, producing a sound made from combining scraping simple instruments like saws over the percussive rhythm of goatskin drums. [caption id="attachment_29506" align="aligncenter" width="600"]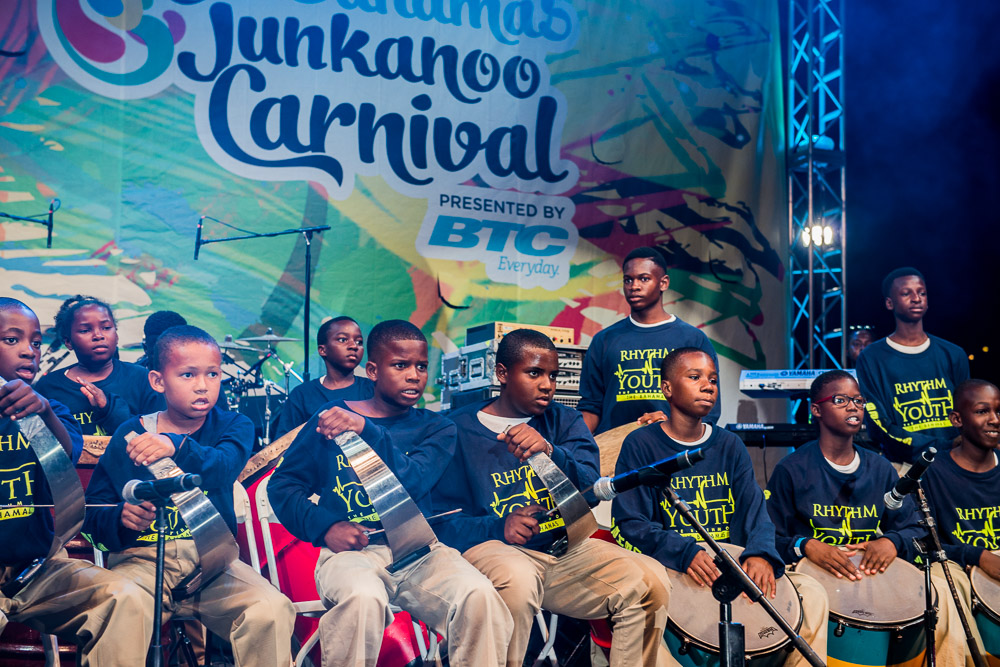 Rake 'n scrape at the Junkamania, Thursday night at Bahamas Junkanoo Carnival.[/caption] According to D Mac, who is known for combining rake 'n scrape with modern rhythms, "Rake 'n scrape uses the saw and the goatskin drum, while junkanoo uses goatskin drum and the cowbell--the rhythms are different. Junkanoo is more rhythmic, and rake 'n scrape is the musical side of the Bahamaian sound. What I do is fuse them together, and create this junka-rake 'n scrape type of sound. We also have now junka-pop, we have reggae infused into it. The sound is so exciting, it's new." [caption id="attachment_29570" align="alignleft" width="300"]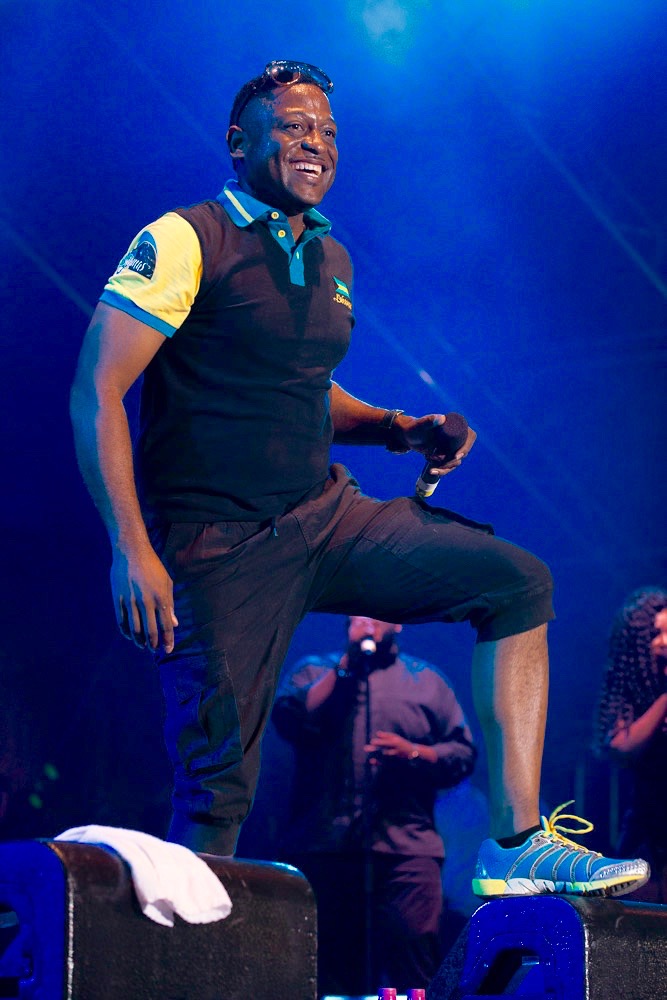 Local Bahamian star D Mac at Friday night's Music Maker concert.[/caption] The Music Maker concert Friday night, May 6, featured local Bahamian groups who fuse traditional rhythms with pop, all vying for the top prize which includes $20,000 cash and a record deal with Sony Music. Whipping up the crowd to dancing, mixing favorite songs with soca and calypso were acts like Sammi Starr, Lady E, Terrelle Tynes Wilson, Fanshawn Taylor, Lady Destra and Bakanal the Band, Jive, and Ebony. Then local favorite rake 'n scraper D Mac "jumped up" on stage, his infectious positive rhythms and Bahamian poetry and verse bringing a new heat and energy to the audience as he sang the Junkanoo Carnival theme song. After the stage turnover, the headliner Wyclef Jean came out in full junkanoo regalia for his first song. Earlier he noted he feels a special connection with the Bahamian people, saying, "I'm just a child of the Caribbean in general. From when you get off the plane, the energy, the people, the love, it's just so warm. When I show up in the Bahamas, I'm coming home as if I was in Haiti." Wyclef really seemed to enjoy playing for the Bahamian crowd, pulling out old Fugees songs, some local carnival tunes, Caribbean soca and reggae songs, switching between electric guitar, synthesizer and vocals. He strove for a connection with the people, at one point jumping off the stage and walking in the crowd, standing on a barrier to rap directly to the audience. He climbed to the top of the third-story rigging and sang out from that vantage point, as the crowd roared in approval. He brought a group of junkanoo musicians and dancers on stage and jammed with them. As the evening wore on, he kept saying, "They are telling me my time is up. I'm still not done. I'm not going anywhere!" [caption id="attachment_29575" align="aligncenter" width="640"]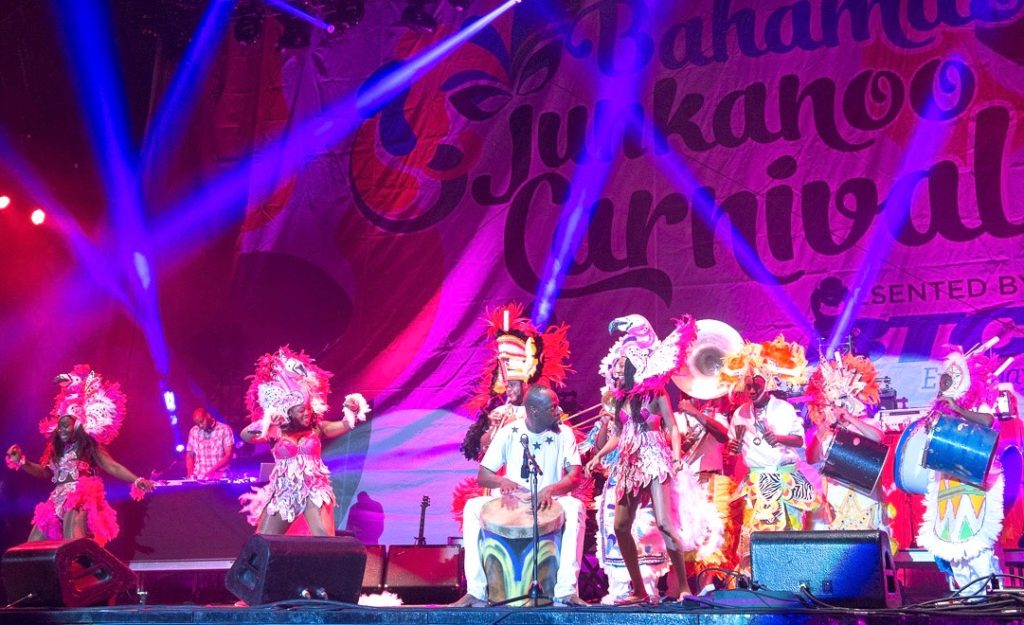 Wyclef Jean celebrates the spirit of carnival at the Bahamas Junkanoo festival.[/caption] Earlier, when discussing junkanoo, Wyclef told me, "It's a celebration of Africanism, and it's a celebration of heritage. So what you're seeing… it's a celebration of raw material, like spirituality, y'know? At the end of the Music Maker concert, the prize winner was announced, with an outpouring of support from the audience: Local favorite Fanshawn Taylor won with her performance of the song "Digg Up the Road." [caption id="attachment_29511" align="alignright" width="200"]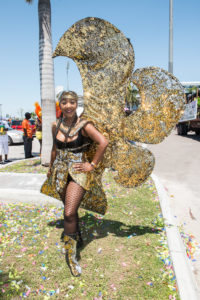 This Carnival partygoer hails from Grand Bahama Island, wearing a distinctive bird-of-paradise costume.[/caption] The next morning, May 7, was Carnival Saturday, which found participants trickling in after a few hours of rest to gather with their road fever companies in the parking lot of a local stadium. Costumes consisted mostly of bikinis and feathered headdresses for the ladies, and tribal or pirate themes for the guys, with some exceptions including a sparkling gold bird of paradise from Grand Bahamas Island, a British monarch, a Spanish conquistador, and a homage to the late musical genius Prince. [caption id="attachment_29512" align="alignleft" width="203"]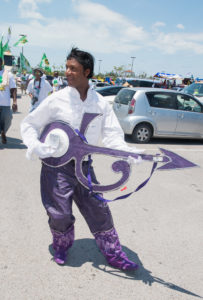 Carnival homage to the late artist known as Prince.[/caption] Ms. Ferguson added, "Even in this modern carnival you see the traditional straw costumes. One of the purposes of the introduction of this carnival was to stimulate small Bahamian businesses and native enterprises. So the carnival companies were encouraged to use indigenous materials in their costumes." [caption id="attachment_29513" align="aligncenter" width="667"]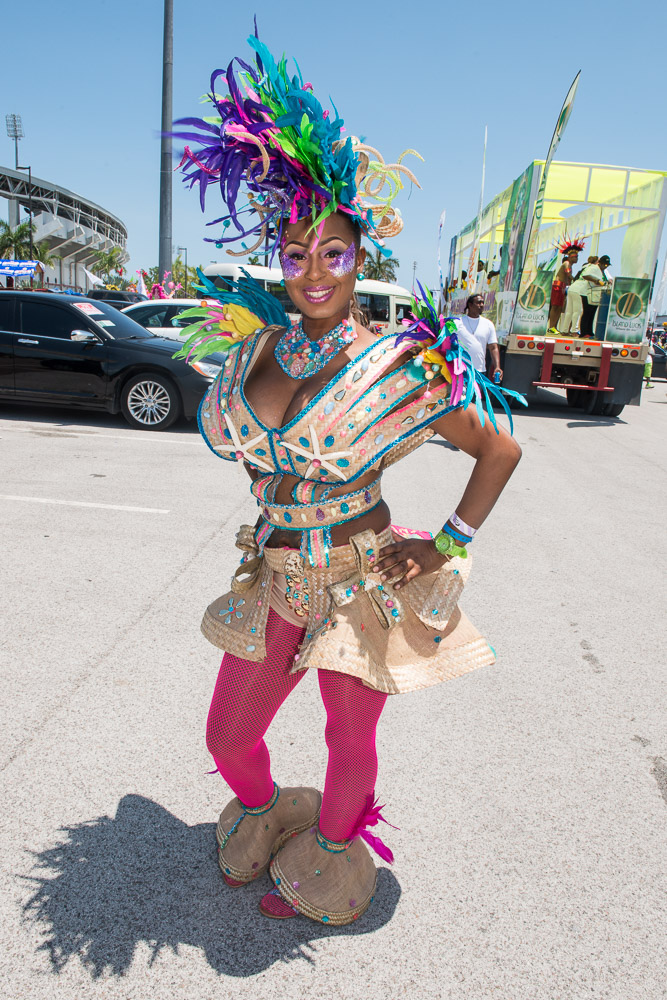 Traditional straw costume from Bahamas.[/caption] One of the larger road fever companies, Masqueraders, had over 700 participants last year, and were predicting an increase in participation this year. Their theme this year was Guanahani, the native name for San Salvador, an island in the Bahamas that was the first land in the New World sighted and visited by Christopher Columbus' first voyage (
Wikipedia
). Masqueraders is one of the few road fever companies with fashion designers who help to design the costumes. For example, this year David Rowe designed the "fallen angel" theme for the men, with black feathers cascading from the back in an angel's wings pattern. [caption id="attachment_29507" align="alignleft" width="300"]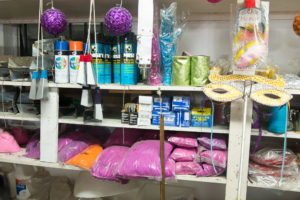 A scene from a Junkanoo costume shop, Barrabas Junkanoo group, Nassau.[/caption] With last-minute adjustments to their costumes, with friends either applying makeup for them or utilizing the impromptu professional makeup stands created out of car trunks or fold-up picnic tables, the paraders started to amass around and behind the flatbed trailers which house the D.J., sound system, mobile bar, and most importantly the 20-foot-high speakers blasting carnival rhythms in the noonday sun. Taking inspiration from costumes from the better-known carnivals such as Trinidad, and trucks from the
bloco eletrico
style from Brazil, Bahamian partygoers stay true to form, drinking various strong beverages to power up for the more than five-mile march "on da road," as they parade through the neighborhoods of Nassau. [caption id="attachment_29519" align="aligncenter" width="600"]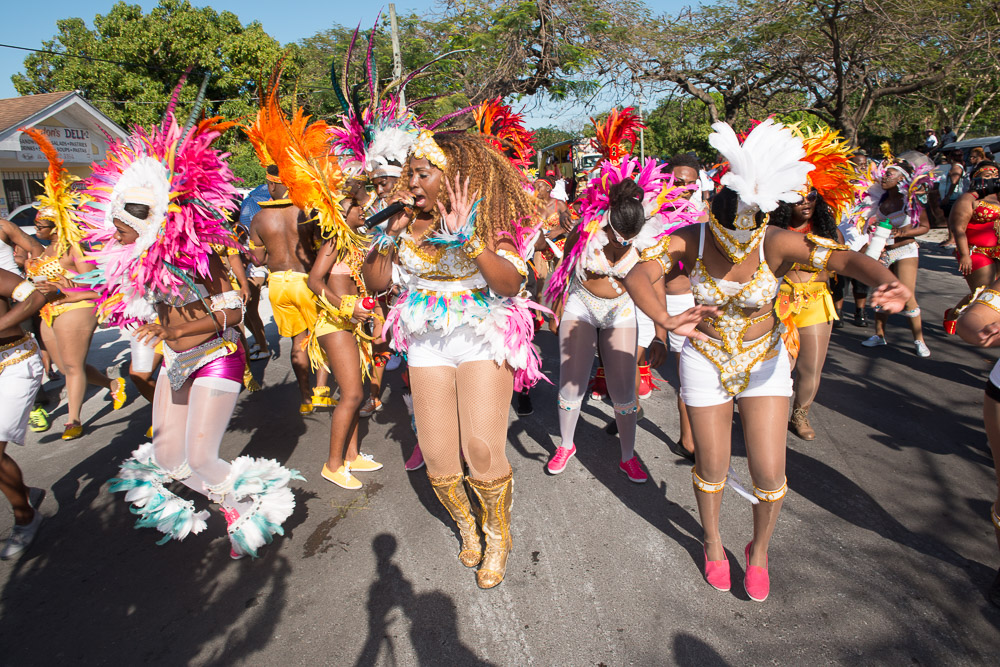 Lady E sings and marches directly on "da road" with a road fever company during Carnival Saturday.[/caption] Each road fever company organizes itself by costume, category or theme, but that organization usually happens on the streets, right at the end of the route, when they are about to walk in front of the judges' pavilion. Before then, it's a chance to party, have fun with their friends on the street, dance to the pounding music from the truck's speakers, put out by a D.J. deck or often, live singers on top of the trucks exhorting the crowd to "Jump up!" Lady E , who performed the previous evening, chose to sing and cavort directly on "da road" with the road fever partygoers, enjoying that direct connection. The road fever parade passed through the judge's grandstand, arriving at "Da Cultural Village," for a rest and a drink before the "Aftermath" concert featuring Bunji Garlin, Willis and the Illest Band, and Taurus Riley. "I think Saturday night was the most extraordinary. We probably had 20,000 people at the concert. People arrived out there at 1 a.m. trying to buy tickets," said Bahamas National Festival Commission Chairman Paul Major. While the festival was very well attended, and overall the event seemed adequately organized, clearly there were some growing pains in this second annual event. The biggest question: Where was the junkanoo? The event is called "Bahamas Junkanoo Carnival." There wasn't much traditional junkanoo during the actual parade. At one point, I was told it was for pragmatic purposes, since the junkanoo costumes are so large and heavy, it doesn't make sense for them to join the whole parade route, and they'd be joining at the end. And, yes, there were hourly "runs" where the junkanoo bands would do mini-parades with groups of 10 or 20 for some minutes around Da Cultural Village, but they were largely to give the tourists a brief taste of the junkanoo. There's a bit of a clash between those who fiercely guard the junkanoo culture, and those who want to expand the reach of the carnival concept in the Bahamas. I first got a taste of this disconnect when trying to arrange an interview with one of the top junkanoo groups, receiving a terse email that they would not be participating, and adding, "Junkanoo is the premier cultural expression in the Bahamas, NOT carnival." It turns out that most if not all of the category A (200-plus participants) and category B (under 200) junkanoo groups were not participating in the carnival, except for brief demonstration runs at Da Cultural Village, and some regularly scheduled performances at the beach resorts for tourists. [caption id="attachment_29509" align="alignleft" width="200"]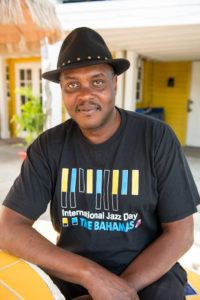 Chris Justilian, one of the artistic directors of Junkanoo B category group "Colors"[/caption] For the traditional junkanoo groups, there's a lot of investment of time and money for a handmade costume and to practice their instruments. Chris Justilian, director of the junkanoo B category group Colors, explained: "The way that it is now, we spend a lot of money and there are very little rewards in the end, a lot of people do it for the love of it. It's a huge commitment for the ones in the shack building the costumes." Quinton Woodside, leader of the "Barabbas Tribe" carnival group, pointed out, "Traditional junkanoo costumes were built from over 5,000 sheets of paper, which are cut then glued to cardboard, one at a time. Then we use wire structure and crepe paper. It takes two or three days at the least to make a simple mask, which probably costs at least $500." Justilian continued, "That's something that the carnival is taking away from—because when you spend time to develop and build your costume, and you don't just go and pay for it, it's a big difference. It takes some time, some sweat. It's a personal investment. That's one of the major differences between carnival and junkanoo. "And the other thing with junkanoo is that we do our own music. It's not like carnival where they put the records on their truck with the blaring speakers. Junkanoo is: I'm beating my drum, blowing my horn, and performing that instrument. "When the new carnival concept was brought up, I thought 'what a wonderful idea--we can model something after junkanoo using different materials, but using the same concepts really, of having the instruments, the dance, music, the culture, and done in a way where it could be economically viable, such that visitors could participate.' For my group that was a welcome opportunity." When Justilian saw that the many of the carnival groups were just modeling after Trinidad's carnival: "The music, the style of costuming, everything was just transplanted, and they just brought it back and they made very little change to it. For me that was unfortunate and quite disappointing. But, like we say, 'it is what it is'." [caption id="attachment_29521" align="aligncenter" width="600"]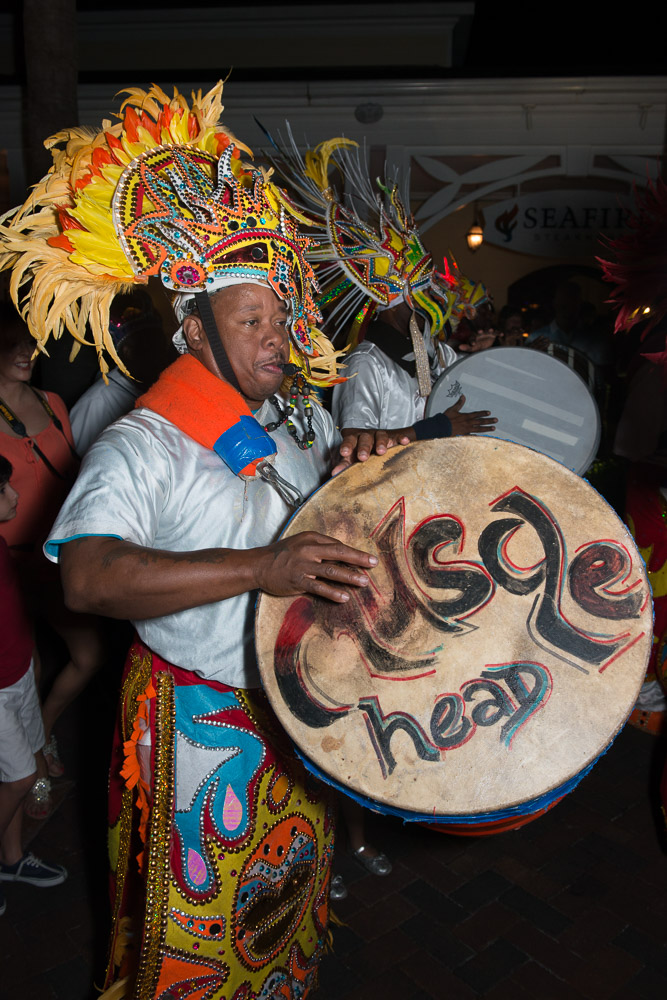 A member of the Marina Village Junkanoo group plays the tom-tom drum at a performance at Atlantis Island resort, Nassau.[/caption] For such a young carnival, the Bahamas has a lot going for it: a naturally stunning setting, great food, warm and friendly people, and a longstanding cultural tradition. There are some growing pains, and some issues to work out vis-à-vis culture vs. commerce. Their challenge is clear: how to appeal to a growing audience both at home and abroad, while maintaining their unique cultural identity. It should be quite interesting to watch.
Jason Gardner is a photographer, journalist and book publisher. Under his imprint, Visual Anthropology Press, he recently published 
A Flower in the Mouth
, a book of photography and writing about the culture, music and rituals of Carnaval in Pernambuco, Brazil. Jason has also branched out to photograph other manifestations of festivals in the Dominican Republic, Trinidad, New Orleans, Cajun country in Louisiana and Brooklyn, New York.
All photos © by Jason Gardner. http://www.jasongardner.net/