Baobab Guitarist Barthelemy Attisso Has Passed Away
Composer, songwriter, co-founder and lead guitarist for Senegal's legendary Orchestra Baobab, Barthelemy Attisso passed away on Aug. 29, at the age 76, at his home in Togo.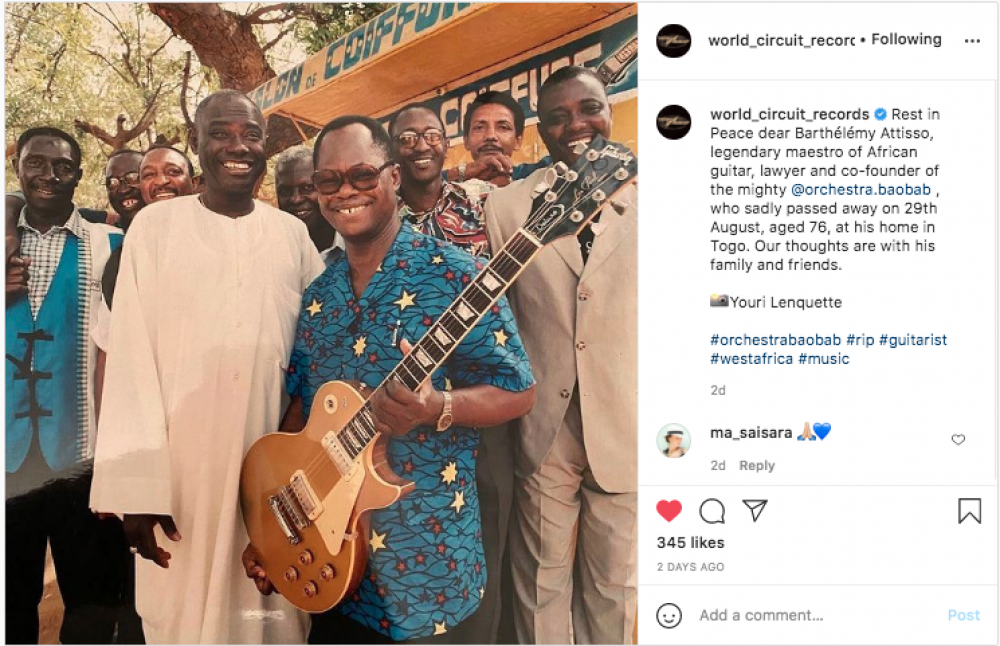 Attisso moved to Dakar in 1966 as a student. He was, as he puts it, "forced," to be a musician, because he needed to work at night and leave his days free for studying. With a book, a guitar and a methodical approach, after a few months, he tried rotating into various nightclub bands as an accompanist. When the owner of the Miami Club needed a soloist, Attisso took a leap, and there met members of the famous Star Band. When Adrien Senghor came looking to poach members of the Star Band to form the house orchestra at the new Club Baobab across town, he took Attisso. Along with percussionist Balla Sidibé and singer Rudy Gomis, and with saxophonist Issa Cissokho and singer Laye Mboup, they became the Orchestra Baobab.

With Baobab, Attisso wrote songs heavily influenced by Cuban son and charanga, but which also reflected the band's home in Senegal, with drumming and harmonies from southern Senegal, and Wolof singing from the north, and influences that band members brought from across West Africa and the Sahel. The band dabbled in salsa, tango, and rumba.
Attisso's guitar playing is a standout through it all, from fuzzed psychedelic wah-wah pedal adventures of the band's early days to its later tender ballads. Influenced by Congolese giants like Franco and Tabu Ley Rochereau, jazz guitarists like Wes Montgomery and Django Reinhardt, and other musicians like saxophonist Manu Dibango and organist Jimmy Smith, Attisso embodied the band's "specialist in all styles" philosophy.

"Barthelemy Attisso has made a synthesis of all the music he has played on the guitar, from all over the world, from all the guitarists who have played from the 1930s right up to the year 2002," fellow Baobab guitarist Latfi Ben Jaloum told us in a 2002 interview. "He has worked on the styles of nearly all the guitarists who have emerged during that time, whether its Charlie Christian, Django Reinhardt, or whoever. Many guitarists have influenced Atisso, so he gives this touch of jazz that is often commented on...He gives Baobab something that is fundamentally different from mbalax music."


When the band went on hiatus in the late '80s, Attisso returned to Togo and finally practiced law as he had planned. When the band came back in 2002, Attisso dutifully dusted off the old guitar and found he needed to relearn how to play, a story he relayed in our 2020 program "The Story of Baobab."

Attisso retired back to Togo before the band recorded 2017's Tribute to Ndiouga Dieng.