Barbados Independence Week Roundup
Any concert MC knows that a good way to kill time between artists is to take an audience census: "Who here is visiting from out of town?"
That unscientific polling indicated that a lot of expats returned to Barbados in late November for the celebration of the country's 50th anniversary of independence. At the three concerts I attended, visitors either rivaled or outnumbered locals. One thing both residents and returning expats had in common was a disregard for the TV public service announcements claiming it was prohibited to reproduce the Barbados flag on articles of clothing.
The many events over Independence Week celebrated Barbados' musical legacy, with everything from the traditional tuk band to gospel to the newest bashment soca on offer. But I was especially interested in hearing spouge, the reggae-calypso-funk hybrid which took the island by storm in the '70s before mysteriously fading away, and which is rarely performed live.
The first spouge event was a concert at the National Stadium in Bridgetown headlined by Wendy Alleyne, the undisputed spouge queen. With her band the Dynamics, she cut a long string of records in the 1970s that became pan-Caribbean hits thanks to distribution from Barbados-based WIRL, the West Indian Record Label. While other spouge artists frequently covered American hits, Alleyne often recorded originals penned by her bandmate Michael Grosvenor and master Bajan songwriter Sach Moore.
After the demise of spouge Alleyne became a staple on the cruise ship circuit. Now Chicago-based, her Barbados appearances are infrequent and highly anticipated events, and this one drew several thousand patrons to the National Stadium. Since structural problems have rendered the actual stadium seats unsafe, folding chairs were placed on the stadium ground in front of the stage.
The first half of the show was what Bajans call a "back in time" revue, with a mix of veteran and younger artists doing short segments backed by a spectacular 15-piece house band led by keyboardist Lowery Leon. Master percussionist Wayne "Poonka" Willock, who appears in our Afropop Worldwide episode discussing tuk band music, played the signature spouge cowbell and added some extra flavors with his timbales.
Among the vintage artist highlights was another spouge-era female star, Carolyn Leacock, singing her classic "Hello There Baby," a stirring version of Jimmy Cliff's "Many Rivers to Cross," and Richard Stoute's hit take on the soul song "Any Day Now." Desmond "Fowl" Weekes of the Draytons Two did their iconic "Drink Milk." (Sadly the duo has not performed together in several years and Weekes and his longtime partner Lew "Zorro" Drayton appeared at separate events during Independence Week.)
https://www.youtube.com/watch?v=914JuJ9vNtY
The night wasn't all oldies. The versatile Ian "iWeb" Webster sang his Cropover tribute to Bajan artists, songwriters and producers, "Big Up," which includes shout-outs to many of the artists featured in our program, with "the biggest big-up to Ri Ri." Aziza, who recently became the first female Bajan artist to win the Cropover Calypso Monarch contest, delivered the patriotic "One People One Nation," whose earnestness may surprise those who associate calypso with humor or sharp political commentary.
After an intermission it was star time with Alleyne performing a lengthy set of her hits like "Stand By Love," "He's So Fine," and "Can't Control My Emotions." All those years on cruise ships have only improved Alleyne's phrasing and given her voice an added depth. It's not hard to find easy listening in the Caribbean and Alleyne's set included Melissa Manchester's "Midnight Blue" (a huge record for Alleyne) and Berlin's "Take My Breath Away" from the "Top Gun" soundtrack. Aziza was brought back to the stage for the soca/calypso of "All I Want Is Music." After the show, audience members flooded the backstage area to take photos with Alleyne. She last performed in Brooklyn in 2010, so it was welcome news to hear from Alleyne's promoter Andre Craig that efforts are being made to bring her show back to the U.S.
https://www.youtube.com/watch?v=jz5fxaYSfm8
Saturday brought more oldies thanks to the only Independence Week event that put spouge front and center. The Barbados Spectacular featuring the Legends of Spouge was organized by Mary Yearwood, a Barbados native who now resides in New Jersey and publishes the Bajan Diaspora Online magazine. Despite a lack of sponsors and media interest and the logistical challenges faced by all first-time promoters Yearwood persevered and drew 300 patrons to the historic Drill Hall, a venue that was the home of many dances during spouge's heyday.
Roger Gibbs of the Sandpebbles, whose reunion is featured in our episode, opened the night with a well-received solo acoustic set. These days he plays and teaches calypso in Toronto with a focus on reviving the Barbadian folk songs of the 18th century which tell the stories of the slave trade, sugar plantations and rebellions.
Incredibly a number of the artists who delivered fine sets at the Spouge Spectacular were not on any other Independence Week programs despite having massive hits to their credit. They included soul balladeer Aubrey Mann, Shirley Stewart, the Escorts lead singer who in the 1980's sent back from New York "Walk Away From Love," the ultimate Bajan slow dance. (An extensive profile I did on Shirley three years ago can be found here.) Still one of the most soulful Bajan singers, Lew "Zorro" Drayton of the Draytons Two actually reached back to his pre-spouge outfit the Staccatoes for "Whiter Shade of Pale" before responding to the crowd demands for "Drink Milk." Lew "Jiggs" Kirton, who was signed to a major label decades before Rihanna, did some smooth soul numbers.
https://www.youtube.com/watch?v=bIc8li9Sfg8
For the second night in a row Richard Stoute gave a polished performance with a totally different set. This time he sang his ballad "Goodbye My Bajan Girl" and his scorching spouge cover of "Vehicle."
https://www.youtube.com/watch?v=zdc4K4a6sI4
Like many of its Caribbean neighbors, Barbados has long been a surprisingly strong market for classic country and western music. Spouge artists occasionally drew on country material, which was displayed by Tony Grazette's take on "Oh Lonesome Me," a Don Gibson number popularized by Johnny Cash, and Smokey Burke's performance of "Bye Bye Love," which he originally cut with his early '70s band, the Organisation. After the spouge era Grazette became an important calypsonian called the Poser. Burke, who is featured in our program, moved to Canada and joined the Drifters before returning to Barbados where he remains a key player in the music industry who still comes up with calypso and soca numbers every Cropover.
The night ended, fittingly, with an all-star tribute to the man who created spouge, Jackie Opel. Yearwood reports that the event was filmed and will be available on DVD in the future.
Sunday saw one of the many events originally slated to take place outdoors had to be moved indoor due to the massive amount of rain that flooded the island during Independence Week. The Naniki Barbados Music Festival, an annual January event that mixes jazz, reggae, soul and Bajan sounds, held a one-off event that paired the long-running Troubadours International band with several top names in calypso and soca.
Disappointingly, all the solo stars performed to prerecorded tracks, even though an expert band like the Troubadours could have easily backed them. Despite the canned music, calypso giants Gabby and Grynner both performed energetic versions of their biggest tunes, with Gabby noting that his '80s calypso "Jack," a lyrical attack on a lawyer who wanted to privatize part of Barbados' beach for tourist use, was still timely as the country debates the developments being built by foreign-owned hoteliers. Biggie Irie, a reggae singer turned international soca star whose voice matches his size, gave a strong performance although it was hard to adjust to seeing him with tracks after catching his show in New York with the Technic Band a few weeks earlier at the Full Circle Independence Dance promoted by Brooklyn DJ Double R.
The youngest artist on the bill, soca's Marvay, drew a big response with his recent hits like 2016's "Know the Face" which made him the reigning People's Monarch at the 2016 Cropover.
The Troubadours' long history can be traced back to its formation in 1963. Then known as Syd Jones and the Troubadours, the group backed Jackie Opel on his first spouge recordings. In the '70s the band made a number of memorable albums for the WIRL label and toured around Europe, North America and the Caribbean. Here's their brassy take on the Bert Kaempfert/Pete Fountain "Talk" along with some photos of the group in its '70s heyday. An audio-visual history of the band is here.
https://www.youtube.com/watch?v=IhWpK6gJkcI
By the late '80s Syd's brother and original drummer Ken Jones had revived the band and he still leads it to this day. For Independence Week they were reunited with '70s vocalist Winston "Go Floock" Richards, who had also been at the Barbados Spectacular spouge revue the night before as well as current singers Adrian Clarke and Michael Thompson who kept the dance floor full. Their set reminded me a lot of another Caribbean musical institution, Byron Lee and the Dragonaires, with their well-rounded mix of current soca hits, reggae throwbacks, Beres Hammond favorites, and of course some spouge.
While I didn't have any shows scheduled for Monday, tuk band drummer Cavil Best had planned to come by for an interview. At the last minute he asked me to instead meet him at the Courtyard Marriott. I'm glad he did, because it turned out he and fellow tuk band drummer Anthony "Bongo" Elson were part of Relatives, an occasional series that mixes music, art and wine hosted by Berklee-trained jazz saxophonist Mylon Clarke and singer Keisha Christian. You can hear a taste of jazz-tuk in the episode.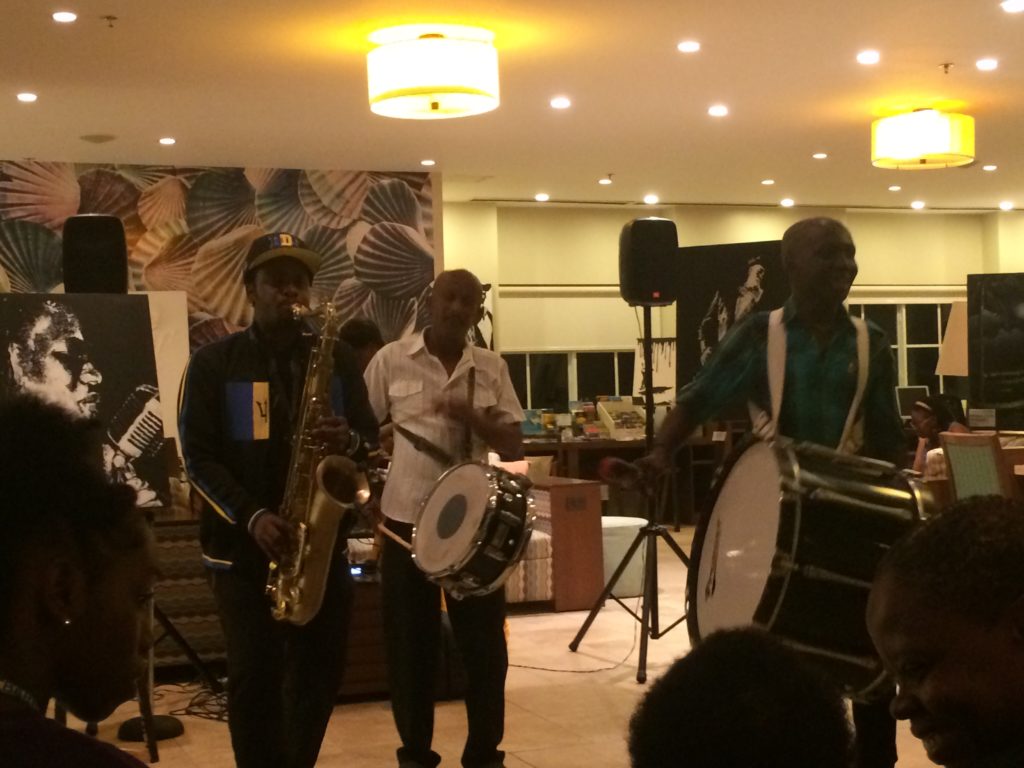 Later that night I saw the rehearsals for Barbados Is Music, the soca reunion of Square One, Krosfyah and Coalishun. Unfortunately I couldn't make the actual show as rain forced its postponement until after I left, but by all accounts it was a success, with each band putting on a highly theatrical production as seen by this clip of Krosfyah's set.
https://www.youtube.com/watch?v=hnYXFsDxNuo
Other shows that took place after my departure included a triple bill of the Troubadours, Sandpebbles and Blue Rhythm Combo, as well as the 50th Anniversary MegaConcert where everyone from Rihanna, to gospel queen Sister Marshall, to Merrymen lead singer Emile Straker, to bashment soca monarch Stiffy, paid tribute to their homeland. A good compilation of highlights from the hours-long night is here.
Listen to Afropop Worldwide's program, "Barbados at 50: Spouge to Soca."
Feature photo by 246 Entertainment. Pictured: Wendy Alleyne with Aziza.