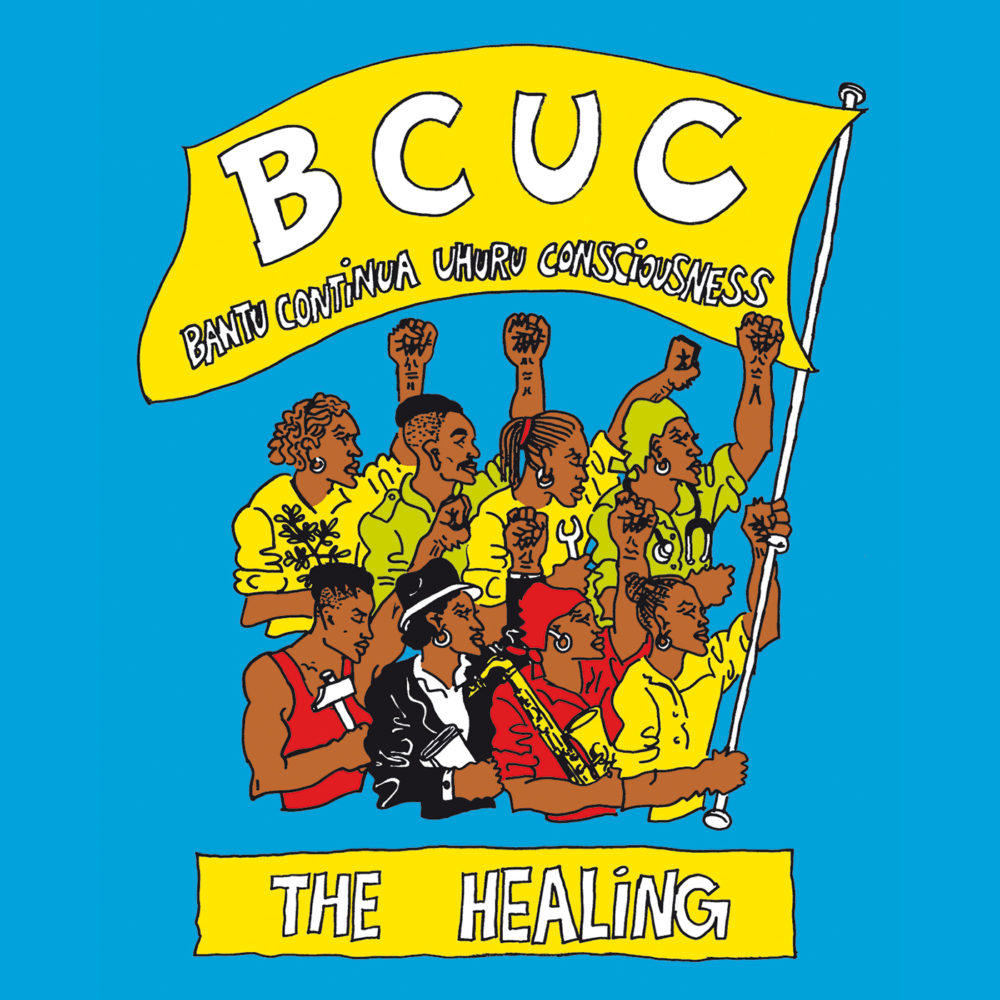 The Healing, the third full-length album from South African experimental septet BCUC, is simply the next step in a journey embarked on many years ago. Founded in Soweto in 2003, the group took many years to develop its sound. They stuck with it and the broader world was invited to join in their organic, energetic process on their 2016 release Our Truth, which set them on an international touring course that continues with U.S. and E.U. dates in 2019. Their second record, Emakhosini (Buda Musique 2016), is a powerful album that manages to capture the hypnotic, spiritual exhalation of a BCUC live concert. The Healing continues this effort, with one crucial difference: two internationally renowned guests, Femi Kuti and African-American poet/musician Saul Williams, perform with some surprising results.
The opening track features BCUC with no additional guests. "The Journey With Mr. Van Der Merwe" is an epic, emotional ride that builds to a climax of trancing drums, shout-sung vocals and frenetic bass for 10 minutes, before breaking down completely as if falling apart. Yet the music returns, building delicately around the untiring bass line and the crystal voice of Kgomotso Neo Mokone, the sole female member of the ensemble.
"We bring fun and emo-indigenous, Afro-psychedelic fire from the hood," says Mokone in one press release. BCUC (which stands for Bantu Continua Uhuru Consciousness) sounds like spiritual jazz with traditional Afro-percussion and punk/gospel/rap vocals, something like The Last Poets meets Philip Tabane. Every composition seems to be born from improvisation, built around a repetitive bass line, often in a middle register which leaves room for the booming bass drum and the higher tambourine and congas. There is a kind of intense spiritual connection, a transmission to their performance, a trance-inducing long-form musical poem, an exhortation without preaching or (overt) political posturing.
Although BCUC's music is often compared to that of Fela Kuti, the comparison only holds up in in the sense that their musics unfold over time in a hypnotic, energetic ebb and flow. This long-form experience is crucial in the power of the music, which doesn't really fit into the bite-size portions of pop music. This kind of trance-inducing musical experience is rooted in various forms of African traditional music, truly across the entire continent. This important aspect of African traditional music is arguably the link between Afro-expressive styles as diverse as Fela's Afrobeat, Coltrane's jazz and BCUC's un-nameable sound.
Perhaps fittingly, the second track on The Healing, "Sikhulekile," opens with Fela's son Femi Kuti. He blows long, gentle tones on his alto saxophone, opening the road for the bass to enter. Once the rhythm picks up, Femi adds tasteful comments throughout the mystic mix of sound, playing with a subtle and receptive clarity that is surprisingly free and expressive. As the piece builds, the vocals turn at times operatic, at times rough and aggressive, propelling the rolling rhythm forward around the central mid-range bass riff. Kuti leaves space and returns, soaring higher as the rhythm gains momentum, careening towards a sudden pause, leaving just the bass motif and Mokone's clear soprano. The rhythm picks up with bombastic forward motion, propelled by shouts, whistles and soaring vocals. Much later, the energy relaxes into a sound-bed of bird whistles and quiet hums supporting Kuti's final improvisations.
Following the formula of the past two releases, The Healing concludes with one shorter track, the single "Isivunguvungu," featuring the powerful Saul Williams. The BCUC singers set up a chorus, and the drums drop out for a moment before Williams launches his exaltations. His voice leaps out of the groove, reverberating with a righteous anger, supported by BCUC's choruses, whistles and shouts.
But after experiencing the long, winding roads of the previous two tracks, this last collaboration feels unfinished, just a taste of how the music would develop in a live context. It's as if the musicians forced themselves to stop mid-sentence. And that's part of the beauty of BCUC's music: It just doesn't make sense in short intervals.