Best of The Beat on Afropop: Bonnie Raitt--A Blueswoman in Mali
Rereading this piece from 14 years ago, roughly the half-life of Afropop, is nostalgic in so many ways. First, there is the memory of Mali in those wonderful, hopeful days. The tragedies of recent years in this—among the most beloved of all the African destinations I've known—would have been unimaginable in 2000, when we ventured to Bamako and beyond with Bonnie Raitt. Our journeys and jams with musicians during three magical weeks in Mali was huge for all of us. Bonnie herself never fails to recall the experience when we cross paths. The musicians too are permanently marked by the encounter. And for Sean and me, it was absolutely one of the most glorious passages in the 27-year run of Afropop.
Sean, Bonnie and Banning
This interview also underscores what an insightful and thoughtful fan and observer of African music and culture Bonnie was and is. What we get in these exchanges is a mix of passion, humor, curiosity and deep intuitive understanding. We can only hope that some of that spirit will manifest in Mali's future, and the world's. God knows we need it!
--Banning Eyre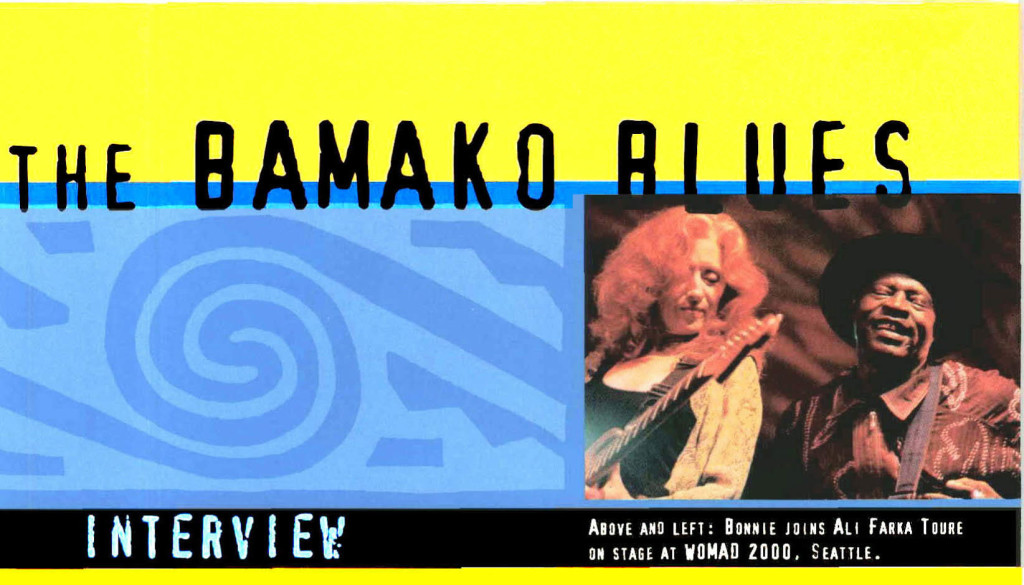 READ OR DOWNLOAD PDF HERE: Beat20#2BonnieMali
"Blues Reflections" Afropop's Hip Deep program and interviews from 2003.
Bonnie Raitt's song "Back Around," with Habib Koite: