Best of The Beat on Afropop: Lee "Scratch" Perry--When Kingston Met Kinshasa
In 1993 The Beat reported the extraordinary story of how, in 1977, Jamaican reggae producer Lee "Scratch" Perry encountered two Congolese musicians stranded in Kingston, and recorded an unprecedented fusion of African and Caribbean music.
Long the stuff of legend, the rumor of a mid-1970s collaboration with some African musicians at his fabled Black Ark studio had been especially tantalizing for fans of the madman/genius Perry, for over 15 years. But the tapes, if they ever existed, had vanished, and another unsolved reggae mystery was born.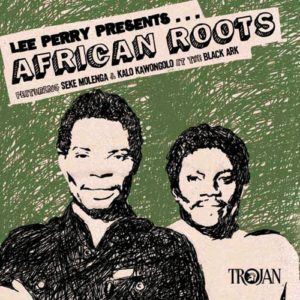 Steve Heilig recounts the tale of the two musicians, Zaireans Seke Molenga and Kalo Kwongolo, members of Tabu Ley Rochereau's soukous band, who traveled to Jamaica under the auspices of a French producer who abandoned them before ever reaching a recording studio. Penniless, they lived on the streets for some time before Perry, the renowned but often eccentric producer, rescued them and concocted a plan to record the two with a very credible lineup of local reggae artists. The result became a sort of Holy Grail of a missing master tape, which at the time of this writing, had somehow reappeared in Belgium and was obtained by Dutch record producer Robert Kuijpers, who was to release it as a CD titled From the Heart of the Congo.
Recorded at a time before reggae had really began to take hold in Africa and before much African music was readily available in the West, this is a missing link not only in Scratch's musical career but between the music of the Mother Continent and Jamaica as well.
As an interesting sidebar, The Beat received a letter from noted scholar and ethnomusicologist Ken Bilby, commenting on From the Heart of the Congo, published in the subsequent issue and reproduced here.
To update this story, a vinyl album was apparently released in 1979 on Sonafric (France); on vinyl in 1990 by Kuijpers' RUNNetherlands label and a CD in 1993; and even reissued by Trojan in 2006. The quality on the YouTube playlist below is a bit dodgy but one can clearly hear Perry's trademark mix and dub effects. The album's provenance is still unclear: It seems to have been released with various covers by various labels and various track lists over time: More details here.
For a more recent look at Lee Perry and his outrageous shenanigans, read about his 2014 appearance in Brooklyn here.
READ OR DOWNLOAD PDF: beat122scratch/congo