Best of The Beat on Afropop: Reggae in Africa--Lucky Dube, Part Two
By the mid-2000s, roots reggae had moved on and Lucky Dube had fallen off the radar a bit for us, as touring a big band internationally had became increasingly difficult. We didn't see enough of him in the States, although he continued to perform frequently in Europe and Africa. But some 15 years on, Dube had not lost a step: In this video (below) of his performance in 2005 at the gigantic Rototom reggae festival in Italy you see his maturity and masterful control of songs with a mesmerizing groove building to a triumphant climax; gravitas in a slow burn; his clarion voice, commitment and message undiminished by age. Even post-apartheid, he never gave up the fight for peace and justice.
Maybe he was the next Bob Marley, but we missed it.
Now comes the sad part of the story: Lucky Dube's brilliant career was shockingly, tragically ended at the hands of five men in a carjacking near Johannesburg on Oct. 19, 2007. He was 47 years old.
These two articles from 2008 are tributes to Lucky Dube's life and the music he left us. "Rastas Never Die" (the title of one of his earliest reggae songs that was banned in South Africa), written by Randall Grass, who was Shanachie Records' chief, and responsible for introducing Dube to America, releasing eight albums over 12 years. He notes in his remembrance: "During the past 20 years, there was no other reggae artist who was more widely popular across the globe." Randall was also a Beat writer throughout the '80s, contributing a column called "The Stone That the Builder Refused."
READ OR DOWNLOAD PDF HERE: Beat27#1LuckyRasta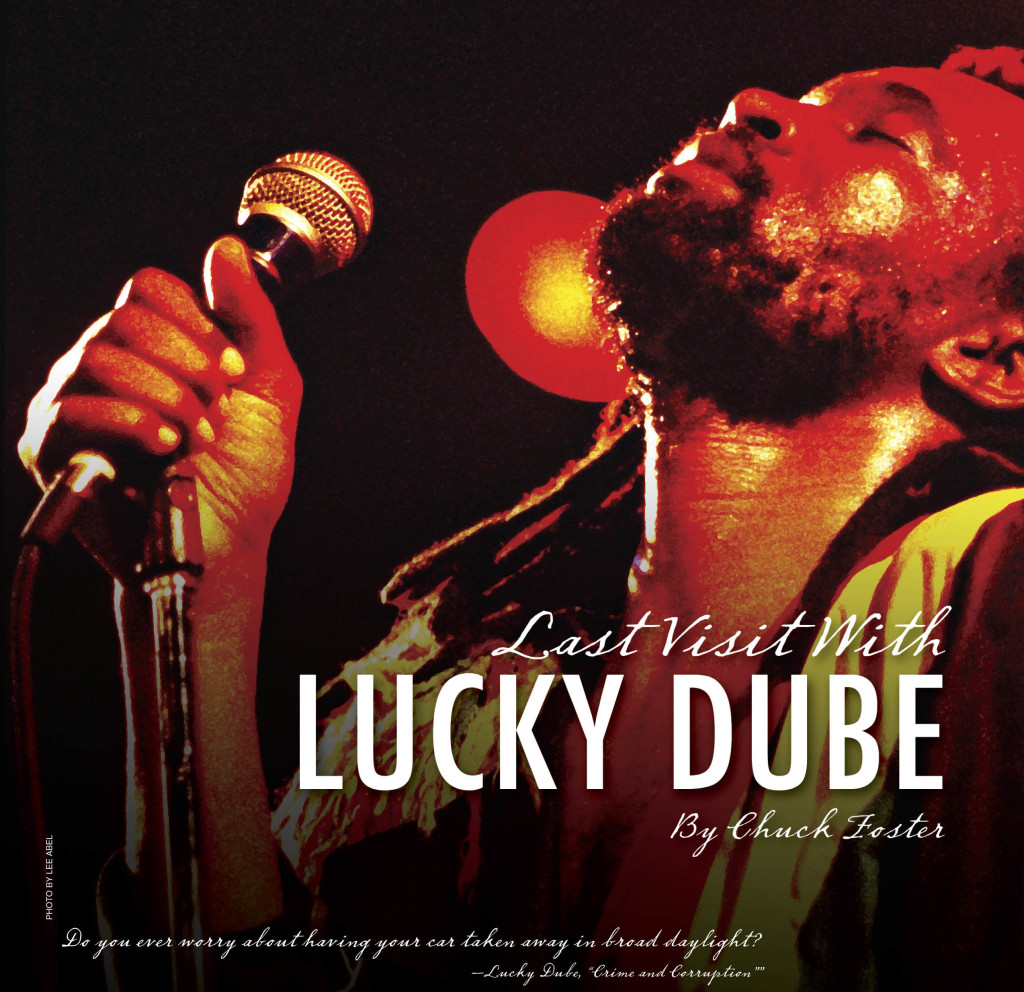 The second feature here is an interview conducted by Chuck Foster, The Beat's "Reggae Update" columnist for nearly the entire 28 years of the publication, on his KPFK radio program "Reggae Central," just a month before Lucky Dube was attacked and murdered.
READ OR DOWNLOAD PDF HERE: Beat27#1LuckyIntv
READ PART ONE OF THE LUCKY DUBE STORY HERE