Best of The Beat on Afropop: Remembering Andy Palacio—The Pride of the Garifuna
This may be one of the saddest stories you have ever read, evoking Marley-esque comparisons. It's about a highly talented singer from a small country on the Caribbean coast, the flag-bearer of his Garifuna culture, who rose to international recognition and acclaim and was at the peak of success, only to die tragically, suddenly, at the age of 47 on Jan. 19, 2008. It is especially poignant for me, as Andy Palacio was also my dear friend and acquaintance of 20 years.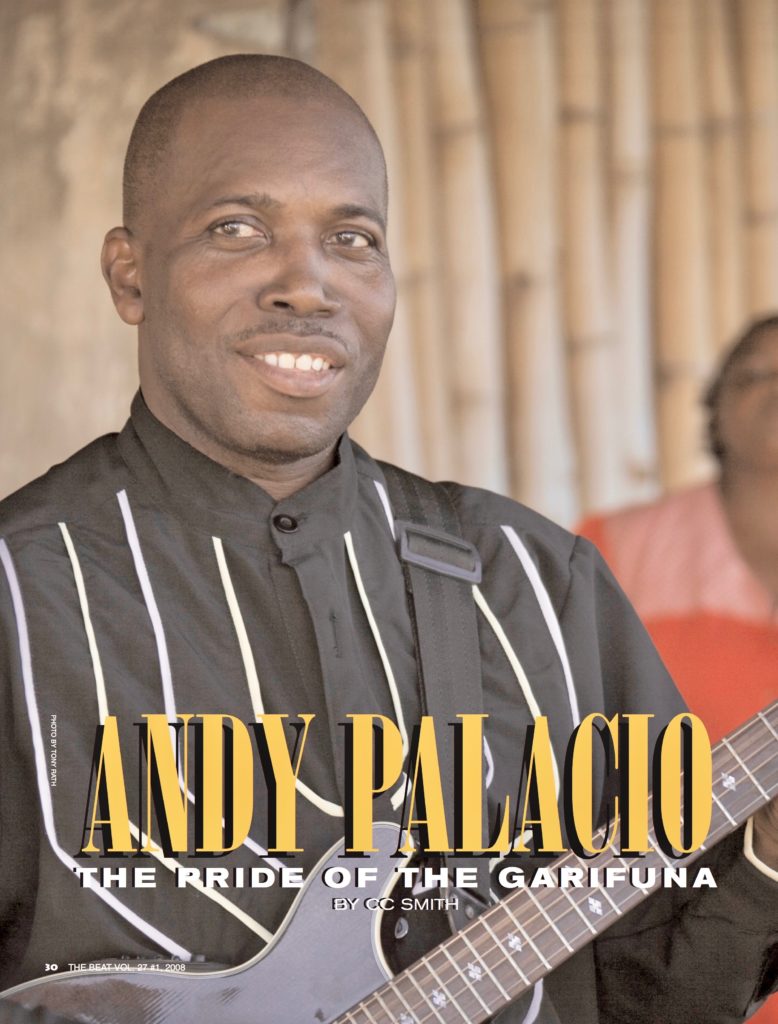 This icon of Belize, known throughout his nation and its diaspora as "Andy P," came from a poor, remote village named Barranco, that is more easily reached by water than road. Through his music, starting as a punta rock star in the 1980s, he became a determined activist for the protection and preservation of Garifuna history and culture. By the mid-'90s, he had attained a the position of Deputy Minister of the National Institute of Cultural History, and was honored by the Belizean government with the title of Cultural Ambassador.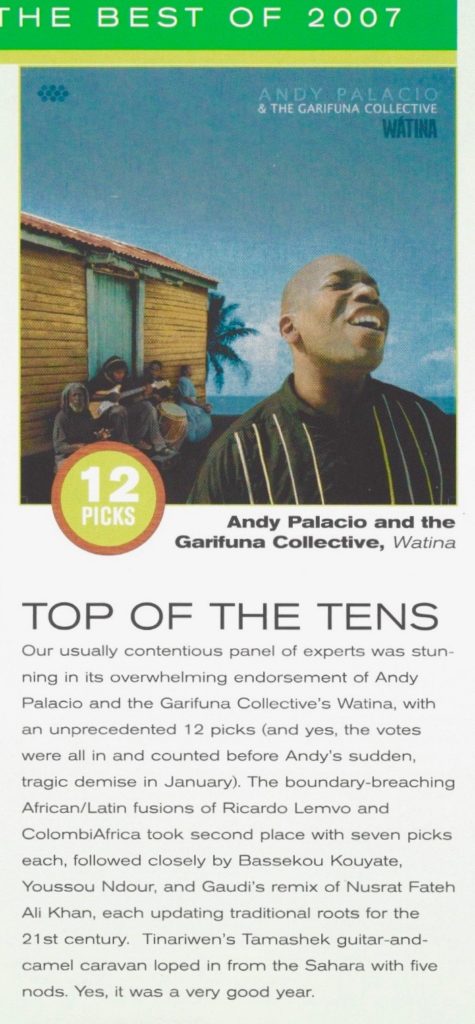 From The Beat's annual Top Ten feature for 2007.
In November 2007, I joined an international corps of journalists on a visit to Belize sponsored by Cumbancha and Stonetree Records, which had produced Andy's album, Watina, acclaimed as one of the best world music recordings of the year. We were privileged to experience glimpses of Belizean life rarely offered to the casual tourist, had several opportunities to see Andy perform, and attended the formal presentation, held in Barranco, of the UNESCO Artist For Peace award to Andy. Two months later, the shocking news came that he had passed away.
We encourage you to read the story, learn about the many varieties of Belizean music and the history and struggle of the Garifuna people, and explore the legacy of Andy P, which is today carried on by the Garifuna Collective, the Garifuna Women's Project, and his protege Aurelio Martinez.
READ OR DOWNLOAD PDF (TWO PARTS) Beat27#1AndyPart1 , Beat27#1AndyPart2