Best of The Beat on Afropop: Remembering Tabu Ley Rochereau
Tabu Ley Rochereau wasn't just the world's best-known Congolese artist of his time. In an era that produced great pop music in many countries, he was one of the world's best pop composers. He had a marvelous flair for beautiful melodies and a sublime sense of how to set them in vocal and instrumental arrangements that would delight listeners, whether they wanted to dance or to stop and listen, rapt. His lyrics could seduce a lover and decry her infidelity, sell laundry soap and contemplate death, invoke the ancestors and defy a dictator. On top of that he was a consummate performer with a lithe and light but expressive voice and an outstanding band. A young recruit to Joseph "Grand Kallé" Kabasele's foundational Orchestre African Jazz, he went on to form a new band with the Congolese guitar god Dr. Nico, to discover future stars Sam Mangwana and Mbilia Bel, and to make historic recordings with his legendary rival, Franco.
Tabu Ley was the first pop star from the country then called Zaire to release an album in the United States and to tour this country. The Beat covered both events with a record review by CC Smith and a concert review by Jimi Hori in 1984. Ten years later, when Ley and his band, having exiled themselves from Zaire, assembled in Louisiana to record two new albums, The Beat's Robert Smith was there. When Zaire's Mobutu Sese-Seko was ousted from power in 1996, Tabu Ley returned to his native land and served in the new government for a decade. In 2008 he suffered a stroke from which he never recovered, and he died on Nov. 30, 2013 at age 73. To mark this anniversary, "Best of The Beat on Afropop" reprints The Beat's Tabu Ley Rochereau feature stories.
--Ken Braun
READ OR DOWNLOAD PDF OF FULL STORY HERE: Beat13#4TabuLey
More on Rochereau from Afropop: Tribute from 2013: Tabu Ley Rochereau: A History in Six Tracks
Listen to our podcast, Franco and Tabu Ley [soundcloud url="https://api.soundcloud.com/tracks/212535587" params="auto_play=false&hide_related=false&show_comments=true&show_user=true&show_reposts=false&visual=true" width="100%" height="450" iframe="true" /]
From The Beat's coverage of Rochereau's first appearance in Los Angeles in 1984: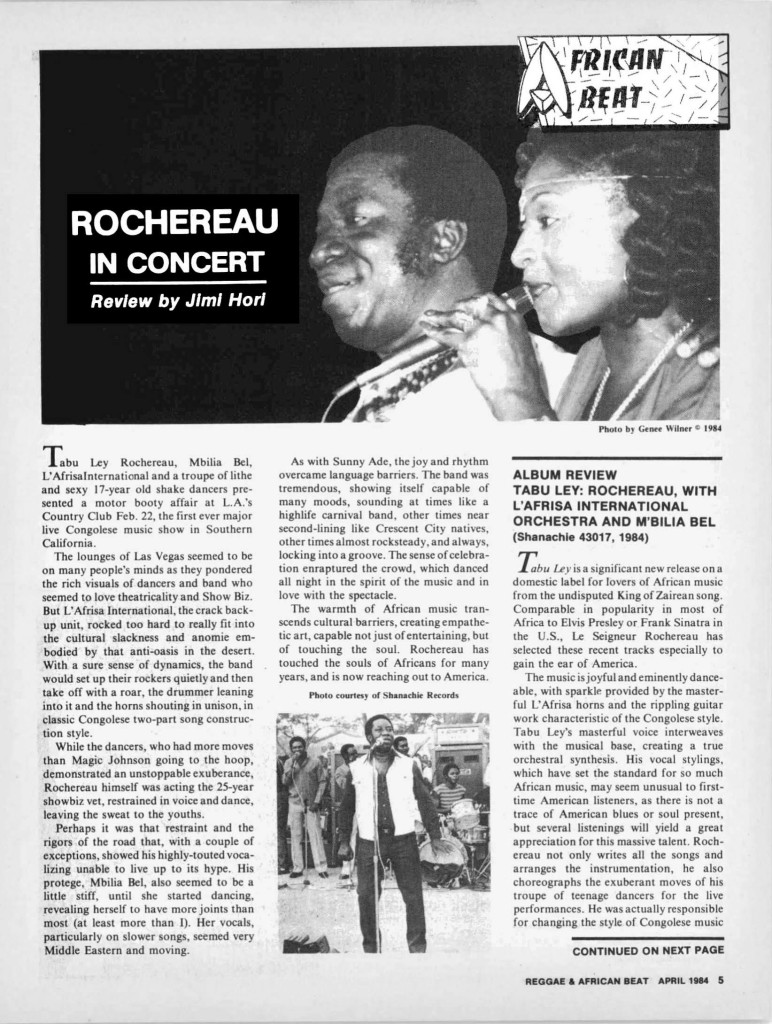 READ OR DOWNLOAD PDF OF FULL STORY HERE: Beat3#2Rochereau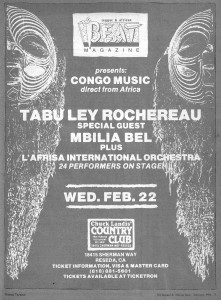 Some actualities from 1984: the pre-tour announcement and publicity, with a review of the Original Music album Sound of Kinshasa and the 20 best African albums of 1983 thrown in for good measure. And to top it all off, a gorgeous musical selection from Tabu Ley, "Karibou ya Bintou." from Sterns Music's treasure trove of Rochereau's oeuvre, Voice of Lightness, Vol. 1.