Biden Proclaims June 2021 "Black Music Appreciation Month"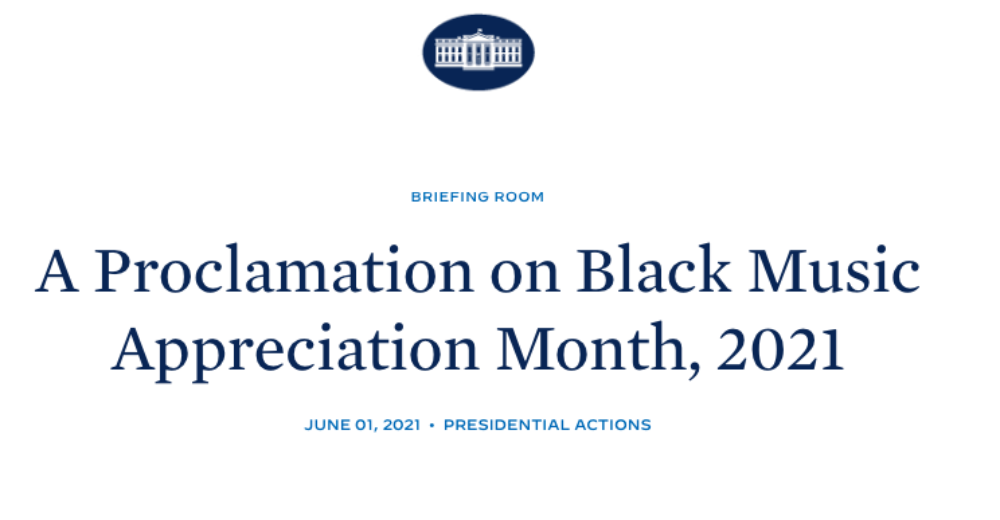 Afropop listeners don't need someone to tell them when its "Black Music Appreciation Month"—every month here is anyway. And really Americans in general don't need to be told to love Black music. Innovations from Black artists form the backbone of our most-American forms of music: jazz, blues, hip-hop and rock n' roll and basically all of our pop. But the history of Black music in America is often also one that overlooks the human beings who make this music and their communities and the music has often been appropriated and deracinated as its sold. In an effort to appreciate this music, the artists who make it, their race and the inequality that they still face, the Biden administration is proclaiming June, 2021, as Black Music Appreciation Month.

The statement, available to read in full here, begins:

Throughout our history, there has been no richer influence on the American songbook than Black music and culture. From early spirituals born out of the unconscionable hardships of slavery; to the creation of folk and gospel; to the evolution of rhythm and blues and jazz; to the ascendance of rock and roll, rap, and hip-hop — Black music has shaped our society, entertained and inspired us, and helped write and tell the story of our Nation.
It continues:
We must rededicate ourselves to rooting out systemic racism from every part of our society, and work together to advance racial justice and equity. In the music industry, that work includes identifying and eliminating barriers that Black creatives face in producing and maintaining ownership of their music and other creations. In this month of June, we celebrate the Black music that has shaped and enlivened our lives and our country, and recommit ourselves to advancing racial equity for artists — and for everyone.