Bixiga 70: Brazilian Afrobeat Messengers
There's been a connecting thread running through our coverage of the Festival International de Jazz de Montreal this year—the legendary Afrobeat drummer Tony Allen and Brazil. Allen performed at the festival with his tribute to his hero, Art Blakey; he figured into our interview with Brazilian singer Flavia Coelho, having played on a song on her second album; and he was the inspiration for a group of 10 São Paulo Brazilian musicians (or as they prefer to be called, "a collective") to form the Afrobeat-infused Bixiga 70.
Photos: Frederique Menardaubin
We sat down with guitarist/keyboardist Maurico Fleury, bassist Marcello Dworecki and horn player Daniel Nogueira the day after their show at the festival to talk about the band, music and their two other passions—the neighborhood of Bixiga in São Paulo where they live and work and the current political situation in Brazil.
It all began for Bixiga 70 when Fleury went to the Red Bull Academy in Toronto in 2007.
"That's where I met Tony [Allen]," Fleury says, "and it was something very special because—I don't know why he liked me—maybe just because I was Brazilian he gave me a lot of attention and we became friends right when he arrived. I think also we were both from poor countries, you know, because Red Bull Academy is always full of people who all came from the first world that have much more resources, music-wise, than we do in our country. So it was this very instantaneous relationship and he was always making requests that I would play with him. He just brought me over and said, 'You got to play with me. Let's talk, let's smoke weed, let's be friends.' I think he knew that I was in a different context than my fellows from the event, you know. So it was very instantaneous and was very deep for me.
"The way he treated me was very important," he continues, "and it felt very much like some sort of mission. It was like I had to do something with that dialogue that he started. So it was something I started looking for. Why did that happen? And how should my music relate to his? And from those projects that I made, there was something that kind of brought together the band.
"When I got back, I started to work with Décio, the drummer, and we made a song from some of the electronics stuff I was doing, which was very influenced by Tony. And when we got the beats, Décio told me: 'Man, we're gonna do this band and we're going to play this kind of music' and all that. So it was his idea. We already had a band because we played together in different settings and with different artists, producing in the studio. So it was all there, you know. It was just waiting for the ignition. So it was very much like that. From my own perspective, it was very important, and the same time it wasn't even my idea to form the band. It was all just very natural, you know, how things happened."
Youtube playlist for Bixiga 70 III
Their studio, whose address is number 70, for which they named the band (but is also a nod to Fela Kuti's Africa 70 band), is more than just a place to record in, it holds both a deeper cultural and historical meaning to them and connects them to the neighborhood.
"Bixiga is one of most famous and oldest neighborhoods in São Paulo," Fleury explains. "It is a place of immigrants, as São Paulo is a city of immigrants. It's a very important place in that sense because we have there the biggest samba school, like the biggest champion of São Paulo Carnival is Vai Vai, which is a samba school from Bixiga.
"The neighborhood is a mix, actually, of different classes," he continues. "You have lots of lower class people, lots of old houses that are split by many families. It's one of the few places in São Paulo you still see children playing in the street—playing soccer and riding their bikes and stuff like that. Because it feels a lot like the outskirts of the city, they are easier in that sense that people put their chairs in front of their houses and say hello to the neighbors. At the same time, as in many poor neighborhoods, there is a lot of drug dealing, lots of violence. But also at the same time, it's safer to be there than most parts of the town. I don't know exactly why, but there's a sense of community."
Bixiga also played home to many popular music clubs and bars during the 1960s and '70s.
"All the big names in Brazil came to Bixiga to play or hang out," Fleury says, "Even our studio, Traquitana, was a bar in the '70s. And we feel that we draw a lot of this energy, you know. There's this musical energy in the place that we think is like something that fits the band, something that gives us energy. Yes, because it was a bar, but it was very special because it was founded by musicians that were tired of this other bar that they played. The musicians were like fed up and they said 'Let's open our own place,' and that's where our studio is now."
Fleury notes that Stevie Wonder, Sarah Vaughan, and all the Brazilian names from the '70s, like Trio Mocotó, Emilio Santiago and Elis Regina all played there when it was a venue.
"It was part of the trinity of samba they used to say—Igrejinha, Catedral do Samba and Telecoteco na Paróquia," he adds. "So recognizing all that and feeling that was very important to build our sound. We always wanted to fill up the place with musicians, you know, and make a big band out of that, because it's a big room with high ceilings. So the best part is that we have this room because we don't have that much money or equipment. We mostly built the studio ourselves, mostly Chris, the guitarist, and Décio, the drummer. And then we all came there to work on records and stuff, and that's how the band came about. And everyone knows who we are and what we do, because we do a street festival there."
The street festival Fleury speaks of is a graffiti festival that was started by the owner of their building, filmmaker/musician Toni Noguiera, as a tribute to one of the first graffiti artists in São Paulo and Brazil, the late Alex Vallauri.
"There's this big wall on the building to the studio and they used to make different graffiti every year and just have a beer and all that," Fleury says. "And when we got there and started the band, we started to help out on this event, and then it became bigger and bigger, and then we started to do a big music and arts festival in the street. We always try to bring together the whole neighborhood, so it won't be gentrified. Because it's in the center and it's very close to gentrification now, but we still try to keep the community strong so it won't be gentrified that easy. We are just facing this problem with the new mayor who wants to get rid of graffiti, which is like the postcard of São Paulo, so it's been a hard time in that sense. But we are trying to keep it going."
"I think São Paulo is in one of the best moments ever for music," he continues. "This was shown in a festival last year in Paris where they had a São Paulo stage and said that São Paulo is the capital of Brazilian music nowadays. For us, this is a very, very good moment. A very vibrant scene right now. At the same time, the political and economic situation is like the worst ever. It brings an anger and a sense of urgency for us."
The group doesn't shy away from taking their political message onto the stage with them. At the Montreal Jazz Festival, they hung a sign from the stage, reading "Fora Temer," a message to the current president of Brazil, Michel Temer, to fora, to "get out" and step down. They also told the audience they should inform themselves about the coup d'état they say has occurred in their home country.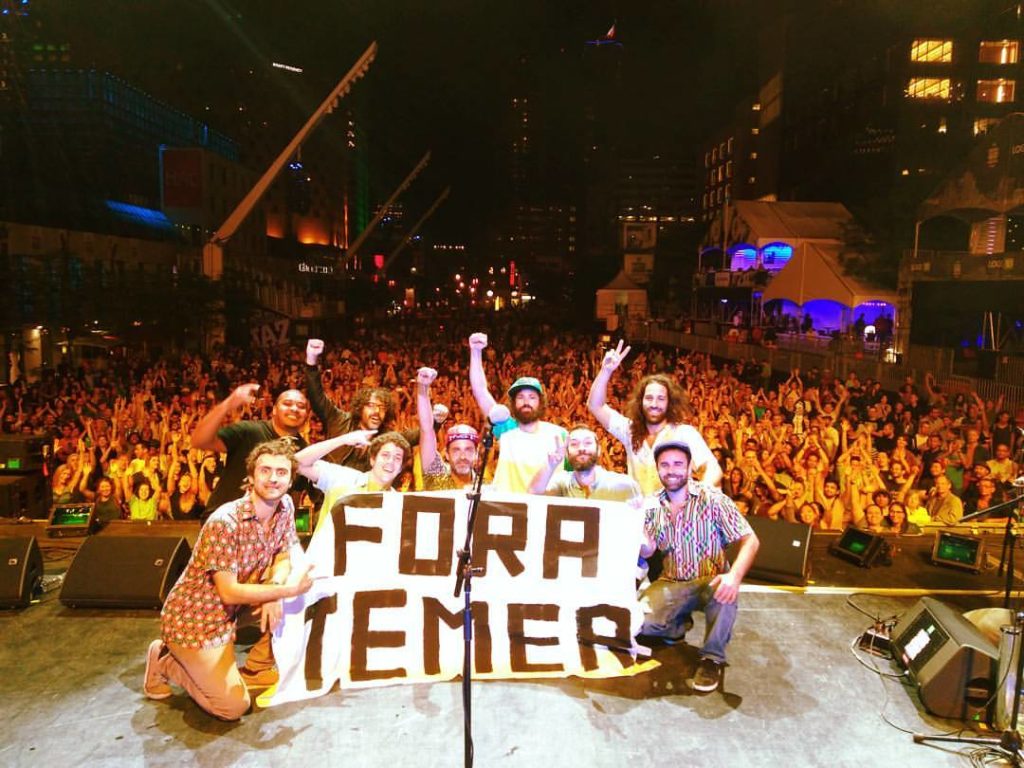 "It's very important for us to spread that word now," Fleury says, "because there was some time, a few months ago, where we would not talk that much about that, because we just thought everybody knows that sh*t, but once we played in France and we talked about the coup d'état and all that stuff, somebody came and said: 'Hey man, it's very important that you tell everybody about what's going on because we really don't know.' People anywhere in the world don't know what's going on in Brazil. And it's totally unbelievable what we have been going through. We're losing rights. They're trying to change all the rights for the workers, all the retirement rules so people are going to work off their asses for the rest of their lives with no pension, while if you work for the military you get a pension for the rest of your life—for that they're not changing."
"It's all based in the lie of austerity," adds horn player Nogueira. "There's several ways of doing that different, but they aren't talking about it. It's always the same thing. Making the poor people suffer. They've been struggling. Ourselves included as well. We've been struggling to live as well. They've been cutting all this money for things that are cultural. We're playing far less than when we were. There's less shows for us. Also there's this kind of thing that brought Trump to power: João Doria, who is the mayor from São Paulo, it's the same—a guy who could pay for his own campaign because he's a billionaire. And he won and that's easy because it's all about money. "
"In Brazil, police kill more than a thousand per day," he claims. Though, according to most recent figures available, from a 2016 report by the NGO Brazilian Forum on Public Security, in 2015 there were 3,300 police killings, and an overall total of 58,000 homicides. Still, it makes Brazil a more dangerous place than war-torn Syria. "It's like an extermination, a genocide," he continues. "It goes far beyond just that struggle for money. It's about respect for human life, and if you don't even have the smallest respect for human life, how can someone get culture, man? How can somebody be interested in music or painting or whatever? We've been to the streets, you know, we've been to the riots. But we don't want to die, you know. So sometimes you're like 'No, I'm going to the streets or to the riots because I have to play and pay for my beers, you know.' Because if you go to the riots, you're going to get your ass kicked. There are going to be bombs, and you can get arrested and not have anything. It's a very violent state. People are getting desperate. It's like 1984, you know."
"Since from the very first," adds bassist Dworecki, "we took to the microphone to talk about things like how many favelas were burned down this week. So we're always talking and taking it to this political place in our concerts. So, we became a band that talks about politics, police violence and this kind of stuff. Someone has to talk about these things."
The band has said that while they play strictly instrumental music, they are still able to communicate a political message though the music. We asked them to elaborate on that.
"The first thing, I think is very clear, is freedom," Fleury says. "Freedom to play, freedom to go wherever we want to go with the music. And this is very political, you know. Supporting and being supported by the other 10 guys. The way we do things horizontally. There's not a real 'main character' in the band. Everyone is as important as the other. There's nobody telling you what to do, and that means a lot to me. We don't want to tell anyone what to do. We just want everyone to feel on the same vibe. To feel the collective-ness, the freedom of movement and the freedom of thought. That's something that's very important to us.
"I think that's something we kind of got from Afrobeat, you know," Fleury concludes. "We always thought it was important to have a message. We are in a moment now that we know we all have to understand each other and collaborate, or otherwise they're gonna get rid of us."