Blandine on Congo in Toronto
We first saw the Toronto-based singer Blandine Kaniki when she sang with the reconstituted Afrisa International, effectively assuming the role of Mbilia Bel during Tabu Ley's heyday as bandleader. Blandine's debut album, L'Antidote (2019) reveals a deep command of classic Congolese rumba and an impressive Congolese backing band. When Banning Eyre spoke with Blandine for our program "Toronto's African Scene," we learned her remarkable backstory. Here's their conversation.
Banning Eyre: Blandine, nice to reach you. I should tell you that I'm a longtime fan of Congolese music. I've been to Kinshasa twice, starting back in the late 1980s. And I've seen you perform in New York at globalFEST with Afrisa. Those guys are real veterans.
Blandine: Yes. That was an amazing experience because I grew up listening to them. My parents loved them. I was always watching them on TV, and for me to perform with them was just like, wow. This is amazing. Literally a dream come true.
Let's go back to your beginnings. Were you born in Congo?
Yes. I was born in Congo in the 1980s, in Kinshasa. I left in 1991 because my dad was an ambassador. So we went to West Africa in Togo where I spent about five years, and there, I was really young so I started singing at school and in the church, and then I gradually gravitated into secular music. That's what we call it. Non-gospel. But my foundation is really gospel music. And then after that, I met a jazz pianist who really loved my voice and wanted to train me into jazz. His name is Abel Maxwell. He's actually an artist here in Toronto now.
We traveled to Canada when I was 14, and there I joined the school ensemble. When I joined the school, right away I remember my music teacher loved my singing skills and told me to sing Aretha Franklin's "Respect." I remember that my English was really bad. Literally, I did not understand English, and someone was giving me "Respect" by an icon to sing onstage? I was like, "Are you people out of your minds? Do you realize I don't even know what I'm singing?"
It was this huge ensemble with a trumpet, violin, guitars, and I was that little girl coming from Africa and having to sing for the recital in the school. So I was like, "O.K., I need to do this." And I learned the words and did the best I could. People enjoyed it, and from then on I just became the singer of my school, and I went on to sing the national anthem for the mayor and stuff like that. After that, I went to university, and in one of my classes I met a girl who used to do Motown artist impersonations. So we kind of connected somehow. I didn't even know that she could sing, but we just connected. And then she told me what she was doing outside of school. She said that she was in a band and they were looking for another singer, and I said, why not? So I joined the group, and we toured the States.
We used to sing in casinos and bars and different types of places, and we used to dress like the Motown girls, the Supremes. That's what we really used to do—wear the wigs and dresses, and we did some Tina Turner and all the other Motown artists. But then, I'm the type who, because I started in church, I always gravitated to taking on the lead voice. It was just a natural thing. So every time I performed with that band, there was the lead singer, but for some reason I couldn't even explain it. Sometimes I would just sing the lead. And everyone would look at me like, "What are you doing? This is not your part." So right away I understood that it wasn't my place anymore. I would needed to take the lead of my art, if I can put it like that.
Ah ha. You are having your Diana Ross moment.
My Diana Ross moment. And there was another Diana Ross so it didn't work out. Diana Ross is very protective of her space.
Sure.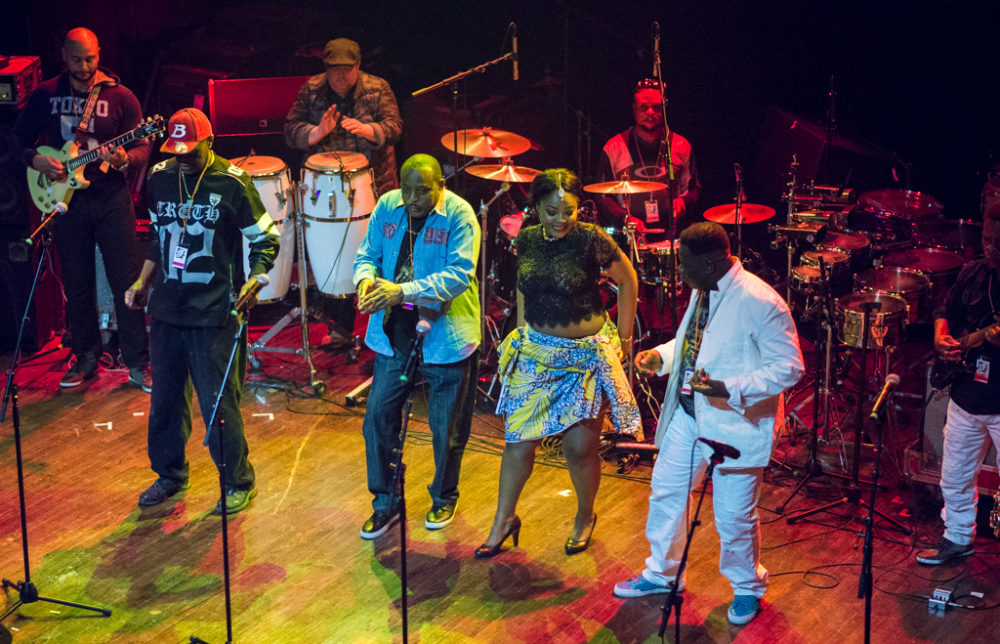 So then I went to the studio and started recording my own music, r&b music. I released a song called "Dreamer." It's an r&b song, and then I got discovered by an independent label in Toronto. We did an EP together of r&b music, and then when I released my EP, I started doing live music, singing at clubs and little venues and stuff like that.
There were a few African festival promoters who attended the places where I performed. So they kind of asked me if I could sing African songs. And actually, in my performances, I always sang a song by Tabu Ley called "Pitié." I sang that song because it was in French and I could understand. My Lingala was not that good because we spoke predominantly French at home and I went to French school. So I sang that song because I could understand and there weren't too many Lingala words. People always came to me and said, "What was that song you sang? We couldn't really understand what it was." And I said, "Okay, people really enjoy the African repertoire every time I sing it, so let me scratch the r&b, and start adding some more Congolese songs."
I did some Mbilia Bel because I knew her and I listened to her. And the more I continued, the more I had opportunities to sing in festivals with a band and sing Congolese music. So I said, "Okay, this is different, not what I expected." And I was getting paid for it--even better. That's when I started singing African music.
Amazing. Let me go back a minute. When you first moved to Canada, was it Toronto?
Yes, it was.
And why was that?
We actually moved there as political refugees. We left in 2000.
O.K., so things were pretty hot down there after the overthrow of Mobutu in 1997.
Exactly. So my dad had to go back to Congo and my mom didn't want us to go back. She was like, "Okay, we need to go because it's not looking really good in Congo and the kids are not going to be safe." The thing was my dad worked for the government, sort of, and there was a shift. Mobutu was leaving and Kabila was coming in. So all the people who worked for the old regime would not have been safe in Congo. We couldn't go back, so we asked for exile and Canada took us.
That makes sense. But you had been living in Togo before that. You didn't go back to Congo.
No. I was born there and left and never went back. I was five when we left.
So you have very little memory of it.
Very little.
And certainly none of that would've involved the clubs in Matonge where Mbilia Bel used to sing.
No, not at all. But Congolese music was always there. It was all over Africa. Even if you weren't in Congo, it was playing on the TV in Togo. I saw everything.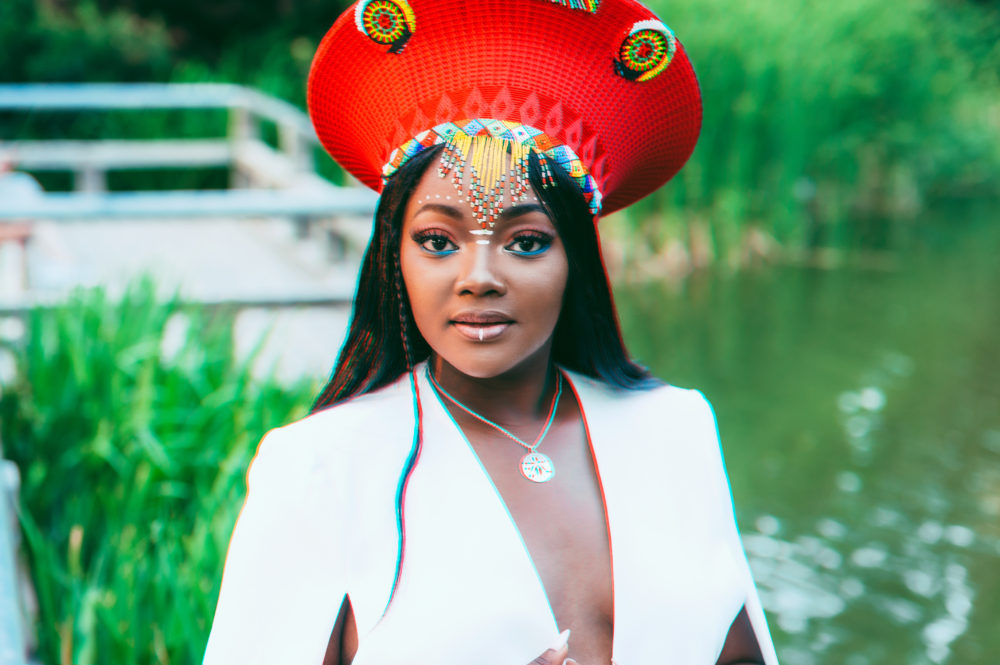 Of course. I used to say that Congo music was the disco of Africa in the '80s and '90s. We had the disco era, and Africa had the Congo era. So this is very interesting, you moved through gospel, jazz and r&b and it all let you back to singing African music. That's fascinating. Pick up there.
I started getting offers to perform at festivals in Toronto. The African community knew this African girl singing and performing rumba. So then Mbilia Bel was coming to Canada to perform on a tour and there was a pianist who knew me in Montréal, and he referred me to the promoter. He said, "You should get this girl to sing backup for Mbilia Bel." So I got this call and I was really excited. I started learning the songs, the backup singers parts, and then when she came, we did the first performance in Montréal, then we came to Toronto and then we traveled to Colombia and we did three shows there in Bogotá, Barranquilla and Cartagena.
That must've been a wonderful experience. I know they love Congolese music in Colombia.
Oh my God. It was amazing. I wasn't expecting it. We arrived at the airport and there were tons of people everywhere. Wow! I thought maybe we would perform at a little club. No. There were a lot of people and they were all screaming her name. And then the performance itself was at a stadium. There were a lot of people and they were all singing the songs. They were singing "Yamba Ngai." I was having goosebumps. I was just right beside her and she was singing and I was like, "Okay. I need to keep myself together because this is amazing." All the three shows were sold out, in stadiums, people singing and so there I met Lokassa Ya Mbongo, the guitarist who used to play for Tabu Ley. We connected very well. He was really sweet, very nice to me. He took me as his little granddaughter. "You know, I want to embark with you in this Congolese music venture." To me, it was almost like I was Congolese but I felt like I had left my culture. I didn't know much about my culture, and I wanted to discover it and just immerse myself in it fully.
So Lokassa said we should work on a single and he introduced me to Nyboma Kanta, composer and noted singer based in Paris. He wrote my first song, and I sang it. That became my first rumba single called "Rockyna," and it's available on YouTube, with Nyboma singing as well.

So after releasing my first rumba song, I decided to have an album, because every time I performed at festivals and events, people would ask, "O.K., how do we get your CD?" I always referred them to my r&b music, but it didn't make sense. So I said, "I need to record some rumba music." Nadine McNulty of Batuki Music Society really helped. She's the one who helped me find my space in Toronto, getting the right studio and the right positions, stuff like that. So then I released my album in 2019, which is called L'Antidote.
I have been listening to it. It's wonderful.
I recorded it in 2018 and released it in the end of 2019, beginning of 2020. Then I started going on tour, and I actually worked with this company called Afro Mondo with Alex Boicel. You probably know him.
I know him very well. He's a veteran.
He was actually the promoter of that Mbilia Bel tour that I did in Colombia.
I think that tour was supposed to come to New York, but it didn't at the last minute. Something went wrong.
Yeah. Money.
No doubt. You know, I'll never forget being in Kinshasa in 1987, just at the moment when Tabu Ley and Mbilia Bel split up and he was introducing Faya Tess. The show had been promoted with Mbilia, and I recall all these men in the audience at the Palais de la Culture, grumbling audibly, "Mbilia Bel, Mbilia Bel…"
Faya Tess, the poor lady. She went through a lot. I heard that she was the shadow of Mbilia Bel. People were like, "Who is this Mbilia Bel wannabe?" She really tried to impersonate her as much as she could, but there was no way. And actually when I performed with Afrisa on the stage, I felt the same way. I was like, "I am not her. I am going to sing her songs in my own way, but I am not her shadow. She is the queen, and I will give it to her. There's no one like her."
So then with Alex and Afro Mondo, I went on touring other countries. I asked him if he could get me some shows so I could perform internationally. I had the sense that I wanted to go beyond just being a local Canadian Toronto artist. So then I traveled to Abidjan for the MASA festival, and I started working on my second album. But this time it won't be fully rumba music. There will be a little bit of Afrobeats.
There you go.
A little bit of r&b. So this is me, in short.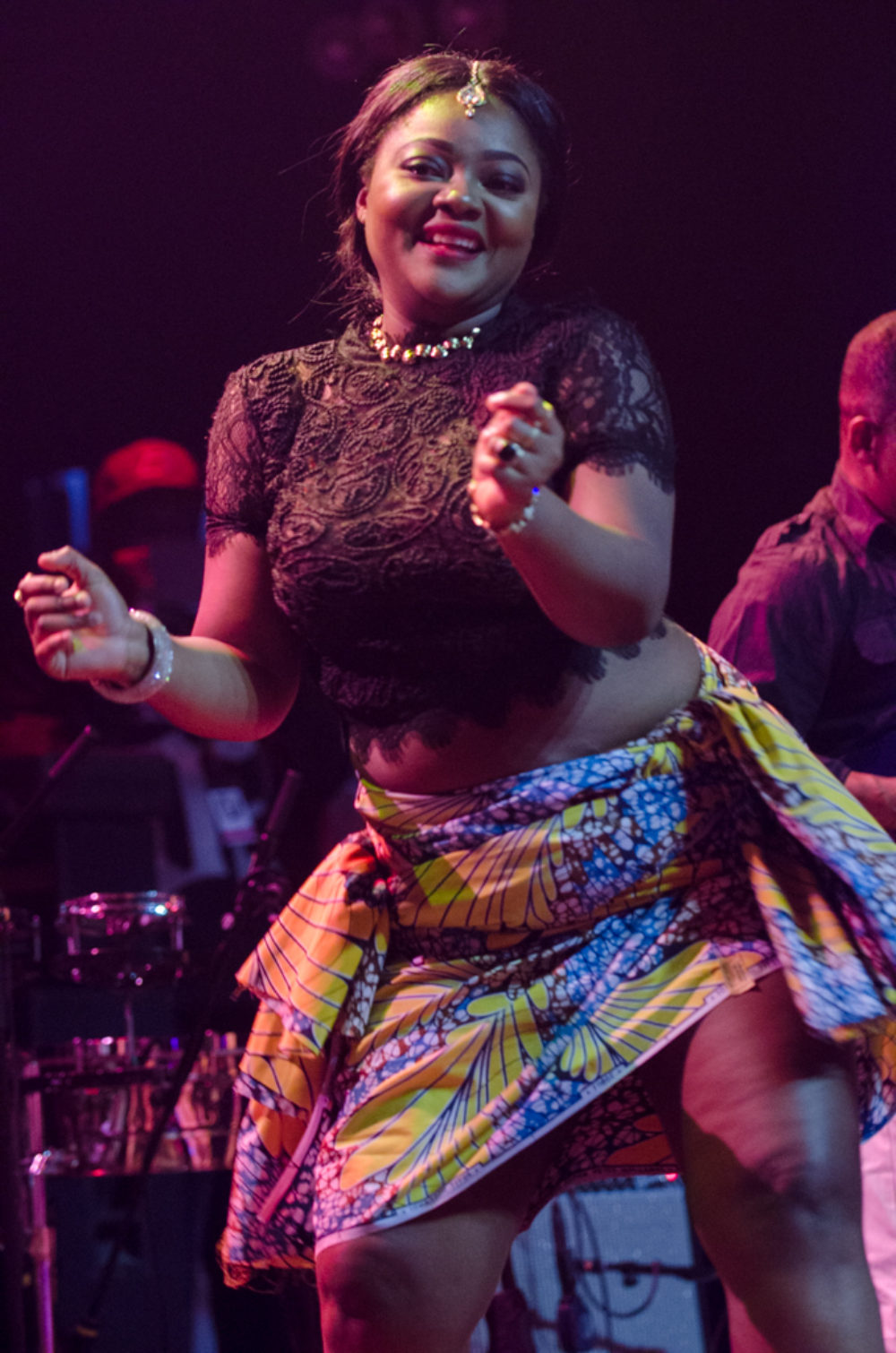 What a great story, but I guess all this got kind of interrupted a bit by Covid.
Yes. Yes. Absolutely when I released my album in 2020, Afro Mondo had a list of performances for me in different continents, but we couldn't do them because everything was shut down. Not many of my musicians wanted to do with the whole virtual show, so…
Sad. But it will come back. Let me ask you about your band. The players on your album are really solid. Are these musicians all Toronto musicians?
They are partly from Toronto, and some of them are from Ivory Coast, because I started working on some songs in Ivory Coast, and then I did some songs in Toronto, and then I put them together. All of them are Congolese, but because I was at different times in different locations, I had to take advantage of what I had, and in Toronto we don't have very, very strong musicians for this style. The musicians that I work with actually belonged to great bands, like the guitarist Lebou Kabuya. He actually played for Koffi Olomide. He was one of the lead guitarists who played on some of the hit songs.
I was listening to the album, and I was thinking, "This is not Canadians who learned to play the music. These are Congolese musicians." I could feel that.
Yes. The bass guitarist Christian Mabanga, he was a member of Wenge Musica, so they all migrated to Canada.
I'm curious about what it's like being in Toronto and working in Toronto. Are these musicians you are working with the first top-notch Congo musicians who have landed there, or is there a bit of a community?
For the top-notch, I would say they are. What happens in Toronto is, and maybe elsewhere in the Western world, is this: Just because of normal life, the stuff you have to do—go to work and pay bills—it takes away from your creativity and from the time that you need to concentrate on working on your musical skills. I think that's where musicians lose their greatness, even if they used to be great. Because of the life we have to live in America, we just don't have the time. And there isn't a bandleader who is going to take care of them financially so they can just focus on being artists. So a lot of the artists in Toronto, or in Canada, because there are also great musicians in Montréal who do an amazing job... They all do a great job, but they don't have the time to work on their skills. They only work based on opportunities. When there's an artist who uses them, then they work on the song. I say this because when I went to Africa, and I went to Congo last year, I saw how it is there.
Oh, so you did go.
Yes, to Kinshasa. I did go last year. I came back from Congo in January. I was there in December. So that's the thing. They're great musicians. But honestly, especially Lebou Kabuya, it's because they were in competition. In Congo it's a competition. You have to be great. You can spend hours and hours working. So with him, he taught me the value of just repeating. Repetition is what makes you great. And he always used to mentor the other musicians, because some of them don't like to work. You have to keep working.
So that's the sense I have. But I think it's really because we're in Canada in this environment. The musical environment of just constantly working on music doesn't really exists here, and that's what makes them less effective.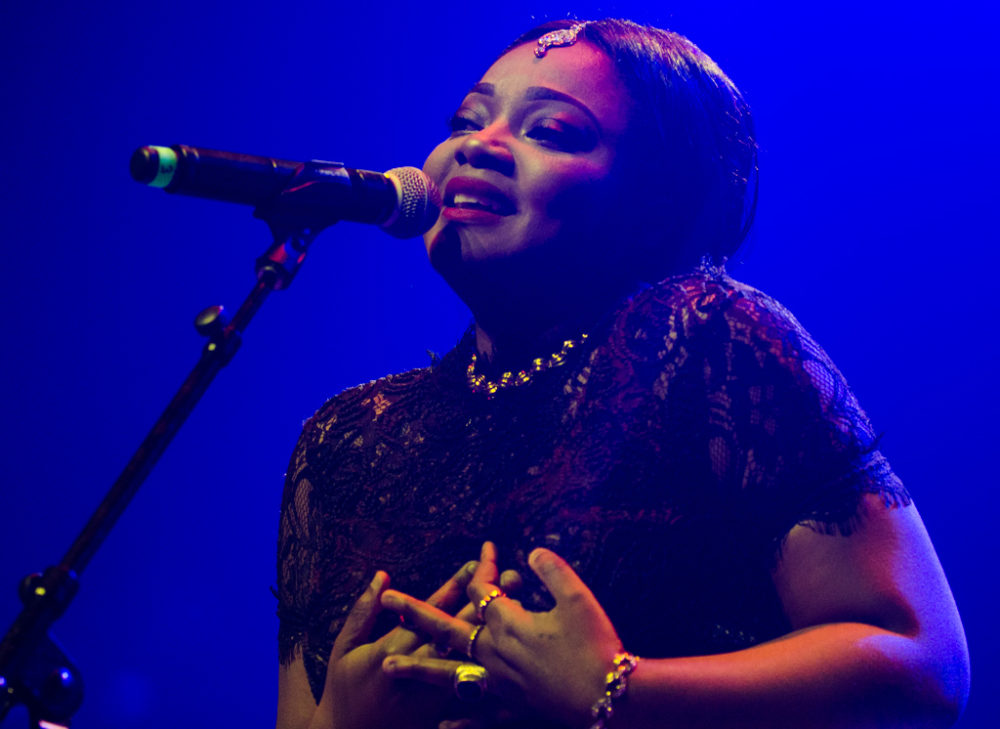 That's a very interesting to me. So how long has Lebou Kabuya been in Toronto?
Since somewhere around 2012.
What you're saying makes sense to me because back in the '90s I played with some Congolese musicians in Boston. I play guitar, and Congolese musicians ended up there, similarly perhaps to your dad; they were running away from trouble in Congo. So we started a band led by Congolese musicians, and man, they were the toughest teachers ever. They were so demanding; it had to be perfect. It was really a learning experience. It taught me how this music that seems so joyful and free is actually some of the most disciplined music on earth.
That's so true. Two years ago I was in New York and I stayed with Ngouma Lokito, the bass player.
I love that guy. We've had him on the show.
He was nice enough to keep me at his place for the night because I missed my flight andbhad to go back the next day. And this guy, the whole night, he's playing guitar. And he has his guitar fairly low, at a very low volume. You can't hear anything. He's hearing himself. And the whole night he's playing guitar. And I'm like, "This is why these guys are so great."
So true. So when you went to Kinshasa and met musicians, you could feel that.
Oh yeah. Absolutely. I could sense that, but also I could sense that this demanding way of being perfect is kind of something that they are losing in Congo too. I think the reason why is because of this Afrobeats music and how it's taking over the music industry, and how much less demanding it is. Afrobeats music does not require perfect musicians. So the ones that are hard workers and spent hours and hours, are not as valuable anymore. So they don't work as hard on the instrumental skills. Instead they try now to work on their computer skills, and how to create these weird digital sounds to be modern, to be up to date.
That's what I felt, but nonetheless, in Congo talent is everywhere. You walk down the street and there's this young guitarist playing just amazing. He doesn't even know. To him it's just like, whatever... Just passing the time.
I relate to that. I've been following African music for a long time. I spent a lot of time in Mali with griots, trying to learn that kind of guitar style, which is also very demanding. But I'm also watching the changes that have happened in music. It's exciting that this Afrobeats music is so popular and that artists are so successful, but just from a strictly musical point of view, it does feel like a bit of a come-down from where we were 20 years ago.
Yeah. Definitely it's a come-down. I find that Afrobeats music has a lot of… Well, they take a little bit of jazz influence in the music. It's not as deep. There are a few, but they tend to go into the jazz influence, which I find that if they could go deeper into it, it would make it a little richer as a music genre.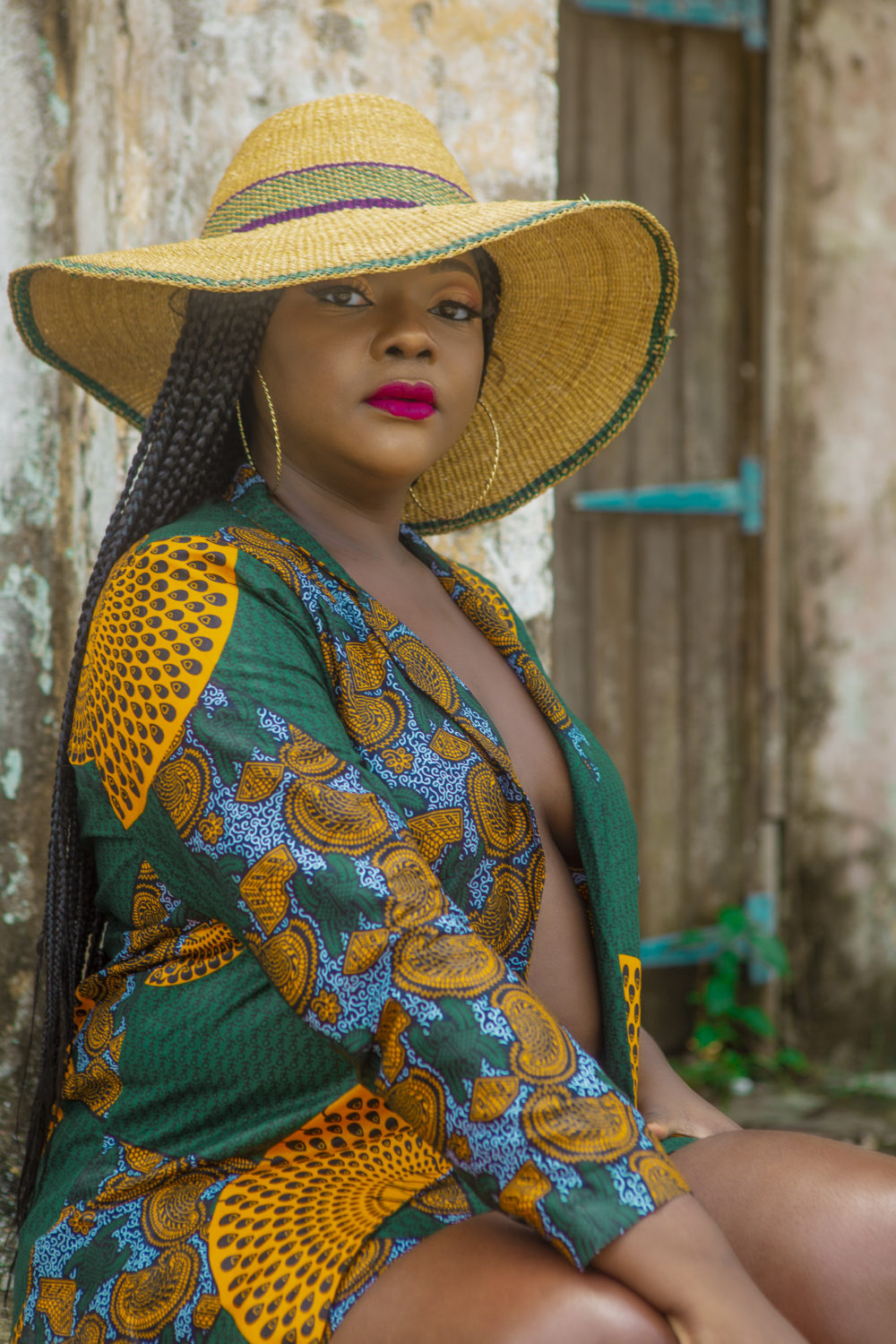 Are there groups in Toronto trying to make it with that sound, that Afrobeats sound?
In Toronto? Yeah, there actually are. There's an artist I know called Remi Ray. He's from Cameroon. I found him on Instagram. He's doing some Afrobeats. There's also an artist, a female artist. I think she's from Nigeria. I can't remember her name.
It might be Tome. Let's talk a little more about the Toronto scene. I've known Nadine McNulty a long time, and I know she's been a major force in making things happen, including the African music festivals. I imagine you've played at those festivals.
There are two. There is Afro Fest, and Nadine's festival is called Habari Festival. It happens in July. And then there is the Francophone Festival by the Francophone community, but artists like myself and other African artists sometimes get on the scene there.
But Nadine. The story of Nadine is such a long one. The first time I met her... Well, she knew me, but I didn't know her. And when Mbilia Bel came to Canada to perform, I think it was in 2011, we were in Montréal. We were driving to Toronto to perform, and we were running late. She was the artistic director for that festival. I think the festival was called Bana Yafrika. We were kind of getting lost and Nadine called the promoter. Since I was from Toronto, he gave me the phone and I spoke to her. I told her, "O.K., we're on this street. We're almost there." So I gave her kind of assurance not to worry because we were late. And I heard this sweet voice. I don't know. I really liked her before we even met. Then we arrived and she was like, "Oh my God. When I spoke to you I felt reassured. You've got to change and get ready." She started talking to me and she said, "You know what? I saw you before. You're amazing. I want to help you to get your music out there. You need to have your own album." And I was just looking at her like, "O.K., who is this person? I don't know her."
That sounds like Nadine.
The guys coming from Montréal weren't that organized, so I changed and we went on stage and it was amazing, and when we finished, she came to me again, "You did great. We're going to work. I'm going to help you work on your own music." Then we kept in touch and every time there were events, African events, she helped me to apply to get on the stage.
She led me through the whole process of my album, getting the right musicians, the right studios, the right studio for mastering—stuff like that. Every time there is an event or an opportunity for me to be known or to speak about my art, she always sends my music out. Nadine is like everything to me. Honestly. Along with Alex. The two of them are my everything. They really helped me to be who I am today. And I'm grateful to them.
You've had some great mentors. Let's talk about the songs on this album. Is there anything in general you want to say about the album in terms of what you were trying to do?
Well, for my first album, I wanted to go back to my roots. A lot of people were saying, "Why don't you do r&b or mix sounds?" And I said, "No. I want my first step as an official African artist to be who I really am." That was kind of a challenge because Lingala is my mother tongue, but I had never really spoken it. So I had to really get into the language and understand what I was saying, and what I was singing. I got great songwriters that I collaborated with, and we wrote songs together.
I told them what I wanted to talk about in my songs, that I wanted to talk about women and the power of a woman, and also relationships between two people. I wanted to talk about love, Passion. Romance. Rumba music is known for that.
Yes. It's not known for political protest.
No. It's known for love. They would actually get in trouble if they go into politics.
Yes, I remember when we naïvely would ask Kinshasa musicians what they thought about politics, and you would see these blank looks around the room.
And there's also the whole thing about politicians financing musicians.
Sure. Franco and so on.
Yes. It's kind of taboo to talk about that.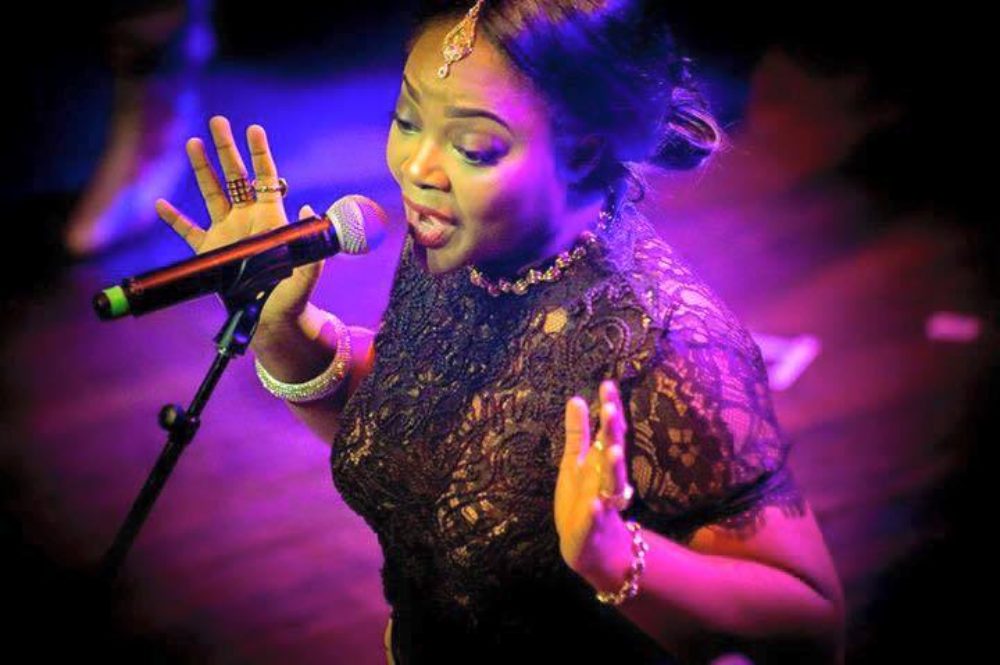 So you really wanted to stick with the tradition. I get that. Why did you pick the title L'Antidote?
Every time I sing, people have this reaction. They are quiet and they just look at me with this face of "I feel good." I always feel that every time I perform and sing. People feel good. So that's the antidote to me. It's almost like with my music, I'm giving you the antidote for the pain that you may have, any pain that you may have. So you put all the songs together and it was almost like a medicine.
Pick a couple songs and tell me what's going on, about what was the idea?
There's a song on the album called "Pièce Détachée." In English, it's almost like broken pieces. It's basically talking about two people that were in a relationship and then they broke up, and then one of the persons is asking the other to come back because since they broke up, their heart is broken to pieces. And the other person is the only one who can come back and put those pieces together. I wrote the song with this artist called Didyme Bongo. We just conceptualized it and thought about it. We knew the metaphor of broken pieces and we turned it into a love song.

Is Didyme in Paris?
No. He's in Ivory Coast. He's a singer in Ivory Coast. He actually sings with a band that plays regularly, almost every day. The thing in Ivory Coast is they love Congolese music. It's considered a type of music that's consumed by high people that have money. Let's put it that way. So Didyme is part of a band that performs almost every day. The clubs are always full, and they always sing rumba music. So I worked with his band to compose that song.
Nice. But you recorded in Toronto?
The musicians I recorded with the Toronto came from Montréal. But basically for this song, we worked on the idea in Ivory Coast. We had the arrangement. We took a keyboard arrangement from Ivory Coast and I worked in Toronto with my band, the guitarist Lebou Kabuya and the bass player, Christian Mabanga. We took the arrangement and worked up the full song, and then Didyme did the backing vocals in Ivory Coast. He sent them to me in Canada and I did my vocal and we mixed it in Canada.
There's another one I want you to tell me about. I'm seeing a video on YouTube for a song called "Conseil." And that's recent, just three weeks ago.
Yes. That is very recent. That song is not part of my album, but it's a project that was brought to me by an old member of Zaiko Langa Langa, JP Buse. He's in Montréal. So he reached out to me in June. I was stuck in Ivory Coast after the MASA Festival. So I decided I was going to stay. Nadine had her festival, and I was supposed to perform there in Toronto, but everything was canceled. Everything was turned into a virtual forum. So I did my festival performance in Ivory Coast with musicians there. And when it was publicized, there were a lot of people who loved the sound and the way to musicians played. So that's how JP Buse found me. He said, "Listen, I want to you to do a cover of my song, but singing in your own way with musicians in Ivory Coast, and then we will work on the video when it's done." So I did it. He loved it. And then I traveled to Kinshasa. The video was actually shot in Kinshasa in December.

Wow. So you spent most of Covid year in Africa.
Yes. I did six months in Abidjan and three months in Congo.
So what was it like going to Congo after all that time? Could you speak Lingala?
I still have an accent. They would look at me and say, "This girl…" But I can speak. I can bargain. You've got to be able to bargain for a taxi ride. So how was it? It was amazing. It was great to go back to my country. You know, I've traveled the world so much that being in Congo was one of the only times when I felt like I didn't have to be someone else. I would walk down the street and feel like these are my people. These are my brothers and sisters. I'm not in Togo or some other place. I really loved it.
Congo. There's a lot of work to do there, development wise. It's my country so it's a topic that's really dear to me, but I wish Congo was more like Ivory Coast, because the Ivory Coast is so much more developed. But musically, it's amazing. There are great musicians everywhere. I've worked with really well-known artists who are so inspired and so talented. They have all these ideas, and they really wanted to work with me, but the budget was short. So I told them I would be back when I get more money to work on more projects. I did shoot some other shows there. I did a virtual show with musicians from Congo that I will release sometime this year.
I didn't get into the studio unfortunately. The sound in Congo, the studio sound, is not really what I'm looking for. But that to me is an opportunity for someone like myself to either bring some great equipment in Congo, or do some exchanges with Canadian artists, or artist from abroad to vibe together. There are so many opportunities in Congo because there isn't much done there, so to me it's actually not a negative thing. It's positive because I can go back and other young artists like myself can go back and create amazing things.
One more question about your life in Toronto. Are you able to support yourself as a musician? How do you manage that balance you are talking about between being a musician and having to live in this kind of society?
Well, I've been lucky. Recently, the government, the provincial government in Ontario and the federal government, have recognized me as an official African-Canadian artist, and they do support my projects. My first album was actually supported by the Ontario Arts Council. That's how I was able to finance it. And I'm so grateful for that. There's more that I can do. I can apply for more funding, and I can get them and do great things. And again, that's with the help of Batuki Society, Nadine's organization. She really guides artists like myself to become professional.
Canada's incredible. I actually grew up in Montréal. My sister lives in Ottawa. It's great to hear that the Ontario Arts Council is doing its job.
I'm grateful. It took me a while to come out now because of financial limitations. It's hard work. I'm grateful for this platform that you're doing today. I've heard about Afropop from Alex Boicel. He'd say, "I have to get you on Afropop." And then Nadine does the magic as always. So thank you.
Well, thank you. See you in New York some day soon.